I know ClickFunnels could be salesy at times, and they don't even show their price on their product's landing page. So in this article, I'll share ClickFunnels price and if it's expensive plans are worth it. Don't worry if they aren't — there are alternatives to ClickFunnels I share towards the end of the article as well. Let's get started.
ClickFunnels Cost 2021: Quick Overview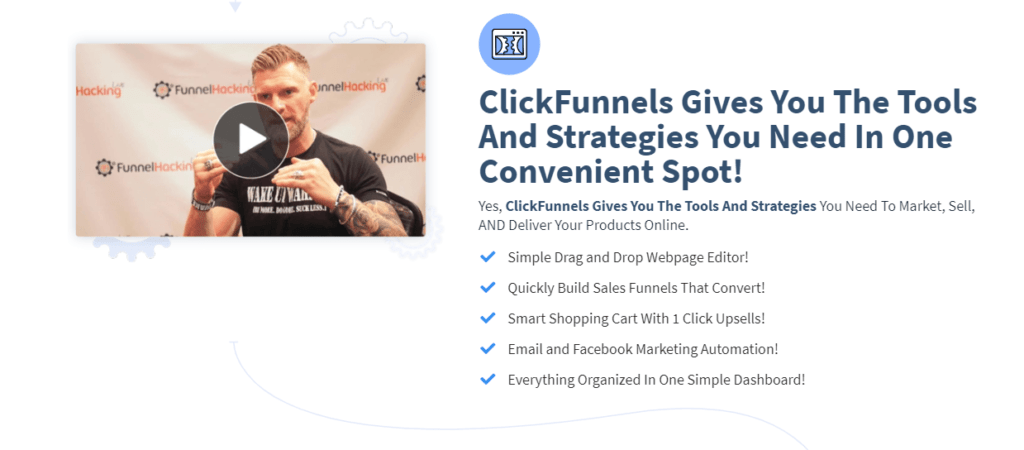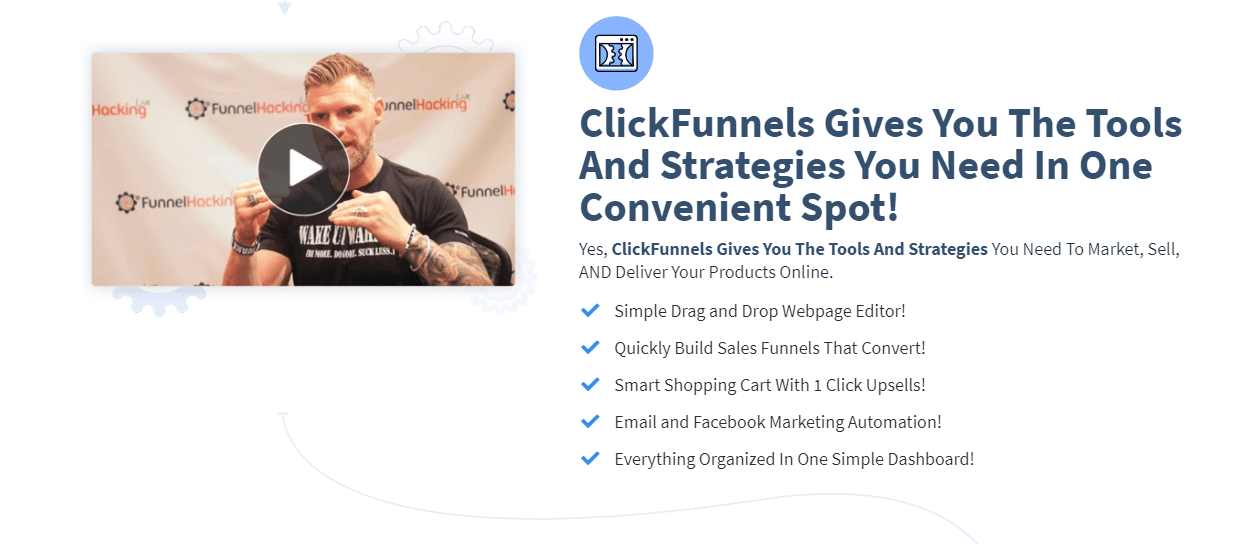 ClickFunnels offers two main pricing plans: Standard and Platinum. The standard plan is the cheaper one at $97/month for 20 sales funnels,100 landing pages, and 3 domains. The platinum plan for $297/month offers unlimited funnels, landing pages, and 9 domains.
Click funnels offers discounts for 6 months and even yearly plans of up to 44%. 
ClickFunnels Pricing Table 2021 (With Details Of Features…)
[table id=43 /]
ClickFunnels has three pricing plans in total with the first two being prominent. The key difference between all three plans is the number of landing pages, custom domains, and other features allocated per month.
The Two Comma Club X is a community for online entrepreneurs who have made over 1 million dollars with ClickFunnels.
The most expensive plan is the Two Comma Club for $2497/month. You can access the first two plans for a free trial of 14 days. Let's break down the plans one by one.
ClickFunnels Free Trial Vs. Standard Vs. Platinum Plan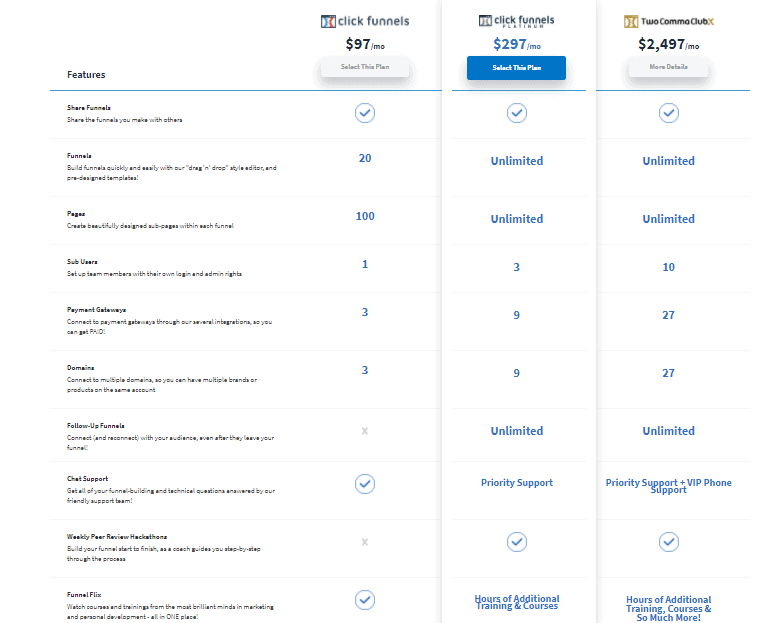 The ClickFunnels free trial lives up to its name. The 14-day free trial is for all the new members who will get access to its most important features to assess if Clickfunnels meet all their business needs. You can cancel the trial anytime without any penalty or fee.
ClickFunnels Free Trial Bonuses
You get access to not just ClickFunnels features, but also training and more.
Product Secrets($97)
Funnel Builder Secrets ($1997)
Ad Skills ($497)
Tony Robbins Private Collection($997)
100+ Funnel Templates($1997)
Funnel hacker forum
FREE Book Funnel Templates
FREE Webinar Funnel Templates
FREE Product Launch Funnel Templates
FREE High Ticket Funnel Templates
It used to be a 30-day trial before, unfortunately, it's only for 14 days now. No matter which plan you choose during the trial you will be able to access all the important features of ClickFunnels. What happens after the trial period expires?
ClickFunnels Starter Plan
The starter plan comes with a lot of limitations. It only has 20 funnels and follow up funnels are not included.
Email marketing is not included in this plan which you will need to make your sales funnel profitable. You can integrate ClickFunnels with email marketing tools by paying an extra $97/month.
There are many alternatives to ClickFunnels like GetResponse, GrooveFunnels, and more
Clickfunnels Platinum Plan
From the table, we can see how profitable Platinum's plan is for marketing agencies. Marketing agencies will benefit from unlimited sales funnels, landing pages, and follow-up funnels. You can even manage 9 domains from one account.
The affiliate program is beneficial for people who manage influencers or affiliates. With the ClickFunnels Platinum plan, you can manage paid and owned commissions and track your top affiliates.
ClickFunnels has alternatives with great marketing templates as well.
How Can You Save Money On ClickFunnels
Clickfunnels offer discounts on Free Trial and Platinum plans.
Platinum Plans Discount
There are two discount options available:
6 months plan: $1997( you pay more than 6 months but the training is included)
12 months pack: $2,997 (You end up saving $567)
ClickFunnels Free Trial Special Offer
ClickFunnels has a special offer called Secret Masterclass Workshop Bundle. This Secret Masterclass Workshop Bundle offers 6 months of the Platinum plan features along with other bonuses
Secret Masterclass Workshop Bundle includes:
6 months ClickFunnels Platinum account
Free One Funnel Away(30 Day Challenge)
Free Virtual Daily Funnels Hack-a-thons
Free 10x Secrets Mastery Program
Free Traffic Secrets/Ad Skills
Free Access to FunnelFlix
Secret Masterclass Workshop Bundle costs $997 for 6 months. For this price, you will get 6 months of Platinum Plan with other bonuses. The actual price is $15,770.
ClickFunnels Alternatives You Can Consider
ClickFunnels has its limitations like the lack of checkout templates. Besides, it does not support multiple languages and locations. You have to manually translate the text on your checkout page. And, most important of all, ClickFunnels is expensive.
Here are some alternatives to ClickFunnels:
1) Landingi: Landingi offers several interesting features along with A/B testing and high converting landing pages:
 Provides 200 templates for landing pages
Customizable icon library
Supports AWS Cloud hosting
Enables you to embed landing pages in your Facebook page
Supports WordPress Plugin
2) Kartra Starter Plan
99/month for 2500 contacts
Unlimited funnels
-Provides Email Marketing
100 Landing Pages and a website builder
Supports CRM, Webinars, and E-commerce for 20 products
Doesn't provide social media campaigns
3) GetResponse
$49/month for 1000 contacts
5 sales funnels
Supports Email marketing
Unlimited landing pages
Supports CRM, Webinars, and Ecommerce
Provides social media campaigns
Payment gateway integration
Advanced analytics to let you track conversions, ROI, and leads.
You can also try Groovefunnels, Simvoly, Cartflows, Leadpages, and Hubspot.
Frequently Asked Questions About ClickFunnels Pricing
ClickFunnels is a transformative sales funnel software. It is 100% legit. ClickFunnels claims that its platinum plan is worth 4 years of a college education. How much of it is true? Well, you need to have a great business idea, to begin with.
If you do, Clickfunnels offers you some brilliant personalized tools to help you with each step. Every business needs to attract new visitors, educate them, sell products, and follow up with them, whether they buy or not. Clickfunnels does that for you.
Clickfunnels sounds too good to be true. The templates offered aren't as modern and professional as compared to the ones offered by other websites.
For beginners, it's fairly simple to make sales funnels. Even though it seems expensive at first glance, it has awe-inspiring features to benefit your business. It is fully packed with powerful tools to promote, sell, and deliver your products and services. If you have the budget, it is worth the investment.
FunnelFlix is considered to be the 'Netflix for Marketers'. FunnelFlix is a massive collection of video-based online courses and training modules to help you enhance your knowledge in marketing systems, peak performance, business strategy, sales, copywriting, and sales funnels. FunnelFlix is completely free after signing up for clickfunnels.
FunnelFlix has over 25 premium courses but not all the courses are available with the starter plan. Funnelflix is free with Clickfunnels signup, but cannot be purchased separately.
Final Thoughts
Overall, ClickFunnels is useful for companies who are struggling to find customers. It is also good for companies to reach their full potential. The automated sales funnels rule out the outdated sales technique. But, if you do not have the budget you can go for the suggested alternatives of ClickFunnels.