Millions of people today identify themselves as content creators. All major social platforms are incentivizing content publishing and promising to help creators earn via ad revenue.
But the truth is:
While billions of dollars are invested in the creator economy, the current state of a creator is dismal. Professional creators make money but rarely a full-time income.
Today, let's look at creator economy statistics to determine where we're headed. And if at all, amateur creators have it better with platforms like Teachable and Kickstarter, which can let them move beyond advertising revenue.
What Is The Creator Economy?
The creator economy is a concept built for the class of independent creators and community builders to exhibit their skills. The primary goal of creators associated with these various digital platforms is to monetize their expertise in the form of content and execute it.
How Many Creators Are In The United States?
In the year 2021, about 7.1 million independent respondents stated that they earned an income through content creation. However, 37% were full-time creators, and 63% were part-time creators.
(Source: MBO Partners)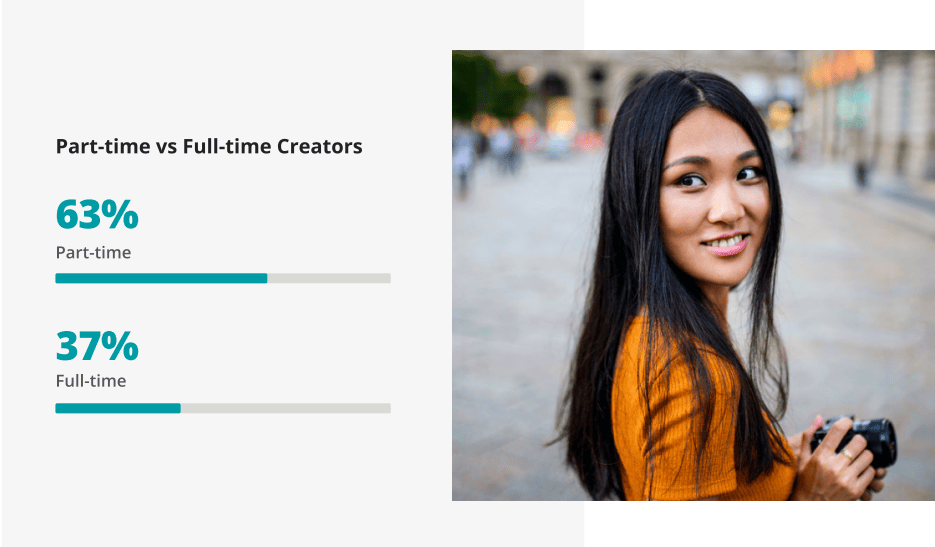 How Big Is The Creator Economy Market?
The concept of creating and earning has spread its wings worldwide. Let us understand how strong the roots of the creator's economy are.
As of 2022, the creator's economy market worth is $104.2 billion.
(Source: The Influencer Marketing Hub, Kalaari)
According to data released by Signal Fire in 2021, 50 million creators are actively participating and earning through the creator's economy.
(Source: SignalFire)

What Is The Difference Between Creators And Influencers?
The term "creator" is used for those whose general aim is to create content across digital platforms. Whereas influencers strive to upgrade the purchase preferences of their audience.
(Source: Kajabi)
Overview Of The Creator Economy
1. 59% of beginner creators haven't monetized yet.
(Source: Linktree)
2. 12% of full-time creators earn greater than $50k
(Source: Linktree)
3. In 2021, people in the age group 65+ earned 3x more than those aged 45-54.
(Source: IZEA)

State Of Influencer Marketing
1. Creators who receive more than a million views can charge brands, on average, over $2500 per sponsored YouTube video.
(Source: HypeAuditor)
The same report also states that:
2. In 2020, mega influencers had the highest engagement rate at 15.63%, specifically on TikTok.
Compared to mega, the term "Macro" itself defines the state of macro-influencers.
Being known as mega influencers — macro-influencers are the ones who have followers between 10,000 to 1 million.
3. 93% of surveyed marketers and agency professionals from the United States stated that they were planning to use Instagram for influencer marketing (in 2021).
(Source: Statista)
4. Instagram was used by nearly 80% of the brands engaged in influencer marketing.
(Source: Influencer Marketing Hub)
Nano influencers are ordinary profiles on Instagram with 100 to 10,000 followers. These influencers have a smaller audience and hence acquire the desired reach.
6. A majority of Instagram creators in the U.S. are nano influencers with followers ranging between 1,000 and 5,000.
(Source: HypeAuditor)
The same research states:
7. Nano influencers had a higher engagement rate of 4.6% on Instagram in the year 2021, in the U.S.
8. Micro-influencers typically have subscribers between 500 to 10,000.
Mid-tier accounts belong to those creators who have a higher reach than micro and macro-influencers. These have a range of followers between 50k to 500k.
9. The latest data released by IZEA shows a graphical presentation of the growth in income earned by mid-tier influencers on all platforms from 2015 to 2021.
(Source: IZEA)
10. Brands are expected to pay around $60 for a sponsored YouTube video with views between 1,000 and 5,000.
(Source: HypeAuditor)
11. 87% of marketers in 2022 say video has helped them general good ROI.
(Source: wyzowl)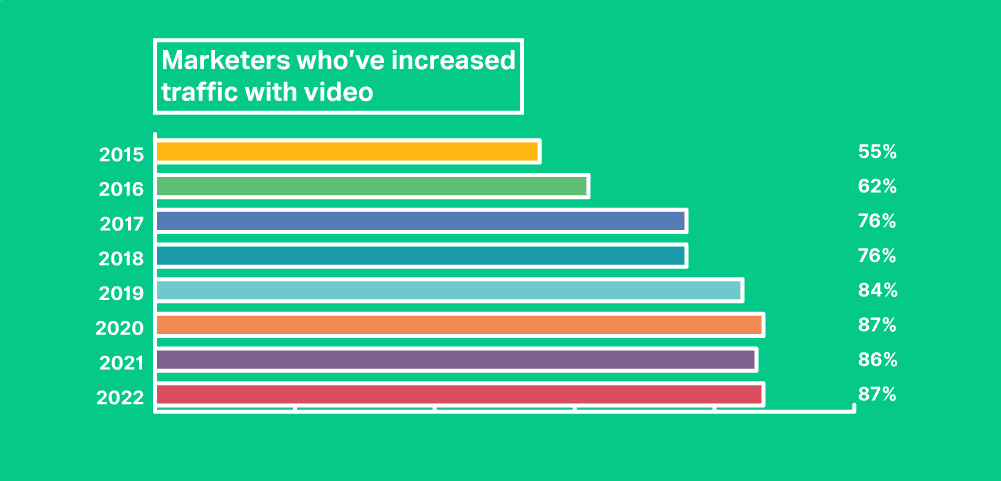 12. In 2022, 66% of consumers report paying the most attention to short-form content.
(Source: SproutSocial)
13. 48% of marketers say that brands need to speak out on social issues to stay culturally relevant on social media.
(Source: SproutSocial)
Stats On Gen Z Creators
Before jumping on to statistics, it is essential to know who Gen Z is.
People born in and after the year 1997 are considered to be 'Gen Z' or 'zoomers'.
1. More than half of Gen Z (51%) say their generation is more creative than previous generations, according to a 2019 study conducted in the United States and the United Kingdom.
(Source: Snapchat)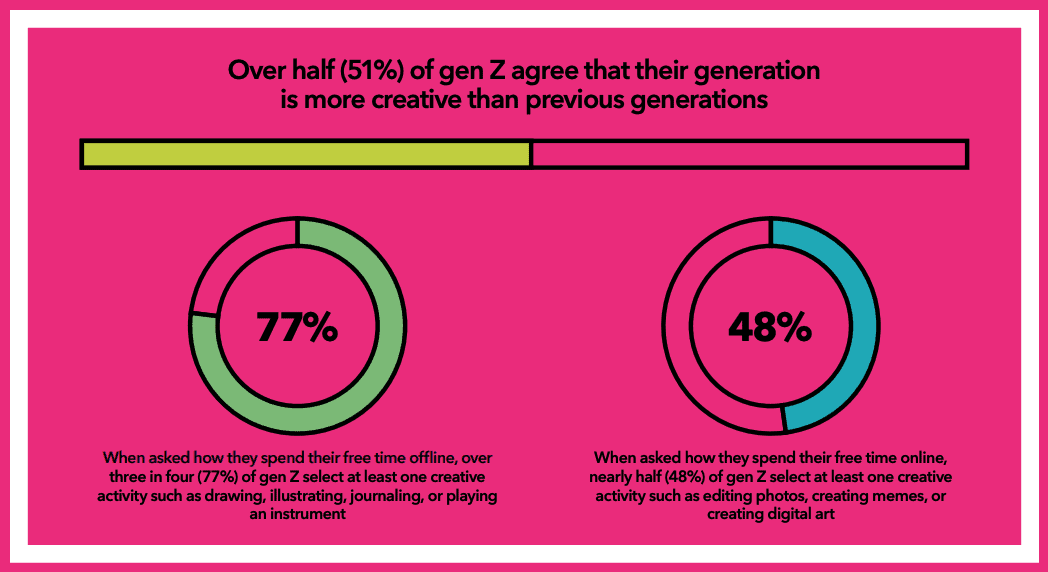 2. 33% of Gen Z and 28% of millennials value content collaborations over just 17% of Gen X and 9% of baby boomers.
(Source: SproutSocial)
3. Gen Z and Millennials are most likely anticipated to use augmented reality (AR), virtual reality (VR), or extended reality (XR) to interact with brands in the future.
(Source: SproutSocial)
4. The majority of Gen Zers are nano-influencers/creators.
(Source: YPulse)
5. In 2021, Tiktok had 37.3 million monthly Gen Z users.
(Source: eMarketer)
Statistics About Creators On Social Media Platforms
Social media platforms don't just cater to users' social activities now. They now also encourage monetizing content creation and pump billions of dollars into the industry.
YouTube
1. According to data released by Youtube in 2021, 58% of users are open to watching content made by creators of any age.
(Source: YouTube)
2. A recent survey found that 29% of American kids wanted to be YouTube stars.
(Source: LEGO and The Harris Poll)
3. YouTube introduced the Youtube Shorts fund in 2021 and distributed $100M to creators from 2021 to 2022.
(Source: YouTube)
4. Since 2020, YouTube has been considered the second most crucial platform by 70% of marketers for influencer marketing.
(Source: Statista)
5. In 2021, 71% of marketers planned to utilize YouTube more often for video marketing.
(Source: Social Media Examiner)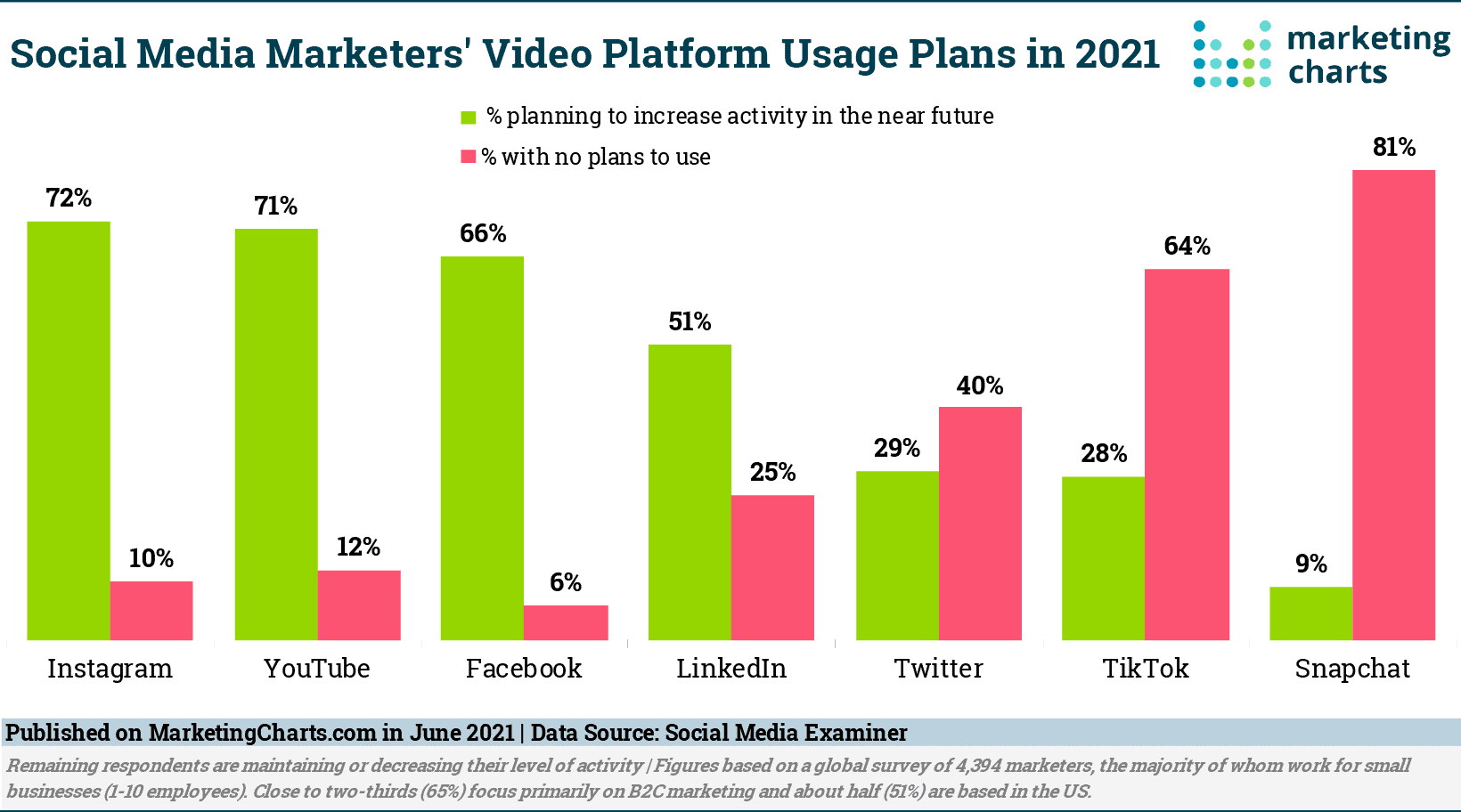 6. 70% of YouTube users in the U.S. are aged between 18 and 34.
(Source: HypeAuditor)
TikTok
1. TikTok launched its fund in 2020 and earmarked to pay $200 million to creators with follower and view counts above a certain threshold. However, the platform also decided to pay $1 billion by mid-2023.
(Source: eMarketer)
2. Due to the rising trends in short-form video content globally, TikTok has observed a growth of 18.3% in its user base.
(Source: Kalaari)

3. In 2021, female content creators on TikTok surpassed male content creators making up 53.79% of the total.
(Source: Statista)
4. In 2021, TikTok hit 3.5 billion downloads and became the most downloaded app in the United States.
(Source: SensorTower)
5. According to the results of a survey conducted in 2021 among Gen Z users in the U.S., TikTok was the most used social media application, with 63% of the share of users.
(Source: Statista)
Instagram
Instagram is one of the elite social media applications used worldwide. In January 2022, India had the most number of Instagram users, with 230.25 million, followed by the U.S., with 159.75 million users.
(Source: Statista)
Instagram is extensively used in India due to the ban on TikTok.
1. A survey from 2020 showed that 89% of marketers believed that Instagram was an important platform for their influencer marketing.
(Source: Statista)
2. In 2021, Instagram surpassed TikTok and became the most downloaded app worldwide.
(Source: SensorTower)
3. 54% of marketers say that videos are the most valuable content format to achieve their social media goals. (Source: Sprout Social)
4. In February 2022, the video view campaign objective CPC was $4.33.
(Source: Revealbot)
5. 67% of video marketers plan to include Instagram videos in their video marketing strategy.
(Source: Wyzowl)
NFTs, Web 3.0, And The Creator Economy
NFTs work as an effective model for creators to sell their art. NFTs are nothing more than certificates of digital ownership; ultimately, the assets they represent determine their actual value. Moreover, it includes digital artwork, animal pictures, trading cards, music, online gaming, etc.
NFT, or non-fungible tokens, became a major part of the digital economy throughout 2021 and continue to be a hot topic today!
1. Global sales of NFTs reached US$18.5 billion in 2021.
(Source: Forkast)
2. According to Forkast and CryptoSlam, NFT sales totaled US$4.5 billion in January 2022.
(Source: Forkast)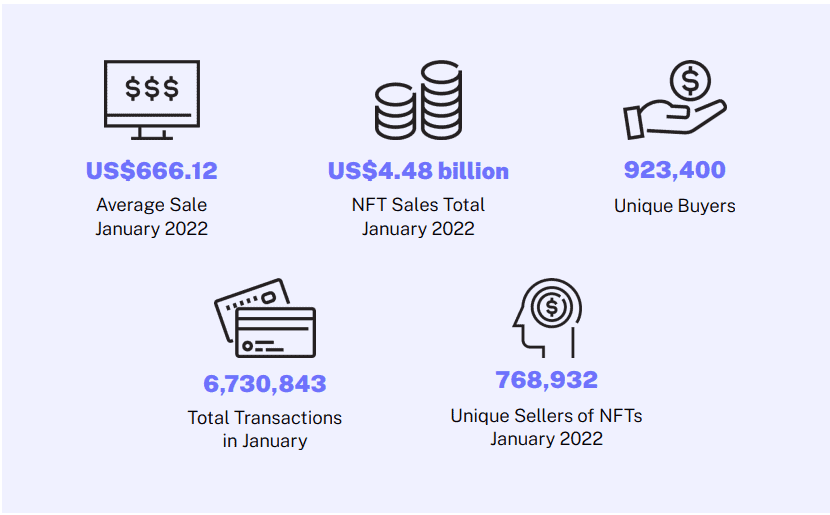 3. Beeple's First 5000 Days digital artwork was the most expensive non-fungible token (NFT) sold in 2021.
(Source: Statista)
Web 3.0, often known as Web3, is an advanced form of the internet with a blockchain-powered decentralized environment that allows users to communicate without worrying about centralized data repositories.
4. According to a report released by Nature in 2021, 85% of all NFT transactions were conducted by the top 10% of traders.
(Source: Nature)
5. According to the Quarterly NFT report released by Non-Fungible in 2022, the gaming segment of NFTs showed a decline of 50%.
(Source: NonFungible)
6. Most people still don't know what NFT is. 90% of people from Japan, 82.% from Germany, and 78.8% from the UK are the top three countries on the list.
(Source: Finder)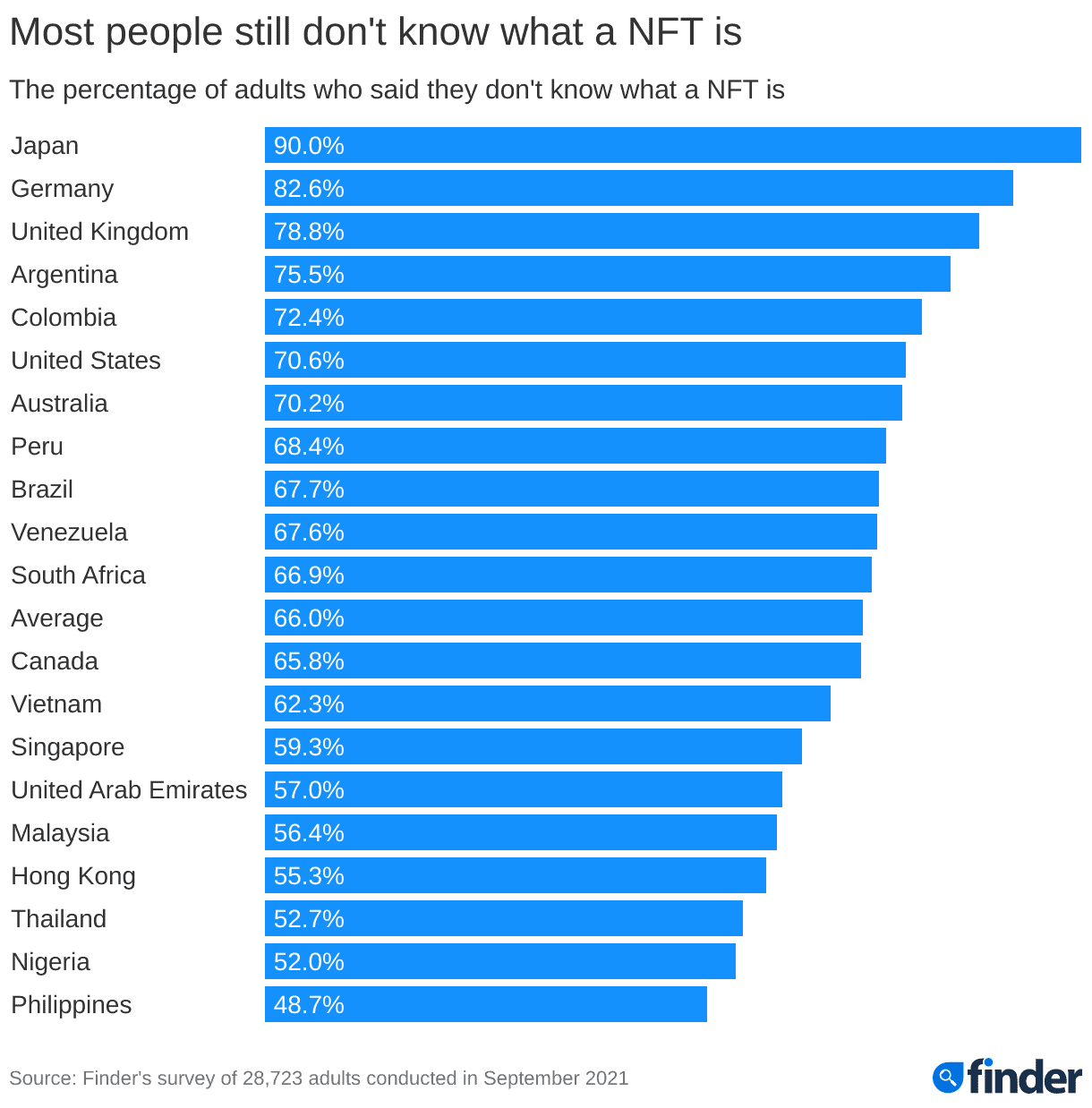 Final Thoughts
The number of creators worldwide has already exploded, but this is just the beginning of the creator economy. Hope the stats and insights on creator tools and businesses help you frame an intelligent strategy for your brand.