Looking for a webinar tool to enhance customer engagement and drive conversions? Avail WebinarJam's free trial at only $1.
WebinarJam is one of the most affordable webinar software for conducting live webinars. If you were looking for webinar software to solve your marketing needs, WebinarJam is the one for you. You can conduct paid webinars and use tools to promote them seamlessly. It also automates the entire process of creating a webinar without you lifting a finger.
Another popular webinar software such as Zoom only integrates with other software through Zapier. WebinarJam on the other hand integrates natively as well as via Zapier.
If you aren't sure about it, you can try all the features of WebinarJam for 14 days at just $1 with our promo link.
How Does The WebinarJam Free Trial Work?
If you want to create training videos, host client meetings, or set up a channel for internal communication, WebinarJam proves to be handy in all situations. Here's how you can get access to the 14-day trial of WebinarJam and explore all its features.
After clicking our free trial link, you'll see a popup displaying the 14-day free trial.
When you select the green option, you'll have to fill in your personal details and make a payment of $1.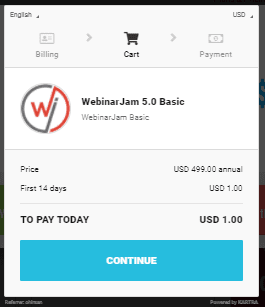 Once the payment is processed, you're all set to test WebinarJam for 14 days without any restrictions.
WebinarJam Pricing
WebinarJam has three pricing plans which offer unlimited webinars but differ in the number of attendees, hosts, and duration.

Basic Plan: $499/year for 500 attendees, two hosts, and a maximum duration of two hours. Unlike other webinar software, the starting plan is packed with features that make it well suited for beginners.
Professional Plan: $699/year for 2000 attendees, four hosts, a session duration of three hours, live room, and panic button. In case of technical issues, the panic button restarts the webinar and automatically pulls all attendees and presenters into a new live session.
Enterprise Plan: $999/year for 5000 attendees, six hosts, session duration of four hours, live room, panic button, and control panel. The control panel is helpful for enterprises with large teams, as the staff can manage and moderate the event from a separate room while the presenter can focus on the webinar.
With many other webinar software in the market like Demio, EasyWebinar, and ClickMeeting, the confusion of choosing the right one can be overwhelming. WebinarJam is easy and affordable. If you're not convinced that WebinarJam is the tool for you, let's look at some of its other features.
Why Should You Choose WebinarJam
Apart from the high definition webinar quality, there are several essential features that make WebinarJam one of the top webinar software:
24*7 customer support.
Engagement features like polls and surveys, video injection, customized pop-ups, and countdown timers.
Customizable landing page templates.
Automatically recorded and sent to attendees.
Conclusion
WebinarJam is the best tool to create urgency for your customers and boost conversions. Grab the coupon link to avail of the free trial of WebinarJam.