Over the last decade, the education sector has evolved, becoming more digital and technology-oriented. Virtual classrooms, hybrid learning, and online courses are just the basics of it. Tools such as smart whiteboards, virtual learning, gamification, and learning management systems have also become a part of the education technology industry.
This article comprises the latest statistics in EdTech, giving us an insight into the current trends and how this industry could shape up in the future.
Overview of EdTech Statistics
The EdTech sector is growing rapidly and is super competitive. It's a challenging and fast-paced environment with new innovations and startups entering the market.
Read on to find out more about general statistics on the EdTech sector.
1. The corporate digital learning market is expected to reach $44.6 billion by 2028 with a CAGR of 10.5% from its valuation of $22.5 billion in 2021. (Valuates Reports)

2. North America dominated the global EdTech market with a revenue share of 36% attributed to large-scale funding by venture capitalist investments and private equity investors. (Grand View Research)
3. The Asia Pacific market is the fastest growing market, expected to grow at a CAGR of 16.1% from 2023 to 2030. (Grand View Research)

4. Across India, the value of the EdTech market is expected to reach $4 billion by 2025. (Statista)
5. The global EdTech and smart classroom market was valued at $101.64 billion in 2021, with an expected CAGR of 17.8% up to 2029. (Fortune Business Insights) )
6. The global market size for interactive whiteboards is expected to grow from $4.37 billion in 2021 to $5.83 billion by 2026, with a CAGR of 5.6%. (ReportLinker) )
EdTech Market share and insights
The Edtech market is globally expanding in exciting ways. Find out more about how and where it is expanding and which tools are leading the way in the Edtech industry.
1. 49% of 888 K-12 educators believe technology is very or somewhat ineffective in promoting students' social and emotional learning processes. (EdWeek Research Center)
2. As per a pre-pandemic survey of 1500 schools in 50 states of the US on the use of technology in educational learning and teaching in 2020, 45% reported having a computer for each student for learning purposes. (NCES)
3. The same report also shared that 26% of these schools reported having a lack of support in using technology for teaching as a moderate challenge. (NCES)
4. As per a survey of 365 students in 2020, learning through challenge-based games increases a student's performance by up to 89.45% as compared to lecture-based learning. (Science Direct)
5. Indian Edtech startups raised $2 billion in external funding in 2022. (Entracker)

6. Edtech unicorn Byju's was the largest Edtech company in India with a $22 billion valuation. (Entracker)
7. During the Covid-19 pandemic, 61% of IT departments of schools were unprepared for providing remote learning to students and staff. (CoSN)
EdTech statistics: Industry trend
The education technology industry is the hype of the tech world right now. There is immense scope and opportunities for improving how we learn from hardware to consumer-related complaints in the future.
1. The hardware segment of EdTech's market share accounts for 41% of global revenue, attributed to the growing prominence of digital classrooms across the education industry. (Grand View Research)
2. The Global Education and Training expenditure is predicted to grow at a 3.6% post-covid CAGR, reaching $7.3 Trillion by 2025. (Holon)
3. 70% of all formal education learning programs are predicted to rely on edtech market solutions by 2027. (Research and Markets)
4. 51% of the global EdTech market will be presented by Direct-to-Consumer solutions by 2027. (Research and Markets)
Education technology statistics: Academic institutions
Schools, colleges, and even universities are navigating and incorporating EdTech into their learning processes. Find out more about the perspectives of teachers and students on the evolution of the digital age in education below.
1. According to a survey of 888 K-12 educators, 51% of students have the ability to enroll in virtual school, where the school has over 10,000 students. (EdWeek Research Center)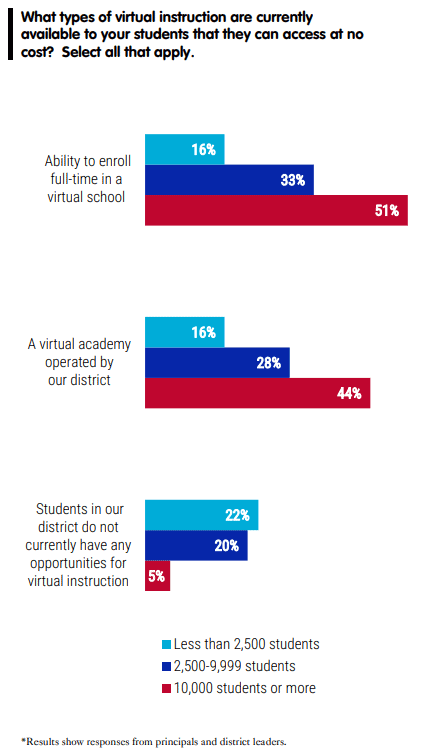 2. The report also shares that 95% of K-12 educators consider online learning less effective than classroom learning. (EdWeek Research Center)

3. While in another survey conducted for higher education teachers and students, 51% of college faculty believe that digital technology has helped them teach new concepts. (McGraw Hill)
4. The report also shares that 59% of college faculty believe digital technology has helped improve student grades. (McGraw Hill)
5. 41% of 1500 surveyed educational institutions believe that Edtech helps students learn more actively, as per a pre-covid 19 survey in the US in 2020. (NCES)
6. According to a survey of over 2.9 million students in K-12 systems, classroom instruction, and engagement tools (22.5%) are the highest used as compared to other categories like learning management systems (LMS), IT management, Study tools, Sites, and Resources, among others. (Learn Platform)

Frequently Asked Questions
How big is the EdTech market (including US and India)?

The global education technology market size is valued at $106.46 billion. (Grand View Research)
What is the market size of higher education?

With a CAGR of 10.3%, it is expected to grow from $77.6 billion in 2020 to $169.72 billion in 2029. (Globe News Wire)
How much is technology used in education?

Tools and technologies are becoming increasingly popular in education. Over 70% of schools in a survey mentioned that teachers used technologies for activities done in the classroom. (NCES)
Final Thoughts
Learning and development never stop! With the masses buying new mobile phones and laptops as we adapt to the rapid digitization in recent years, high-speed internet and access to connectivity are becoming necessities, so educating ourselves through these devices has never been easier.
Technology paves a way for us to acquire new skills and retain things easily for a longer duration, so it will be interesting to see how EdTech precisely grows and expands into new horizons.
Let us know your thoughts about the EdTech sector and any relevant statistics that might have been missed out.