Our Verdict
All-in-all, it is a superb accounting solution for freelancers, but small businesses will also find it valuable.

Start Using Freshbooks
Our Rating: 4.5/5
Usability
96%
Value For Money
82%
Customer Support
97%
Pros
Elegant user interface
30 day free trial
Award winning support team
Customize your invoice with ease
Automate recurring invoice
Collect payments without invoice
Sync with Freshbooks Mobile App
Cons
Tad bit more expensive than the competitors
If you're a solopreneur, freelance consultant, or a small business owner, then invoicing, accounting, time tracking, and financial reporting could become tedious. FreshBooks, a cloud accounting solution, makes it easy to manage your books.
Note: This article contains affiliate links. This means if you purchase anything using my link, then I earn a commission (at no extra cost to you). I only recommend products that I personally find valuable and enjoy. I appreciate your support!
Here's a quick summary of FreshBooks:
Frequently Asked Questions About FreshBooks
Let's begin by answering a few of the most common questions about this financial software for small businesses.
As an accounting software, FreshBooks makes it easy for small businesses and freelancers to automate invoicing. You can also track the time you spend on a project, collaborate with your teammates, log expense info, generate financial reports, and more.
Yes, FreshBooks is designed for professionals getting started with accounting. It has an elegant user interface, and finding your way through sending your first invoice, sending project proposals, tracking your time, logging expenses, and more, is fairly intuitive (and even fun).
The software doesn't have inbuilt payroll. You can integrate FreshBooks with a payroll solution such as Gusto, though, and sync your payroll expenses.
How much does FreshBooks cost?
The "Lite" plan (meant for self-employed professionals) starts at $15 per month and allows five billable clients. Its "Plus" plan is suitable for small businesses accommodating fifty billable clients at $25 per month. You can save 10% on all the plans by paying annually.
Is there a free version of FreshBooks?
While there isn't a completely free version, you can get a 30-day free trial of FreshBooks without putting your credit card information. After 30 days, you'll need to sign up for a paid plan.
Is FreshBooks better than Quickbooks?
The two products are built for different purposes. FreshBooks is ideal for service-based businesses, freelancers, and consultants that want to invoice clients and keep track of their expenses. On the other hand, Quickbooks would work better for businesses that sell products and want a full-fledged accounting software to keep track of their inventory, taxes, and more.
Now that you've learned the basic features of FreshBooks, let's get started with exploring the nuances of the accounting software.
FreshBooks Login And Overall User Experience
When I signed up for FreshBooks, I was welcomed to the community and prompted to begin using the top features via the first onboarding email.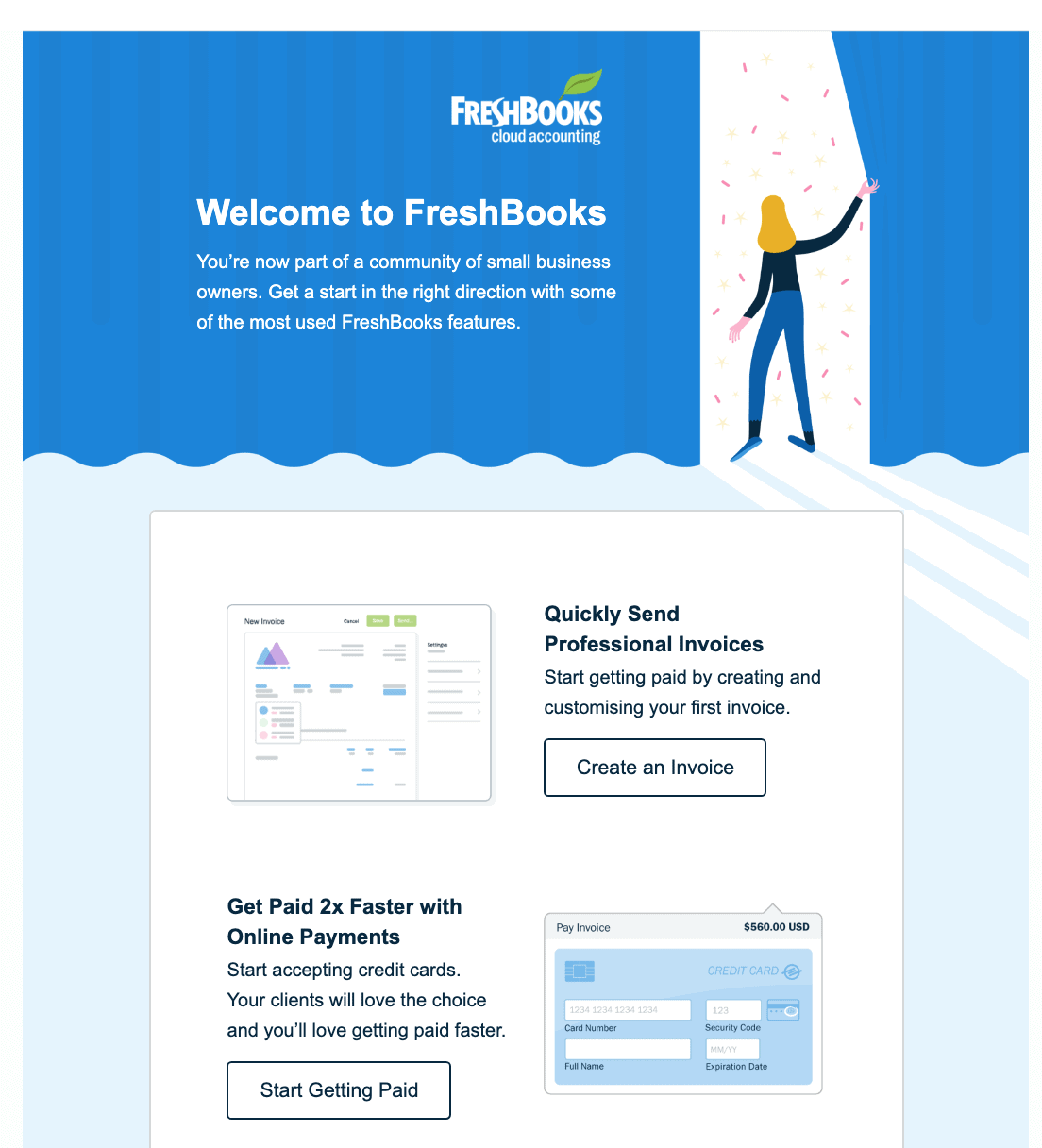 On logging in, I was quizzed about my business so that the software could be customized for my needs.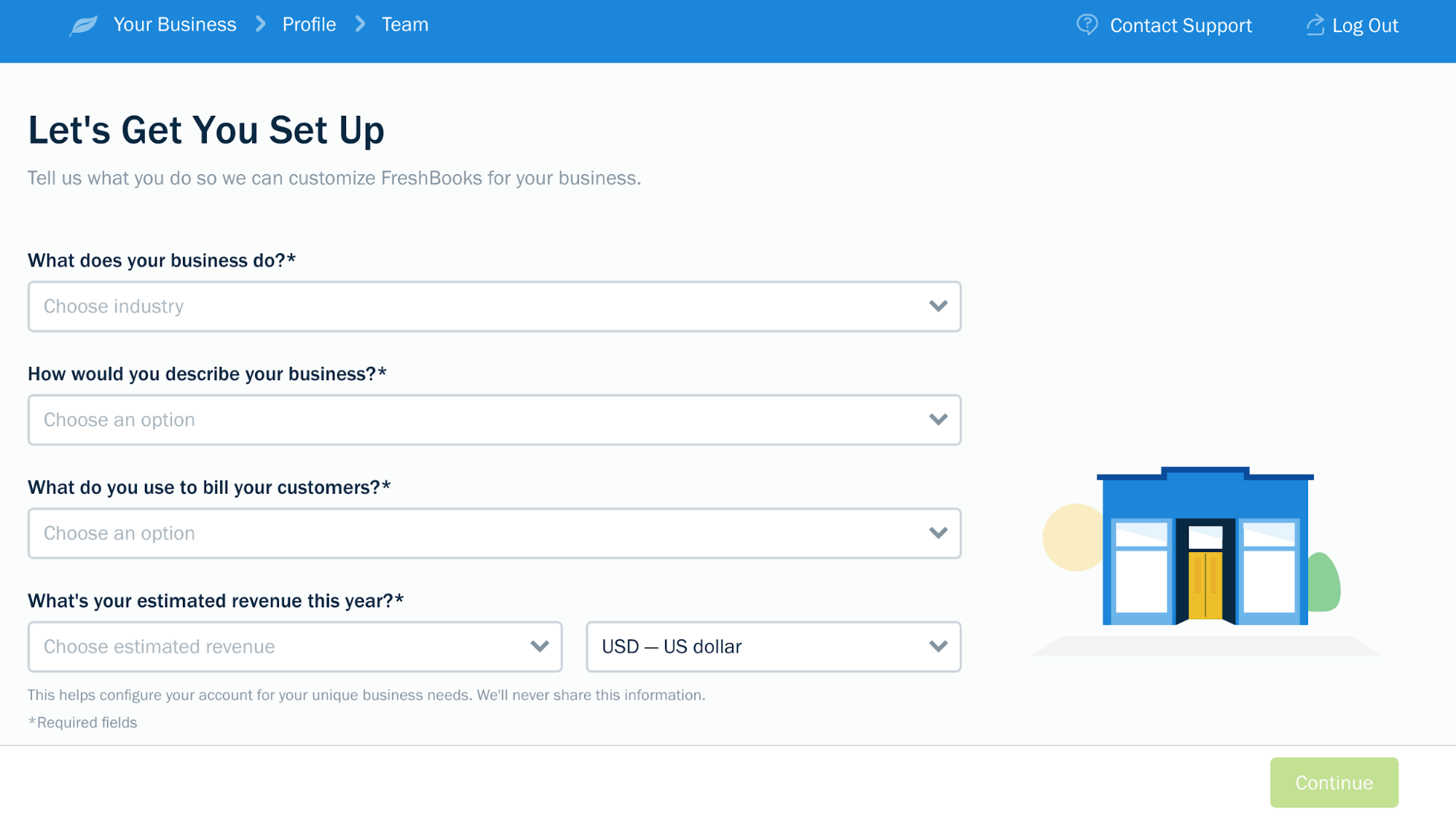 Once you plug the necessary info, the vibrant FreshBooks dashboard welcomes you. You can create your first professional-grade invoice straightaway. Or you can navigate to the core FreshBooks features from a vertical panel on the left.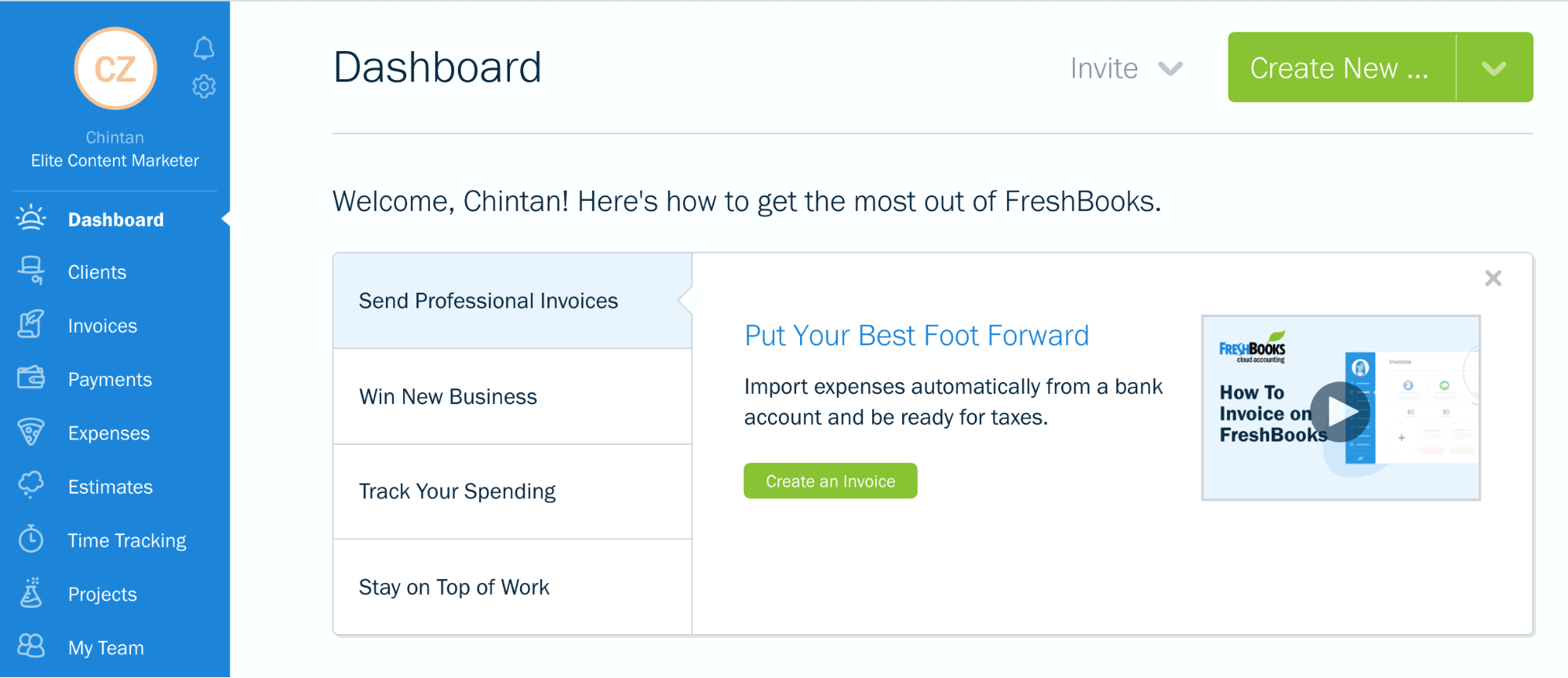 There's also an option to invite other team members to your account by paying a fee for each person. But you can invite your accountant to access reports for free.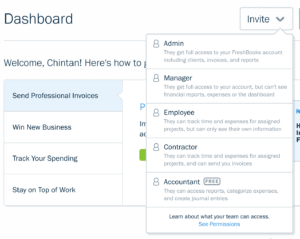 Overall, I found the onboarding smooth and the design clean and elegant. Indeed FreshBooks Classic users (the pre-2016 version of the software) will also like this new user experience. In fact, I was so amused with the aesthetics of FreshBooks that I couldn't resist creating my first invoice, but we'll talk more about that in a later section.
FreshBooks Pricing
FreshBooks offers the following three paid plans:
The Lite plan is priced at $15 per month. It's ideal for self-employed freelancers and consultants. And it lets you bill five clients.
The Plus plan is priced at $25 a month and comes with the ability to send unlimited proposals. With a capacity of fifty billable clients, it's ideal for small business owners.
The Premium plan costs $50 per month and lets you have up to 500 clients. This plan is useful for large agencies and growing businesses.
You can avail a discount of 10% on all the plans by opting for annual billing. If you want to give FreshBooks a try before enrolling in a paid plan, a free 30-day trial is available — without the need to put your credit card information. After the trial, your invoices, expenses, and other data is stored if you choose to upgrade to a paid plan later.
All the plans allow you to add team members at $10 per person. There's even an add-on feature of advanced payments at $20 per month (+3.5% + 30 cents per transaction). It lets you store your repeat client's credit card information within FreshBooks itself. This is useful for setting up recurring payments or even automated "subscription-based" billing.
FreshBooks Customer Support And Help Center
In the first email I received from FreshBooks, the company self-proclaimed that it had "an award-winning support team."

So does it live up to the hype
When I headed to the contact page, I was pleasantly surprised to find phone support through its toll-free phone numbers.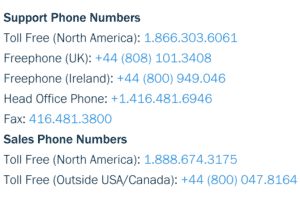 But you can submit support requests to the company on their website as well. I submitted a request via their chatbot after it wasn't able to provide an answer to my question through existing support articles.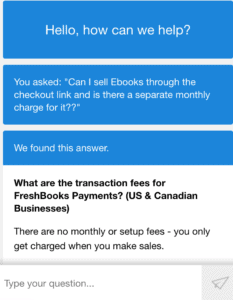 Within an hour, I received a reply via email, which was accompanied by a YouTube video and it solved my query.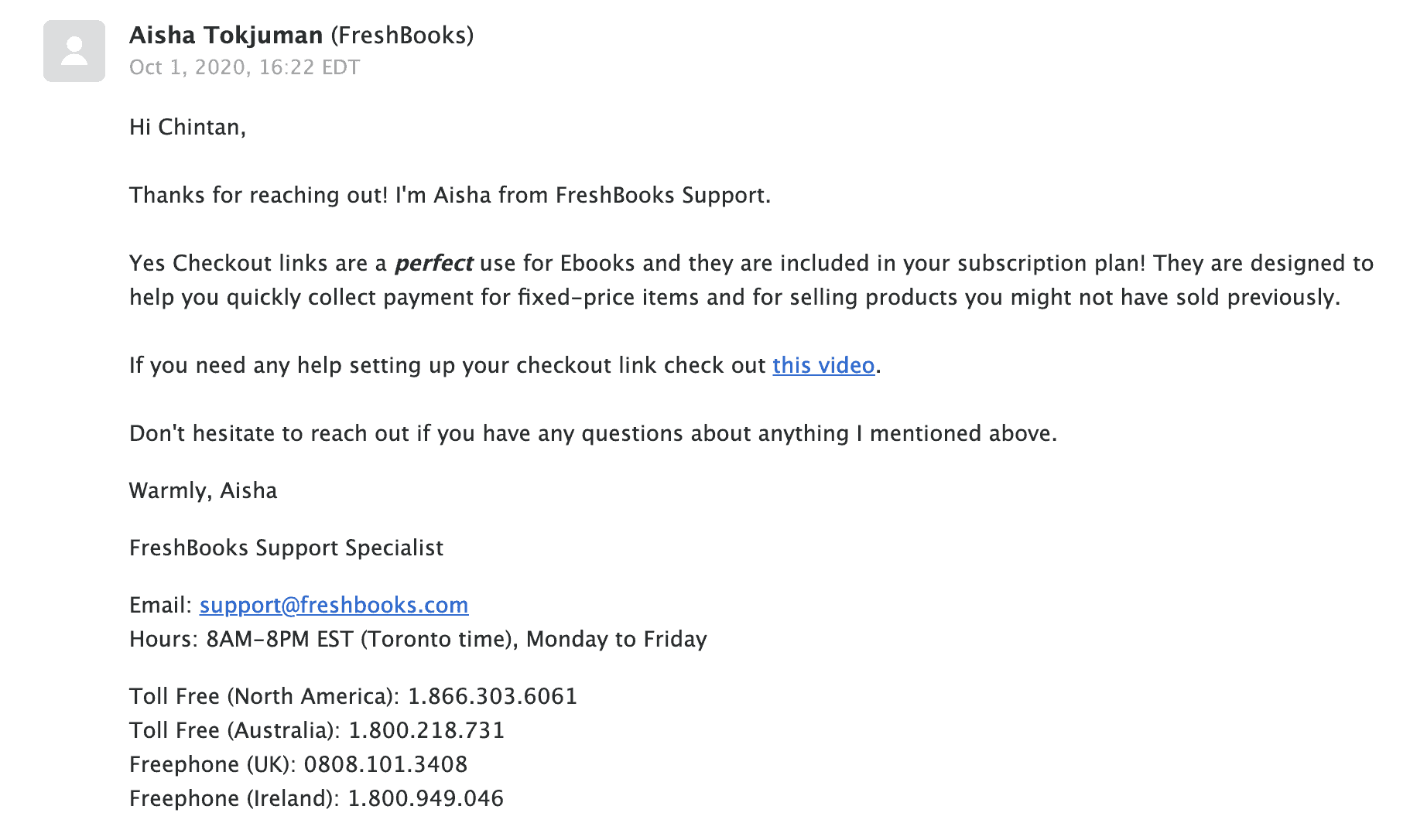 While it missed the mark for me, the FreshBooks help center is quite exhaustive covering the nuances of all of its features and is neatly broken down with visual illustrations.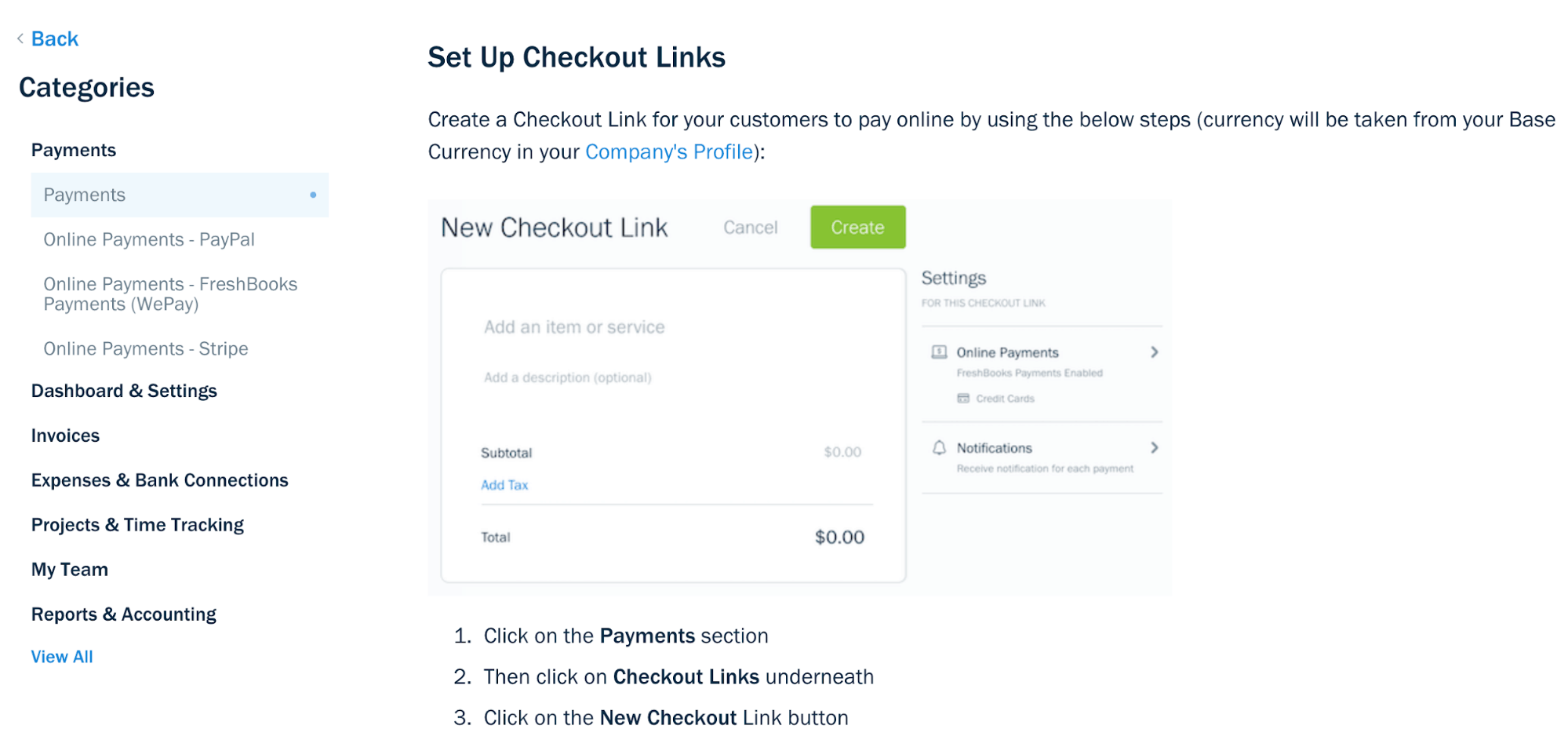 If you prefer the video format, then live webinars to familiarize you with the platform are also conducted. Previous webinar recordings are also available on their YouTube channel.
Indeed friendly YouTube walkthroughs and links to support articles (with anchor text as "Learn more") will accompany you on many features on the platform.

While you'll get around FreshBooks pretty quick, even when needed the customer support is excellent and you can expect a quick resolution of most of your issues.
Next, let's look at a few FreshBooks features I want you to try.
Invoicing Made Easy (And Classy…)
To send an invoice to your clients, you simply need to tap on the "Create an Invoice" button on the FreshBooks dashboard.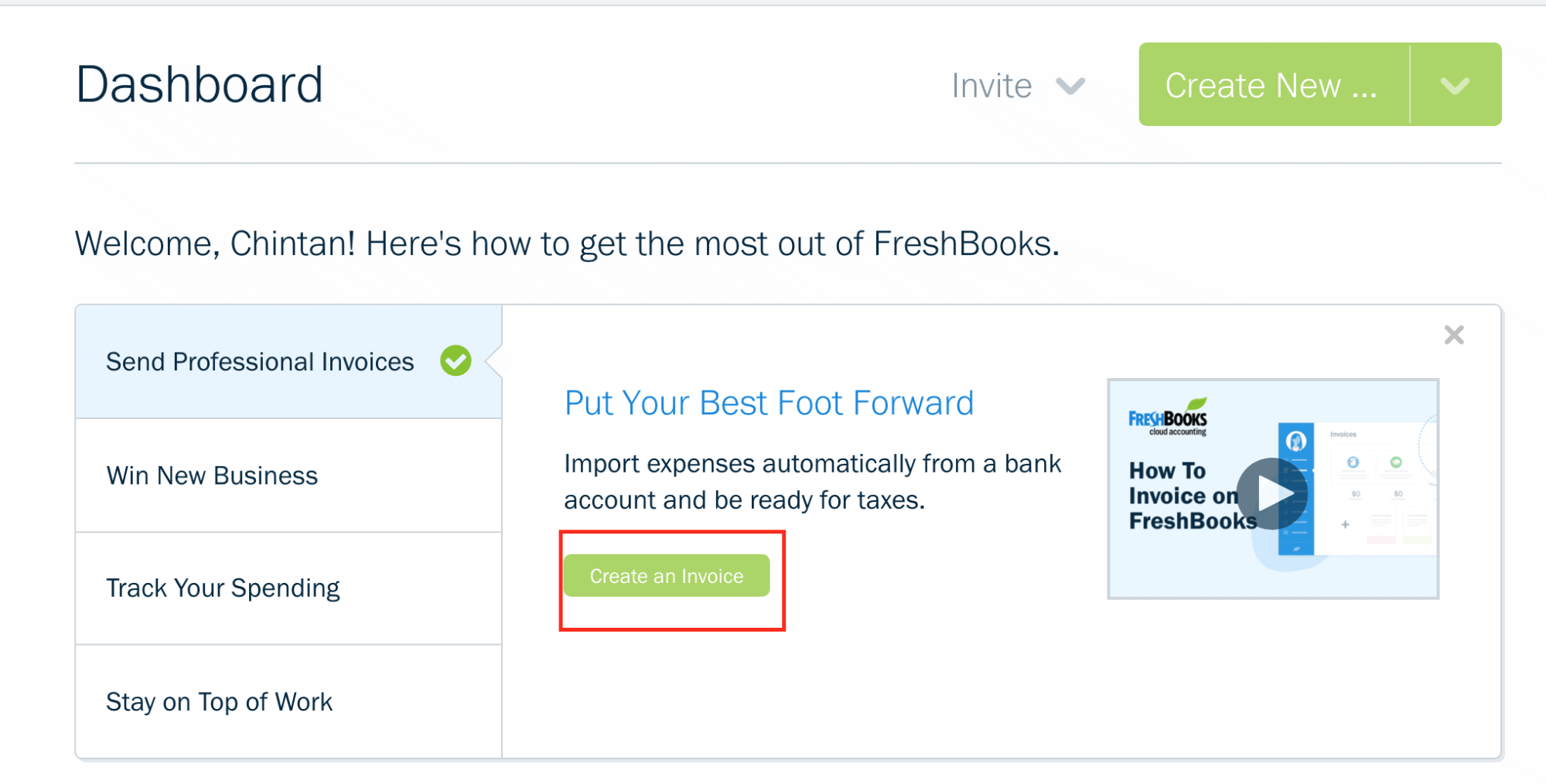 Then you'll be taken to the invoice document with fields you need to fill, including your client's name and details, the date of issue, due date, the description of your services, an invoice number, and the total amount due. If you want to add your project code, work order number, or the like, then a 'Reference' field is available for the same.
It's also possible to add your logo image in the top left corner of the invoice and modify your business address and contact information. The overall process of creating an invoice is super quick and easy!
Now let's explore the little touches of customization offered by FreshBooks while invoicing. It's possible to add a discount, request a deposit, and add a payment schedule for your invoices. It appears below in your invoice below the total as visible in the example below: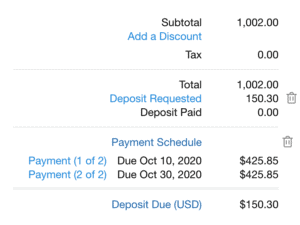 If you want to add your bank account number and transfer details or any other terms and conditions, then the bottom left corner of the invoice provides you with those options.

Customizing Your Invoice
It's possible to modify your invoicing settings for a client from the right sidebar with the following options:
1. Set payment reminders to a client for their invoice a certain number of days before or after the due date.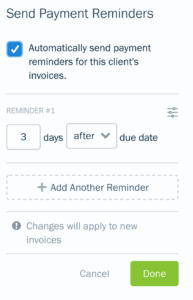 2. If the invoice is unpaid beyond its due date, then automatically charge late fees in two ways — a flat fee and a percentage of your invoice value.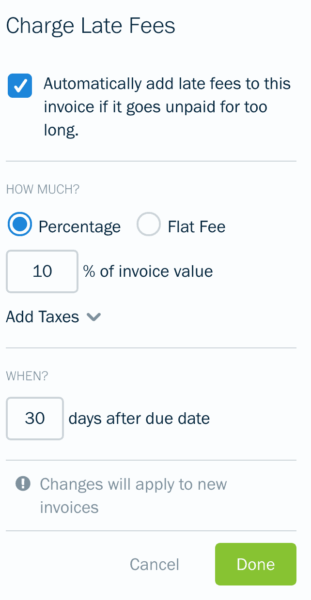 3. Change the currency of your billing and the language in which you're creating the invoice for a client.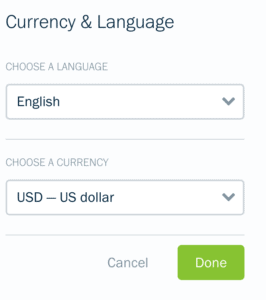 Lastly let's come to the look and feel of your invoice. From the "Settings" in the right sidebar, you can choose between a simple and modern template. You can also customize the theme color to match your brand colors and switch the typography between two fonts: Classic (Garamond) and Modern (Helvetica).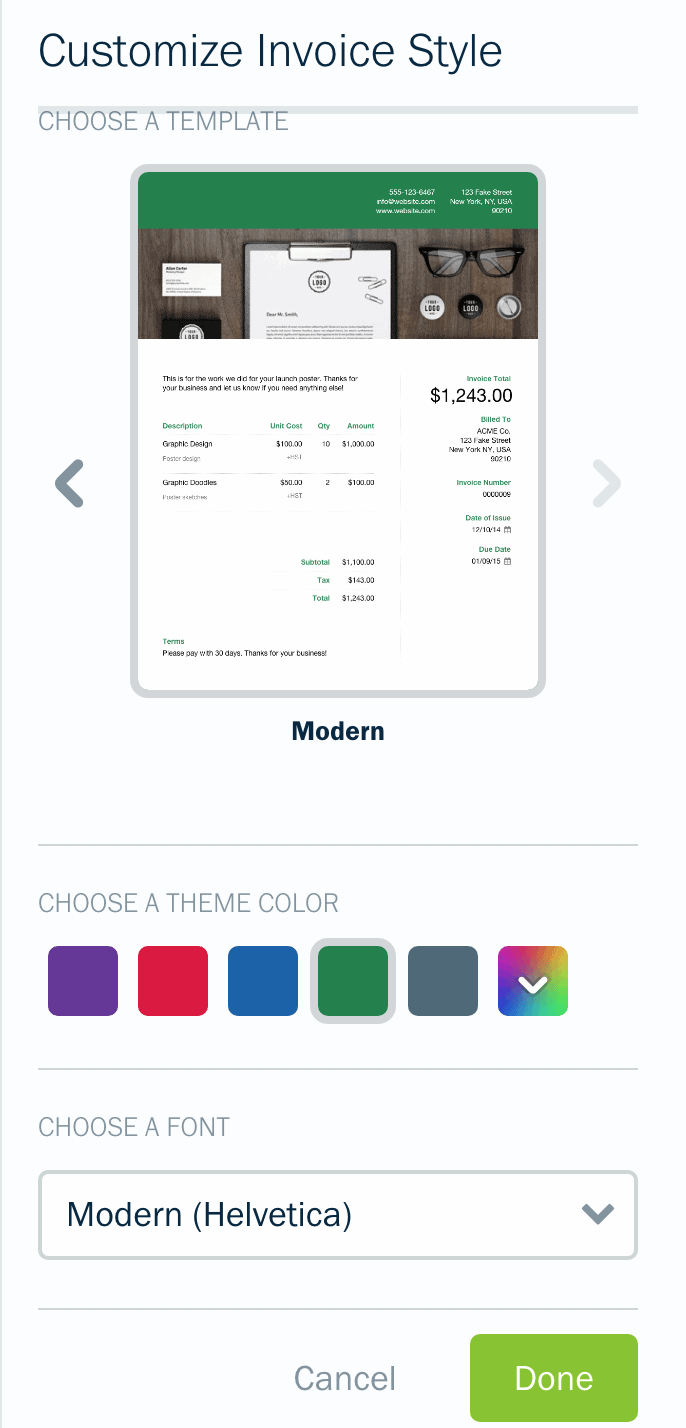 The invoice you saw above with a row-based format was the simple template. The modern template is column-based and allows the addition of an image at the top.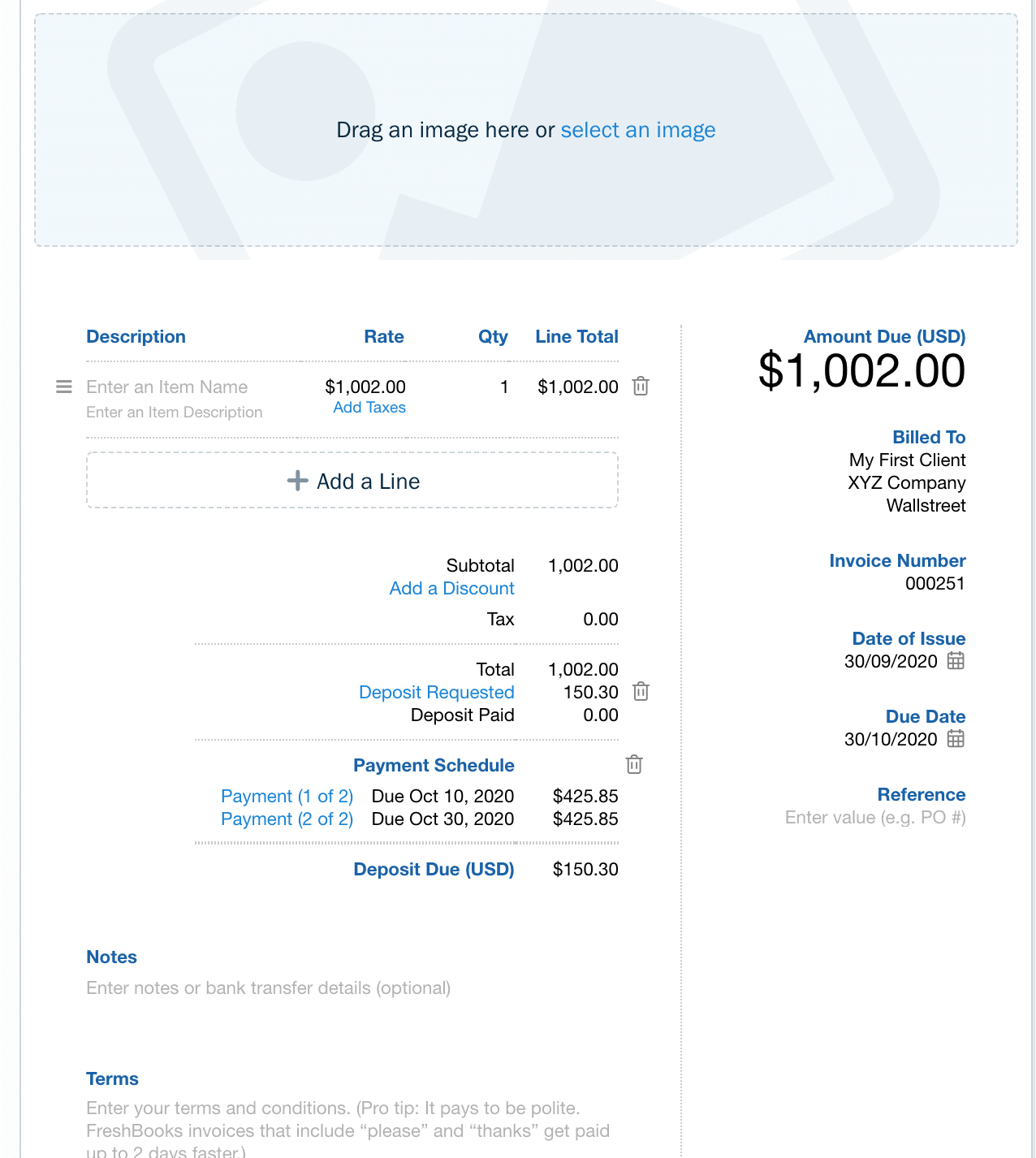 Once you've created the invoice, you can save it as a draft or send it to your client.
Phew! Did you find setting up all of those invoicing nitty gritties overwhelming? Lucky for you, it's possible to set up recurring templates so that you only need to set them once.

Once you've created an invoice, you can send it to your clients via the FreshBooks platform or get a shareable link. If you want to send it manually, you can download the invoice as a PDF file — but this'll deny you the ability to track when the client opens the invoice.
Accepting Online Payments
Once you've issued or saved invoices, they start appearing with their details in the "Invoices" tab.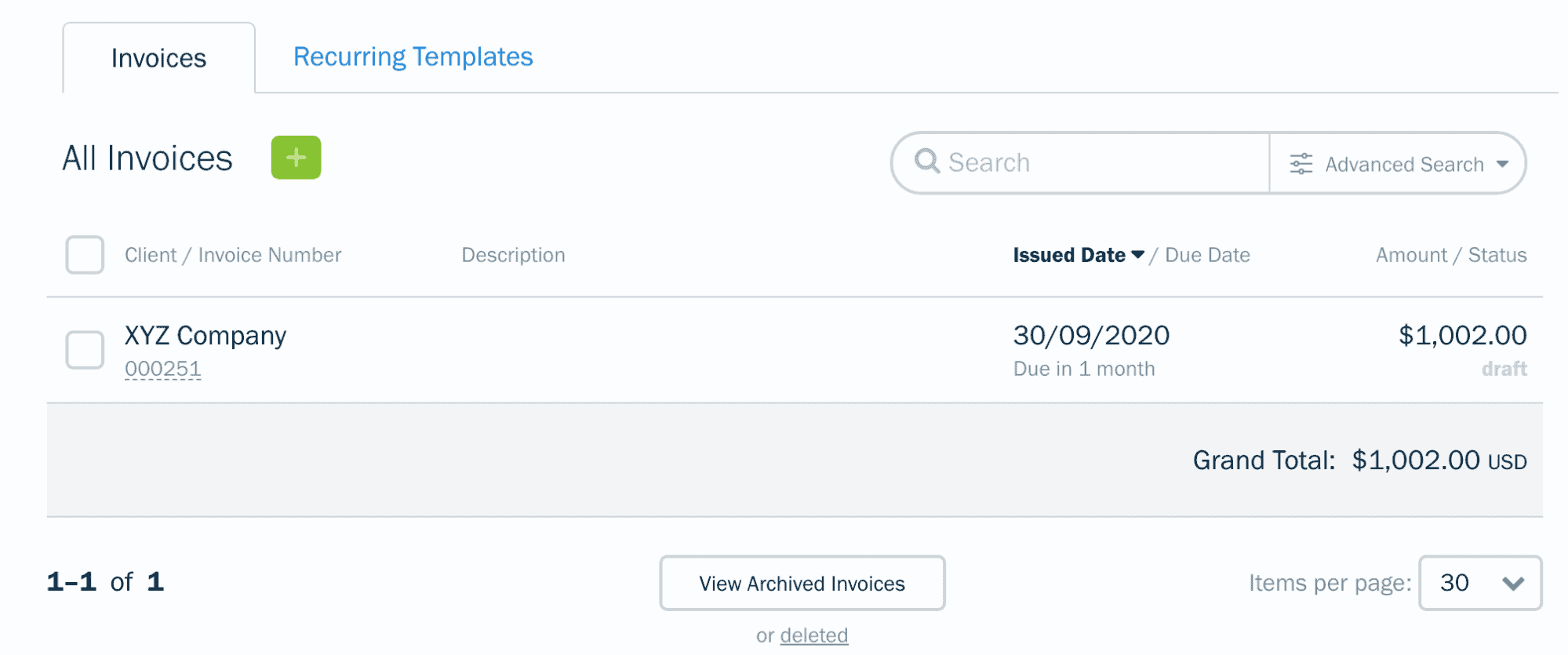 It also shows the outstanding, overdue, and draft amount based on your invoices.

You can accept online payments on your invoice through credit cards and bank transfers by enabling FreshBooks payments (powered by WeTransfer). To enable it, you need to head over to "Accept Online Payments" under settings on the right sidebar.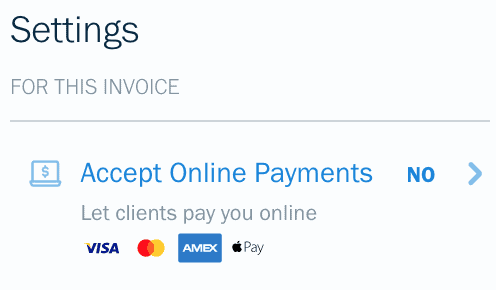 From here, you can connect your account to Stripe, Paypal, or FreshBooks Payments. It's  even possible to let your clients make partial payments by checking the box below credit cards.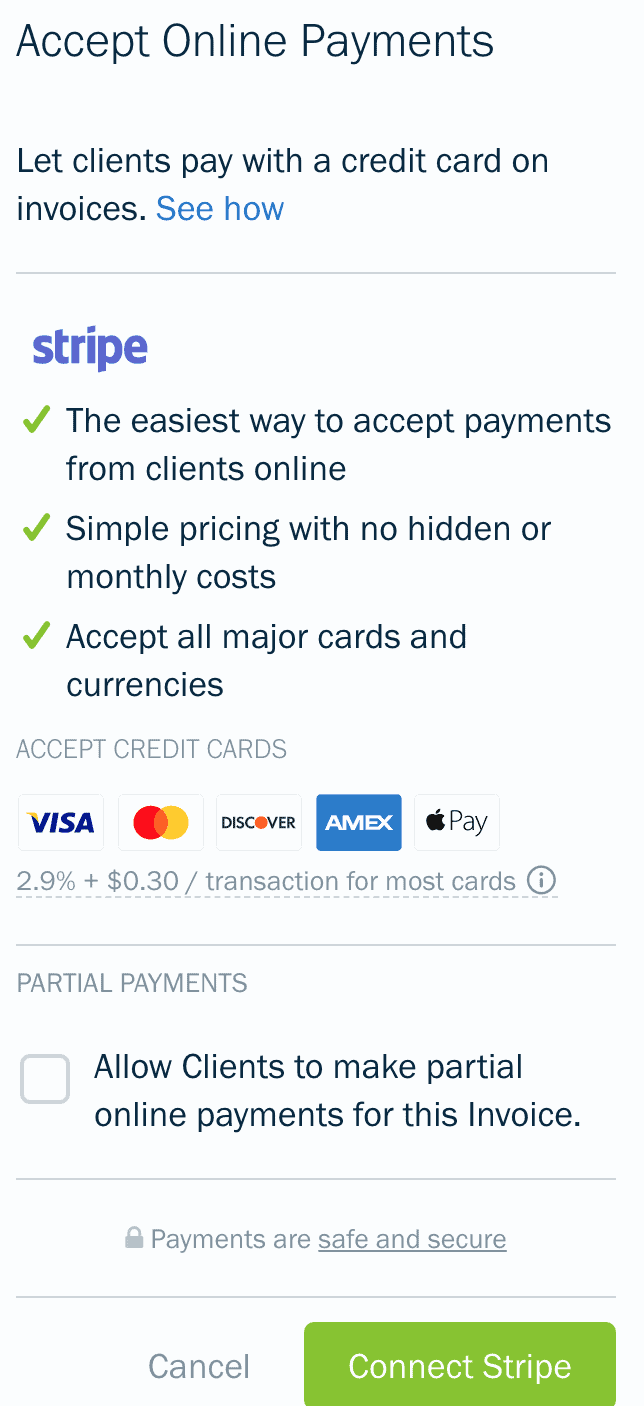 All transactions incur a fee, but they provide a direct paying option to your clients — potentially leading to quicker payments.
Note: This feature is different from the "Advanced Payments" paid add-on, which allows you to proactively charge your client's credit card when selling subscriptions.
Set Up Retainers
Another useful invoicing feature tucked into the left sidebar is "Retainers."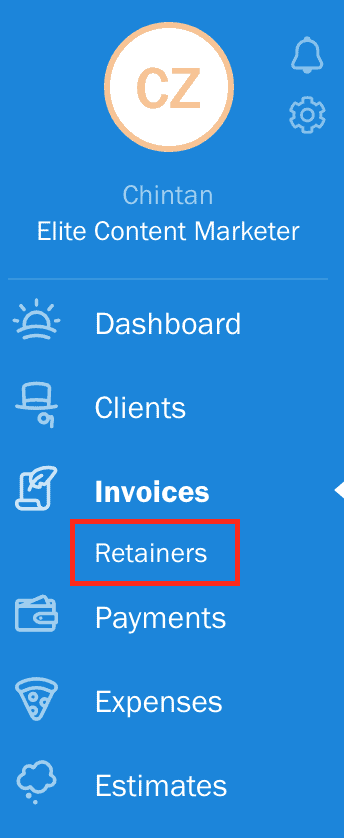 It's pretty slick for automating recurring invoicing for your clients on a retainer. You just need to set the terms and a billing schedule. It's based on "hours per period" (based on the time tracked by FreshBooks), which I reckon isn't the best way to charge for freelancers and consultants.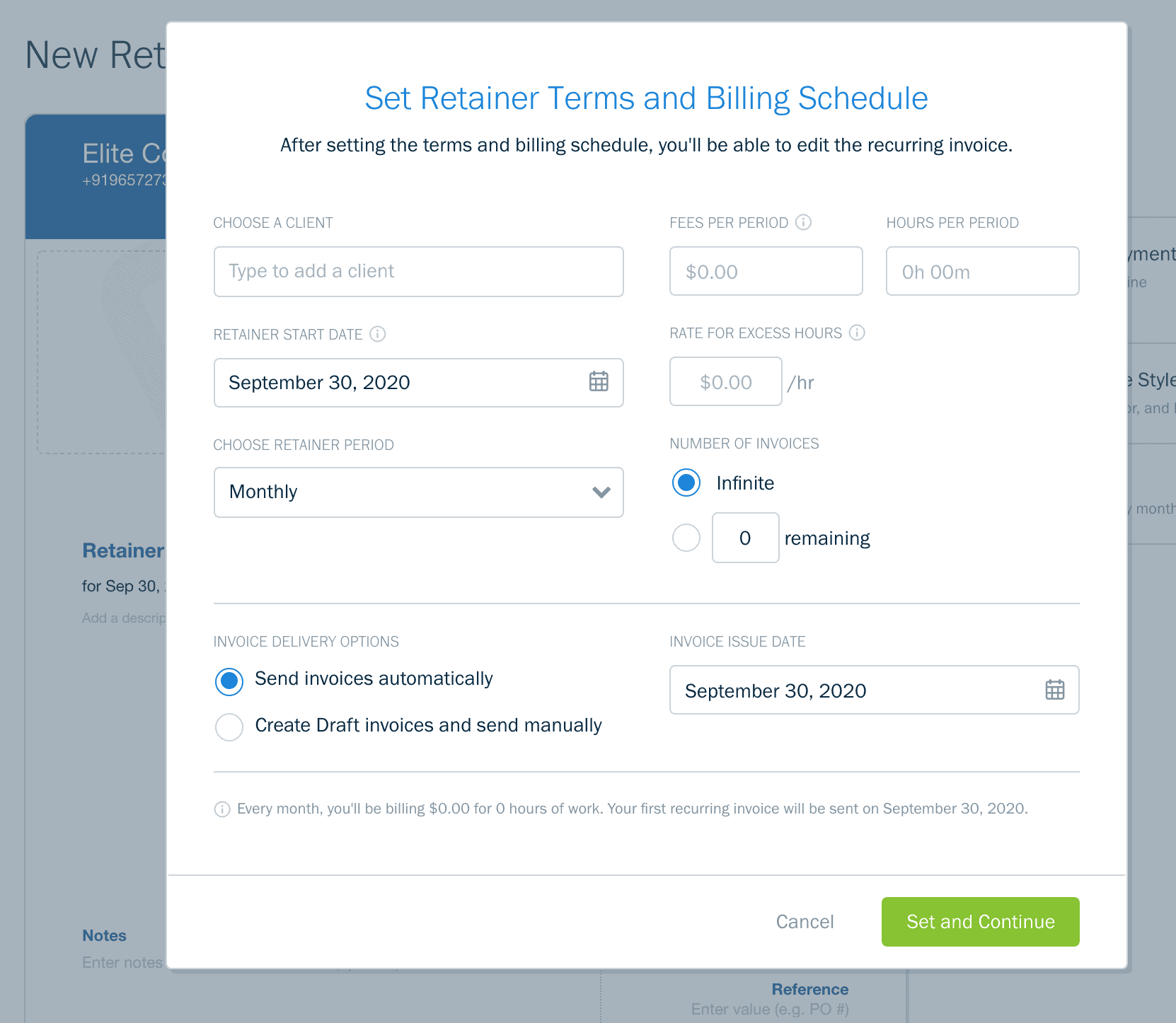 Nonetheless, you can choose a manual rate for excess hours you clock, set an issue date, and let your invoices get sent automatically or only let them appear in drafts.
Generating Estimates And Proposals
If you want to send estimates to a prospect, then you don't need a separate software — FreshBooks allows you to create professional looking estimates and proposals.
The template for estimates is the same as the one for the invoice we saw above. But for proposals, you can add sections including an overview, scope of work, and timeline. If required, you can also add images and blank sections to them.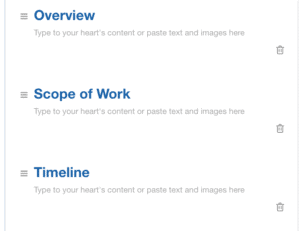 Here's how the final proposal might look like: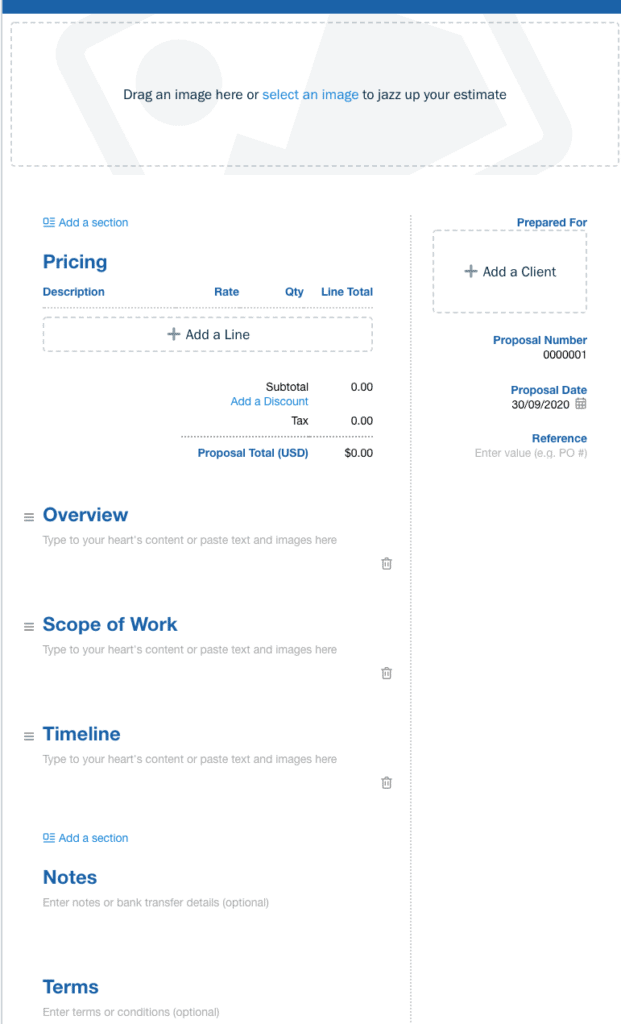 You can also request an e-signature from your prospects at the bottom of these proposals. You'll find the option to enable it under Settings on the right sidebar.
Payments And Expenses
From the Payments tab, you can manually mark the invoices you sent to your clients as paid.

Adding other invoice payments and income from sources is also possible.

So this is the place to track and manage your invoice income. A P&L report could also be generated from here.
Next let's look at the expenses tab. Here you can connect your bank/financial institutions with FreshBooks and import your account transactions (which are also categorized by FreshBooks).
Alternatively add an expense manually. Options are available to upload a receipt, mark an expense "billable" so that you can invoice it to a client later, and to make an expense recurring.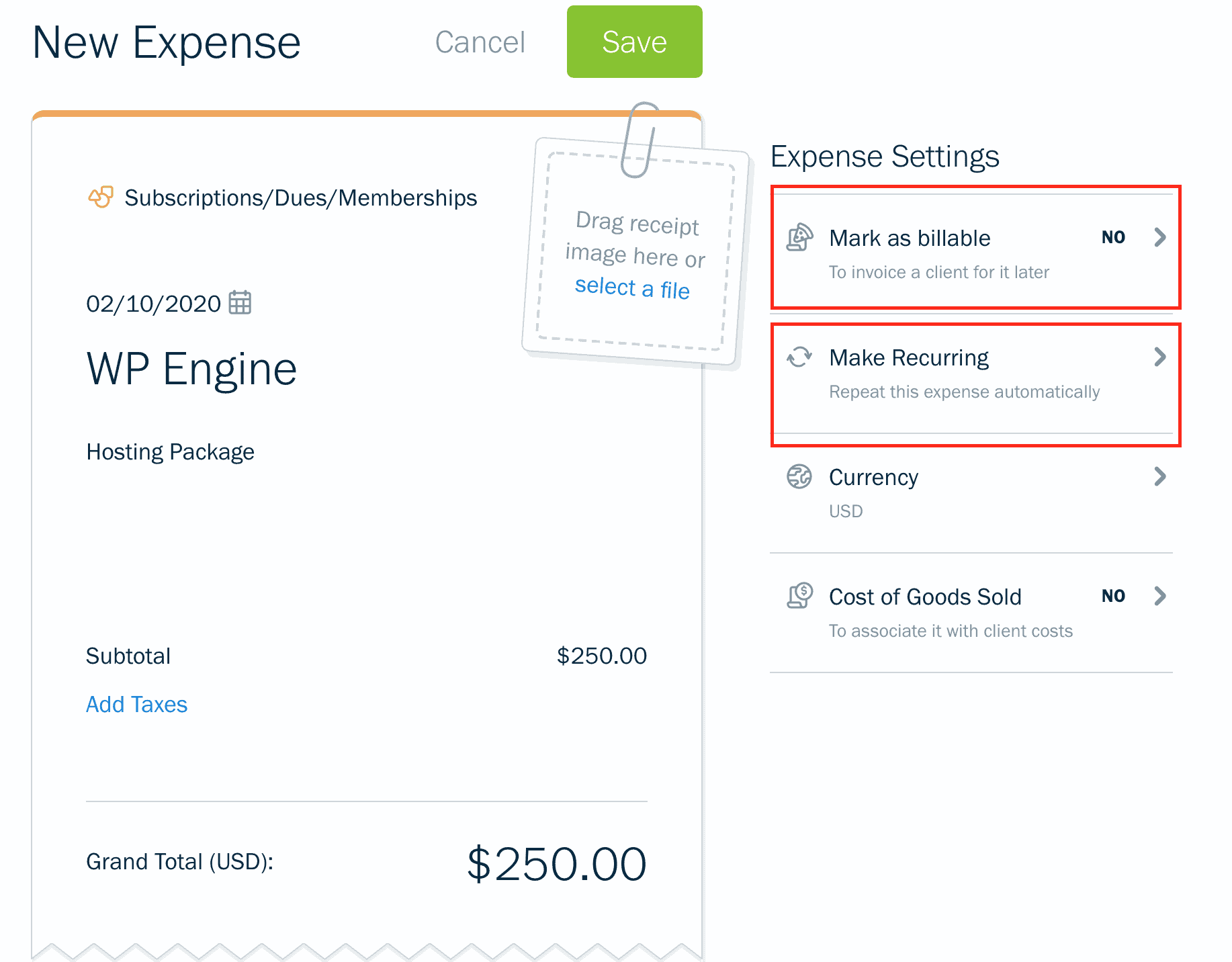 Overall these two options provide a decent oversight of your business and are helpful when you file taxes. But as you'll see in the next section, more intricate reports are available in FreshBooks.
FreshBooks Cloud Accounting
You can access a range of reports related to your invoices from the "Reports" tab. Here's a snapshot of a few: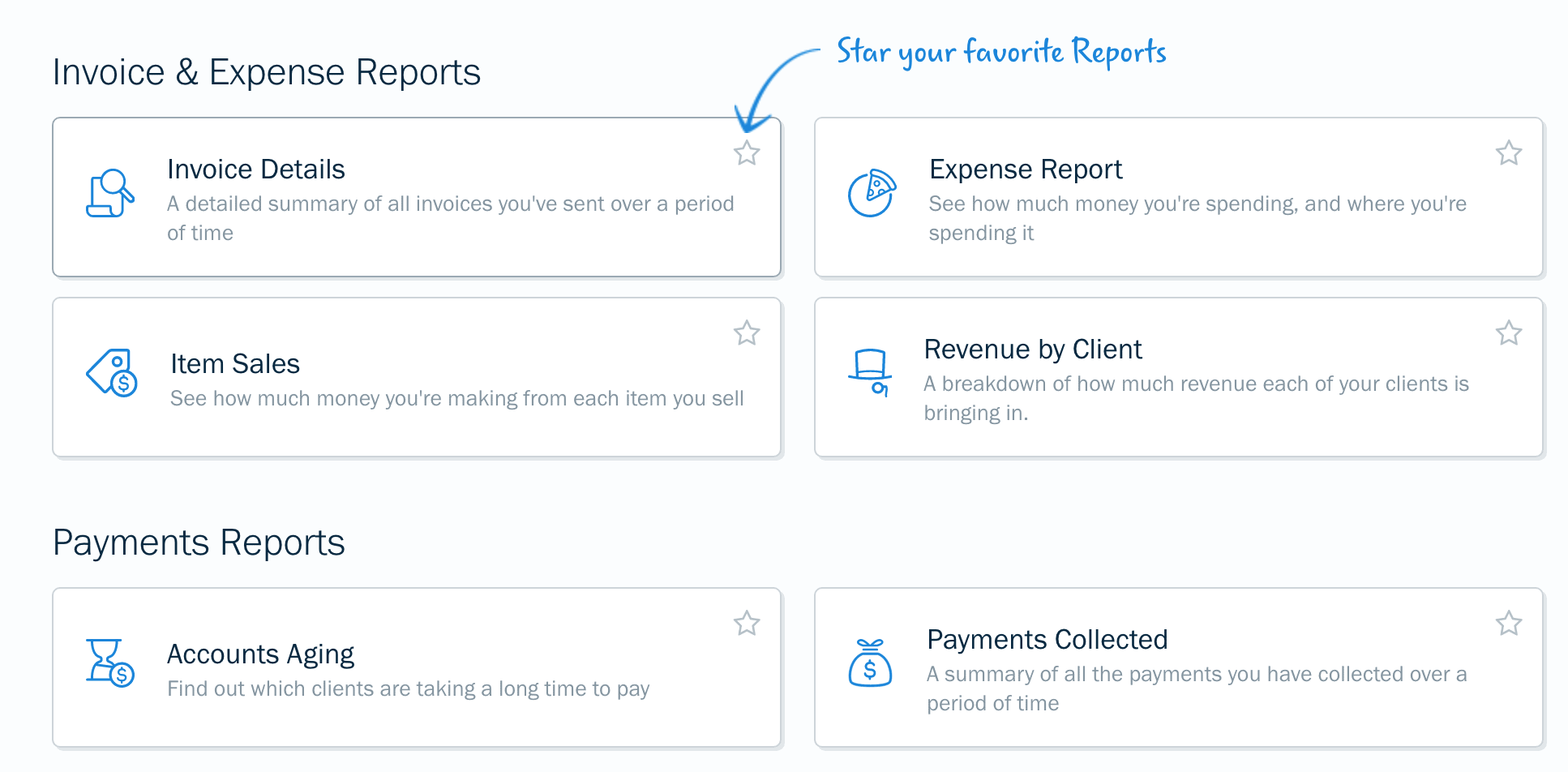 For professionals and small businesses that want deeper business insights, FreshBooks offers industry standard double-entry accounting. You can connect your bank, match transactions with the expenses and invoices on FreshBooks, and keep your books clean. It's even possible to invite your accountant to collaborate with you and access the reports below.
While these reports aren't super useful for freelancers or consultants, they are handy for small businesses.
Other Key Features
Let me show you around a few other functionalities of FreshBooks before we compare it with its top competitors.
Project Management
FreshBooks also lets you keep track of your projects, share files, collaborate with team members, and even invite your clients. You simply hop on to "Projects" from the vertical pane in the left sidebar and click on the "Create New" button.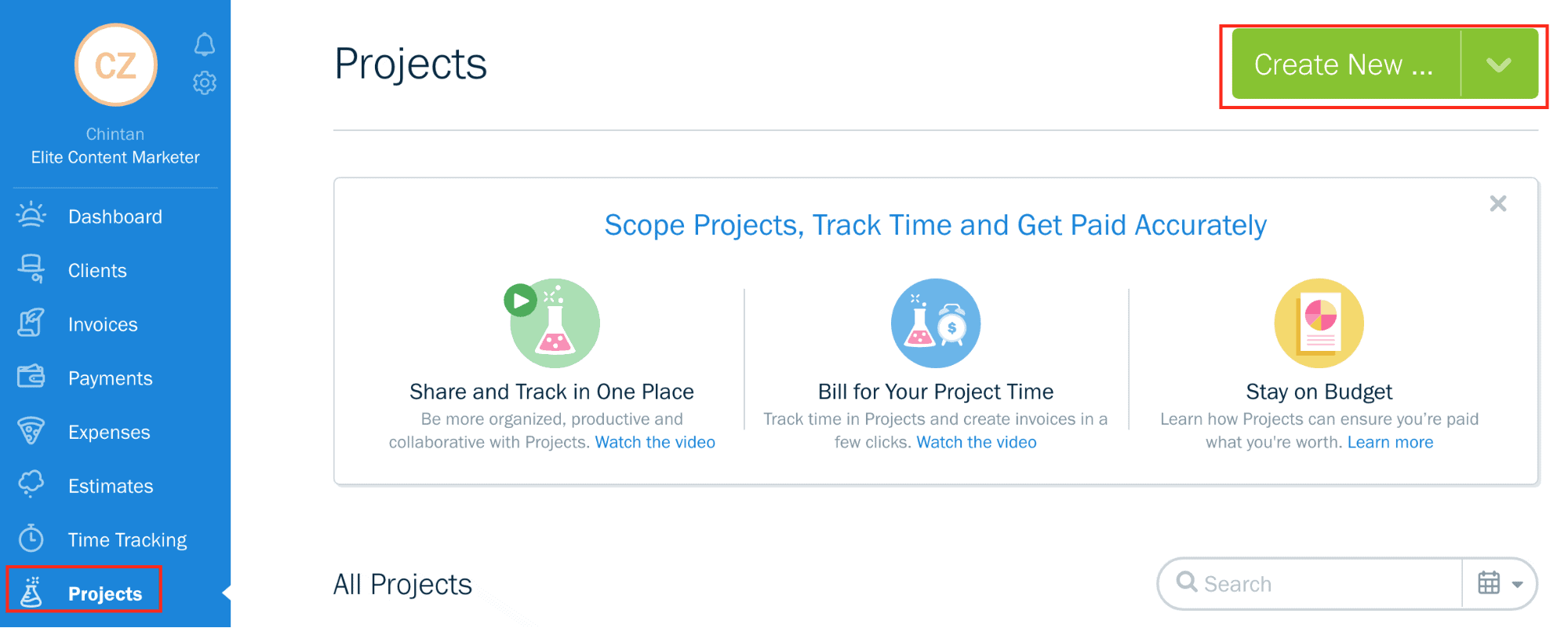 You get the option to create a "Flat Rate" or an "Hourly Project." Next, you can assign a client to it, plug your rates, add service details, set a budget and the end date, and add other project details. It's even possible to invite other project members.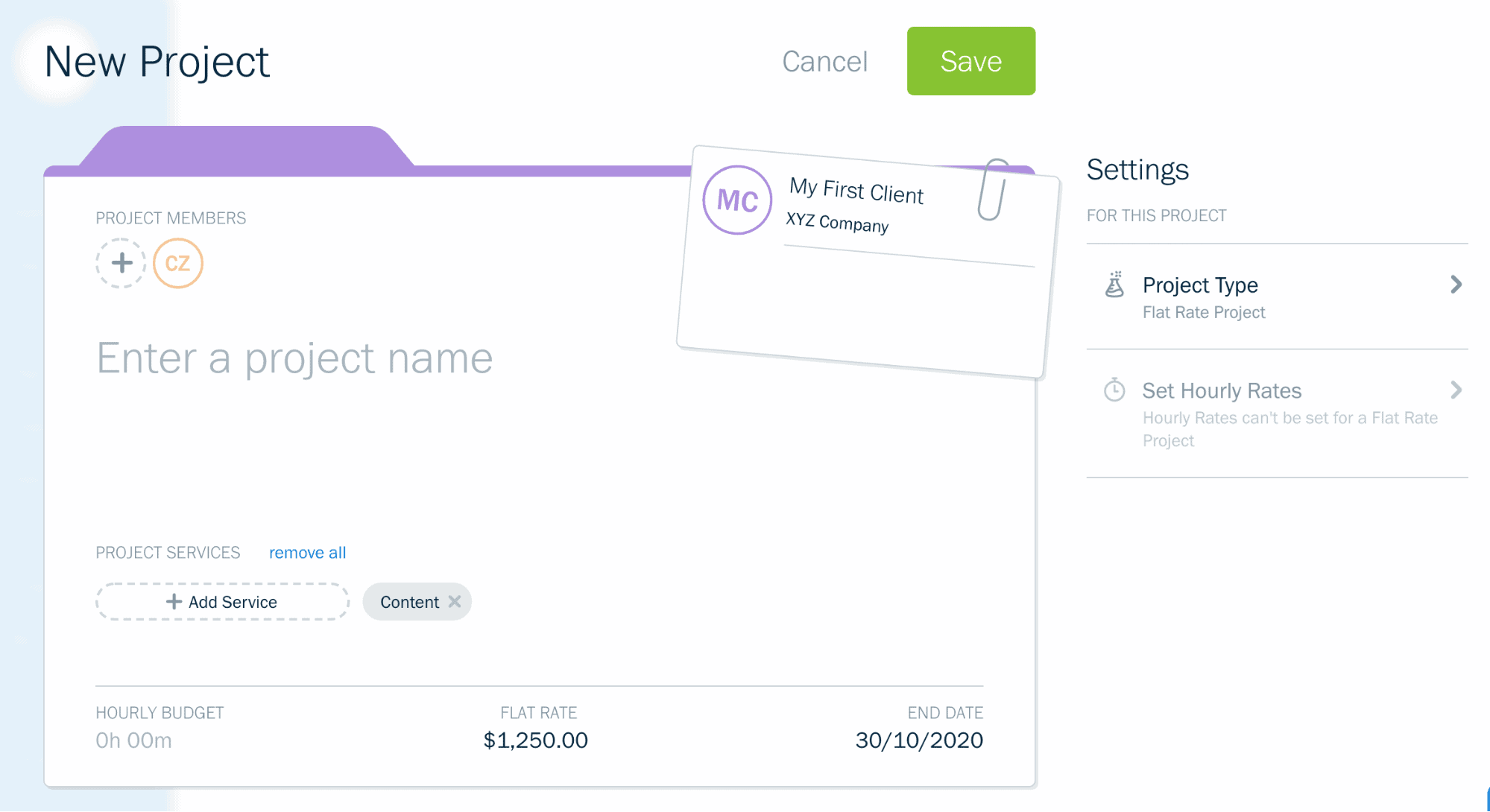 Once you've created a project, it starts appearing on the Projects dashboard.
You and your team members can log time, share files, enter expenses, and generate an invoice for any project by clicking on it.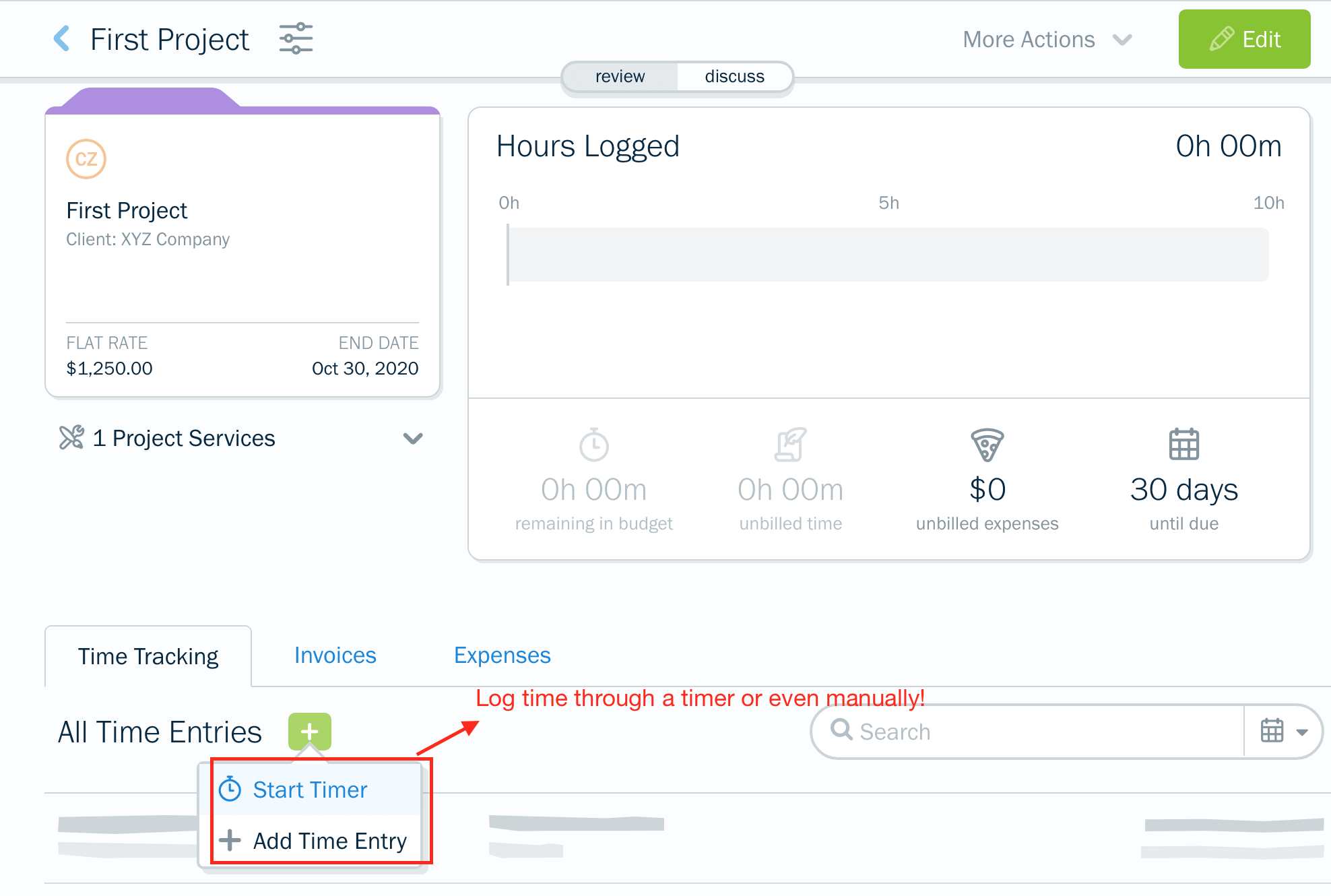 Mobile Apps
For both Android and iOS platforms, FreshBooks offers a mobile accounting app that syncs data from the website. It makes sending invoices and estimates, tracking time, and monitoring updates on the go a breeze.
But what I like the best is the apps can track your mileage automatically for business trips, and scan recipients for events (such as when you buy dinner for a client). They're handy for tracking and organizing your expenses.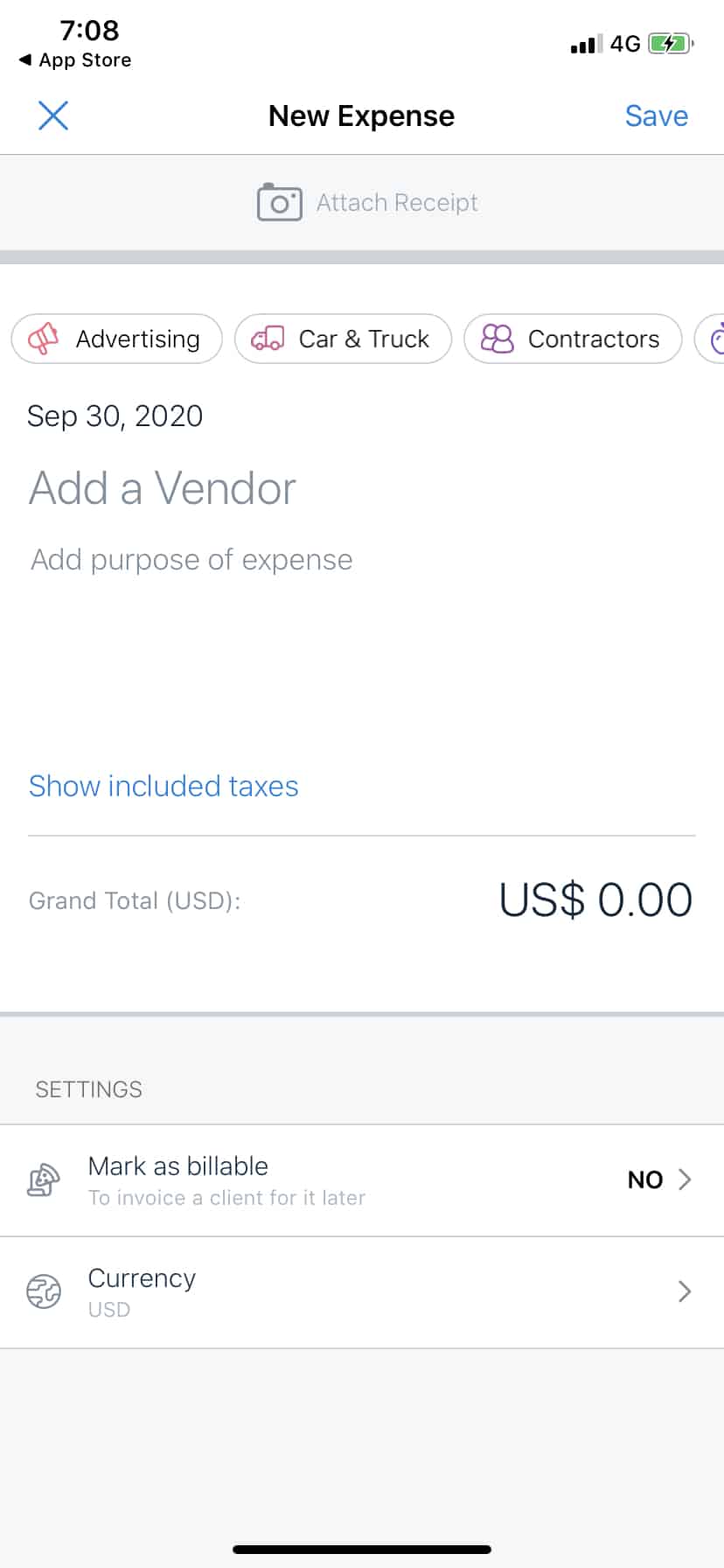 Time Tracking
If you bill your clients by the hour, then you can start a timer from "Time Tracking."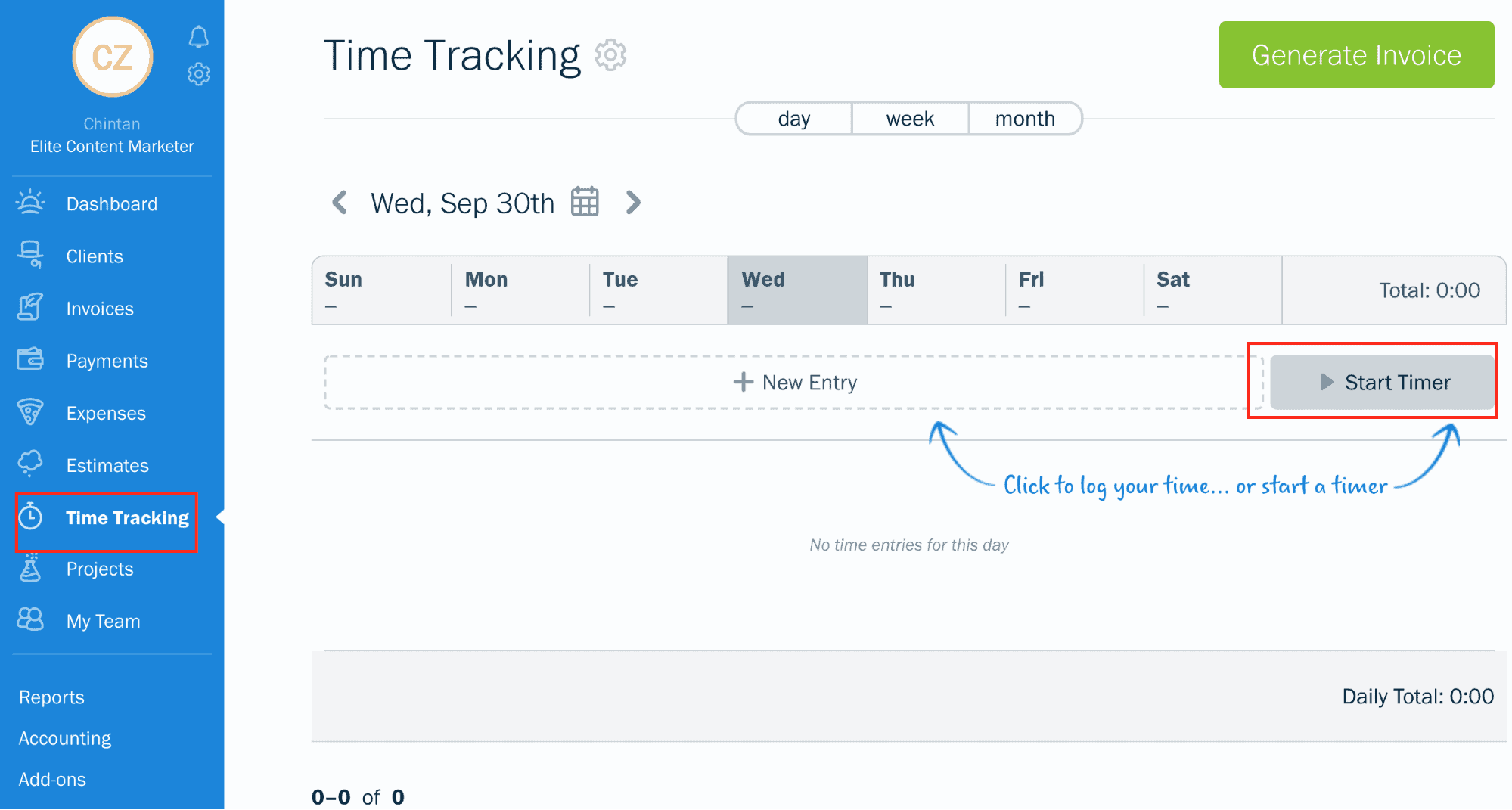 The timer begins asking you to mention details of the service you're providing to your client. It's also possible to log time internally by listing your company as the client.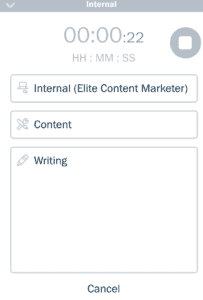 When you press the stop button, time gets logged and appears in the calendar. Then you can generate an invoice for your unbilled time for your client, whenever you like.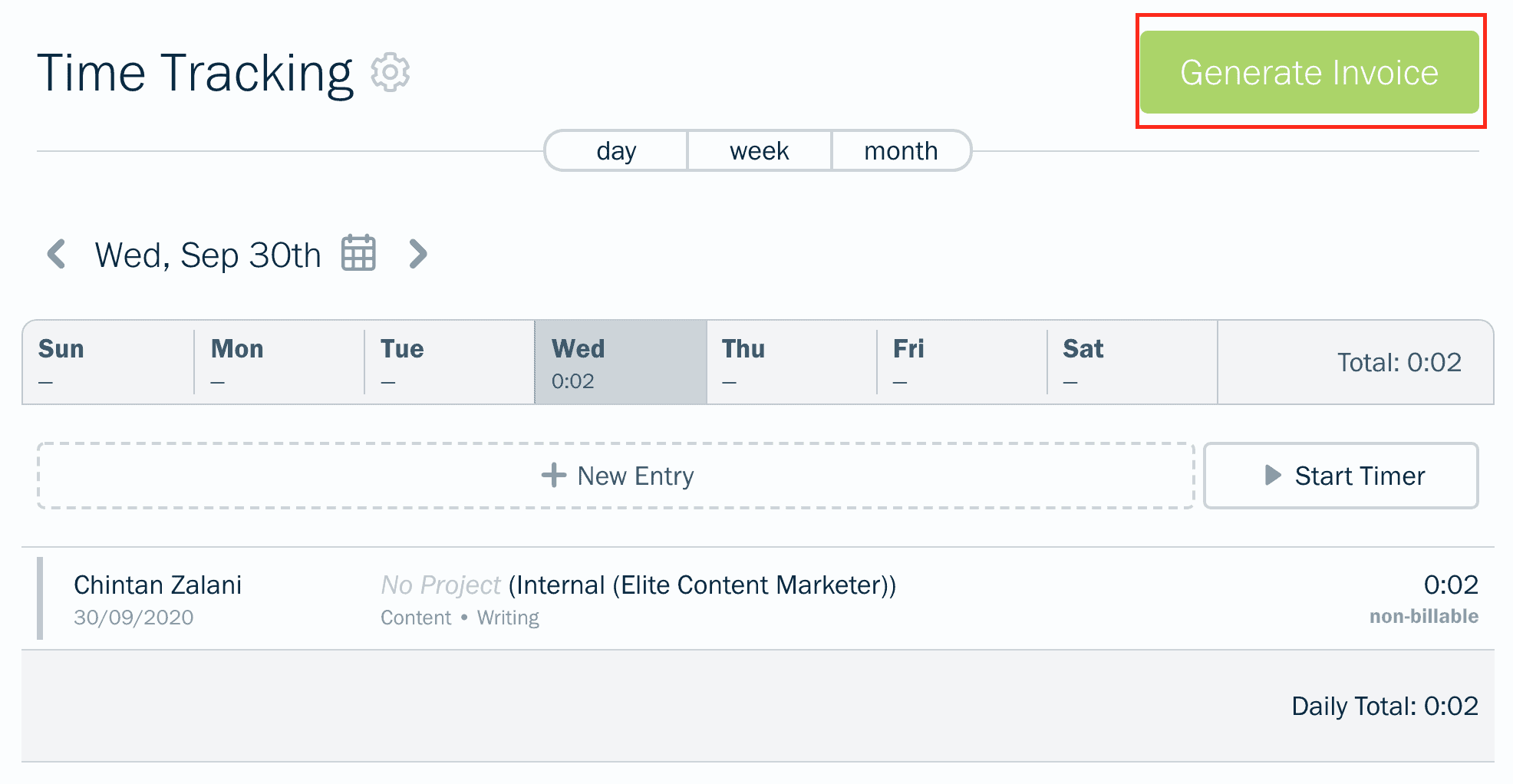 Client Records
While you add new clients when raising an invoice for them, the Clients dashboard lets you add and manage your client info separately. You can even import clients from a .CSV file. Click on the "New Client" button for creating a client profile. You'll then need to plug their contact details, address, tax number, and choose settings about late fees, reminders, and the like for them.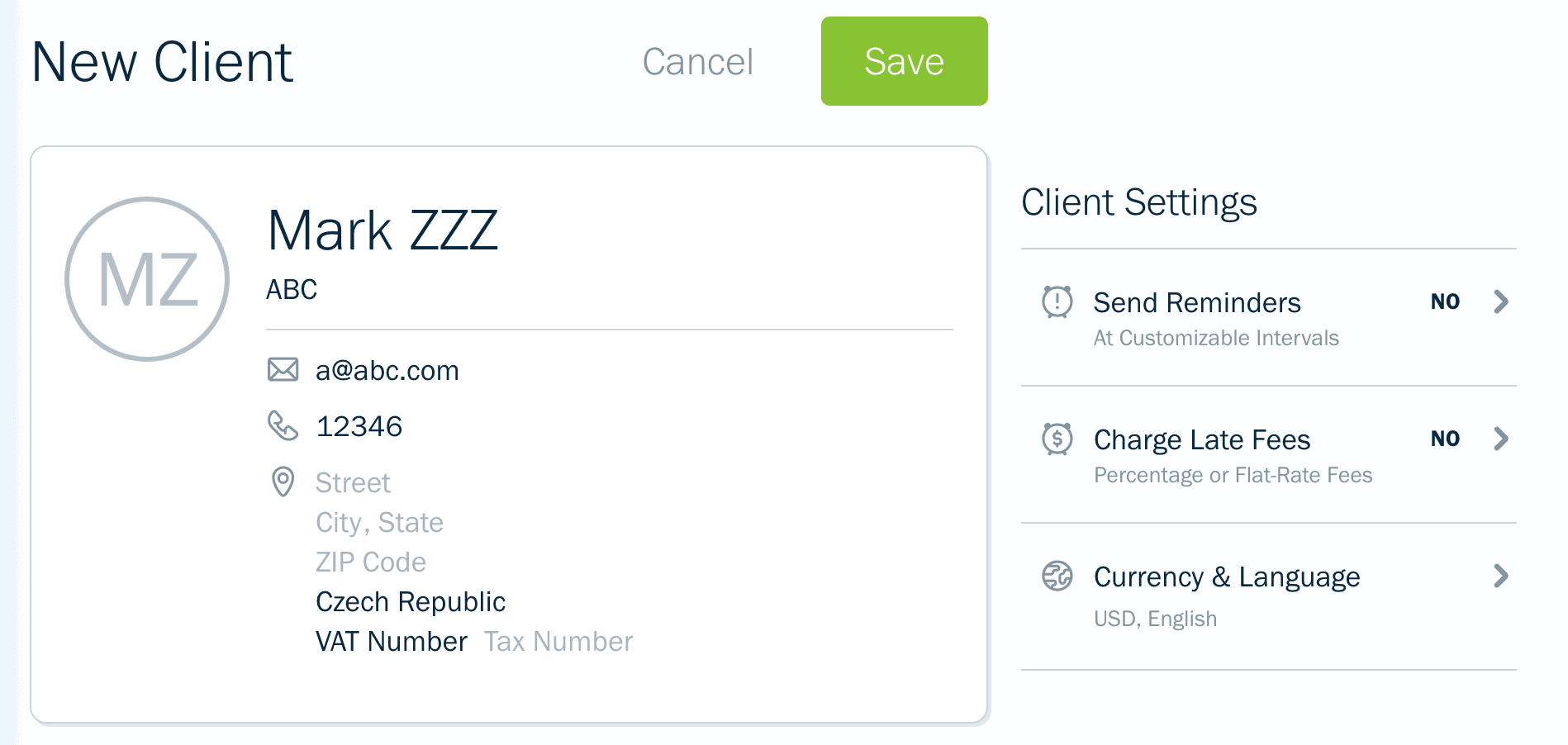 Checkout Links
Do you want to collect payments without having to create an invoice? (Think of selling those eBooks or even a pre-packaged productized service!)
FreshBooks has launched Checkout Links (currently in beta) which lets you create unique payment links that you can share on your website, social media, or email. Accessible below Payments in the vertical panel in the left sidebar, it even generates automated receipts after each purchase.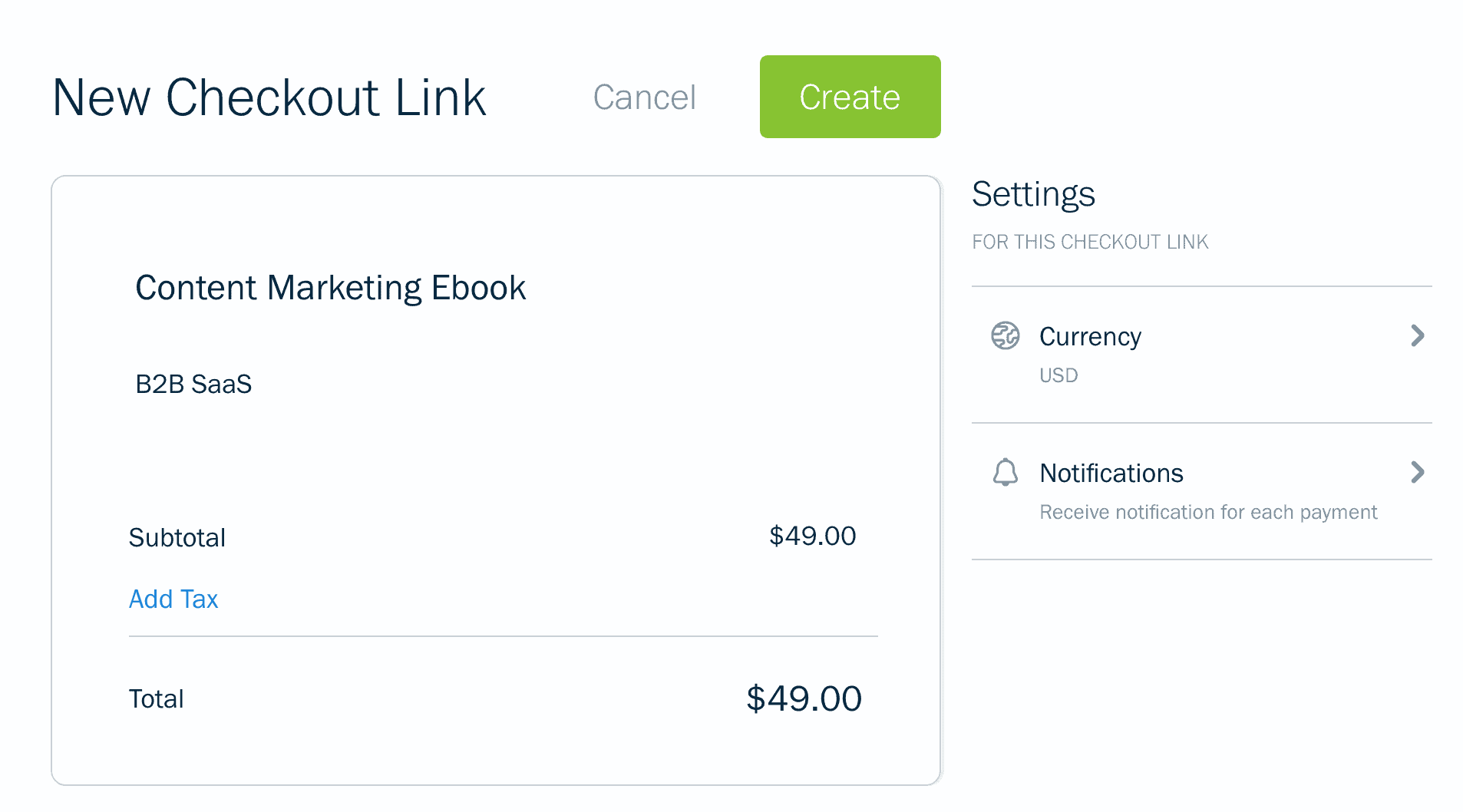 Integrations With FreshBooks
FreshBooks connects with third-party software including the likes of HubSpot, Shopify, Gusto, Zoom, Stripe, Squarespace, Zoom, Dropbox, Zapier, and lots more. These could be handy for streamlining your business processes and are accessible from the last item in the vertical navigation panel called "Add-ons."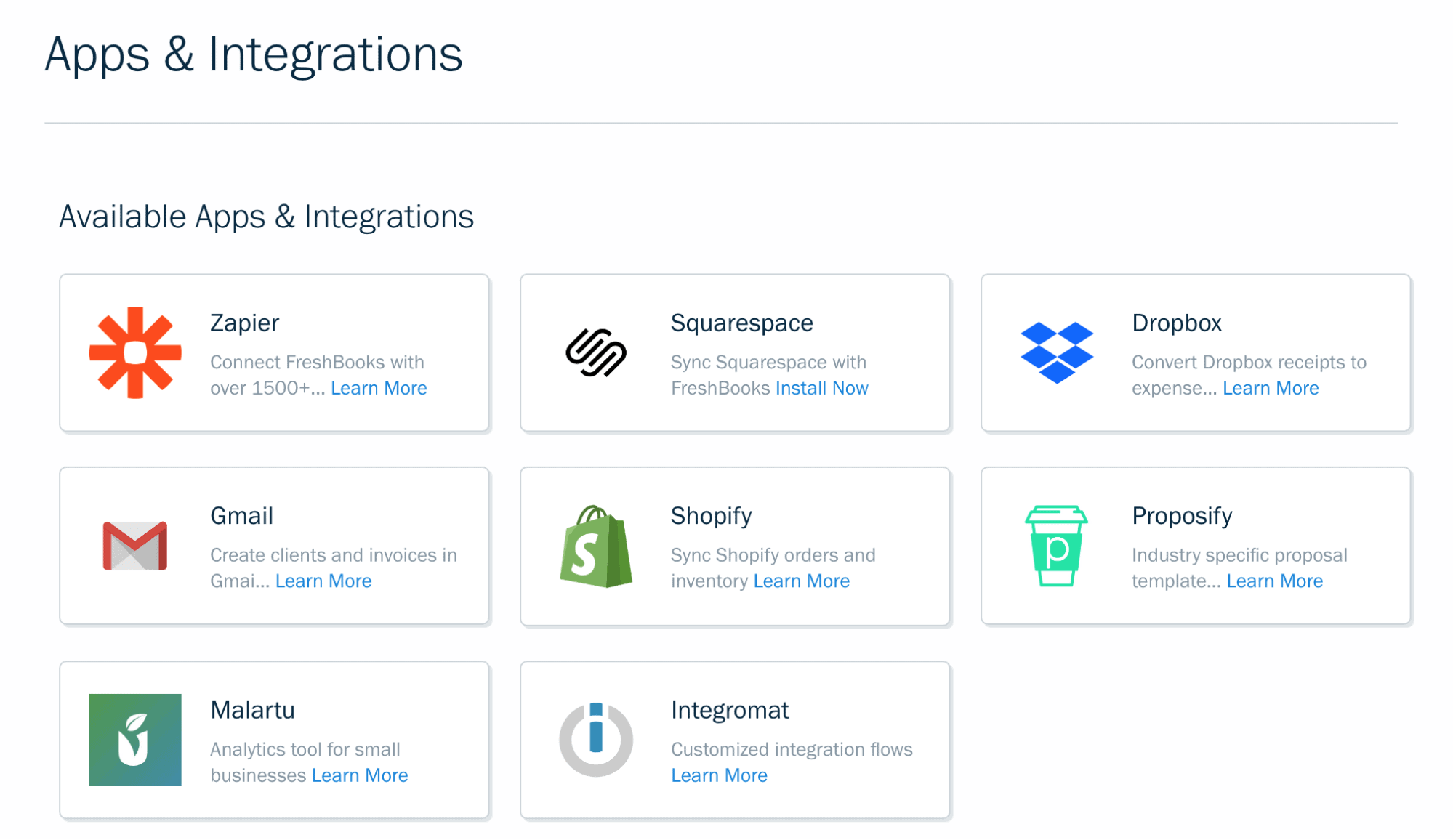 FreshBooks Alternatives
When professionals consider FreshBooks, they mostly talk about two other accounting software in the same vein: Quickbooks and Xero. So let's briefly explore the difference in feature-set and user experience between these two and FreshBooks.
FreshBooks Vs. QuickBooks Online
Quickbooks promises to help you "run your whole business" which aptly summarizes its scalable accounting capabilities. It has an abundance of features and could become a bit unwieldy. But it's a great product for businesses that sell products or want extra customization and flexibility with accounting. Here are some features unique to QuickBooks Online:
Inventory management and point of sale are available, which are for mid-sized and larger businesses with brick-and-mortar stores.
Advanced accounting tools are available for payroll management, monitoring cash flow and sales tax through its customizable reports, maximizing your tax deductions, and bank reconciliation.
A few other of its business tools include bill payments, bank feed management, and tracking project profitability.
While Quickbooks online is powerful and makes sense for mid-sized and larger businesses that want deeper insights, freelancers and contractors might find it overwhelming. But the software is built to adapt to businesses of all sizes — give its "Self-employed" plan a chance at $7.5 per month for the first three months.
FreshBooks Vs. Xero
Xero is a beast with an extensive feature-set focused on accounting and numerous customizations — way beyond FreshBooks. Here are a few aspects where Xero stands out:
As opposed to FreshBooks, all of the Xero plans can accommodate an unlimited number of users.
You can set up an approval workflow if multiple people from your company generate invoices and you want them to go through a billing executive.
If your business needs to pay bills from time-to-time, then Xero can help reduce office admin. It allows you to set up recurring bills, upload a batch payment file to your bank for free, and schedule your payments. Just like invoices, setting up an approval workflow for expenses is also available.
Dedicated inventory management is available on Xero to manage stock, prepare digital purchase orders, and other advanced tracking capabilities.
It offers a business performance dashboard with charts and graphs for your debt ratio, profit percentage, current liabilities, and the like.
Xero's extensive set of features are suited for larger-sized businesses and would come with a steep learning curve. You can give its "Starter" plan, priced at $10 per month for the first four months, a try.
Final Verdict: Is FreshBooks The Best Bookkeeping Software?
FreshBooks started as an invoicing solution, but later expanded into something with over 250 features (as per the company) when it was rebuilt from the ground up. Even with such an expansion of its functionalities, its user experience is a delight, and the product is a treat for your eyes.
Service-based professionals will find its set of customizations perfect for branding their invoices and proposals. And find it easy to get around the software. Though a tad expensive as compared with its competitors — freelancers, consultants, and self-employed will love its bookkeeping capabilities.
But businesses who sell products and want a more extensive bookkeeping feature-set with customizations will find other software such as Xero a better fit.
To conclude, we have a quick summary of FreshBooks for you below.
Automated professional-grade invoicing with payment reminders, a few slick business reports, and a host of other accounting tasks are possible with FreshBooks. You can also log your expenses, track your time, and use the FreshBooks mobile app to take care of accounting on the go. All-in-all, it is a superb accounting solution for freelancers, but small businesses will also find it valuable.

Create your first invoice with FreshBooks now!

LET'S MEET IN YOUR INBOX 😃
ADDITIONAL READING