Influencer marketing is taking the marketing industry by storm, especially with the boom of social media in recent times.
People are motivated and inspired to buy products and services from the brands and social media influencers they like. These influencers have a high follower count, if not in the millions, then in the thousands, who put a lot of trust in them.
So, if you're looking to build up your brand or strategy, and reach out to your target audience more efficiently, here are the influencer marketing statistics you need for 2023.
General Influencer Marketing Statistics For 2023
1. While 82% of marketers believe influencers drive consumer purchases, the reality is that just over a quarter (26%) of consumers say that influencers make them more likely to purchase new products or services, according to a survey of 250 marketers and 1000 consumers across the U.S. (RRD)
2. 40% of survey respondents said feeling like they "need" the product promoted by an influencer to most likely convince them to purchase. (Slicktext)
3. Per a survey of 1000 consumers, 70% of consumers are bothered when an influencer doesn't specify that a brand is sponsoring a post. (Grin)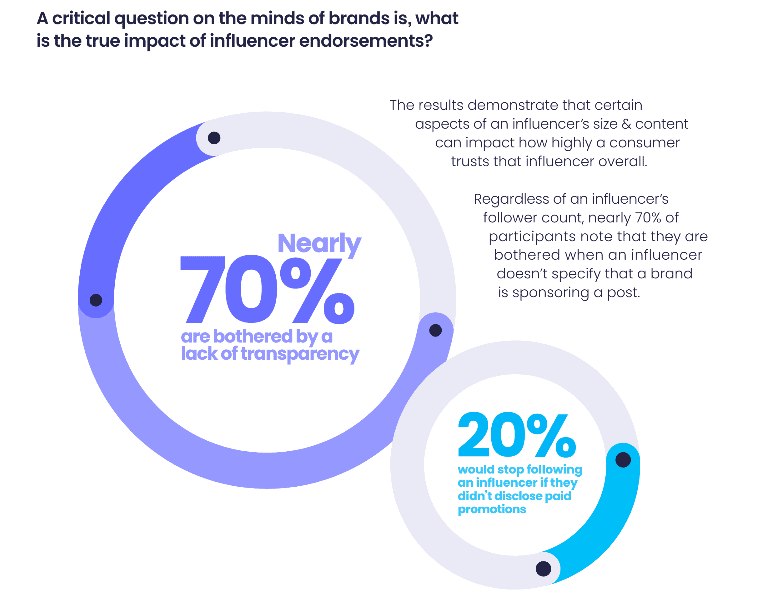 4. In the same report, 54% of consumers say that follower count does not impact their willingness to buy a product or service promoted by that influencer. (Grin)
3. Per a combined database survey on 1.6M Instagram influencer accounts, 108.7k YouTube channels, and 86k TikTok accounts from the USA, 56% of marketers say YouTube Videos are the most important type of content for influencer marketing. (Hypeauditor)
Influencer Marketing ROI
Here are some of the statistics to help get your influencer marketing ROI on track and make sure your marketing budget is being put to use effectively.
1. The greatest challenge for people running influencer campaigns is measuring programs to prove ROI and show that it moves the needle, as told by 65% of marketers in a survey of 163 enterprise marketers and agency professionals at companies with revenue over $1B. (Linqia)
2. Per a survey of 3500 respondents, 71% of brands measure the ROI from influencer campaigns, continuing a rising trend. (Influencer Marketing Hub)
3. The report also shares that only 24.9% use conversion/sales to measure the ROI of influencer campaigns, down from 42.3% in 2022. The most common measure was views/reach/impressions, with almost 50% picking it as a marker for success. (Influencer Marketing Hub)
4. 83% also believe that earned media value is a good measure of an influencer campaign's ROI. (Influencer Marketing Hub)
5. TikTok (42%) and Instagram Reels (34%) were believed to provide the best ROI overall. (Influencer Marketing Hub)
Influencer Marketing Industry Growth
As per the above statistics, Influencer marketing is becoming a popular choice. Here are the statistics to show the growth of the Influencer marketing industry.
1. The influencer marketing market size is expected to grow from USD 13.8 billion in 2021 to USD 22.2 billion by 2025, with a CAGR of 12.6%. (Hypeauditor)
2. U.S. influencer marketing spending is estimated to go up to USD 6.16 billion in 2023. (eMarketer)
3. Content creators are expected to grow over the next few years, as per a survey of 2000 respondents. The creator economy currently stands at USD 104 billion, having more than 50 million people calling themselves creators. (Influencer Marketing Hub)
4. HiSmile eclipsed $130 million in total sales through the influencer marketing industry. (Shopify)
5. Influencer marketing spending on Instagram in the United States is expected to be USD 2.23 billion. YouTube came in second, projected to capture USD 948 million dollars spent on influencer marketing, while TikTok surpassed Facebook in nabbing third place, with expenses amounting to USD 774.8 million. (Statista)
Influencer Marketing Statistics on Different Social Media Platforms
Since social media platforms are an upcoming trend for young and old generations alike, influencer marketing across these channels is a crucial step in promoting services and products by brands and influencers.
1. Tiktok is the primary platform for influencer marketing in 2023, taking over Instagram last year. (Influencer Marketing Hub)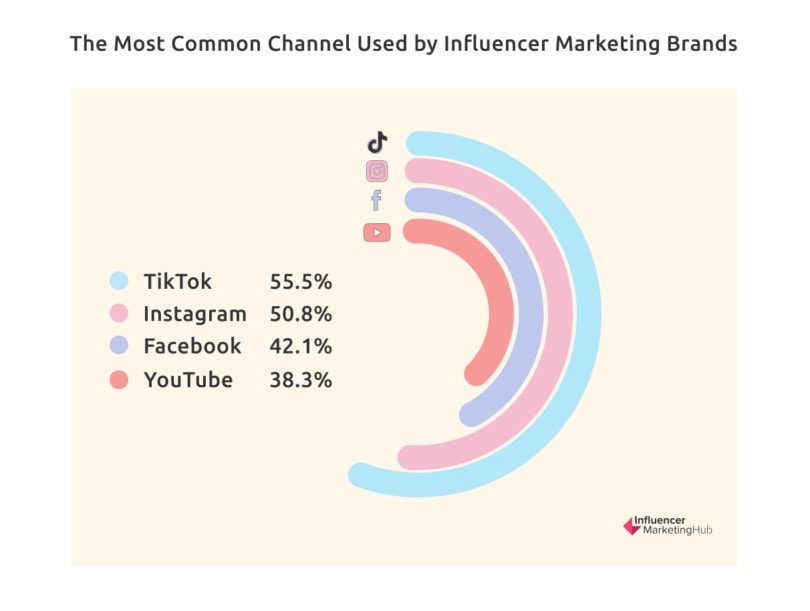 2. The most commonly used posting niche for Instagram influencers has been Lifestyle over social media. Out of all categories, 13.80% of influencers posted material on the marketing channel related to lifestyle choices. (Influencer Marketing Hub)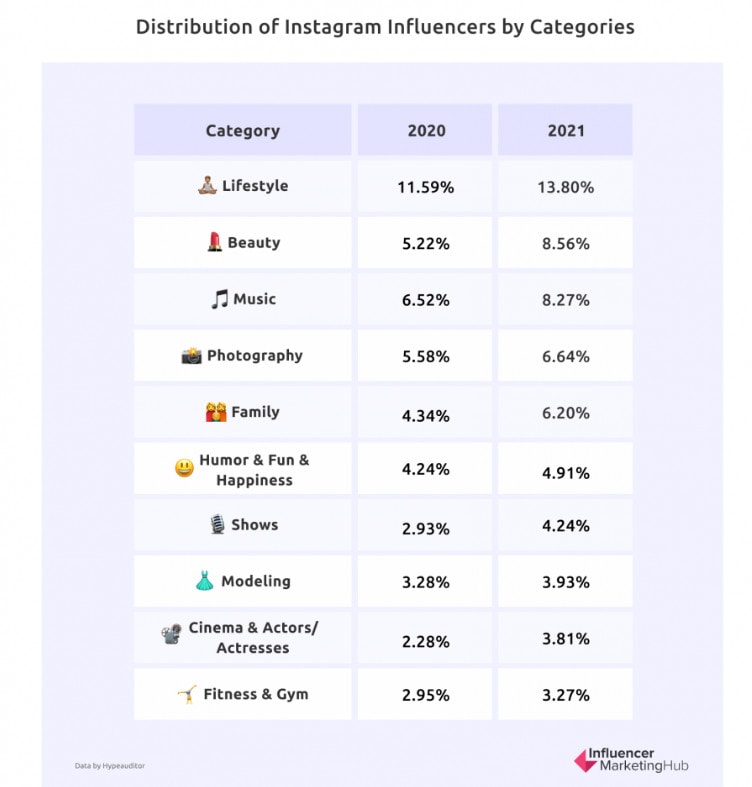 3. GenZ females were the largest demographic in TikTok, representing almost a quarter of the user base. (Influencer Marketing Hub)
4. Per a survey of 1000 respondents, 95% of customers have purchased items through Instagram or Facebook. (Grin)
Influencer Marketing Campaign Stats
With several social media channels present across the globe, defining a solid strategy for influencer marketing campaigns is a good way to drive social commerce sales by increasing revenue and promoting brand awareness.
1. Per a survey of over 100 companies, 72.5% of U.S. marketers predicted using influencer marketing for paid or unpaid marketing campaigns lately. (eMarketer)
2. Per a survey of 2000 respondents, 49.9% reported using and developing their own tools to execute their in-house influencer marketing campaigns. (Influencer Marketing Hub)
Average Influencer Marketing Budget
1. 39% of respondents in a survey of 2000 reported spending 10-20% of their budget on influencer marketing. (Statista)
2. Currently, 43% of brands spend less than USD 10K annually on influencer marketing. (Influencer marketing hub)
3. 67% of the brands reported an intent to increase the budget for influencer marketing in 2023. (Influencer Marketing Hub)
4. 63% of influencers admitted to even having a standalone budget for content marketing, up from 61% last year. (Influencer Marketing Hub)
5. Marketers prefer allocating and spending their budget on micro-influencers. 163 enterprise marketers and agency professionals ranked micro-influencers at 6.4, the highest out of all the types of influencers marketers they want to spend their budget on. (Linqia)
Average Engagement and Consumer Behavior
1. User-Generated Content (UGC) was listed as the main objective behind running influencer campaigns by 45% of respondents. (Influencer Marketing Hub)
2. Consumer behavior is understood by brands through an influencer campaign. 74% of brands reported tracking their sales through these campaigns. (Influencer Marketing Hub)
3. 82% of brands believe influencer marketing campaigns promote a better quality of customers than other marketing channels. (Influencer Marketing Hub)
4. Smaller TikTok accounts with 1K-5K followers had better engagement rates (15.04%) compared to the largest accounts with over 1M followers (10.53%). (Influencer Marketing Hub)
5. According to a survey of over 1000 people, 45% aged between 35 and 44 bought a product promoted by a virtual influencer. (Statista)
Social Commerce Statistics
1. Software platforms focussing on influencer marketing raised more than USD 800 million in 2021. (Influencer Marketing Hub)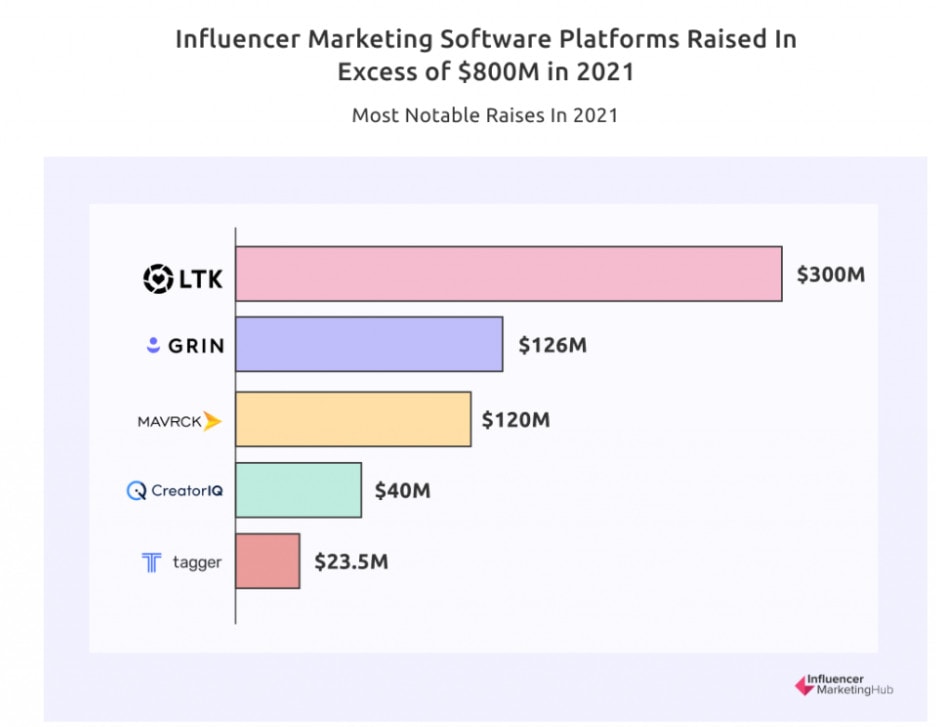 2. The most mentioned brands across social media platforms are as follows: (Influencer Marketing Hub)
Instagram was the most mentioned brand on its own platform, with Zara coming in second.

On Tiktok, Target overtook Netflix to claim the first spot.

3. The U.S. has a 4.4% share in online retail with an estimated USD 51.8 billion in social commerce sales. (Statista)
4. The market is predicted to hit higher levels of the economy over the next few years. By 2030, it is estimated that the social commerce market will reach USD 8.5 trillion from USD 992.4 billion in 2022. (Research and Markets)
Managing Creators and Influencer Burnout Statistics
With new trends and products growing rapidly, influencers have to keep maintaining their lifestyle without succumbing to the pressure ranging from engaging with fans, spending hours shooting at different places to even storytelling.
Below are the statistics to help you understand the challenges faced by different content creators.
1. On average, 61% of creators reported experiencing burnout out of 2,704 participants. (Convertkit)
2. The same report shares that 46% of full-time creators reported that the pressure to post content everywhere was a cause of burnout. (Convertkit)
3. Per a survey of 150 participants, 51% reported having anxiety about their follower count. (Net Influencer)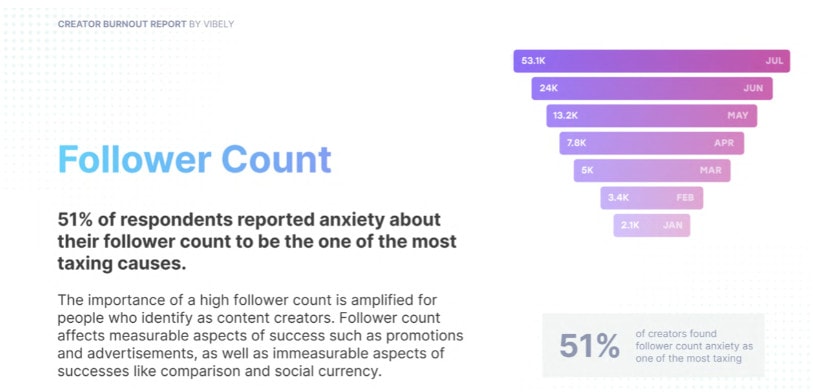 4. As per 71% of content creators out of 300, Instagram was reported as the primary platform driving their burnout. (Awin)
5. The report also shares that constant platform changes cause major burnout among influencers. (Awin)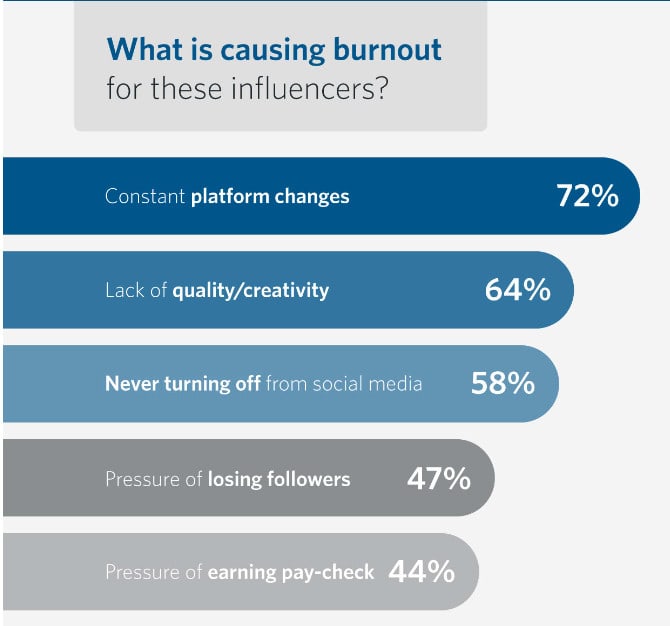 Influencer Marketing Diversity and Inclusion Statistics
Apart from maintaining their own brand value, influencers face challenges with inclusion, discrimination, and even gender pay bias in the influencer marketing industry. Below are the influencer marketing statistics on diversity and inclusion.
1. It is important for brands to have a good influencer marketing strategy to be able to tell their own story, which can be done with the involvement of different types of influencers. The majority of brands chose to work with smaller influencers. (Influencer marketing hub)
2. Macro-influencers (81.25%) and Mega-Influencers (69.7%) are most likely to report facing discrimination (Influencer Marketing Hub)
3. Males earn higher than females across the influencer marketing sector. Males negotiate up to USD 2978 on average, while for females, the negotiation reaches USD 2289. (IZEA)
4. However, females dominate the earnings from Instagram stories. Up to USD 962 are earned by females, whereas males earn up to USD 609. (IZEA)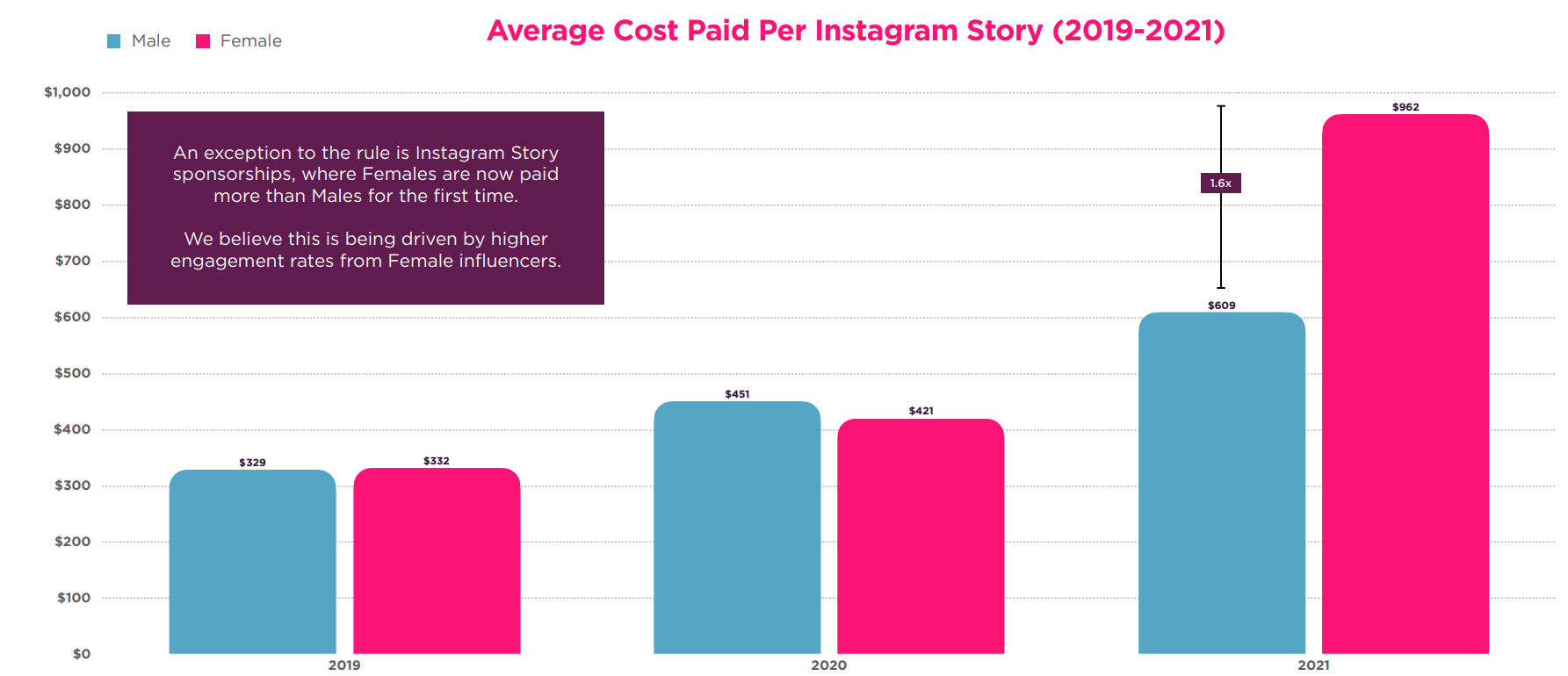 5. Across all social platforms, 57% share of sponsorship transaction volume goes to white influencers in influencer marketing as compared to non-whites. (IZEA)

6. Racial pay gaps are also the worst in influencer marketing. Per a survey of 400+ U.S. influencers, the racial pay gap between white and black influencers was 35%. (MSL)
7. 77% of Black influencers fall into the nano and micro-influencer tiers, with compensation from brands averaging USD 27,000 annually, compared to 59% of white influencers. (MSL)
Frequently Asked Questions About Influencer Marketing
What is the success rate of influencer marketing in 2023?
With an annual increase of 23.4%, the total influencer marketing spend in the US is forecast to hit $6.16 billion in 2023. (eMarketer)
Which industry uses influencer marketing the most?
30% of all influencer marketing occurs in the fashion and beauty industries. In 2018, Fashion Nova achieved an EMV of USD 588 million. (Retail Touch Points)
Which platform is best for influencer marketing?
Instagram remains the top network social media platform for influencer marketing, with 79% of influencers using it. (Influencer Marketing Hub)
Is influencer marketing better than paid ads?
Influencer marketing gives a return of $18 on a spend of $1, which is higher than the $4 generated by ads. (Affable)
What are the KPIs for influencers?
Key Performance Indicators (KPIs) are used to measure the success of influencer campaigns. 77% of marketers use engagement as a KPI. (Linqia)
Final Thoughts: Influencer Marketing Trends for 2023
Social Searches Will Become Popular
TikTok, Instagram, and even Facebook are top choices for all generations to search for a product, service, or even people. This is because all these channels give personalized results and therefore are a good choice for influencer marketing to grow.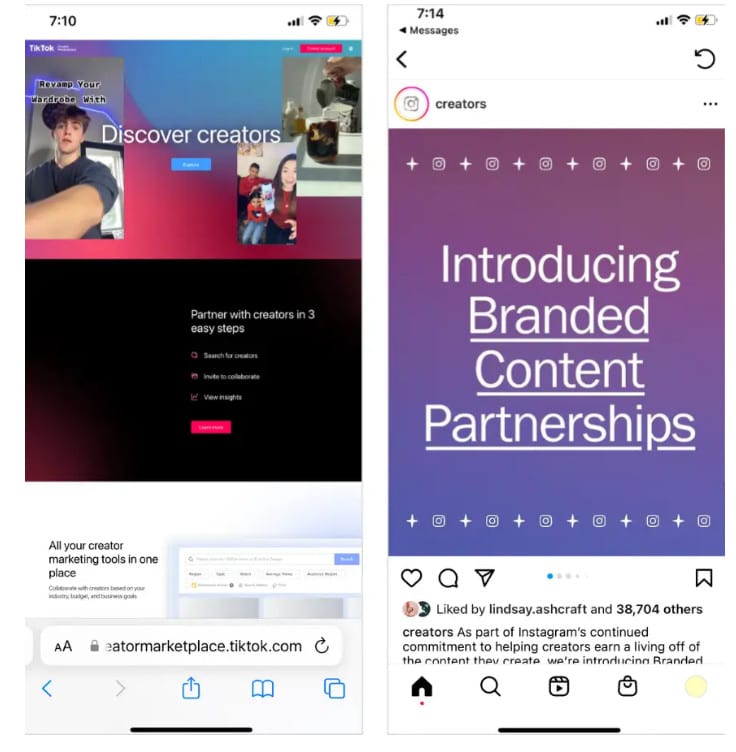 Influencers Are Key to Support Brand Awareness Campaigns
Irrespective of follower count, if there is a need for a product and there is transparency, then consumers purchase products that influencers are promoting on social media platforms.

Building on the above trends and statistics for influencer marketing, the industry is set to keep increasing so it is important to optimize budget spending and consider mental health to promote creativity with influencers. Planning will go a long way in making smart choices and supporting a successful influencer marketing strategy in 2023.