Blog posts, about page, homepage, social media updates, and all other kinds of content touchpoints for your brand are cool. But landing pages are the real deal — they generate leads and drive revenue for your business. No amount of traffic could fix a bad landing page experience.
Once you've got a lip-smackingly delicious offer for your visitors and compelling copy that connects with them, you need to design a persuasive experience for them. That's why you need a robust landing page builder.
In this article, you'll learn about few of the best landing page software in the market right now. You can use them to build your product/service pages, or an email list form to get prospects to sign up for your offering. Let's get started with looking at the features you should watch out for in a landing page builder.
How To Choose The Best Landing Page Software For Your Business?
Every business has different needs and requirements. However, there are basic factors that every landing page builder must-have.
1. Range of Professional Templates: You require quality templates to attract visitors. The more appealing the templates, the less you have to edit. You'll save more time and get better returns on your investment.
2. Integrated A/B testing: A/B split testing is vital in optimization and increasing conversion rates. You need to test out what works for your target market. The best way to do so is by experimenting with different variants of your landing page. There are other third-party software to perform A/B testing. However, it is much easier when a landing page software has an integrated split testing feature.
3. Multiple User Accounts: If you are working with a team, then, all of you can work together to design a landing page. A multi-user account is central to a good landing page software as it facilitates easy and fluid editing.
4. Drag and Drop editor: The ease of use is an important factor. Why else would you make a landing page yourself and not get it done by a web designer? A landing page must have a simple drag and drop editor with tons of design capabilities like buttons, CTAs, effects, and more.
5. Custom CSS and JavaScript: It is good to have the possibility to add custom CSS and JS in case you want to make the landing page a particular design. An efficient landing page software would have templates that don't require you to add a custom script. However, it must also offer the freedom to do so.
6. Mobile Optimization: Mobile browsers generate a significant amount of traffic. A device responsive landing page builder will only get you better conversions. Most landing page builders are intuitive and don't prompt you to realign or make excessive changes to the mobile version. This saves time and effort. Look for a mobile optimization feature in a landing page builder.
7. Integrations: Unless a landing page builder has all-in-one integration like ClickFunnels, Mailchimp, or GetResponse, etc, you must choose a landing page software with third-party integrations. Integrations connect your landing pages to lead-sustaining software and CRMs.
Additionally, a landing page software should also provide custom and sub-domains, a comprehensive analytics platform, extensive features like countdown bars, pop-ups, lightboxes, and also the ability to preview the landing pages you create.
Table of Contents
1. Leadpages: For Conversion Tested Landing Pages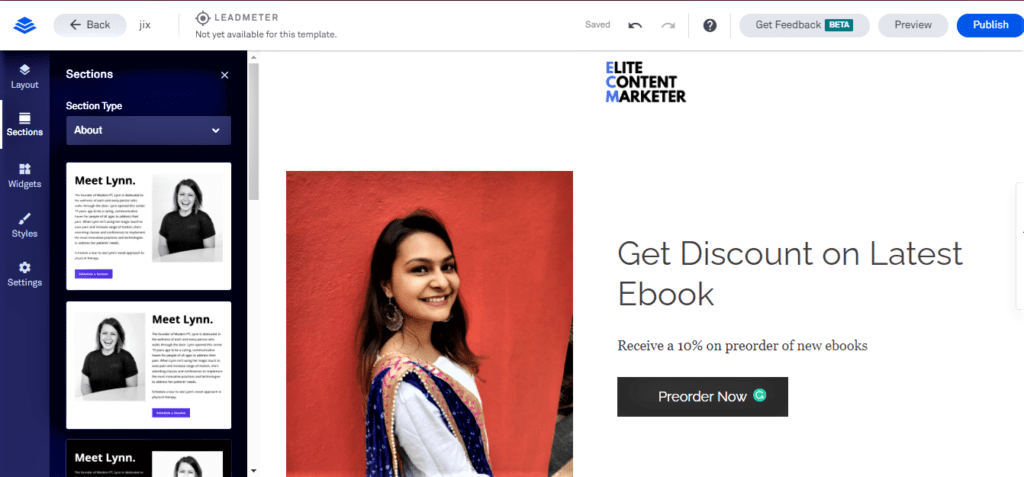 Leadpages is one of the most powerful landing page builders. You can use Leadpages to create conversion tools like Popups, Alert Bars, Opt-in Texts, and Trigger links. You can also sort your landing page templates by conversion rate, page type, industry, style, and color.
It has a drag and drop builder which is a bit sluggish. Some of the templates are rigid and do not allow repositioning, restricting customization. Nevertheless, you can add your brand colors, custom CSS, and even individual sections like Logos, About, Features, etc.
The widgets have two special embeds: OpenTable and Calendly, which can be used for making reservations. Leadpages also has a selection of premium images, which cost $7.99 each.
Leadpages editor has an excellent addition called Leadmeter. Leadmeter is a 14 element checklist of what goes into making a perfect landing page like the number of CTAs, layout, readability, the number of optin forms, and the like. However, this is available on limited templates.
Another fascinating element about Leadpages is their optimization feedback. In case you're stuck with something and need professional feedback, Leadpages experts can review and email a detailed list of how to optimize your landing page for better conversion.
You can perform multivariate split testing and can even check unique visitors on your landing page along with conversion rates and earnings.
Moreover, you can add 5 sub-accounts, link your domain, or even create a new one with GoDaddy. Leadpages' native integrations include AWeber, Emma, Hubspot, GoToWebinar, Drip, Mailchimp, and more. Zapier integrations with Trello, Zoom, Gmail, Jumplead, Intercom, and more are also available.
Pricing:
Leadpages has three pricing plans: Standard, Pro, and Advanced. The Standard Plan is billed at $27/month with limited A/B testing, free hosting, and more. The Pro Plan at $59/month comes with email trigger links, etc. The Advanced Plan is billed at $239/month, with unlimited A/B testing and more. There are no custom or enterprise plans.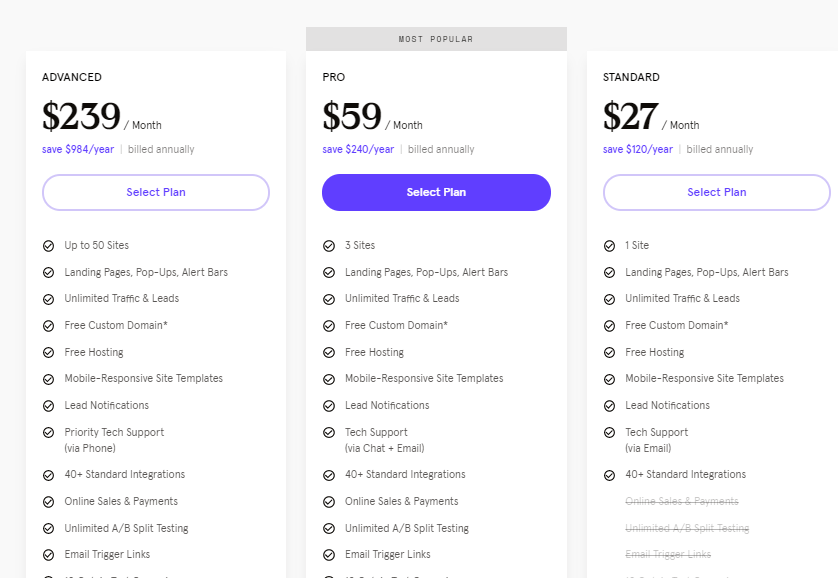 Pros Cons
1. Allows sorting templates by conversion rate.

2. Has Leadmeter as a checklist for landing page elements

3. Can get feedback on optimization for better conversions.

4. Useful native and Zapier integrations

1. No custom or enterprise plans.

2. Sluggish editor

3. Limited customization

4. Limited A/B testing on the standard plan.
2. Landingi: Best for Professional Marketers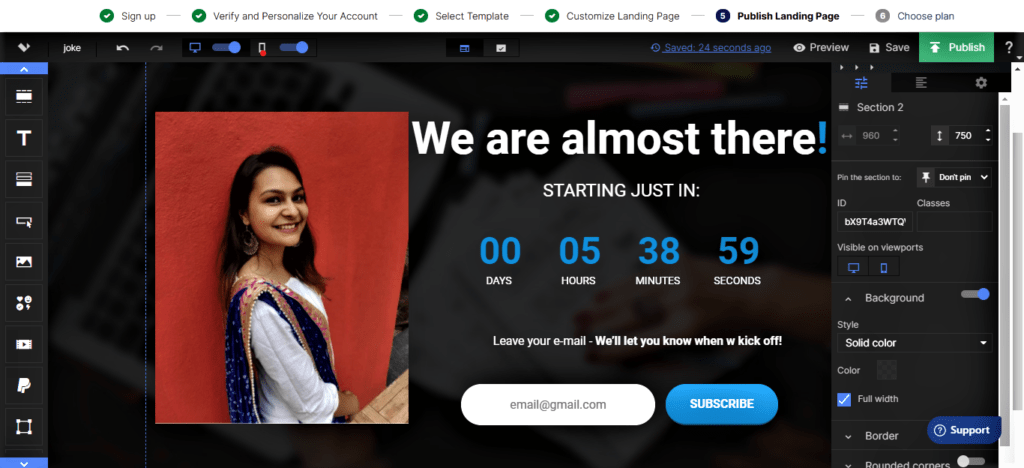 Landingi offers over 250 professional templates for various industries and use-cases such as food blogging, wedding photography, webinar sign-ups, and the like. Further, its intuitive drag and drop editor makes it simple to design landing pages — even without coding. You can change how images appear, the size of the header, the sidebar placement, or can choose to not have a sidebar at all.
For customizing the appearance of your page further and adding visual elements to it, you can add HTML or CSS codes. It's useful to ensure your landing pages match the look and feel of your brand.
If the layout doesn't meet your expectations for smaller screens, there's a "rebuild mobile view" option. You'll have to toggle between screens though, to change the alignment and other elements, ensuring it's optimized for mobile phones.
You can also quickly duplicate your pages, group a long list of them, and create marketing funnels. The software also provides A/B testing, and its URL builder lets you add UTM parameters to track your campaigns via Google Analytics. Integrations with third-party software such as Zapier, Mailchimp, Hubspot, and more are also available.
If creating your landing page still sounds difficult, the Landingi team offers paid design services.
Pricing
It is quite inexpensive compared to the other effective landing page builders. There are three plans for up to 100,000 visitors/month: Automate, Create, and Core. Here are their details: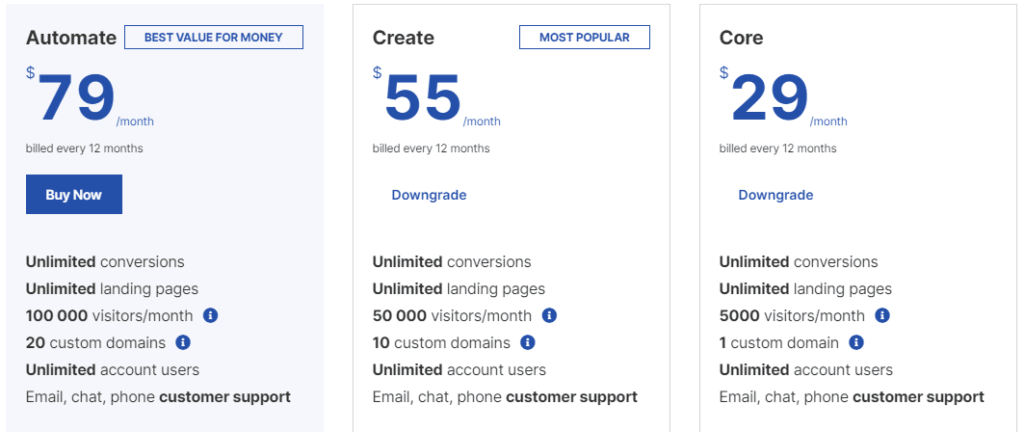 Pros Cons
1. Relatively Inexpensive

2. Lets you A/B split test landing pages

3. Large landing pages template library

4. Ability to customize using HTML, CSS, and JS

5. Integration with Zapier, Mailchimp, and the like

1. Limited features

2. The interface is slow to load

3. Limited features for the mobile builder

4. Difficult to edit across the screen views

5. Challenging to find a few editing options.
3. Wix: Best Landing Page Software For Functioning As An All-In-One Business Solution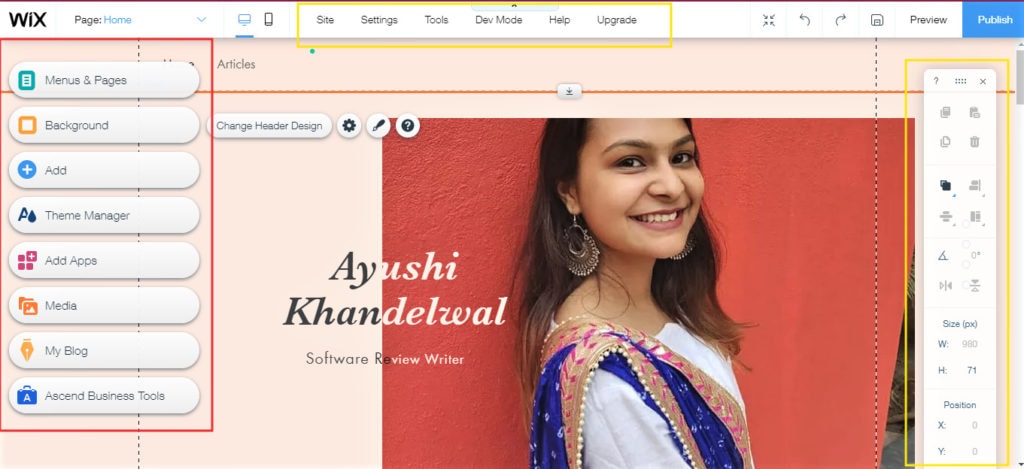 Wix is a website builder but also offers 34 landing page templates. It includes limited use cases of building "one-pager websites," including when you want to announce that your business site is "coming soon."
The Wix editor is easy-to-use with a sleek interface. Double click text to edit your text, access formatting options, and add new elements. For further customization, adding HTML, JS, and CSS codes, editing the mobile version of your landing page, and embedding a widget/custom elements are available options.
The software even lets you add images from Shutterstock, Unsplash, or videos from Youtube, Vimeo, and the like. It's even possible to add music tracks to your landing pages, though autoplaying them is annoying and makes for a bad user experience.
What's more? From being a website development platform, the company has started to transition to becoming an all-in-one business tool. Through Wix Ascend, they offer over 20 products to manage your marketing and customer relationships. Depending on your requirements, they can make for a great addition to the landing page builder.
For instance, Wix Shoutout, its email marketing software, will let you send email newsletters to the leads you collect from the landing pages you build.
Pricing
It's fairly inexpensive to build a landing page with Wix, but you pay for its complete website development suite. There are no dedicated plans for building landing pages alone. Here are the plans: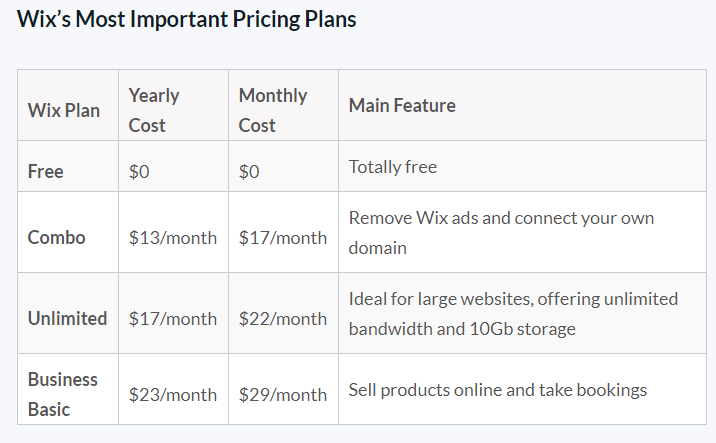 Pros Cons
1. You can expand your landing page to a full-fledged website

2. Inexpensive

3. An easy-to-use WYSIWYG editor

4. Forever free plan

1. No A/B testing

2. Below average customer support

3. Limited templates

4. Ads on the free plan
4. TARS: For Building Conversational Landing Pages

Claiming you can get twice as many leads through personalized engagement, TARS uses chatbots as landing pages. So you bid goodbye to forms and engage conversationally with your visitors — the software comes with a steep learning curve, though. The building blocks for such "conversations" are gambits: which mean one single back and forth conversation between the bot and the user.
Their over 400 templates aren't the most exciting, but you can customize your chatbot design, color, font, size, conversations, and the like through their drag and drop editor. For branding, you can add a favicon and select a meta image that appears when you share your chatbot on social media applications.
Tracking options in the software are limited to Google Analytics, Facebook pixel, Google tags manager, and Google ads. Also, only basic customization in the bot is possible — adding CSS/JS isn't. It's possible to run a Google AdWords A/B test of a static vs. a conversational TARS landing page. Such a campaign experiment could give you sufficient data in about 30 days.
The software integrates with Zapier, Google Ads, Facebook Ads, Google Analytics, Hubspot, and numerous other apps.
Pricing
The lowest-tier business plan of TARS is priced at $499 and has a 14-day free trial. It also comes with two chatbots designed by the TARS expert team. Here are the neck-to-neck comparisons of its different plans: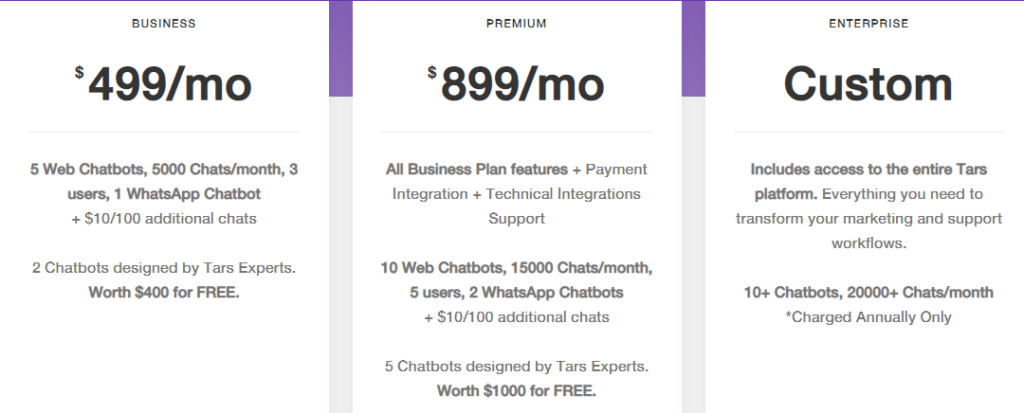 Pros Cons
1. You get a conversational chatbot instead of a landing page

2. No coding knowledge is required to make a quick and efficient chatbot

1. Expensive as compared to other landing page builders

2. Steep learning curve

3. Minimal customization is available

4. Average templates
5. Mailchimp: For Email Marketing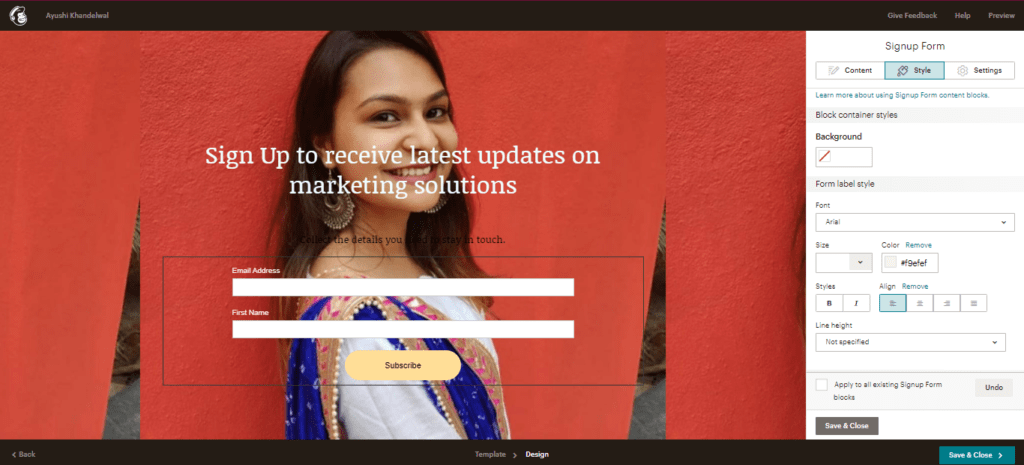 Mailchimp is majorly known for building an email list. But it has now expanded into an all-in-one marketing platform. Designing landing pages with Mailchimp is uncomplicated — its creative assistant helps. You can design unlimited pages across all its plans, but only ten templates are available. Besides newsletter sign up pages, there are options for selling your products, running contests, accepting payments, and more.
Its smooth drag and drop editor uses "Content Blocks" for texts, images, videos, products, etc. They are supposed to help you customize the landing pages, but you can't reposition forms on certain templates, making designing rigid. Once you're done, you can publish your page on Mailchimp itself or your custom domain.
Integrations with third-party apps and tools for payments, SMS Marketing, graphic design, and other services are also possible.
Pricing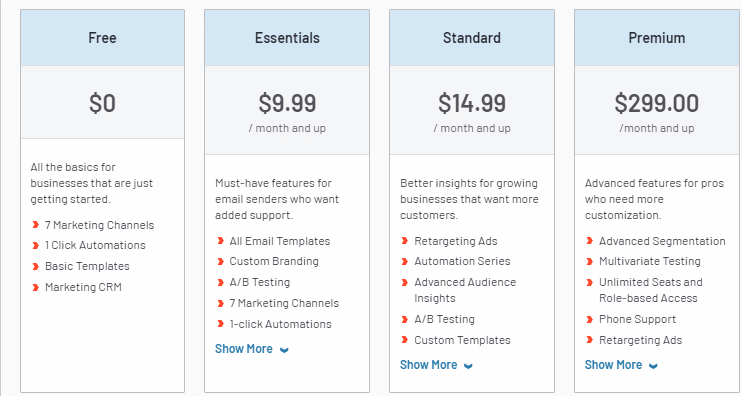 There is a Free Plan with basic features. The Essential plan starts at $9.99/month with A/B testing, 1 click Automations, Marketing CRM, and 24/7 support.
The Standard Plan is at $14.99/month with essential plan features plus Retargeting Ads, Audience insights, custom insights, and more.
Last is the Premium Plan at $299/month with standard plan features plus Multivariate testing, Advance segmentation, Unlimited Seats and Role-based access, and more.
Pros Cons
1. Useful for email marketers

2. You can create unlimited landing pages

3. Creative assistant makes it easy to design the landing page

1. Limited templates

2. Customization is minimal
6. Unbounce: For Small Businesses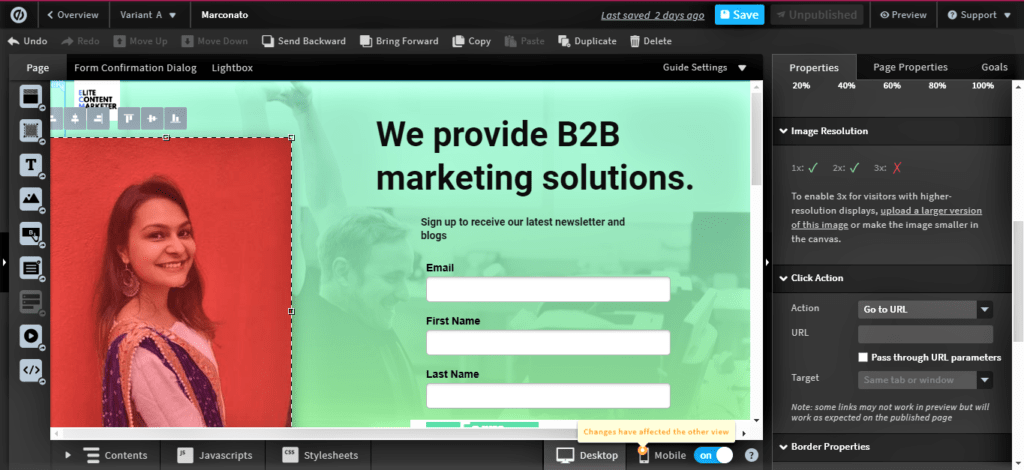 Unbounce has one of the most powerful landing page editors on the market with extensive features. You can begin designing one with its 100+ industry-specific templates and customize them by adding popups, sticky bars, custom scripts, maps, and more.
Its split testing features are superb for optimizing your landing page conversion rate. You can even A/B test your current page with the text replaced by what the user searched for using its Dynamic Text Replacement (DTC) feature. Your title will automatically change from "Taking Care Of Yourself" to "Self-Care For Professionals." DTC is available for URL parameters as well.
In 2019, the company announced its "Smart Traffic Conversion" Tool. It relies on artificial intelligence to send your visitors to the landing page variant that's most likely to convert them.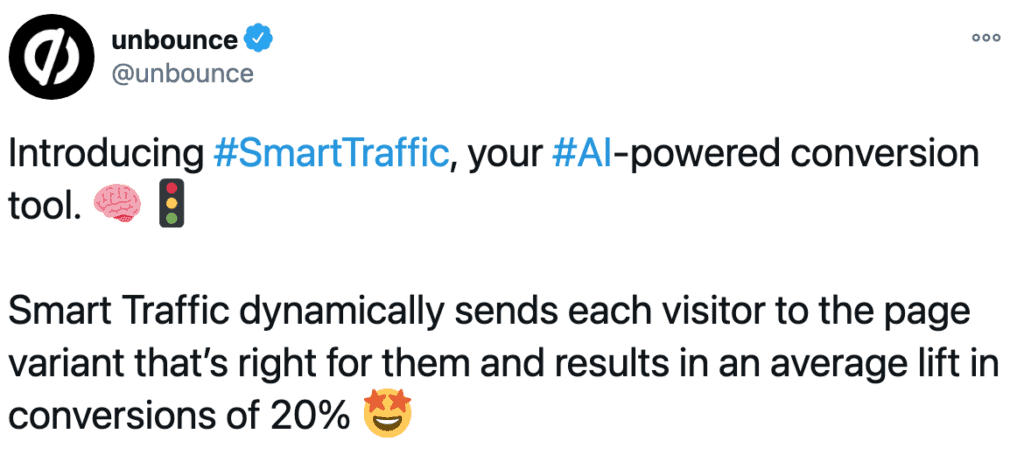 Pricing
Unbounce has a 14-day free trial. The Launch Plan is priced at 80$/month with up to 500 conversions, 20,000 visitors, and 1 custom domain.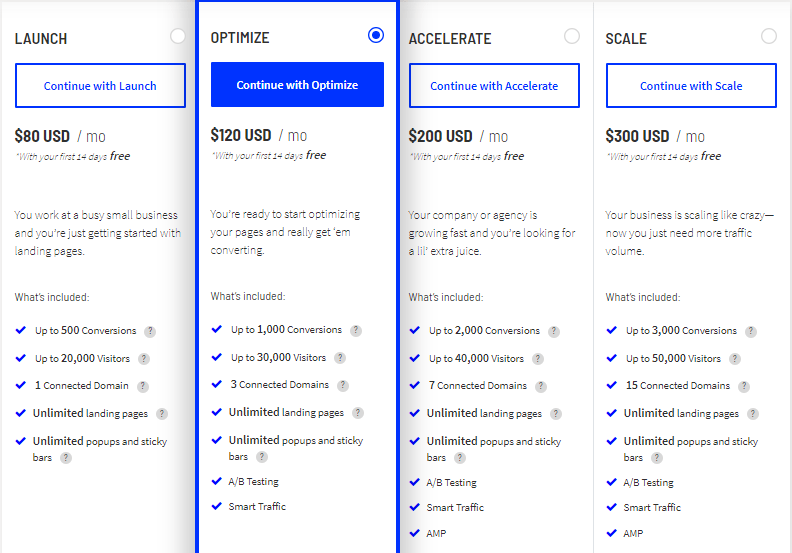 Pros Cons
1. Dynamic text replacement

2. Artificial Intelligence based tool that automatically optimizes for conversions

3. Unlimited landing pages, pop-ups, and sticky bars.

1. Expensive as compared to other landing page builders

2. Steep learning curve

3. Inconsistent alignment across screen views.
7. CARRD: For Quick And Basic Landing Pages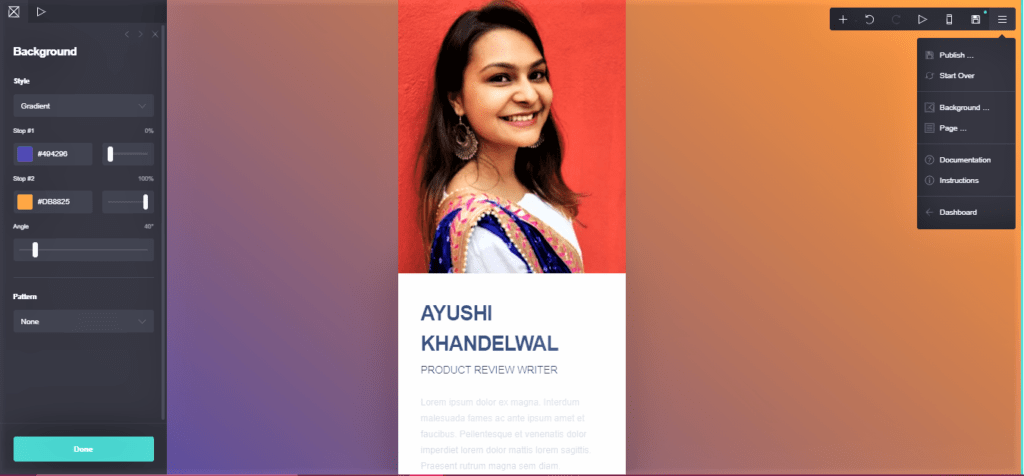 With a minimalistic and clean user interface, Carrd offers limited, but professional looking templates. You can either sign up in the beginning or right after you create your site page. You can filter your search by choosing a landing page, sign up form, coming soon pages, and more.
It is a bit tricky to edit text. You cannot double click to edit it. You have to click the text and edit it in the sidebar. Carrd supports Markdown-like formatting, so you can customize your text the way you like. But the customization in terms of placement is rigid. It doesn't allow you to change the position of the images, text blocks, etc. Unlike Unbounce you don't have a detailed editor with extensive features like lightboxes, AMP, etc.
With Carrd you can choose from a plethora of icons to use as buttons. They have over 100 interesting options like CV, Facebook, Email, Apparel, pdf documents, and more. In case you have trouble finding your way around, you can use their massive library of documentation and instruction guides.
You can also add animations to your page and content. This adds more personality to your landing page. However, Carrd's free version is extremely limited. You cannot track your landing page, use form templates, and add third-party integrations.
Pricing
Carrd's Pro Plus Plan has the features which most of the landing page software offer in their standard plan.
Carrd is cheaper than other landing page builders mentioned in this article. The Pro Plan starts at $9 for advanced editing features. The Pro Plus Plan at $19 lets you embed codes, integrate with third-party apps, and track sites with Google Analytics.
Pros Cons
1. Intuitive user interface

2. Comparatively cheap

3. Icon library

4. Stylish templates

5. Supports markdown language

1. Limited customization

2. Steep learning curve

3. Single page sites only
8. ClickFunnels: For All-In-One Sales Funnel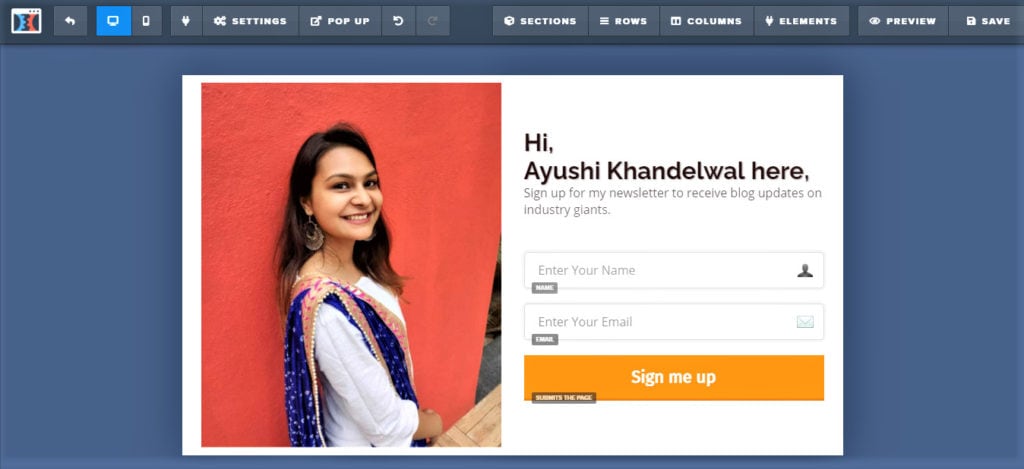 ClickFunnels is predominantly a sales funnel tool. You can use it to create landing pages, text opt-ins, webinar funnels, tripwire funnels, and lead generation funnels. ClickFunnel works differently compared to most other landing page builders. You create a landing page funnel by sifting through elementary pre-made templates or create one from the scratch. It has a drag and drop editor with essential features. All the components are hidden inside the elements section: it'll take a while to figure out what is where.
Unlike Unbounce, Landingi, and other landing page builders, ClickFunnels uses a block system to add elements like text, image, etc. You need to add a row to add every element to balance proportions. This is time-consuming. You can perform A/B testing by duplicating the page and making changes to it to create a variant and choose the amount of traffic you want to see in both versions.
You don't require a third-party app to host your website, register a new domain, or even add your existing domain. ClickFunnels also has an email autoresponder, so you don't need to integrate with other email marketing apps like Mailchimp unless you are already using them. ClickFunnels additionally integrates with third-party software like Salesforces, Paypal, Warrior Plus, WordPress, Zapier, and more.
Pricing
ClickFunnels has two pricing plans. The Basic Plan is for $97 and the Platinum for $299. You get access to Funnelflix with the Platinum Plan. It offers a 14-day free trial for both plans.
Pros Cons
1. Intuitive user interface

2. WordPress Plugin

3. Email-autoresponder

4. Web-hosting

5. Custom CSS and JS

6. Can be used to create all-in-one sales funnels

1. Limited customization

2. Steep learning curve

3. Average templates

4. Comparatively expensive
9. Google Sites: For Creating Google Integrated Landing Pages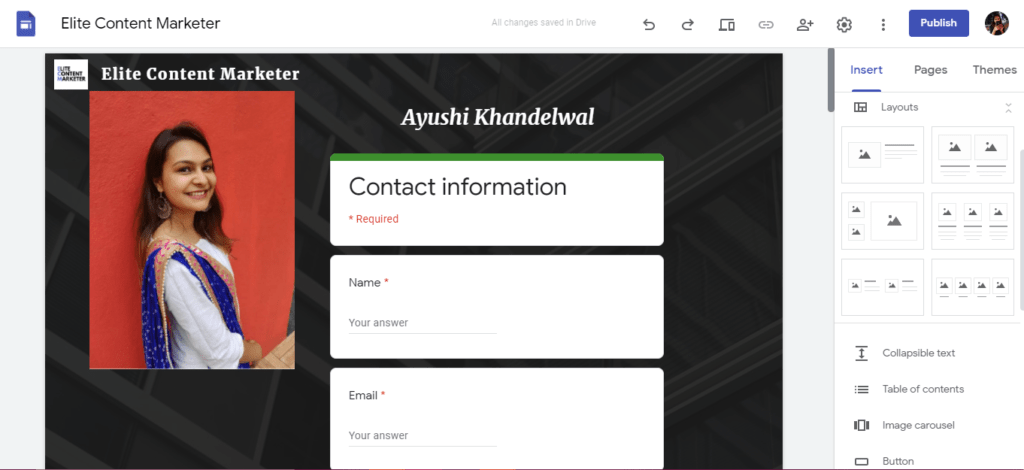 Google Sites is a free tool by Google to create websites and landing pages.
Google Sites only offers six section layouts, very few elements, and six themes to choose from. There are only 13 templates categorized under four sections: Work, Personal, Small Business, and Education. The interface is intuitive, with a WYSIWYG drag and drop editor. You can choose a background image from its library, directly do a google search, add by URL or upload from your desktop.
Google Sites integrates seamlessly with other Google applications like drive, docs, sheets, calendar, charts, slides, and forms. The insert option gives access to add various selections like buttons, collapsable texts, divider, placeholder, etc. As with Google Docs, Sites also lets you check the version history.
Here's the problem with Google Sites: it does not have any premade templates for sign-up forms. To add them to your landing page, you need to first create a form with Google forms and then find them under the insert option. To avoid this you can directly embed your form in the editor.
You can perform split testing through Google Analytics. You can add your domain to the landing page and create custom URLs. You can use Google Analytics from the settings option and track your campaign success by adding a tracking Id. You can use the report to see how pages generate traffic and how well they convert visitors into leads.
Pricing:
Free to use
Pros Cons
1. Integrations with all google products like Analytics, Sheets, Forms, etc

2. Can embed custom CSS and JS

3. Can be used to create websites as well

1. Limited customization

2. Limited templates

3. Alignment isn't seamless
10. GetResponse: All-In-One Marketing Software For Small Businesses
GetResponse – predominantly known for its email marketing service, is now an all-in-one marketing software that lets you create landing pages, squeeze pages, email marketing, webinars, and more.
The interface is an inherent drag and drop builder. Much like Unbounce, you can do A/B split testing, add JS and CSS scripts, schedule webinars, and add videos directly to the editor. However, after you make changes to your HTML code, you cannot make changes in the drag and drop editor. It can also be sluggish at times. GetResponse's image library is limited, but it lets you search for over 5000 paid images on Shutterstock. Once you hit 1000+ views, GetResponse will urge you to upgrade to the Pro Plan.
The A/B Split testing feature lets you add up to 5 variants. You can also test the conversion rate of these pages in real-time. GetResponse offers numerous analytics and tracking tools like Google Analytics, Facebook Pixel, KissMetricks, and Google Tag Manager.
GetResponse's marketing automation and autoresponder are its standout features. You can design complex autoresponder sequences based on user behavior. But, it isn't available on the basic plan. With Marketing Automation, you design a whole automation flowchart with a drag and drop builder. GetResponse integrates with tools like WordPress, Adwords, Facebook, Kissmetrics, and more.
Pricing:
GetResponse has four pricing plans. The Basic is for $15/month with 1000 contacts. The Plus Plan is for $49/month with the Basic plan's features plus an automation builder, webinars, sales funnels, and more. The Professional Plan for $99/month comes with Plus features along with Web push notifications, website funnels, 5 user accounts, and more. The Max Plan is a custom plan that depends on requirements and list size. It also offers a 14-day free trial.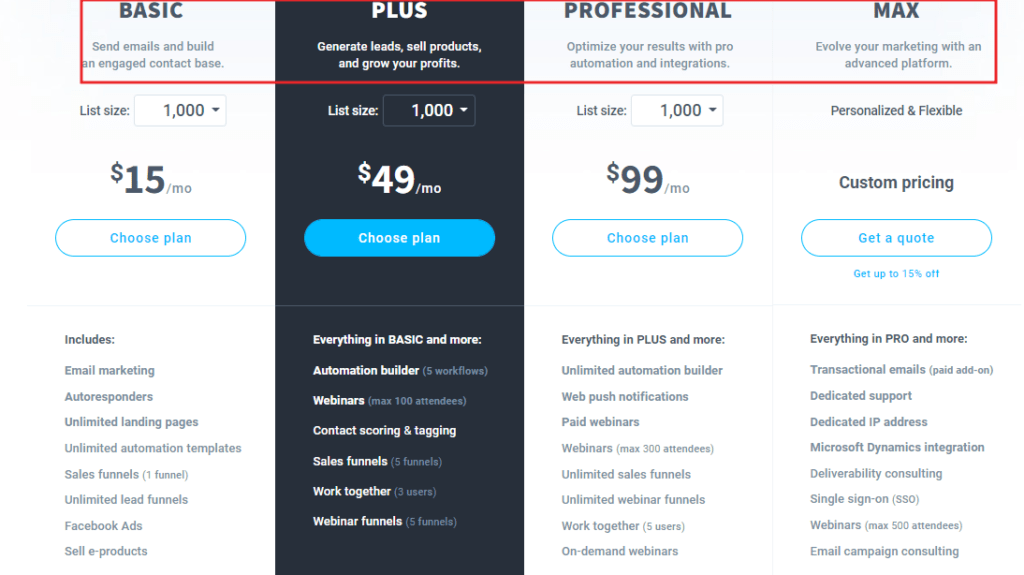 Pros Cons
1. Efficient Analytics feature

2. Can embed custom CSS and JS

3. Efficient marketing automation

4. Intelligent automation

1. Not a predominant landing page builder

2. Sluggish interface
11. Instapage: For Both Small And Professional Marketers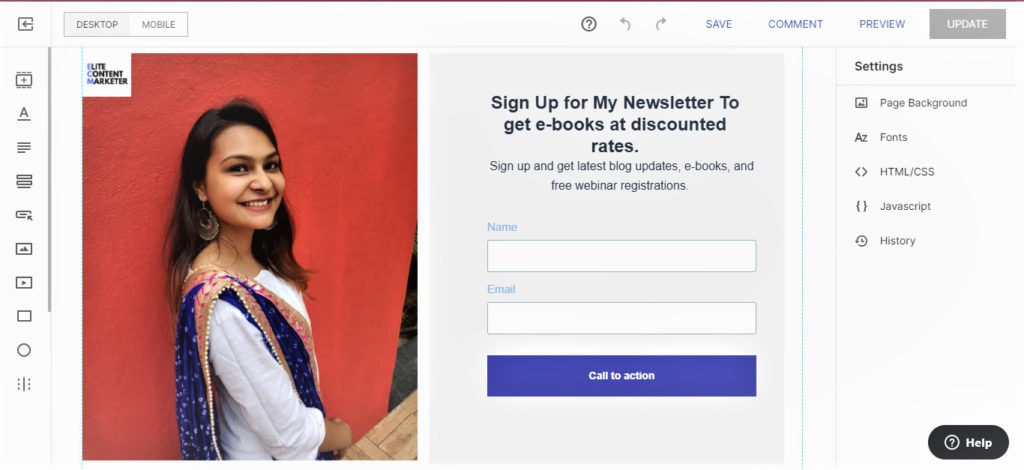 Instapage has compelling individual section templates as well as whole page templates. Its whole page templates have multiple use cases like Lead generation, App downloads, webinar registrations, etc. It has a block editor – Instablocks – that makes editing individual elements without having to worry about the proportions quick and easy. Instapage allows you to build AMP landing pages as well, which can drastically improve conversions.
Much like Unbounce, you can add JS and CSS code directly to the editor. Instapage also has a massive free library of images to choose from. You can even add Adobe and Google fonts to your page. Although Instapage is mobile responsive, alignment issues tend to arise. You have to realign the elements in the mobile version.
You can perform A/B or multivariate testing with customized split traffic. This means that you can choose to distribute traffic across variants of your landing page. You can gain real-time insights into your analytics and decide which variant works the best.
Another striking feature of Instapage is its tracking functionality. It has a heat map visualizer. Heat map visualizers have a three in one tracking functionality: mouse movement, clicks, and scroll depth. This helps in optimizing landing pages post click for better conversions. You can also add Google ads, Facebook ads, or even retargeting ads to customize your landing page based on your ad campaign. Instapage has multiple integration options like Autopilot, Converkit, AWeber, Campaign Monitor, GetResponse, Mailchimp, GoToWebinar, Zapier, and more.
Pricing:
Instapage only has two pricing plans: Business and Conversion Cloud.
The Business plan is for $149/month. The Conversion Cloud is a custom plan based on your requirements. It is mainly for lowering CPC and boosting ROAS.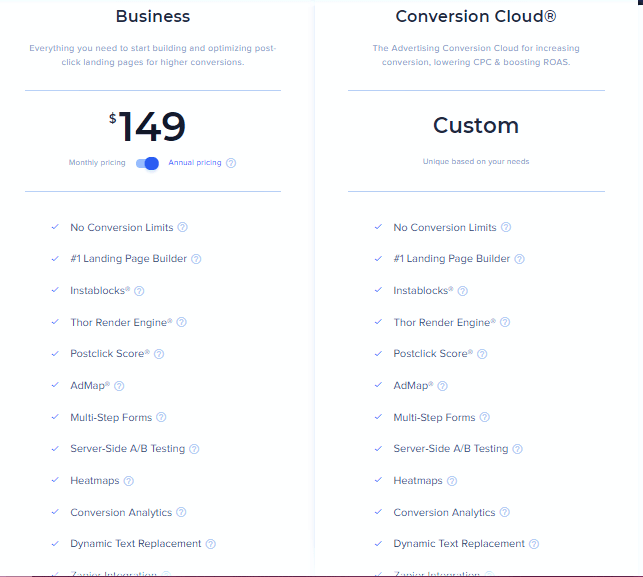 Pros Cons
1. Provides sectional and full page templates.

2. Instablocks make it easy to edit.

3. Provides Google and Adobe fonts

4. Heat mapping visualizer for 3 in one tracking

1. AMP landing pages are only available in the enterprise plan

2. Alignment isn't seamless
Frequently Asked Questions About Landing Page Software
Before we conclude the article, here are answers to some common questions about landing page builders.
How much does it cost to build a landing page?
It can go as high as $2000 to create a landing page with many features.
How can I make my landing page attractive?
You can do so by selecting a trendy and professional template that matches your business. You can also add custom CSS and JS to personalize your landing page.
Do I need a website to create a landing page?
No, a landing page can be a stand-alone page that doesn't need a website.
Who should use landing page software?
Landing page software can be used by bloggers, merchants, and marketers to generate more customers. Anybody with a product needs a landing page.
Concluding Thoughts
Landing pages are the best tool to drive conversions. However, creating a landing page can be a time-consuming process. I hope the article has helped you choose between the various landing page builder options on the market.
We tested more builders like Kickofflabs and Groovefunnels, but they didn't make it to the list. Here's why:
– Complicated user interface
– Extremely limited features
– Hefty plans with fewer features
– Not suitable for small business
Which is your favorite landing page builder? Let me know in the comments.