Why trust this Instapage review? These notes are a part of the top landing page software review by Nicholas Godwin. We follow an extensive review methodology that relies on testing tools, and finding the ones that are best for your needs.
What is Instapage Used For?
Instapage focuses on its core strengths — personalizing content based on the device and location of visitors — while remaining extensible by supporting hundreds of integrations to address different marketing needs. It optimizes for speed in design time and page-loading time.
Its AI assistant for writing, template landing pages, blocks, drag-and-drop features, and intuitive navigation reflect its intent to help users build landing pages that load fast.
Now that you have a brief about Instapage, let's look at some of the top Instapage features, its pricing, and review its functionalities against the most popular landing page software in the market.
Instapage Pricing
Instapage's "Build" plan costs $299 per month. But you can save 25% by paying for the whole year upfront. It comes with personalizing content based on the device and location of visitors, Server-Side A/B Testing, and a host of other features.
But if you also want all of its specialized features, including AI Experiments, heatmaps, and lots more, along with a customer success manager, you need its "Convert" plan (pricing only available on request).
Before we move forward, let's answer the elephant in the room. Is Instapage even worth that steep price tag?
Is Instapage Worth it?
Instapage is ideal if you have simple integration needs or don't mind using Zapier to connect your apps. This landing page builder shines if you want to create landing pages with expert-level designs in a very short time without sacrificing page speed.
Now let's look at a feature by feature breakdown of the landing page builder.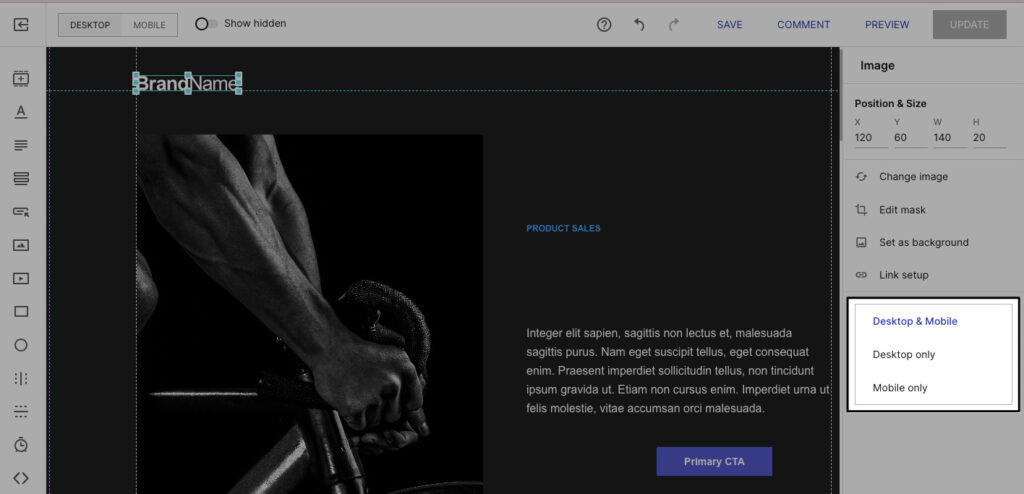 Feature 1: Page Builder and Templates
Instapage offers three landing page builders—standard, AMP, and file upload. Unless you've been using Instapage for some time and need to transfer existing landing pages, you'll most likely limit your use to the first two options.
The standard option is the most beginner-friendly as it provides you with landing page templates you can simply select, name, and customize with a drag-and-drop builder. More experienced landing page developers or users with a specific landing page idea may use the blank page builder.
However, I prefer using landing page templates. They help me build pages faster, and they have no customization limits.
I like that Instapage clusters all non-design features in one place and makes them easily accessible. This way, I can separate design tasks from other tasks like setting conversion goals, adding scripts, or doing SEO.
Additionally, Instapage's pre-designed blocks helped me speed up page design and customization.
Blocks are like template elements you can add to your pages. I built 100% unique pages with these blocks, including FAQ sections, CTA bars, footers, headers, comparisons, pricing tables, and features/benefit sections, in under 60 minutes. Instapage offers 33 of these blocks.
Also, the feature was a massive time saver. These pre-built blocks are easy to use, even if this is your first attempt at building landing pages.
After I built the pages, I tested them for speed, and they loaded in two seconds. I figured I could optimize images better to load pages even faster, but that's not Instapage's fault.
Feature 2: App Integrations
I have three integration options here—marketing tags and pixels, forms, and email notifications. At first, I liked that Instapage grouped these integrations nicely, but on trying to set up my workflows, I found the platform limiting.
For instance, I could only integrate natively with marketing tags and pixels from Facebook and Google. Other marketing platforms that use pixels, like Quora Ads, won't work natively unless I use Zapier or other API connectors.
I'm invested in the Zoho platform for email, CRM, and other business needs. So I connected Instapages to my Zoho CRM and was pleased with the seamless, one-click connection. This is definitely beginner-friendly.
Instapage supports 20 other marketing tools, and you can connect them by supplying an API key or initiating a connection at the click of a button. It took me less than 30 seconds to connect any application.
You can connect more applications using Zapier. Simply copy and paste the API key from Instapage to Zapier to map Instapages to other applications.
Feature 3: Pop ups, Sticky Bars, And Opt Ins
You can add popup elements to buttons, texts, or images. Although I can design a popup without writing code, Instapage is less intuitive here, you'll need their guide to get it done.
Even at that, some design elements didn't work as expected. For example, I couldn't be sure I'd changed my popup background elements even after I added a new background image or changed the background color.
When I previewed the page, I didn't see any of my popup background changes.
Also, it's not immediately clear how to revert changes when setting up popup elements. The undo button functions on the main page area only and won't work when editing non-page elements like popup forms.
Although I'd wager that this popup builder is beginner-friendly as you don't need any technical knowledge to set it up, following the user guide didn't guarantee a reliable design outcome in my experience.
It's unclear if the popup form has any no-code customization options. However, you can embed fully customized form codes to appear as you'd like or customize the no-code form with Javascript and HTML scripts.
I got around to adding a popup from the background color by adding a blank box and then styling the box.
Instapage didn't discuss this workaround in its guides. To Instapage's credit, though, customizing button elements felt smooth, responsive, and intuitive, a first-time user should find the experience friendly.
You'll need to copy and paste premade codes to effect a sticky header or footer on your page. But I like that I can make almost any page element sticky — lead capture forms, countdown timers, text notifications, CTA buttons, and others.
Feature 4: Website Builders
While many landing page software today comes with website builders, Instapage doesn't have one.
Feature 5: Instapage AI Features
Instapage's AI is for assistive purposes. It doesn't create content from scratch. But I used it to generate alternative headlines when comparing the headlines to use for each section of my copy. I also generated alternative text when trying to write better sentences or paragraphs.
The AI-generated sentences and paragraphs came out okay, but if you're writing original content, this feature might dilute your brand voice. It's a quick way to see if you can make a sentence shorter, sharper, and simpler, but relying on the tool will drown your brand voice.
This is a nice add-on, but I wouldn't be using it when building my landing pages.
Unique Instapage Features
Instapage has a feature that can help you lower the cost of customer acquisition by personalizing your ad messages to them. I didn't explore this feature as it requires a special setup from the Instapage team, but it promises to help improve your conversions.