Keeping overthinking aside, you've finally decided to embark on your freelance writing journey.
But you feel clueless, confused, and scared.
You have no idea how to find your first client.
You've already applied to several online writing gigs or joined writing job boards.
You have also started pitching potential clients through cold e-mail.
And nothing seems to work in your favor.
But have you added LinkedIn to the list?
No, then add it now.
The best platform to connect with potential clients and showcase your writing skills.
So put on your writer's hat and let's get started – your next client could be a few clicks away!
In this article, I'll show you how to leverage Linkedin to find high-paying clients and build strong networks.
How to Optimize Your LinkedIn Profile as a Freelance Writer: Basics
1. Decide your niche
You've decided to become a freelance writer, but for what industry you're going to write?
Is it for the health industry? Or finance? Or Crypto?
What are you going to write?
Blog posts? Case Studies? White paper? LinkedIn posts?
I know deciding on your niche is a daunting task.
If you're already aware of your niche, then it's perfect. If not, still no worries.
When starting your freelance journey, pick any niche and create samples around it.
You can change the niche later because to know which niche works best for you, you've to work with a real client.
Many freelancers have changed their niches over the years.
There's no hard-and-fast rule that you've to stick with one for life.
You've not signed a permanent contract to write for a single niche all your life.
So, take a chill pill!
To start, pick any niche you feel comfortable writing about and start hunting for clients.
2. Include keywords in your headline
A poll states that a LinkedIn headline is 46% more important than anything else on your profile.
To survive in this goddam freelance writing industry, you've to market your services.
Including keywords in your headline is the first step.
Now, what do I mean by a keyword?
A keyword is a search term your potential clients use to find a writer who can write for a specific industry.
For example, Freelance writer, Freelance Copywriter, etc.
This helps clients to cut down time and only go through relevant profiles.
To get visibility in the search results, highlight your expertise.
For specialized writing, such as SaaS, use keywords like Freelance B2B SaaS Writer, etc.
Using long-tail keywords words in your headline increases visibility in relevant searches.
Thus, including keywords in your LinkedIn profile is essential for optimizing your profile.
3. Make your profile picture and header image stand out
The first impression is the last impression.
How many times have you heard this?
A lot of times. Right?
And that's the case for your profile picture and header image.
Clients notice these two after their keyword search shows results.
Your profile picture is your first impression.
Most of the clients reject writers after seeing their profile picture.
To stand out among the crowd, use a professional picture to establish credibility.
The profile picture should show your vibrant personality and make you likable.
Look below!
Like a good profile picture, a header image is also something that clients pay attention to.
You can use header space
To brand your services
List of clients you've worked before
Call-to-Action such as email id, website link, etc.
See below how header images fulfill the purpose of getting client attention.
Let your profile picture and header image work for you.
Don't let the chance to land your first client slip away.
4. Write a compelling summary of your skills
Do you know what's the worst way to write a summary?
Like you're writing an essay about who you're, and not describing what you're good at.
Never! Never do that.
The summary is no different than the headline.
Clients judge you from the first line itself.
Thus, write something that hooks the reader to read the whole summary.
You should keep these points in your mind while writing a summary:
Include the keyword in the summary naturally.
Show the prospective client what you're good at and how you can help them.
Show them your services are what they need.
Write something that showcases their struggles. Show them you understand them and how your services can help them solve their pain points.
The section allows you to open up about yourself to gain the trust of potential clients.
I understand that being a new freelance writer, you might not have much to share.
You don't have results that will make you trustworthy in front of your clients.
But you can highlight your strengths and how you're willing to give your hundred percent.
Assure them that being a new freelance writer you're more dedicated to the project.
Do you have a sample article you've written before?
Mention it to make yourself credible in front of clients.
Regardless of anything, the summary section is yours to brag about!
So, go for it!
5. Fill out the "Open to Work" section
Keyword? Check.
Profile picture? Check.
Header image? Check.
Summary? Check.
Hurray! Congratulation on optimizing your profile.
But wait, how would clients know that you're available for work including the type of work?
Well, here comes the "Open to Work" section.
And how would you do that?
You'll find a small box below your profile picture "Open to" showcasing that you're on a job hunt.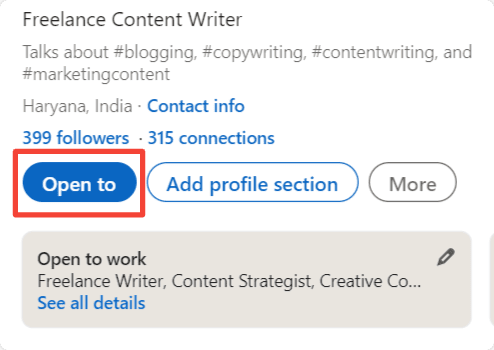 This feature allows potential clients to know your availability to take writing projects.
Edit your job preferences of the work you're willing to do. This includes:
Job Title
Location
Job Type, etc.
You can also edit your service page to help clients know more about your services.
For example, Copywriting, Marketing, Content strategy, etc.
So, what're you waiting for? Let's get started!
6. Complete the experience section
One of the most crucial sections of LinkedIn is the Work Experience section.
Yes, other things are important, the experience section is something that's more attention-worthy.
While ranking search results, LinkedIn also considers the experience section as well.
This helps the clients to see only relevant profiles among all.
This helps them decide whether they wish to work with you or not.
Sharing your experience gives you an edge over what prospects are searching for.
But I'm a new writer. I don't have work experience.
Well, you do.
Work experience is not limited to jobs done only but any type of previous work experience in a similar field.
You might've volunteered with an NGO and helped them create copy for their campaign.
Or you've done an internship with a publishing firm, helping them write articles.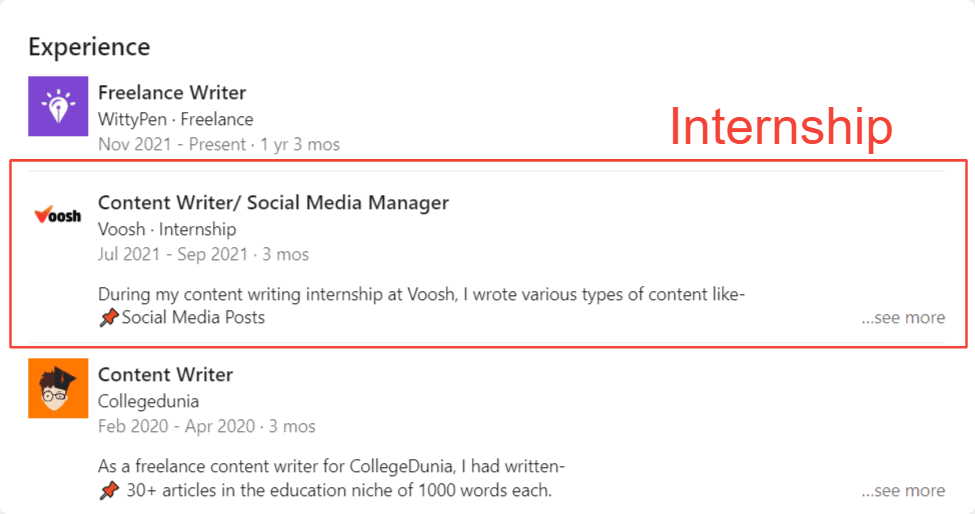 You might have helped your professor in college work on a thesis or craft content for a college activity.
All these things matter a lot.
This shows your determination towards work.
Highlighting these will give potential clients a reason to work with you.
Even if you've written a sample article on Medium, you can share that too along with the results (if any).
So, go and fill in your experiences and make your client approach you.
7. Turn on the creator mode on your profile
LinkedIn has introduced Creators Mode in 2021.
Many writers on LinkedIn are using this feature to share valuable information.
Once you have 150 or more followers on LinkedIn, you can turn on the Creator Mode.
Creator mode helps you grow your reach and create an influence among your audience.
Turning on the Creator Mode will allow you to:
Publish content for subscribers daily, weekly, or monthly
You can use LinkedIn Live to Livestream and connect with your audience in real-time
Display your area of expertise to the follower
Highlight posts and external content in the featured section
Convert profile action butter from connect to follow. This stops unnecessary connection requests.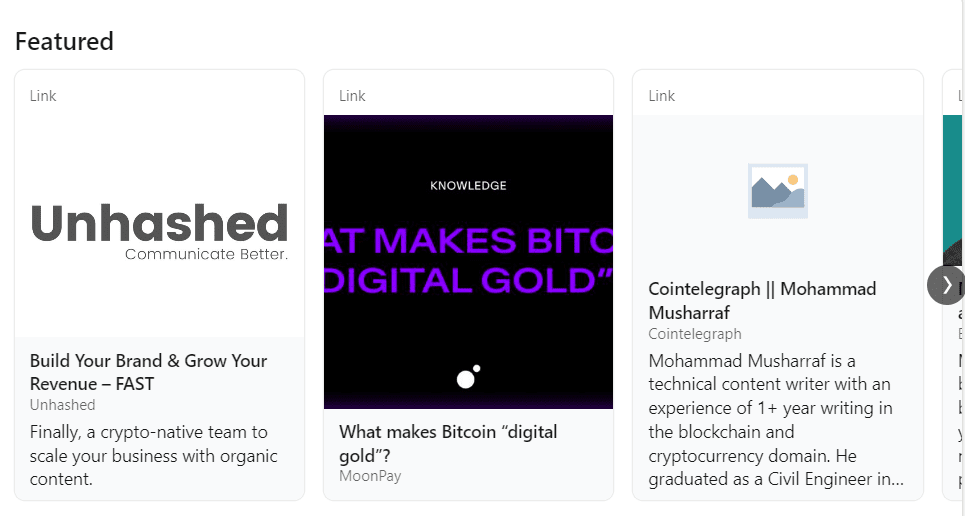 LinkedIn creator Mode helps you establish your voice on the platform.
You also get access to creators' analytics different from LinkedIn Page analytics.
Establishing yourself as a creator on LinkedIn allows inbound leads and good connections.
LinkedIn launched a 10-week Creator Accelerator Program in 2022.
The program was designed to support creators in creating communities through coaching. It also helped the, connect with other creators and a financial grant to help them create content.
So, don't let the opportunity aside.
And finally, we're done with optimizing the LinkedIn profile.
Let's start the hunt for freelance writing clients now.
How to Get Freelance Writing Clients on LinkedIn: 5 Actionable Tactics
1. Create content in a chosen freelance writing niche
You've selected your niche of writing.
You've optimized your profile.
Now it comes to getting some real business done.
And how would you do that?
By establishing credibility, authority, and expertise.
To do so, make your own content strategy on LinkedIn.
Make outstanding content in your niche.
For example, if you're a Web 3.0 writer, create content for clients in the Crypto or Web 3.0 industry.
Let's have a look at this!
Mohammad Musharraf is a content writer for Web 3.0 writer for more than 4 years.
He creates content targeting people associated with the crypto industry.
He also shares links to the articles he's written. This gives clients a chance to go through their work and understand whether this person aligns with their content goal or not.
In the post given below, he argues about the authenticity of an article. This establishes him as an expert in the industry he's writing for.
This also helps clients build trust in their skills and cut out unnecessary people while hiring a crypto writer.
But you might be wondering what as a beginner freelance writer you should share on LinkedIn.
Here is the perfect post shared by Komal Ahuja describing what to post on LinkedIn.
As a beginner, you can share these things:
Describe the problem in your sector and how you would solve it.
Share your personal opinion on current happenings in the freelance industry.
Your writing process and how your finished work looks like.
Your opinion on insights from established freelance writers.
Your background and what made you decide to become a freelance writer.
An overview of what value you can bring to the table as a content writer, content strategist, etc.
Your point of view on how your solutions can help the client solve their pain points.
Some examples of the content you can create on LinkedIn:
"Okay, I get it. I need to create content to establish trust."
But how this would help me get leads?
LinkedIn has changed over the years.
It has always been an intriguing platform to generate leads for businesses.
Different types of posts attract different types of engagement.
An example is from LinkedIn Branding Expert Mona Ganatra who shares her personal templates that go her generate over 83,200 views in 15 days.
Posting original and unique content will attract good impressions.
Consistency is also one of the major factors in the content game.
This doesn't imply that you've to post daily.
You can choose to post 2-3 times a week.
It will take less time if you're already prepared with content beforehand.
For example,
Shreya Pattar is a freelance writer for tech founders and business coaches.
She is a mentor to many newbie freelancers and has helped them build a personal brand and get leads.
Here she shares a 90-minute-a-week content strategy to save you time and never run out of content.
Here is another post from Shreya where she shares how her first post on LinkedIn garnered her 1.5 million views and helped her start her freelance writing career.
Here is another example from Amin Ghale, a freelance specialist.
He created a LinkedIn post on keyword research and content marketing tools.
And guess what?
He got two inbound clients worth $500 each for keyword research.
This happens within 3 days of publishing content on LinkedIn.
Also according to Business Insider, LinkedIn ghostwriters are charging $700 per hour.
You can also try your luck with ghostwriting services while creating content for your profile.
This is why the content game is powerful for your freelance business.
2. Cold pitch potential clients on LinkedIn
Now you've started creating content and getting leads as well.
But you feel the leads might not be worth the effort you put in to create content.
Your favorite clients or brands are not approaching you.
Now, what to do in such a case?
Here comes the cold pitching on LinkedIn.
Yes, like cold email, you can cold pitch ideal clients on LinkedIn through DMs.
Cold pitching is a method to reach out to business prospects who have never heard of you.
Well, before you do this, here is a catch.
Nobody likes when people out of nowhere pitch them on LinkedIn and 90% of people pitch in the wrong manner.
Most of the messages look like this:
Hey (name),
I'm XYZ. I'm a freelance SEO blog writer.
I'm a big fan of your content. The content shared by you inspires me a lot.
I would like to contribute to your website with my writing skills.
Here is my portfolio. You can respond to me here or my email Id [email protected].
Looking forward to your response.
Thanks,
XYZ
Do you think this is gonna get you a reply?
No. Never!
This is vague.
You're approaching a prospective client without understanding what are their requirements.
Whether they're looking for freelance writers or not.
If yes, then what qualities and skillsets do they want in a freelance writer?
You didn't mention:
Why they should check your portfolio?
What problems they are facing that you can solve?
Why they should consider your services over other freelance writers?
What makes your writing unique?
How your writing will help them?
Increase engagement rate? More leads? More sales? More traffic?
While cold pitching, you need to personalize your message to stand out from the crowd.
Here B2B SaaS freelance writer Komal Ahuja shares tips on personalizing the cold pitch that got her 4 responses out of 5 within 24 hours.
Apart from this, you can convert the cold pitch to "Warm pitch" to get yourself noticed.
Before sending warm pitches, connect with people in your industry.
This improves your chance of seeing and responding rates from clients getting higher.
Engage in the comment section, share your thoughtful insights, and increases the chance of getting noticed.
This makes it approach the prospective client easier with a warm pitch.
Here's an example of a warm pitch:
Dear (name),
Being a freelance writer, I'm always on the hunt for resources in (the industry) to learn from. I am thrilled to stumble upon (company/website name) a couple of days ago.
Your guides and blog posts are quite thorough and helpful. I especially loved the (article name) you shared yesterday. I would love to help you produce even more great content.
Some of the topics I'm most interested in writing about are (interest).
I always update myself with the current and latest knowledge in the industry.
I also create content on LinkedIn to provide solutions for problems faced by clients.
I checked your website and I realized that you're not getting enough traffic.
This (the solution) will help you increase traffic and get a higher rank on Google.
Here I'm attaching my portfolio for you to understand my writing style.
If you're hiring new writers, please respond to this message.
We can schedule a call to discuss ideas to increase the visibility of your website.
Thank you for your time,
(Name)
(Email Address)
This type of pitch shows your expertise, the problems they might be facing, and how you can help them.
Here is another example of the cold pitch from Troy who emphasizes personalization.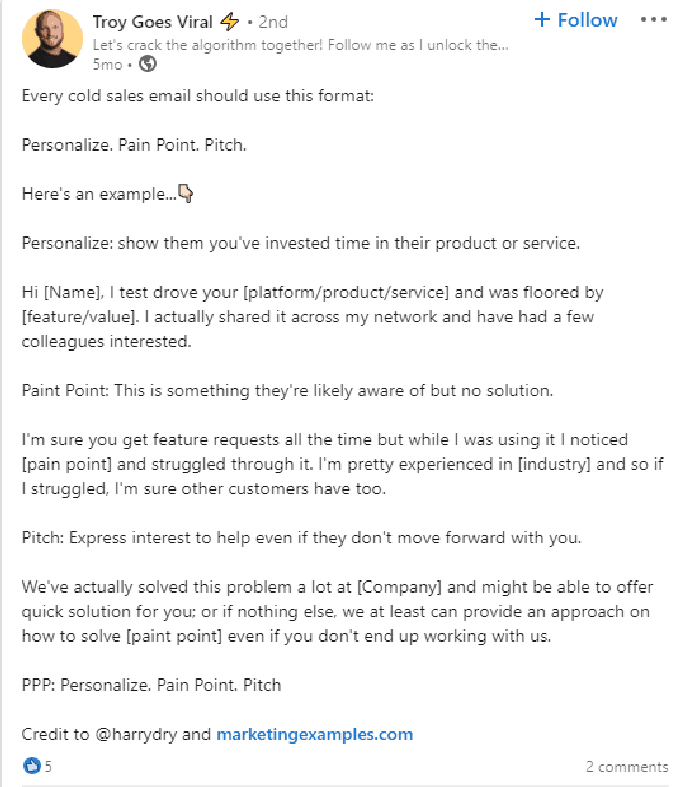 Personalize the message and you're one step away from working with your dream client.
Get, set, go!
3. Follow hashtags
I know this might sound vague to you – follow hashtags.
But trust me, it's one of the best ways to stay up to date on the latest trends.
Hashtags allow you to connect with other professionals and find potential clients.
Following hashtags will help you get many writing opportunities.
For example, I follow #freelancewriters to get updates regarding writing jobs.
You never know while scrolling through LinkedIn what next opportunity you come across.
It can turn out to be one of the high-paying ones.
Here through this hashtag, I came across this opportunity for freelance writers in the medical and health industry.
Another example of a freelance writing opportunity:
Hashtags also help you discover new content ideas to you can use in your LinkedIn strategy.
You can use them while creating content so that it reaches a wider audience.
You can even connect with other freelancers or clients by posting through these hashtags.
4. Engage with people
I know we've already discussed above how engaging with people will help you in warm pitching.
But this also helps in making personal connections.
Engaging with people is much more than liking posts. To engage with professionals, read what you find exciting and comment your thoughts on it!
Build friendships, expand the network and find ways to find clients.
You can also ask others to connect with you by sending a personal note.
Make a list of authoritative people in your industry or people you want to connect with.
Read their posts, and comment on what you liked about the content, and how it helped you.
Have a different perspective, post about it!
Sometimes freelancers are overburdened with projects. Hence, they hire other freelance writers as sub-contractor in their team.
Here is an example of a sub-contract freelance writing project.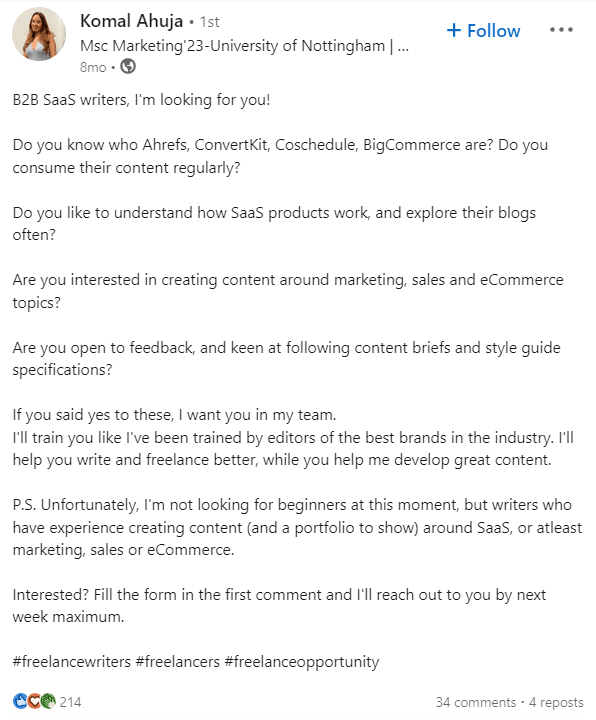 Ghostwriter Megan Grant says you should find people not companies to generate leads.
People associated with companies should be your target audience to get projects.
Follow or engage with people who post about freelance writers' requirements.
For example, if you write for Health companies, then write "Health writer" in the search section.
Then click on people, and see the search shows a list of people associated with the keyword.
You can even change location to see people from a specific country or city.
Look for people at higher posts in the content team such as the Director of Content and Head of Content.
Rather than waiting for them to connect with you, send them a connection request with a personalized note.
Tell them why you want to connect. It might be only because you find their content praiseworthy.
Or you want personal mentorship from them.
It could be anything.
This is also a unique way to get leads. This approach eliminates the "waiting period" and gets things done fast.
Because the clients are busy.
So we should take initiative to get ourselves noticed.
Michal Eisikowitz is a freelance copywriter.
In an interview with Jacob McMillen, she shared how she uses LinkedIn as a writing website.
She rejects connection requests without personalized notes or unrelated to her industry.
Clients tend to do the same because they don't have the time to respond to every connection request.
Here's why personalizing message work to engage with people.
5. Access the "Who viewed your profile" feature
Tell me what's the main reason you created a profile on LinkedIn?
No, it's not the follower count.
It's your online visibility.
You can access "Who Viewed Your Profile" from below your LinkedIn profile picture.
Click on view profile and scroll down to the analytics section.
You'll see the number of profile views on your profile.
To access the analytics, click on this number.
This feature shows results only if people have visited your profile in the past 90 days.
You can also see how many times your profile appeared in your searches.
Even you get a notification every week regarding the number of times you've appeared in searches.
You can also see more trends and further insights to access who's viewing your profile.
You can see what keywords were used when your profile appeared in the results.
You can see companies, people, and their designations who saw your profile.

And if no one is visiting your profile or visits are not from your target industry, then it's not gonna help you.
When you're aware of who's viewed your LinkedIn profile, you can use its true potential.
But how it can help you?
Let's say, Hubspot's Director of Content visits your LinkedIn profile. What would you do?
You'll send a brief introduction message.
Don't you think so?
They've viewed your profile because something caught their eye.
So, now it's your chance to reach out to them.
Who knows you might get to work with them.
And even if it doesn't convert, you can add them to your network and talk about future work possibilities.
So, make sure you've turned on the "Who Viewed Your Profile" on your LinkedIn profile.
Final Thoughts
Now you're pretty much aware of how to go on a solo hunt for freelance clients on LinkedIn.
Patience is the key to success.
If you'll follow all the steps given above, you'll get successful.
So go friend, create an attention-grabbing LinkedIn profile and start creating content now.
Make your profile engaging because that's what clients like.
Let me know if I missed anything.
Feel free to share your thoughts on finding clients from LinkedIn in the comments below!