All over the world, businesses are looking to expand working across the change in the global economy since the pandemic requires higher efficiency and cost reduction. This is where outsourcing plays a major factor.
Today, companies outsource different services and several jobs, including information technology (IT), human resources, and accounting, to even entire divisions such as call centers. In this article, statistics on outsourcing have been compiled for the post-pandemic era showcasing the trends, benefits, and the market in the industry.
General Outsourcing statistics
Whether you're a small business or a large firm, outsourcing has benefits. Read on to learn more about the overview of the latest – where and whys – of outsourcing.
1. 71% of US and Canadian companies outsource application development at a higher frequency than European IT companies. (Computer Economics)
2. Per a survey of 600 respondents, 65% of successful Global Business Service (GBS) organizations include outsourcing services in their delivery models. (Deloitte)
3. 42% of companies that outsource are considering a hybrid model of working for the next three to five years. (Deloitte)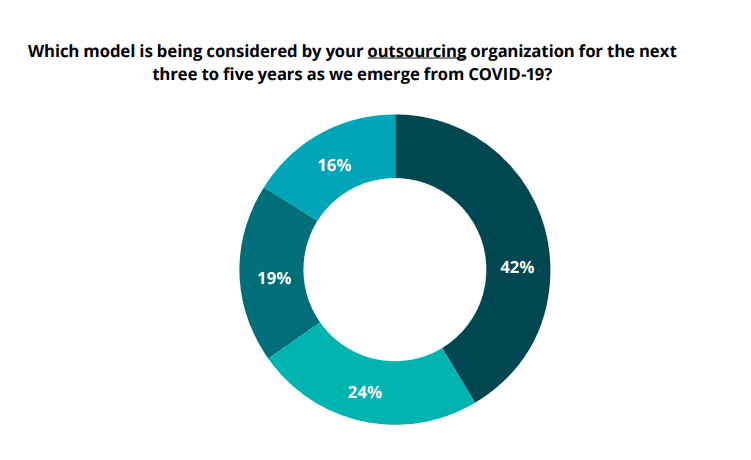 So, outsourcing is going to be part of a larger trend. But which services are commonly looked for by organizations?
4. The same report also shares that the most commonly outsourced services are Information Technology Services (54%), Finance (44%), and, Payroll (32%). (Deloitte)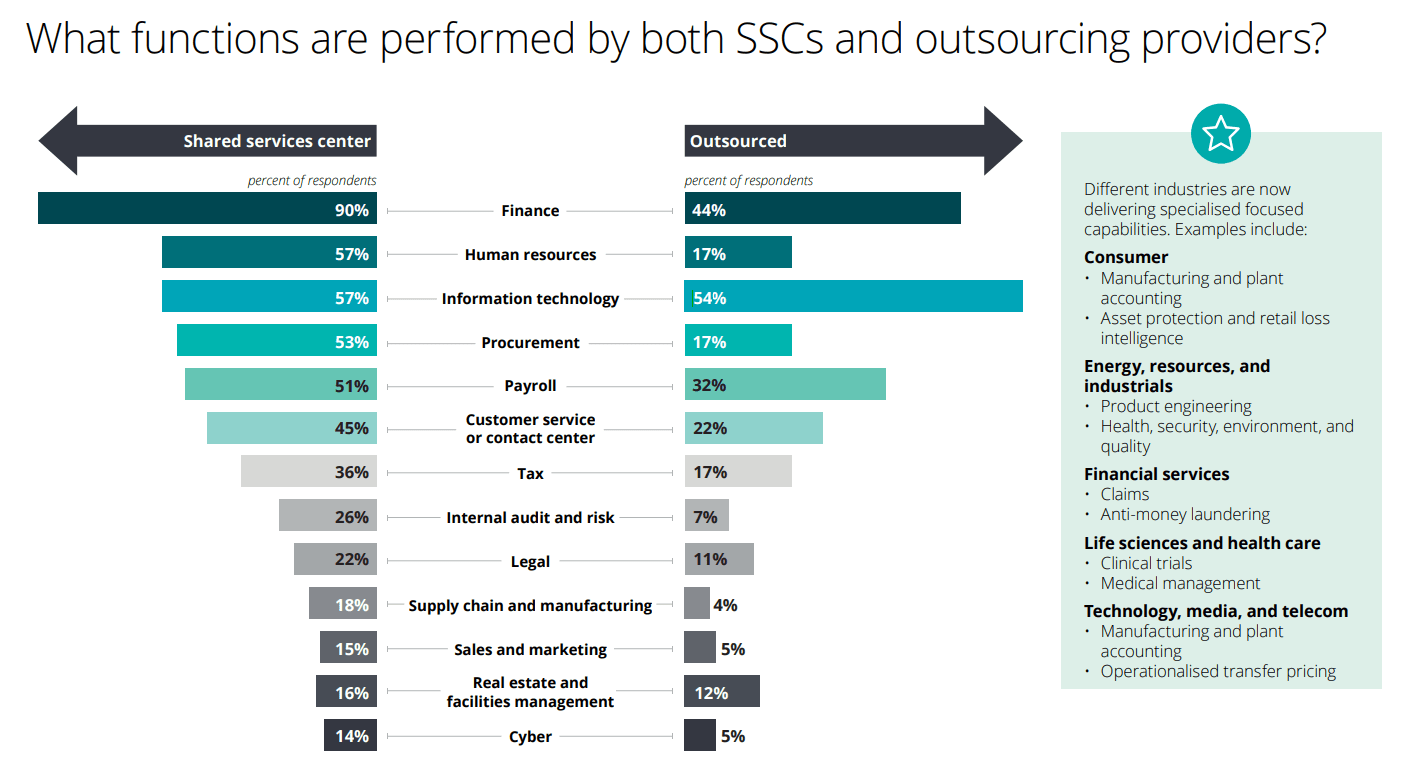 Shared services centers are still at the top of the preference center as compared to outsourcing. But then why is it a preference by corporations?
5. According to a survey of over 10,000 global Shared Services & Outsourcing (SSO) and GBS organizations, 25% reported access to talent and skills while 24% reported cost leverage as the primary benefit of outsourcing. (SSON)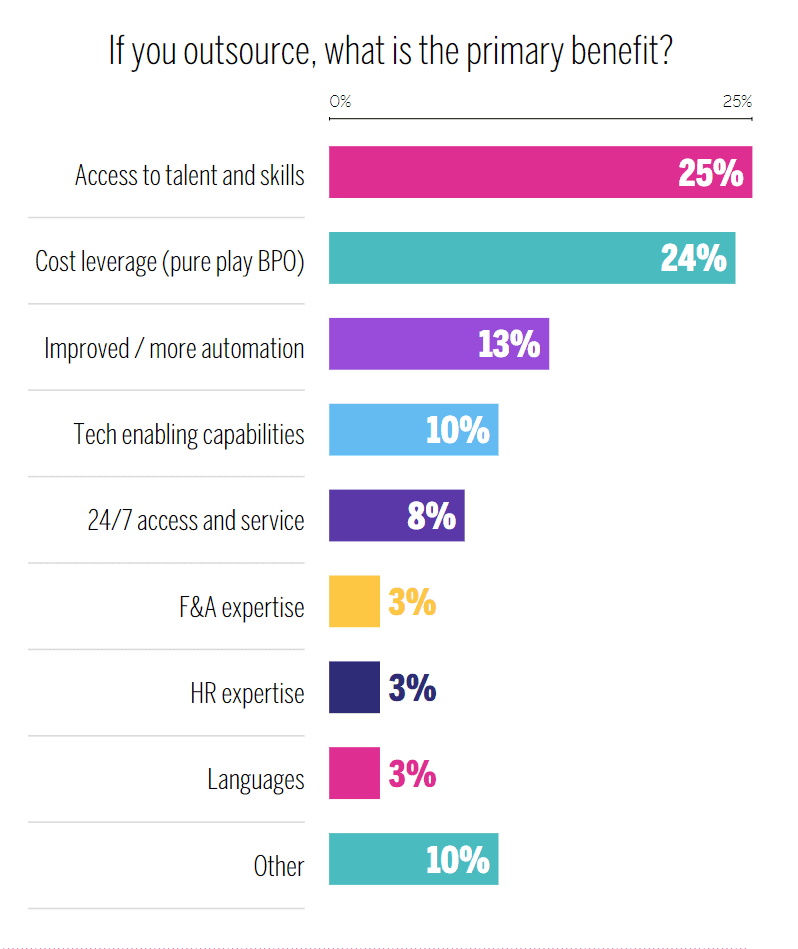 Global Outsourcing Market Statistics
Below are the outsourcing statistics for the global market.
1. In the pre-pandemic era, the global outsourcing market generated $92.5 billion, with information technology outsourcing generating $66.5 billion and other business process outsourcing contributing 26 billion. (Statista)
2. The global outsourcing services market was valued at $620.381 billion in 2020 and is expected to grow at a CAGR of 5.54% to 2027 from 2020. (Research and Markets)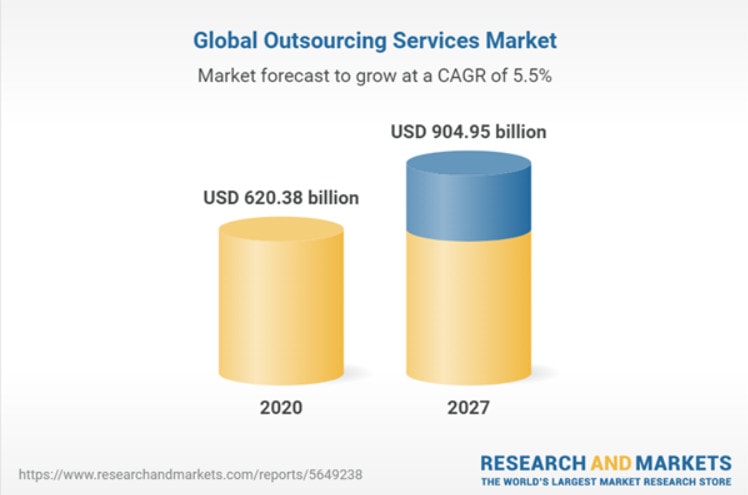 So, which sectors in the global outsourcing market are expected to make an overall increase soon?
3. The outsourcing market value for call centers is expected at a growth rate of 3.96% from 2022 to 2026, with an estimated value of $21.72 billion. (Research and Markets)
4. The revenue from the global IT outsourcing market is expected to grow with an annual growth rate of 8.26% from a projected $430.50 billion in 2023 to $587.30 billion by 2027. (Statista)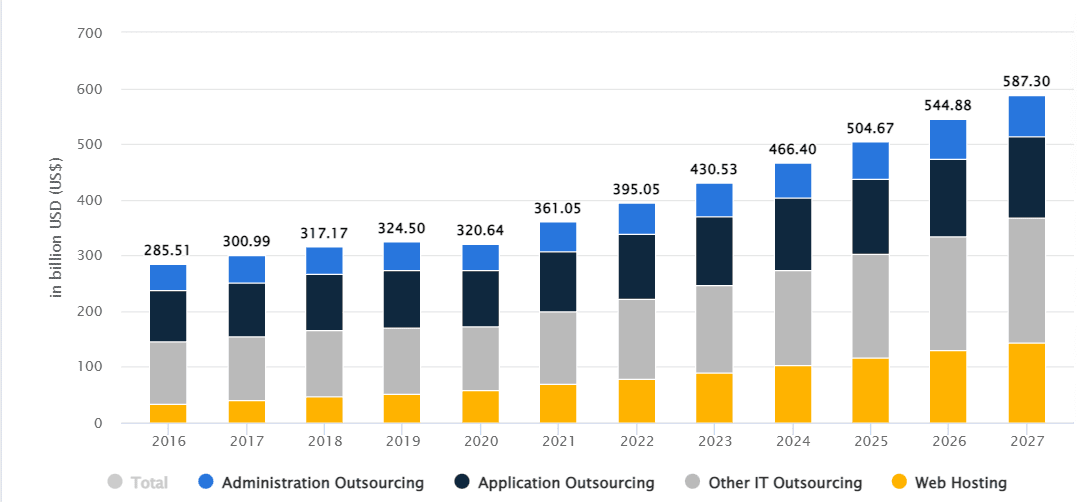 5. The global business process outsourcing (BPO) market is expected to grow at a CAGR of 9.4% from 2023 to 2030, with a $261.9 billion valuation in 2022. (Grand View Research)
6. The same report also shares that the IT & Telecommunication segment held the highest revenue share in BPO, accounting for 34% amongst others like healthcare, manufacturing, BFSI, retail, etc. (Grand View Research)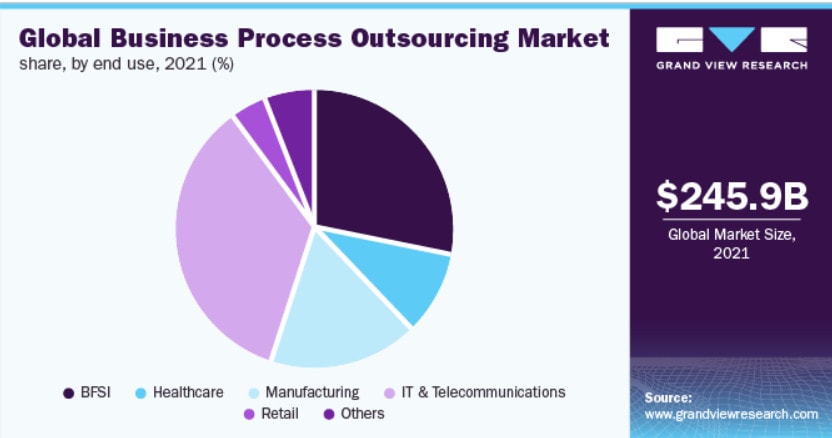 IT, BPO, and call centers are among the major contributors to the global outsourcing market. But, which nations are contributing the most to this success?
7. North America accounts for 35% of revenue share in the global business processes market and is expected to grow at a CAGR of 8.6% by 2030. (Grand View Research)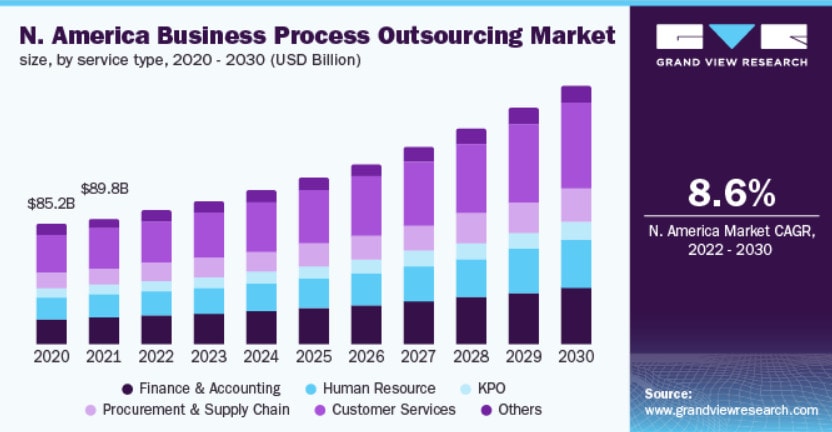 8. Middle East and Africa business process outsourcing market value is expected to reach $20.55 billion by 2029 with a CAGR of 6.9%. (Data Bridge Market Research)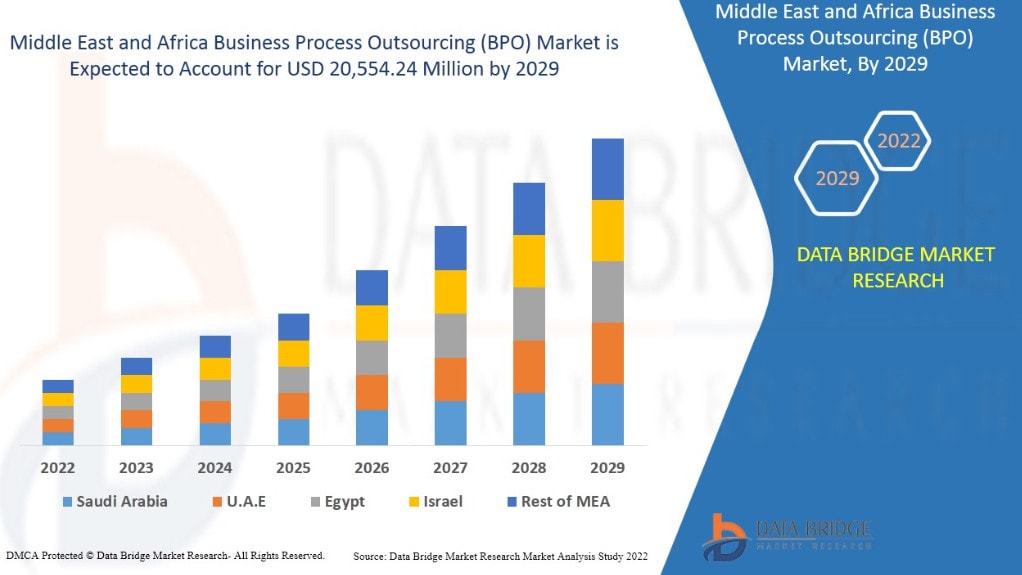 9. IT and business services organizations spent $7.5 billion in Q1 of 2022 in Europe, the Middle East, and Africa (EMEA) region. (Computer Weekly)
Outsourcing Statistics by Industry
The benefits from global outsourcing are being reaped by all organizations alike. Read on to find out the latest outsourcing statistics on industry growth.
1. Per a survey conducted with KPMG's suppliers, customer intelligence gathered through outsourcing improves the investment return by 20% in retail. (KPMG)
2. Financial services have devised ways to increase collection dollars by 5% using outsourcing solutions. (KPMG)
3. 63% of IT companies from a survey of 146 outsource some or all of cloud infrastructure management and data center operations. (Computer Economics)
4. The same report also shares that 55% of companies outsource at least some of their desktop work, up from 19% the previous year. (Computer Economics)
5. In a survey of 2608 participants in India, 30-40% of employers are outsourcing work to third parties to address the shortage in skills/labor as one of the solutions. Whilst globally, this is seen at just 20%. (PWC)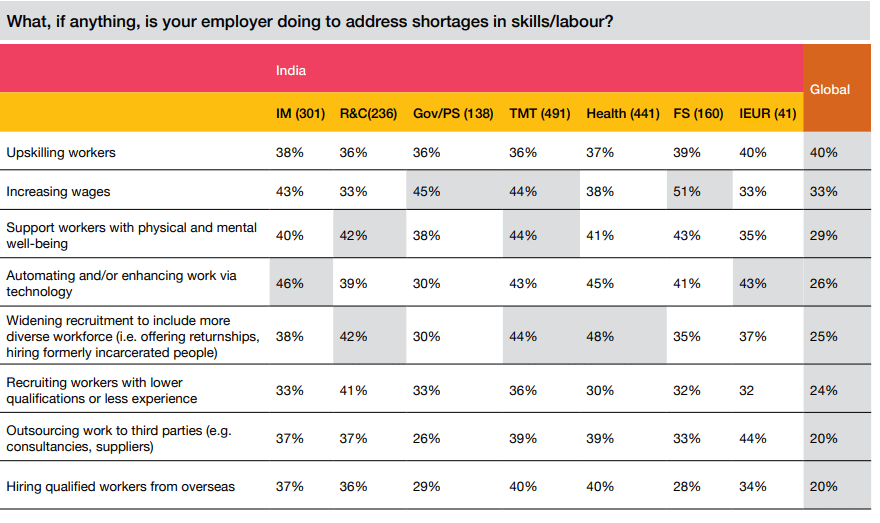 Small businesses outsourcing statistics
Today, outsourcing has become a part of all corporations. Find out below about the small business outsourcing statistics.
1. A survey of 1003 small businesses revealed that 27% are most motivated to outsource to improve their efficiency and save time. (Clutch)
2. Short-term workers are highly valued in the US. 33% of small businesses outsource for seasonal or need-based workers. For example, hiring an accounting firm during tax season only. (Clutch)
3. 27% of small businesses are outsourcing IT services, the highest compared to others like digital marketing, legal, finance, development, and customer support. (Clutch)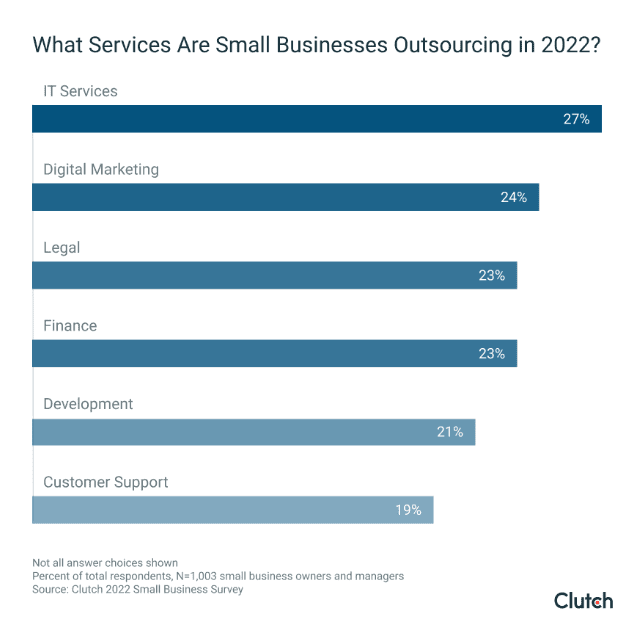 4. 21% of small businesses plan to hire a nearshore company to handle their outsourcing services. (Clutch)
5. The report also shares survey highlights with 500 respondents in 2021, wherein 19% of small businesses having 251 to 500 employees outsourced work for scaling their businesses. (Clutch)
The reason for outsourcing for small businesses ranges from time management and supporting other procedures and partners to exploring and growing the operations of companies.
Frequently Asked Questions
What percentage of American jobs are outsourced?
Around 300,000 jobs are lost to outsourcing in the US every year. (Aptude)
Is the IT outsourcing industry growing?
In a survey of 146 IT companies, 49% are planning to increase outsourcing in the upcoming year. (Computer Economics)
What percentage of work is outsourced?
90% of small businesses in a survey were planning to outsource business functions in 2022, up from 80% in 2021. (Clutch)
How many jobs can be lost to outsourcing?
According to a Princeton study, it is a possibility that the number of jobs lost to outsourcing may amount to a quarter of the total jobs in the US. (Princeton)
Which are the top outsourcing companies in the world?
Accenture and IBM are the largest companies amongst the most notable global outsourcing companies in the world. (Software testing help)
Final Thoughts
The outsourcing industry plays a huge role in the global economy and is expected to increase during this era. Developing nations are benefitting from the same. It is an economically feasible and accessible way to acquire global talent and focus on core business tasks.
However, a careful planning strategy has to be maintained in order not to lose contracted clients overseas, and millions of jobs are being lost to outsourcing every year.
So, if you're planning on outsourcing or hiring your internal employees to work on increasing productivity, hopefully, this article has helped you along with your decision.
Tell us the outsourcing statistics that you found interesting and that we might have missed out on in the comments below.