Quora is a web-based platform designed for question-answer-based engagement among its user base. The company was founded in 2009 and launched to the public in 2010.
It has been gaining traction due to its educated user base providing quality answers to questions of every kind, from discussions on our everyday life to academics, society, or anything else its users are curious about. Quora's success is further aided by its highlighting mechanism, which is meant to make great answers stand out.
Due to its tremendous growth, the platform is much more than what it started out to be, attracting new active users every day. Let's begin by looking at some basic Quora statistics.
Quora General Statistics
To understand the platform and how it works, we will initially dive into some general Quora statistics. We will look at the kind of traffic Quora gets, and what kind of topics people are most interested in, among others.
These key insights will help in understanding things like why Quora is so popular, and why marketers are increasingly advertising on Quora.
1. As of January 2023, Quora had the 52nd-highest web traffic count in the world, with 1.33 billion monthly visits. (SEMrush)
2. As of 2018, Quora has over 300 million monthly visitors. (Quora for Business, 2018)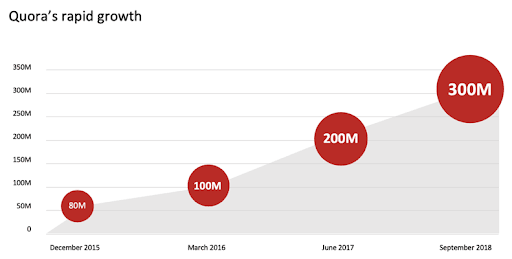 3. Desktop drives about 16.1% % of the traffic to Quora, while mobile devices drive close to 83.9% % as of when this article was written. (SEMRush)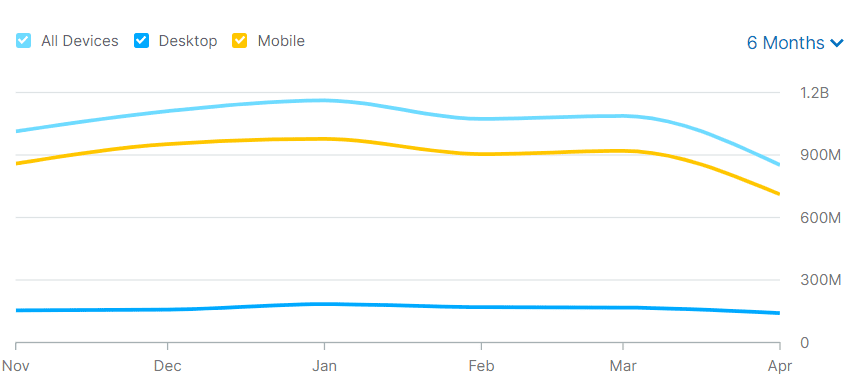 4. The top five most popular topics on Quora, as per their follower count as of 2020, are as follows:
5. On average, users spend close to 11 minutes on Quora on each visit. (SEMRush)
6. Most of Quora's traffic comes from the United States. (SEMRush)

7. Quora receives close to 70% of its traffic from regular internet searches, while the rest comes from direct searches. This is not smartphone app data, but website traffic data. (Similarweb)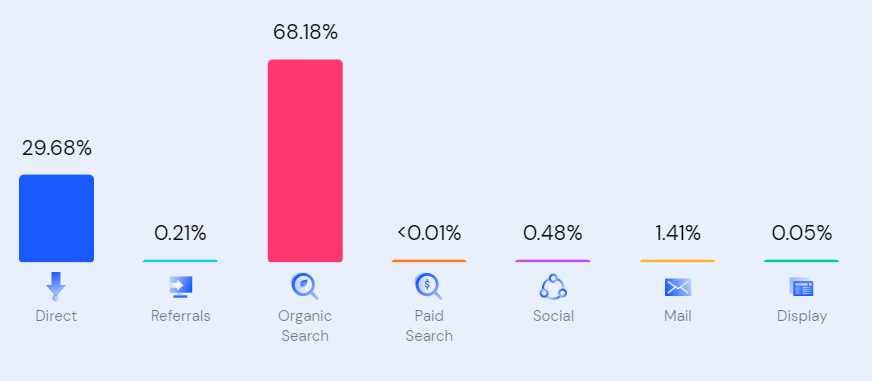 8. The top three social media driving traffic to Quora are, Youtube, Facebook, and Reddit. (Similarweb)
Quora Demographics
Now, that we have a general idea of Quora, the kinds of traffic that it generates, and the kinds of topics that users are most engaged with. Let's look into another important aspect: what kind of users constitute the Quora community, and what are their credentials for answering questions on Quora?
These statistics will help reveal the answer to an important question: why do users trust Quora answers?
1. More than 65% of registered Quora users have a college degree, as of 2018, which makes the answers they provide on the platform increasingly trusted. (Quora for Business, 2018)
2. In 2018, the Quora audience was 28% more likely than the average adult to have a household income of more than 100k USD per year. (Quora for Business, 2018)
3. Based on a study by Quora for Business conducted in 2018, people with a household income of more than 100k USD or more spend twice as much time on Quora as compared to LinkedIn. (Quora for Business, 2018)
4. A Quora user is, on average, 37% more likely to be working in a management position than the average adult, as of 2018. (Quora for Business, 2018)
5. As of January 2019, Quora had a 57% male to 43% female ratio. (Quora for Business, 2018)
6. Asians seem to be as much a part of the Quora community as the Western audience, both coming in at about 45% of the user base. (Craft)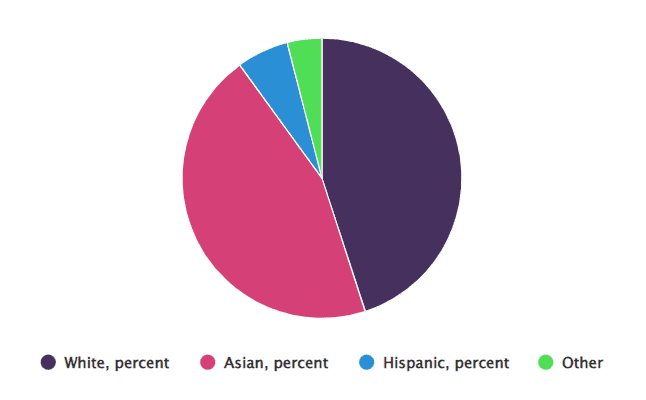 7. Most of Quora's users seem to be in the age group of 25-34. (Similarweb)
8. Most Quora users are male, approximately 60%. (Similarweb)
Quora Growth Statistics
We saw why Quora is trusted by its users. This leads to an increasingly large number of new users who join Quora every single day, boosting the size of the company, and making it even more successful.
To get a quantitative idea of how well Quora is really doing, let's look at some Quora growth statistics.
1. Quora had a projected valuation of $4 billion during its initial public offering (IPO) in early 2022. (Reuters)
2. Quora has had four funding rounds, of which $85 million was the highest raised in Series D, 2017. (Crunchbase)
3. Quora reported $20 million in revenue in the year of 2018, and this number is projected to increase. (Craft)
4. Quora has 1,191 employees as of January 2023, which is a 2% increase from last year. (Craft)
Quora Marketing Statistics
Having looked at how big Quora is, the number of users that are active on it every day, and the kind of things they search for, it is no wonder that such an active platform can be great for marketing.
Marketing executives are aware of this fact and are increasingly taking advantage of it. Let us now look at some Quora marketing statistics to understand what the platform can mean for enterprising marketers.
1. In 2020, 27% of the marketers on Quora wanted to increase the amount they spent running ads on Quora. (Hanapin Marketing)
2. The number of marketers on Quora grew by about 4x from 2018 to 2019, and this growth shows no signs of slowing. (Quora for Business)
3. 31% of brands are reported to be investing in marketing on Quora. (Hanapin Marketing)
Final Thoughts
Quora is increasingly gaining popularity as a platform to get questions answered. This is aided by its highly literate user base, most of whom hold college degrees, making answers credible. Moreover, Quora's own system of ranking the best answers makes it easy for answer seekers to quickly find what they want.
Together, these make the user base extremely engaged in the platform, which they trust to find what they are seeking. The high audience engagement makes Quora a particularly lucrative platform in the eyes of advertisers, who have been seen to increasingly infiltrate the platform and exploit it.
The rising valuation of Quora also feathers the story that the platform is viewed as lucrative by both its users and advertisers. This makes it highly likely that Quora will continue to cross new heights as it keeps growing.