Remote work has become the norm since the onset of the COVID-19 pandemic forcing most organizations around the world to adapt.
With technology continually advancing, many organizations have adopted flexible policies that allow employees to work remotely or make use of a hybrid model.
While the transition can be difficult for certain businesses and often requires thoughtfully crafted processes, it has been perceived as a breath of fresh air and a much needed change by much of the working force, with better work life balance and increased productivity reported by remote workers.
Global Workplace Analytics is an organization that helps other organizations evaluate the business case for emerging workplace strategies.
Whether you're a manager looking into allowing some staff members to telecommute, an employee transitioning to remote work on a full-time basis, or you work remotely at least 2-3 times a week, or are just curious about the benefits of remote work — read on for interesting insights into remote work trends observed today.
Frequently Asked Questions About Work From Home
Do People Like Working From Home?
A survey of 4612 people between July and August 2021 revealed that 58% said they wanted a fully remote job. (Flexjobs)
A survey of over 2300 workers found that 42% preferred remote work and 36% preferred hybrid work style, both up from 2021. (Owl Labs)
With a major section of respondents opting for REMOTE working, the benefits clearly outline themselves.
81% of the workers responded that they chose to work from home to have a better work-life balance, and
70% claimed that working from home would improve their mental health.
How Many People Work From Home?
27% of people work from home. (Owl Labs)
Out of the 2050 employees surveyed, 27% of workers say they have not returned to OFFICE after the pandemic.
What Percentage of Jobs Are Remote?
In a study of over 3000 remote workers, 64% are currently fully remote. (Buffer)
Catering to the dynamic work environment, companies altered their working style for maximum output.
General Remote Work Statistics
Let's get an overview of how remote working looks like today.
Do Many Companies Want Remote Workers?
71% of companies are permanently allowing some amount of remote work. (Buffer)
Organizations have planned some form of remote working in the future, even after the pandemic ends.
As there are fewer distractions, remote workers tend to produce more work with fewer mistakes. With fewer mistakes to work on, employers can save time to focus on other important matters.
Are Remote Workers More Productive?
Two-thirds (62%) of workers feel more productive when working remotely, while just 11% feel less productive.
Millennials feel the most productive while working from home (66%), and Boomers feel the least (46%). (Owl Labs)
With lesser time wasted and greater flexibility, remote working prompts employees to dedicate their time and effort to their work.
Are Remote Workers Happier?
39% of respondents in a survey done by Gitlab have reported having a positive outlook towards remote working. (GitLab)
With so many advantages, remote working generally received a positive outlook from the respondents, while just 5% were mostly negative. However, over half (55%) admitted that there are both upsides and downsides.
Is Remote Work Good For The Environment?
Data from Breathe London reveals levels of nitrogen dioxide fell 20-24% in central London during the pandemic. (Breathe London)
Remote working can reduce greenhouse gas emissions by the equivalent of taking more than 600,000 cars off the road for an entire year. (Flexjobs)
Remote employees are directly contributing to the decrease in greenhouse gas emissions, consumption of fossil fuels, increased air quality, and reduced power consumption.
Do Employees Want To Return To Office?
Out of 3000+ workers in a survey, only 22% prefer returning to the office full-time. (Owl Labs)
Hybrid Work Model (And Work From Trends…)
1. 36% of workers want a hybrid working style. (Owl Labs)
The benefits remote work provides have attracted employees to stick to this model even after the end of the pandemic.
2. 66% of business decision-makers are considering redesigning physical spaces to accommodate hybrid work environments better. (Microsoft)
As the relevance of remote working is outshining the in-office work model, employers plan to re-imagine the workspace and adapt to the apparent changes.
Recruitment, Retention, and Pay For Remote Workers
1. 40% of employers provided a one-time payment to employees for work from home expenses. (Owl Labs)
Employees are limited to their households. So employers took the step to lighten the financial burden that would accompany remote working.
2. Out of 200 professionals interviewed by Gitlab, 74% stated that giving the option of remote working is the company's ticket to employee retention. (GitLab)
3. 26% of respondents felt that remote work had encouraged diversity in recruitment. (Gitlab)
As there is no requirement for the physical presence of employees, it has enabled companies to recruit from much broader geographic and demographic populations.
4. On LinkedIn, women, Gen Z, and those without a graduate degree are more likely to apply for remote versus on-site positions.
5. According to a report, 80% of respondents stated that their current salary isn't keeping up with inflation, and 92% reported that recession concerns have impacted their career and financial choices. (Remote.co)
Challenges Of Working Remotely
1. 36.2% of remote workers faced technical difficulties. (Upwork)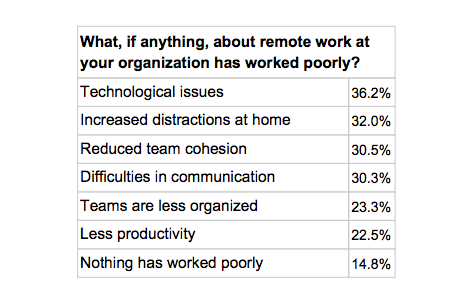 Sudden employment of remote work posed difficulty for employees with no adequate training or support.
2. 32% felt that they were distracted working from home. (Upwork)
3. 41% of workers find it hard to fit into the company's culture when working remotely. (Owl Labs)
Though the comfort of the home is a major motivation to continue working remotely, isolation from social activity and in-office work experience is something the employees miss.
4. 57% miss the social interactions that come with an in-person workplace. (GitLab)
Social activity and in-office work experience are something employees miss.
5. Having no reason to leave the house and loneliness were the biggest struggles faced by remote workers in 2022. (Owl Labs)
6. The top three reasons attributed to a fall in productivity while working remotely during COVID-19 were related to a lack of operating model support: reduced collaboration among team members (34%), lack of performance management processes (17%), and lack of motivation in employees and teams (17%). (McKinsey)
Final Thoughts: Is Remote Work Here To Stay?
That was an overview of remote work stats and the pulse of what remote employees generally have to say.
As the workspace is dynamically evolving, companies and businesses that adapted to the changes enjoyed increased outcomes.
Remote workers say that they feel less pressure in an environment where they are more familiar and comfortable.
​​The environmental impacts of reducing telecommuting can no longer be ignored, and remote working, even if partial, is a great step towards a more sustainable work culture. It will be interesting to note how the number of remote workers will change in the future.
An AT&T study found that the hybrid work model is expected to grow from 42% in 2021 to 81% in 2024.
The hybrid work model thus proves to be a favorable choice, as it effectively combines the benefits of remote working while incorporating positives from the on-site working model as well.