Screencast-O-Matic has a clean and easy-to-use interface as compared to some of the other screen recording software. It does a good job as a basic screen recorder and video editor with green screen overlay, annotations, crop and resizes images, etc. However, it lacks highly advanced features like scroll capture, OCR recognition, pan effect, and more. It is an affordable alternative to screen recorders like Camtasia and Snagit.
Table of Contents
Frequently Asked Questions About Screencast-O-Matic
Before getting into the review, let's answer a few important questions about Screencast-O-Matic.
Screencast-O-Matic's basic version is free to use with limited functionality. The free version has a watermark and recording limit of 15 minutes.
How long can videos be on Screencast-O-Matic?
The premium version lets you record unlimited videos. The free version has a watermark and recording limit of 15 minutes. 
What's the difference between Screencastify and Screencast o Matic?
Screencastify is another screen recording application. The free version of Screencastify has a record limit of 10 minutes whereas Screencast-O-Matic allows 15 minutes of free recording.
Can you edit in Screencast-O-Matic?
Yes. Screencast-O-Matic allows adding texts, callouts, images, and import music from the library. You can also crop and resize a photo, blur and highlight some areas
Screencast-O-Matic Price

Screencast-O-Matic is available on Mac and Windows. There is a Free plan which works with or without an internet connection. There are two Solo Plans:
Deluxe: $1.65/month (billed yearly)
Premier: $4.00/month (billed yearly)
two Team Plans:
Team Deluxe: $9.50/month 
Team Premier: $17.50/month
Screen Recorders like Camtasia offer a free trial. However, it costs a bomb with extensive features that can be overkill for just screen recording. Screencast-O-Matic is an effective and affordable alternative to other expensive software.
Customer Service

I do not have much to say other than the fact that it is disappointing. I had a minor issue with the web launcher. The customer service did not respond to my queries yet. I may change my opinion if I get a proper response from them. As of now, I hold low regard for their customer service. 
Screencast-O-Matic Top Features

You can capture audio, video, and screenshots.
You can annotate and use drawing tools. 
You can edit your videos.
It has configurable embed codes.
It allows simultaneous recording of webcam and screen.
You can create and share custom links.
You can directly upload it on youtube.
It has a music and video library.
Before your first screen recording or snapshot, the software prompts you to download an additional web launcher. 
The trouble with microphone recording is that sometimes it does not sync up to the video, and syncing the two can be troublesome. This screen recording software is meant for basic editing. 
Unlike Camtasia, which has 4K recordings, this screen recording software captures videos in full HD(1080p). Most of the features are only available for paid users. 
Screen Capture Capabilities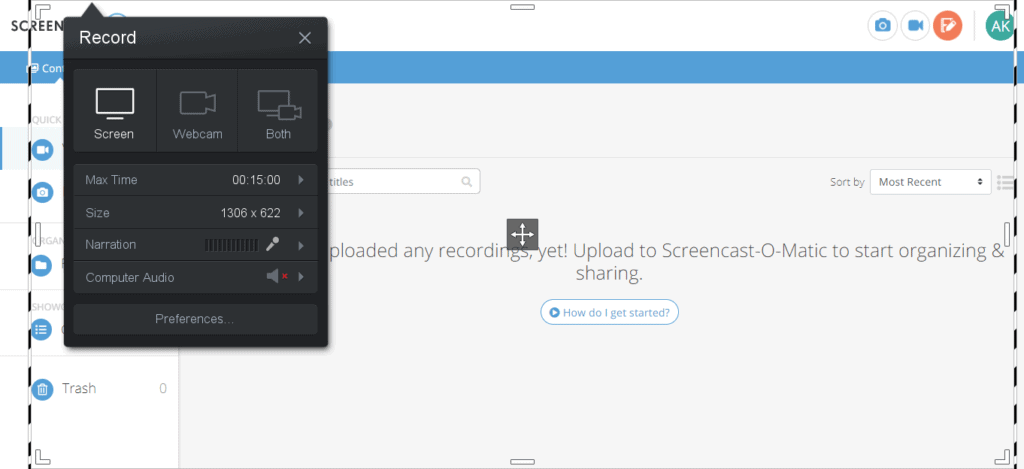 You can simultaneously record your webcam and screen.  You get four options at the beginning of recording: Take Screenshot, Launch recorder, Open Editor, Open Uploads. You can change the image resolution or capture area. Screencast-O-Matic recommends 720p. The maximum length of the screen recording maximum length is 15 minutes in the free versTheum.
You don't have robust options like scrolling capture and OCR recognition. Screencast-O-Matic has a distinct feature called scripted recording, which is available in the software's premium version. You can then enter a script, record your audio, and then record your video, which will have a playback to it. It is like adding voiceover to your videos.
To increase efficiency, you can even set up keyboard shortcuts. Like Camtasia, Screencast-O-Matic allows zooming into the screen while recording it, but only in the premium version. However, there is no pan effect. The screen recording's maximum length is 15 minutes in the free version and unlimited in the premium. Free users cannot record system (computer) audio.
Video Editing

The video editing features are basic and limited. You can add text shapes, images, import music from the library. You can also crop and resize a photo, blur and highlight some areas. It also offers features like text-to-speech captions. You can layer your videos by adding motion or image backgrounds to any green screen video. You can also increase or decrease the speed of your video. It can even record live game streaming on multiple devices. 
Sharing And Communication
Soon after you are done recording you have three options: Save and Upload, Quick Share, and Edit. You can quickly share your images and videos to Facebook, Youtube, Google Drive, and Email. As a paid user, you have the option to share it on Dropbox and Vimeo. If you are a teacher, you can share your video or upload it directly on Google Classroom.
In addition, you can publish your video on Screencast-O-Matic's web platform. You can further, add titles, write descriptions, create custom links, and sort them by folders and channels. You can run detailed analytics to check the performance of your content. After uploading it on Screencast-O-Matic's platform, it generates links and embeds codes to put it on your own website. 
Here's the thing, you can only export your file in a PNG format. Other screen recording software like Camtasia, Filmora, allow you to upload your files in multiple formats.
Final Thoughts

Here are the pros and cons of Screencast-O-Matic to help you decide if you want to give it a try. 
Has a green screen layover.
Unlimited video recording
Online publishing and storage.
Quick share on Google Classroom. 
Relatively inexpensive in comparison with Camtasia and Snagit. 

Exports image in PNG format only.
The free version does not capture computer audio.
You cannot add pan effect to the videos.
Scrolling Capture and OCR recognition are not available. 
Let me know your experience of using Screencast-O-Matic and if there are any specific issues you had while using this software.