Freelance writing is a solitary pursuit.
Most writers use a water cooler to share their wins, show frustration, and get business advice.
Twitter is an excellent platform for all this. But it's so much more. You can use Twitter to
Build relationships
Network with prospective freelance writing clients (or even get noticed by them)
Today, you'll learn how to use Twitter for growing your freelance writing business. Or connecting with fellow writers. Here we go.
Getting Started With Twitter as a Freelance Writer
1. Set up your Twitter profile (using relevant industry keywords)
Twitter allows you to connect with potential clients. Thus, it's important to have a strong presence on Twitter to showcase your writing skills.
Here are some tips for setting up and optimizing your Twitter profile as a freelance writer:
1. Use a professional profile picture
When people visit your profile, the profile picture is the first thing they notice.
The profile picture serves as your brand identity and shows credibility. So make sure to use a high-quality, professional-looking picture.
Avoid using a casual, blurry, or low-quality picture. It creates a bad impression on potential clients.
As an example, Nirmit has a high-quality picture with a smiling face. This attracts clients and gives a positive vibe that shows credibility.
2. Use a Banner image
The banner image is the large image at the top of your Twitter profile. Use this space to showcase your writing skills or illustrate who you are.
Here's a great example from writer Aanchal Parmar. She is using the header space as a tool to market her writing skills.
3. Write an attention-grabbing bio
Your bio is a short summary of who you are and what you do. Use it to showcase your skills and experience as a writer and explain what makes you unique.
For example, Rochi Zalani mentions companies she writes for. This helps her to show credibility and showcase her skills.
4. Use relevant industry keywords in your bio
When searching for freelance writers on Twitter, people use specific keywords such as:
freelance writer
copywriter
Include such keywords in your bio so that it is easy for writing clients to find you.
As an example. Helen Tarver has used two hashtags. These hashtags help clients find freelance writers easily.
5. Include a link to your website or portfolio
Make sure that you're including your website or online portfolio link in the bio.
This will help prospective clients to read your writing samples. And a chance to learn more about your work.
For example, Kat Boogaard linked her website to her profile to let clients go through her work samples.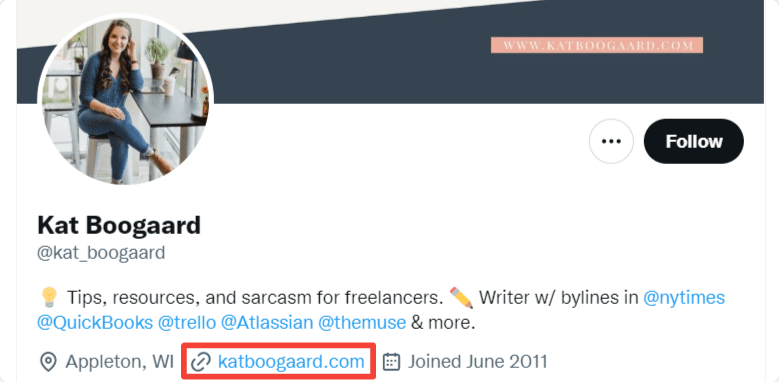 6. Pinning a tweet to your profile
As a freelance writer, you should pin a tweet on your Twitter profile. Consider the most useful and relevant so that people can know more about you. Here are the types of tweets you can pin to your profile.
A tweet showcasing your portfolio or writing samples.
A tweet promoting your services or expertise to attract new clients.
A tweet highlighting your recent achievement or accomplishment to build credibility.
Here Aanchal has pinned a tweet showcasing her expertise and results to attract new clients.
2. Follow Twitter Accounts (& Hashtags) that Share Freelance Writing Jobs
Ways to follow Twitter accounts and find hashtags that share freelance writing jobs:
1. Follow job boards and communities
You can follow job boards and communities that share freelance writing jobs. They often tweet out new job openings.
Some examples include @FreelanceWriting, @WriteJobs, @FreelanceWJ, @joinPF, and @BestWritingJobs.
2. Follow individuals and companies
You can follow individuals and companies who share freelance writing opportunities on Twitter.
Many companies hire freelancers to write content for their company's websites and blogs.
Following them on Twitter is a great way to stay up to date on new job openings.
3. Use relevant hashtags
People use hashtags to find and share freelance writing jobs on Twitter.
Some hashtags are #freelancewriting, #freelancewriter, #writingjobs, #freelancewritersneeded, and #contentmarketing.
You can use such hashtags to find jobs or job boards that share writing opportunities.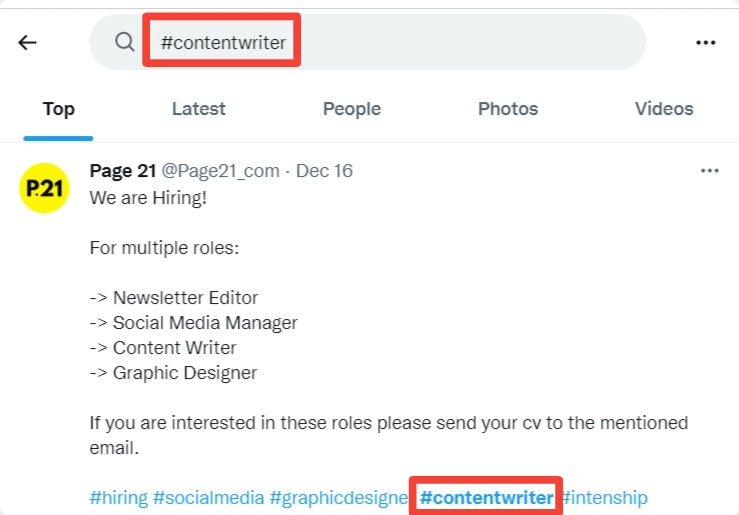 3. Engage with Fellow Writers and Prospective Clients
Twitter is a social platform. So make sure to be human and show your personality.
Most writers like to use it as that beyond building relationships and networking. So make genuine conversions by having a laugh, and appreciating or congratulating people.
Engage with fellow writers and prospective clients. This will help you build relationships and networks on the platform.
Add genuine value to conversations happening on Twitter. Retweet, comment, and like their tweets.
This can help you establish yourself as an active member of the writing community.
4. Share Valuable Advice For Your Target Audience (But Use External Links Only Occasionally …)
To get a good reach on Twitter, share genuine and valuable information.
Writers use threads to share:
Business advice
Content marketing strategies
Client onboarding techniques, etc.
Masooma Menon is one such writer working for B2B SaaS brands.
She tweets many times a day quite often.
She tweets about SEO, and content marketing, or gives feedback to fellow creators.
Many writers share links to their work and blog posts they've written.
They also share links about the information they found interesting or YouTube channels. This helps them connect with their audience on a more personal level.
Here are some examples from Ashely R. Cummings tweets:
But Twitter throttles the reach of external links. Thus use external links occasionally and share only what's important.
I'm a new freelance writer. I don't have much to share.
You have so much to share. You don't know, but you have 😉
Share these:
Your journey with your audience.
Problems faced by you when starting.
Tools and resources you use to upskill yourself.
Ask for your follower's opinions on a particular topic.
Twitter Accounts That Can Help You in Your Freelance Writing Journey
Masooma Memon is a freelance writer for SaaS and marketing brands. She has worked with brands like Vimeo, Hotjar, Shopify, etc.
She calls herself a to-do-list-obsessed person.
On Twitter, she shares random musings, the background story of her blogs, and a few writing tips.
She is one of the pros to crack Twitter to get freelance clients. She understands what to share to drive engagement.
Don't believe me? She, herself, has written a case study about it.
Let's understand what tactics she followed and how you can use them to get clients on Twitter.
Masooma says it's important to know who to follow.
If you don't know your target audience, then find out before pressing the follow button.
Ask yourself these questions:
Do these people add value to your life? Can you make a deep connection with them?
Does the person you're following engage with other people?
To know about engagement status, check on the "Tweets and Reply" on the person's profile.
For her, it's important to show people that you know about the topics you talk about.
This helps to build authority.
Engage with people and share your journey. This helps you get recognition within the community.
But how does it help to get a freelance writing client?
It does help.
Getting impressed by the tweets, the COO of Content Studio offered her a job to write a blog post for them.
Well! Isn't it like a dream come true? The client coming to you and asking you to write for them.
I'm feeling jealous of her now.
And we can't deny the fact that Masooma has built authority because she is quite active on Twitter.
To do so, keep an eye on your Twitter feed. Look for related hashtags. Join the chat, share your opinion, and make good connections with experts.
For example, #freelancechat or #contentchat
#Freelancechat is hosted weekly by Michelle Garret to help freelancers on Twitter.
ContentChat is hosted by Erika Heald that gathers content marketers and related people every Monday.
Being active on Twitter is one of the advantages to build authority.
Show your human side more. Share wins and sorrows. Leave comments — that add value to someone's life.
As we've already discussed what to share on Twitter, you can read that again.
Follow Masooma Memom on Twitter to learn more about content marketing.
Here are some of her tweets:
Every writer needs grammar help — even experienced ones. As a freelance writer, you can't afford to lose a project for your poor grammatical skills, right?
If grammar is one of your weaknesses, then my friend, you need to stalk Grammar Girl's Twitter feed.
Because what could be more interesting than learning while scrolling through Twitter?
Mignon Fogarty aka Grammar Girl is a New York Times bestselling author.
She often tweets about "quick and dirty" tips to write better and improve English grammar.
You will find snippets of her upcoming podcasts or her favorite reading material.
If you wish your feed to get filled with easy-peasy English grammar then follow her on Twitter.
Sample tweet from her account:
Kaleigh Moore is a freelance writer for eCommerce and SaaS companies. She has worked with publications like Vogue, Forbes, Adweek, and The Quality Edit.
She says that tweeting helped her get initial clients.
Okay, but is that all?
Tweeting and getting clients. Doesn't it so easy? Well, it's not easy (unless you know what to tweet about).
To do so, first, understand whom to interact with.
Identify the problem and then give solutions.
Is it about marketing strategy to help businesses get more leads? or Is it about doing SEO optimization?
Collect social proof: case studies, reviews, recommendations, and referrals.
Referrals help in getting more work.
Moore shared data from panel writers which shows referrals play a big part in your freelance career.
But I'm a new writer. How do I get a referral?
You can get referrals if you've made an active presence on Twitter. If you're a part of communities or if you've made good connections with fellow writers.
If you've built credibility by showcasing your work, then people will help you.
Many communities post hiring requirements and ask for referrals. Who knows? You might get lucky.
You can Lists features and curate a list of people you want to add to your connection.
Adjust your timeline with the latest tweets option to catch up with people with whom you interact.
For example, if you follow job boards, then add their account in the Lists feature.
Whenever they post any gig opportunity, you'll see it on your timeline.
Looking for advice to improve your writing skills or some amazing book recommendation, follow Kaleigh Moore.
Sample tweets from her profile:
Staring at a blank page and figuring out what to write feels terrifying and intimidating.
Especially when you're a new writer.
Not anymore. Eric Schneider is someone you should look out for.
Eric is the Head of Content at Grizzle. She has been in the writing industry for more than 5 years now.
Till now she has edited more than 3 million words. Amazing, isn't it?
She works with B2B and B2C brands to create content customers want to read.
On Twitter, she shares writing and editing tips.
New writers feel intimidated by the information available all over the Internet. Feeling confused over what to write.
That is how to stand out and write something more compelling.
Eric has a whole thread dedicated to improving your writing skills. See below:
Not only this, but Eric also shares lessons from her writing career.
Like, How to write content that stands out? What to expect while working with an editor? How to make your application stand out to get that gig?
Here is a tweet consisting of 30 threads she wrote on improving your freelance writing game.
The first question freelance writers ask is, "How to find clients?"
Tom Meitner can answer this.
Tom is a six-figure copywriter with over 14 years of experience. He works with small-to-medium sized businesses helping them drive sales.
He often tweets about tips to improve copywriting.
He states that it's not rocket science to get clients as a beginner.
Sharing this thread, he talked about the first client that made him $45k/year. And how you can his tips to get your first copywriting client.
Tom does not only teach you about getting clients but methods to keep them for a long time.
Want to become a successful freelance career as a copywriter?
Follow Tom Meitner.
Freelance writing is not a cakewalk. You find a client, deliver the work, and get paid.
No, it's not that simple. It's much more than that.
You need to learn to manage your time and take out time for yourself as well.
Because if you don't, you might face severe burnout.
Saying this from the experience.
Alyssa Town is a part-time freelance writer. She writes for productivity and career.
Alyssa Town is one such part-time freelancer who talks about the same. She works with B2B companies in productivity and career niche.
You'll find her tweeting and promoting her freelance pals.
Her Twitter is jam-packed with productivity advice. Follow her to make the most of your time and complete your work while taking care of yourself.
Michelle Garret works as a freelance writer and PR consultant for B2B tech brands. She tweets a lot about PR and writing advice.
She is the founder and host of a weekly chat #freealancechat on Twitter for freelancers. The goal of this chat is to help and support freelance in managing and growing their business.
Freelance writers use this hashtag for various purposes.
Ask questions, introduce their services, do polls, post opportunities, give feedback, etc.
For newbie freelance writers, it's a golden chance to join #freelance chat. You'll get a chance to connect with more like-minded people and get tips to grow in your freelance career.
On Twitter, you'll find her sharing mindful tips about marketing. pitching, journalism, etc.
Looking for advice on leveraging Twitter or managing your money? Follow Michelle on Twitter.
The freelance world is full of marketplaces to find clients. But are they even worth your time and energy?
Peak Freelance is the go-to community for freelance writers. Founded by six-figure freelancers Elise Dopson and Michelle Keenan.
A great marketplace to get amazing clients to make more money.
You'll find freelance job opportunities from different brands and companies.
So many options to choose from!
The jobs shared are generally high paying.
Follow Peak Freelance on Twitter and get amazing freelance deals on your feed.
Some of the job opportunities they shared are:
Best Writing Jobs is a writing job for writers sharing new opportunities daily.
You can find the best content writing job to work from home, as a freelancer, part-time, or even full-time.
Whatever you choose!
The job posting frequency varies from six to eight times a day. This means you'll have plenty of opportunities to choose from.
Some companies hiring are SiteCare, Mozaic Finance, Bluesight, Vaniam Group, etc.
Follow their Twitter account to know more about such jobs.
So ready to take the plunge into the freelance world? If yes, then let's find you a job.
Freelance Writing Jobs will help you find writing jobs.
This is a great source for finding freelance writing gigs.
Not only gigs, but you can also find links to helpful articles to help you progress in your freelance career.
A ray of hope with freelance opportunities and lots of information on your Twitter feed!
What else do you need?
Conclusion
Here we're finished with Twitter. I mean to help you understand how to use it.
What did you think, ha?
I hope the above-shared information will help you kickstart your successful freelance journey.
Follow the above steps. Optimize your Twitter profile. Attract clients and new followers without hassle.
The accounts shared will also help you become the best at your skill.
Let me know what advice works best for you. And don't forget to share your ways to find clients on Twitter in the comment section below.
See ya!