Uscreen is a compelling VOD and OTT platform that lets you monetize your content along with fulfilling your hosting and marketing needs. It's a valuable and more useful alternative than Youtube as you are not restricted to earn via the number of subscribers and ad-based videos that yield unstable profit.
Note: Just to let you know, this article contains affiliate links. This means Elite Content Marketer gets a commission if you sign up through us, at no extra cost to you. I only recommend products that I personally find valuable and enjoy. I appreciate your support!
It has an intuitive interface, however, the website builder is less than average with limited customization options. The video monetization and marketing features of Uscreen, such as coupons, try again, etc, are handy and effective for better conversions.
Unfortunately, it doesn't have a native email marketing and affiliate marketing program, nor does it fit in the eLearning module due to the lack of support to add quizzes and assignments. If that's sufficient info, then give Uscreen a try, else read my detailed Uscreen review below for an in-depth understanding of the tool.
Uscreen Pricing
There are three different pricing plans available for you:
Basic: $149/month with 300 active subscribers
Pro: $299/month with 1000 active subscribers
Custom: The price depends on the number of subscribers and the apps you want.
The Basic plan comes with 300 active subscribers, secure HD playback, VOD, video hosting & delivery, customizable website and themes, video CMS, analytics, community tools, basic integration, and an onboarding specialist.
Buying the pro plan for $299/month will provide you with all the basic features along with custom filters, advanced theme customization, Zapier integration, and effective marketing tools for reducing churn.
You can also store up to 75000 minutes of video and have up to 1000 subscribers on the Pro Plan.
The custom plan gives you access to native mobile apps, TV OTT apps, live streaming, end-user support, and developer tools like API, webhooks, etc. It's disappointing that the live stream feature comes at a much higher price as compared to other video hosting services such as Vimeo.
Uscreen is worth it if you want to create a video streaming business, but it would be a touch more expensive for an amateur or casual video creator.
Uscreen Customer Support
The live chat support is available on the Uscreen dashboard, and they respond in under 2 hours. Fortunately, they also provide links to their knowledge base that contains articles to solve your queries.

Though the articles in their knowledge base aren't as detailed, they have blog posts and onboarding videos rife with information. The dashboard also has a section dedicated to providing information on updates, changes, and improvements in Uscreen.
Another way to reach Uscreen's team is by submitting a request via email to get a quick response. Unfortunately, there is no live chat support and Facebook community to discuss their work and connect.
Nevertheless, the custom plan provides end-user support, meaning Uscreen will provide direct support to your users to solve billing and technical issues.
Key VOD Features Of The Uscreen Platform
Some standout features of Uscreen can up your revenue if used right.
Seamless Video Content Management System (CMS)
Soon after you sign in, Uscreen will ask you to upload your videos, and you can do so by selecting your file and dropping it on the screen. However, it can take more than 10 minutes. It's also possible to import your video files from Dropbox, Wistia, and Vimeo.
Unfortunately, you don't have the option to upload from Google Drive that could have been a more convenient option.
If you couldn't upload your files for some reason, there's an option to continue where you left off. When you move on to edit your video, there are tons of options available for customization, such as adding video title, description, subtitle, SEO title, URL slug, search tags, enable downloading, etc.
Setting up appearance is also light and breezy as it's possible to add categories, add a trailer video, choose author, upload category images, and choose video thumbnails for player and catalog.
Uscreen also lets you choose your publication status by allowing you to schedule the publishing time, release date, expiration period, or marking the video as published or unpublished.
The biggest drawback here is that you cannot apply these settings to all the videos in one go. You will have to edit each video separately to apply similar changes.
If you have used Vimeo before, you must be familiar with Collections that allow you to group videos. You can break down the collection into several chapters and drip your content to create a course.
Hosting live events is another feature that you can use natively, send registration notifications, and host a live chat with your audience.
Uscreen will not allow you to add quizzes or assignments to your videos, and you'll have to find a dedicated course-building platform for that need. There's another thing called geo-blocking that you can use to restrict access to your content in some countries.
You can create a video-based membership site using Uscreen's CMS, however, creating an e-learning course with no interactive features like quizzes and assignments wouldn't be successful.
Smooth Video Playback Experience
It uses an HTML5 player that works on all devices and supports HD videos. Another reason it's called the Netflix of VOD is that it uses Akamai for content delivery used by Netflix and Youtube for its highly scalable performance and storage capacity so that the viewers can enjoy uninterrupted streaming on their device irrespective of their location.
Uscreen's player supports an autoplay feature that is useful for streaming a collection with several episodes. Viewers can also bookmark the individual video and see the resources as well as the comment section at the bottom of each video.
If viewers have access to collections, they will see a list of related videos auto-suggested by Uscreen based on tags and categories. Consequently, if they don't have access, Uscreen will direct them to the checkout page to make payment to watch other videos.
You also have the option to own OTT applications on both android and iOS and smart TVs such as Roku, Android, Apple TV, and Fire TV. However, you'll have to pay for each app separately.
Intelligent Marketing Tools For Your Online Videos
Aside from building a website which we'll talk about later in detail, you have multiple marketing lead magnets to attract people to buy your content.
Coupons & Gift cards: People love discounts, and you can use promo coupons to attract new buyers.
Abandoned cart: Sometimes, people fill in their information but don't go through with the purchase. You can set up email campaigns to encourage them to complete their orders and add additional discount coupons to attract visitors.
Reduce Churn: Users unhappy with your content or facing multiple issues are bound to cancel their subscriptions. Collecting their feedback and solving their issue might make them rethink their decision.
Try again for free: If your users canceled their subscription before, it's possible to offer another free trial to win them back. However, this is unlikely to work unless you have new features or offers to provide.
Landing pages: Landing pages are the most effective way to get leads. However, Uscreen offers only 12 landing page designs with customizable background color, content, adding video, and active CTA buttons with different colors, text, and URLs.
Unfortunately, it cannot perform as well as dedicated landing page builders that allow custom CSS, hundreds of templates, dynamic CTA, etc.
Subscription upsell:
Leadzen: This is Uscreen's add-on that you can use to create your funnel.
Another limitation is that Uscreen doesn't provide tools to create an affiliate program, so you'll have to rely on third-party apps such as Rewardful to create a program.
Turn-key Video Monetization
This is where Uscreen stands out. It has powerful video monetization features such as the following:
Subscriptions: You can create a subscription for your content by adding the title, description, and image details.
Further, you can also set a price and select the duration of the subscription or make it a one-time fee. There's also an option to make it a site-wide subscription for half-yearly, quarterly, monthly, or annual payment. If you want, it's possible to give a free trial.
Payments:
You can decide whether you want to make it public or private. Private products are only available through direct links, whereas public ones are available on your storefront.
Uscreen allows credit and debit card payments via Stripe, Paypal, and Authorize.Net. There are different transaction fees for payments made through credit/debit cards and Paypal.
Unleash Growth With Robust Analytics
The analytics section gives you access to track watch time, views, videos, live events, collections, authors, countries, and devices. These eight reports help to understand customer viewing patterns and the performance of your product/content.
Each of these gets updated daily, providing you with detailed information about seconds watched, and average engagement level, etc. The author's report displays watch time and views earned by each author, thereby telling you the most valued author.
On the other hand, you have a whole dedicated reporting section for sales that gives you an insight into all financial aspects of your content.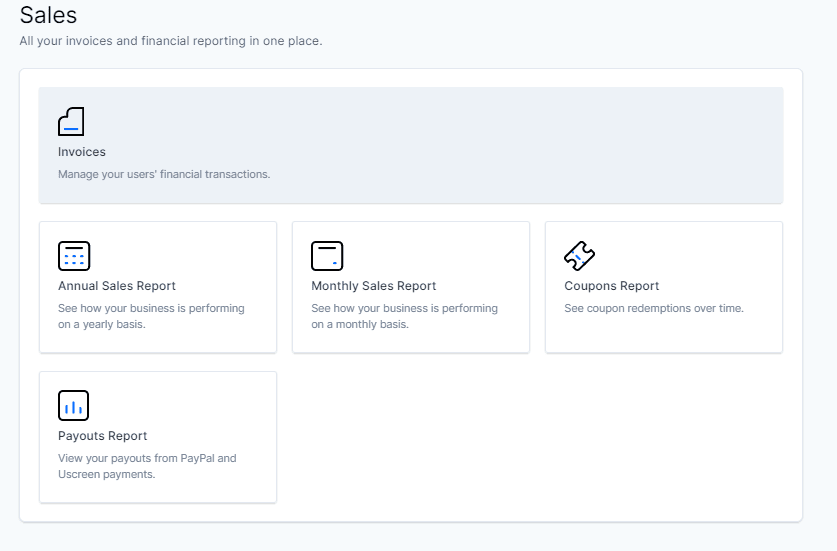 You can see all your invoices along with four other financial reports such as annual sales report, monthly sales report, coupons report, payouts report. The payouts report shows payment activity only from Paypal and Uscreen payments.
To see a customer's history, you'll have to navigate to the people section on the left sidebar. It provides an overview of the users who have created their account through the live site or the ones who you have manually invited from the backend.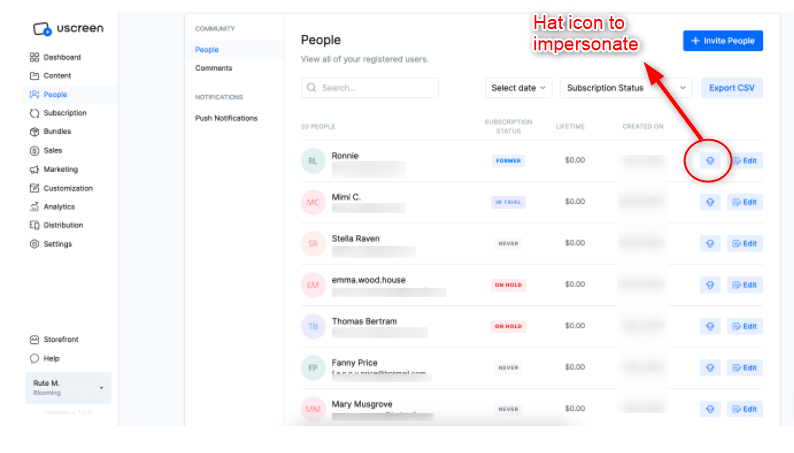 You can use the hat icon to access a user's personal information such as general account info, purchase details, login activity, payment, content access within the last 30 days.
You can also see their watch time and top videos in the overview section. It's also possible to track their invoice details, subscription info, and email history, but you cannot track the user's in-app activity.
Other Screen Features
Apart from its key features, there are a few others worth mentioning.
Secure Video Delivery
Uscreen secures your default URL with SSL, so your customers have to go through the same procedure. You can also use a custom domain for your website.
Modern And Clean Designs For Building Your Website
You don't need technical experience to launch your website. There are ten different layouts, and it uses a Liquid template framework to build your storefront. You can customize your site using multiple options available.
It's possible to customize all common pages such as checkout, account, catalog, and content pages. The visual editor lets you adjust the colors, style, and font to match your brand colors. You can also add custom media and navigation pages to have an attractive storefront.
Unfortunately, the editor is elementary, and you can neither add nor remove certain elements. Unless you know how to use a code editor to modify the website the way you want, use this as an alternative to limited themes. If you have an existing website, then it's easy to integrate it.
As for the other common pages, you can only change their color and text. So overall, it's an average website builder with limited customizations.
Uscreen Alternative
Vimeo is the best alternative for Uscreen however, it's a bit on the pricey side.
Vimeo has been around since 2006 and is the go-to place for many budding filmmakers and video editors. It has a clean and ad-free interface (unlike Youtube) with a quick view of the recent videos you created.
You can upload, create, edit videos, screen record as well as host live events and also group your videos into different channels. There won't be any ads before or after your video.
Although Vimeo doesn't get as much traffic as Youtube, it's a popular alternative with minor caveats.
Fit for: Those into making high-resolution graphics and short films.
Price: There are four pricing plans and a 30-day risk-free trial available for all its annual plans.
Plus: $7/month for a single user.
Pro: $20/month for 3 team members.
Business:$50/month for 10 team members.
Premium:$75/month for unlimited viewers.
Enterprise: Customizable plan.
Pros and Cons
It has customizable players,
The interface and videos are ad-free,
You can remove Vimeo branding and add your logo.

The call-to-action feature is missing even in the Pro plan,
It does not auto-generate captions,
You may experience playback glitches.
Noteworthy Features
Vimeo OTT allows you to create your own white-label video subscription channels and upload videos for free, on rent, or to purchase.
It is similar to Vimeo OTT, and you can use this to sell your content.
Video Player Customizations and Embeds
Vimeo offers tons of customizations on its higher plans with the ability to personalize players by changing colors, layouts, themes, styles, adding stickers and logos for branding. You can also embed
You can share videos organized together in a collection via the showcase feature and keep them password protected while sharing privately.
It's possible to embed showcases as a playlist and customize the appearance by choosing the right layout, adding your logo, and adding accent colors to match your brand.
The higher plans of Vimeo also let you optimize your public showcases with SEO.
Limitations
While Vimeo is geared towards professionals, it lacks a wide audience as Youtube. Only certain videos like short films, nature videos, extreme sports videos, graphic movies, etc, tend to get views, and other categories do not attract much attention.
Video Requirements
Vimeo has strict guidelines and specifications to upload videos.
Minimum dimension: 240p
Maximum dimension: 8k
Aspect Ratio: 16:9
Max File size: 256 GB for pro and 500 MB for free users.
Video Formats: MOV, .MPEG4, MP4, .AVI, .WMV, .FLV, .MKV, 3GPP, and more
Final Thoughts
Though Uscreen lacks website builder customization and doesn't support in-video forms like quizzes or assignments for e-learning, it has a robust analytics system as well as some highly useful marketing features to reduce your churn. Go take Uscreen for a ride!
Pros & Cons
| Native live streaming feature with chat support. | There is an absence of live chat support and a Facebook community. |
| --- | --- |
| It lets you create your own OTT apps. | It doesn't let you add a quiz or assignment to videos. |
| It has dedicated chat support. | |
| It has useful marketing tools to increase revenue. | The website builder is basic with limited customization. |
| Powerful and actionable analytics. | |