From job interviews to team meetings, webinars, and one-on-one training sessions, you are sure to require video conferencing technology even more so in current unprecedented times. A 360-degree digital meeting device with an HD camera and high sound quality will instantly upgrade your company's connectivity and reach.
In this article, I will take you through the best video collaborative tools and also the ways to upgrade your video conferencing experience at home. With that, let's look at the top three meeting software.
| | | | |
| --- | --- | --- | --- |
| Features | Zoom | GoToMeeting | Microsoft Teams |
| UI | Easy to use and simple. | Simple and straightforward. | Compartmentalization can make it complicated to navigate. |
| HD Video and audio | You have to manually change the resolution. | HD video | Default HD |
| Security | Zoom has a bad reputation with security and hackers have disrupted many meetings. | Excellent security with complete control over meeting attendance. | Its integration with Office 365 environment lets businesses control what their users can do on the platform. |
| Free plan/free trial | Free plan | Only free trial | Free plan |
| Chrome extension | Yes | No | You can join on the web. |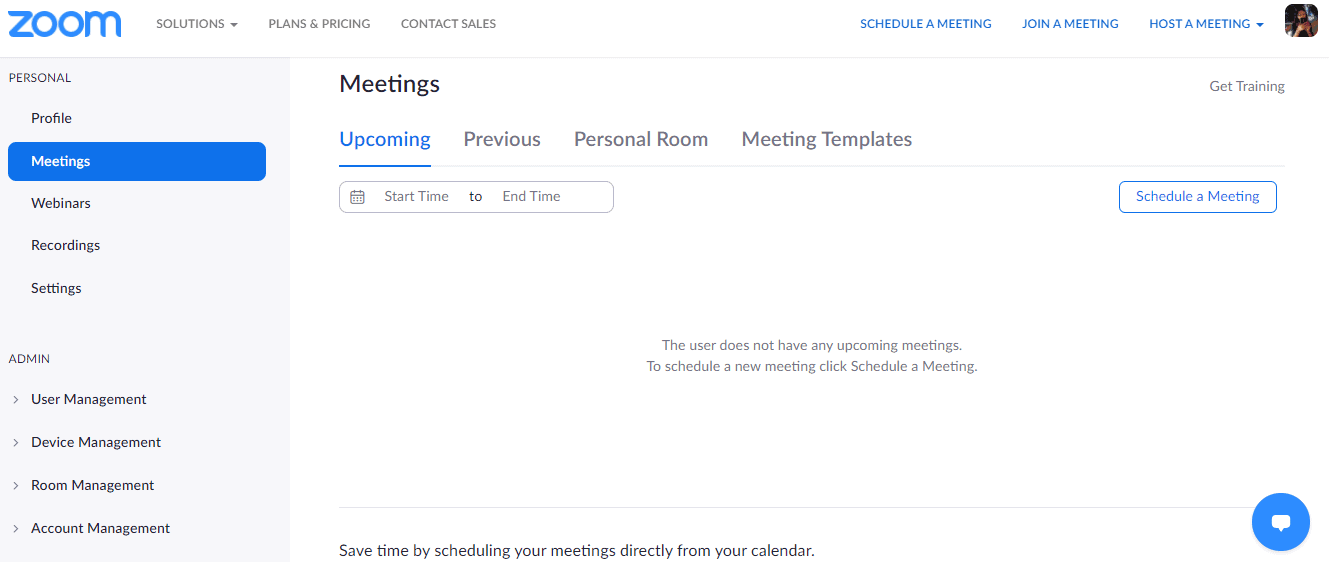 Zoom is one of the most popular video meeting apps on the internet despite it being notorious for security issues related to hackers. Participants do not require a Zoom account to attend the meeting which means it's a one-click process and it allows up to 500 participants on a call with 49 displayed at once.
The interface is clean and polished and offers a decent free account with basic features like file sharing, recording, screen share, etc, but the best features come with its paid plans such as whiteboard, breakout room, and more.
Price: The Pro plan starts from $14.99/month per host for user management, unlimited meeting length, and reporting.
Top Features:
You can host an unlimited number of meetings.
There's a whiteboard feature that you can use to annotate.
Recording the meetings is easy and happens with a click.
The breakout room feature lets you divide your meetings up to 50 sessions.
It's possible to schedule all your meetings with the chrome extension of Zoom.
Both your video and audio are in HD.
You can use the Breakout Rooms features after a presentation or proposal meeting to let people share ideas related to presentations in different rooms of their choosing.
Pros and cons
| | |
| --- | --- |
| You don't have to download the software as the chrome extension works equally well. | It has a bad reputation with meeting privacy. |
| It's possible to use annotation tools when sharing or viewing the whiteboard. | The free plan has a 40-minute duration limit on meetings along with several other restrictions. |
| You can directly schedule a meeting from your mobile phone. | |
Webex by Cisco is a reliable and secure digital conferencing software with an easy learning curve, suitable for small and large deployments. If you have used Facetime before, you'll be pleasantly surprised to see how similar the user interface is. After installation, Webex takes you through its features and onboarding process.
The gallery view of all the participants is much like Zoom and makes it convenient for a work-from-home setup. The main issue with Webex is the software doesn't try to reconnect when there's a sudden disconnection and only the host can start the meeting again.
Price: The starter plan starts at $13.50 per host per month.
Top Features:
It allows up to 500 participants in one session.
Cisco provides complete cybersecurity and end-to-end protection for meetings.
You can use Webex software to detect and minimize background noise.
It's possible to share audio and video files, conduct chats, set up polling, Q$A, and more.
Pros and cons
| | |
| --- | --- |
| Both desktop and the web version function equally well. | Multiple people cannot share their screens at the same time. |
| The interface is clean and professional. | It lags when you conduct meetings with over 100 participants. |
| You can directly schedule a meeting from your mobile phone. | |
All you need is a Gmail account to get started with Google Meet for your conferences which is an excellent upgrade from hangouts. The free plan itself offers up to 100 participants with no cap on the duration of meetings. It seamlessly integrates with other G Suite applications making Google Meet a viable solution for small businesses.
Unfortunately, Meet isn't the best option as a virtual classroom due to its lack of features such as group makers and templates to help students do assignments.
Price: The free plans allow up to 25 participants and Google Workspace Essentials is for $8/user/month for 100 participants
Top Features:
It is a convenient and easy method to connect with people across the globe.
You can seamlessly integrate with other Google products like slides, calendar, classroom, doc, etc.
There is also a green screen feature to change backgrounds.
It's possible to turn on real-time captions while attending a meeting.
Pros and Cons:
| | |
| --- | --- |
| It is quick and easy to use. | The noise cancellation feature is only available on enterprise plans. |
| The real-time caption feature is relatively accurate. | It lags with over 100 people on a call and the chats get lost soon after the call ends. |
| You can make calls for up to 24 hours with the paid plan. | The presenter cannot see themselves while presenting the screen. |
RingCentral is cloud-based digital video conferencing software that requires no software download and you get unlimited calling, video conferencing, and messaging in one platform.
Unlike other meeting software, Ring central doesn't provide any onboarding process and you won't require it as the interface is straightforward.
You can instantly start a meeting or schedule one ahead of time. The colors of the interface may remind you of Skype, but the features and setup are exactly like Zoom.
Top Features:
RingCentral's analytics gives you an in-depth insight into your teams.
You can get alerts when there's a connection issue.
It lets you switch calls from desktop to mobile phone without any interruption in the meeting.
This platform offers unlimited calling, HD voice, call recording, call ques, call whisper, barge, multilevel auto attendants, and call log reports.
The security features are excellent like Transport Layer Security (TLS), Secure Real-time Transport Protocol (SRTP) encryption from end-to-end.
Pros and Cons:
| | |
| --- | --- |
| It has a clean and easy-to-use interface. | It has a below-average front camera. |
| RingCentral's analytics gives you an in-depth insight into your teams. | Every new meeting opens up in a new window. |
| The security features are top-notch. | You cannot record calls from the mobile phone. |
LogMeIn's GoToMeeting is web conferencing software that lets you hold webinars, team meetings, interviews, etc online. The biggest drawback of GoToMeeting is that you cannot run a conference without downloading their app. However, the attendees can participate and share their screens directly from the Chrome web browsers.
It's possible to schedule a meeting, start a one-time call, generate custom meeting links, and more.
Price: There's a 14-day free trial and the Professional plan starts at $14/organizer/month.
Top Features:
It lets you monitor your audio level so you can see how loud you are during the call.
The Smart Assistant feature transcribes the recorded conversations automatically.
GoToMeeting has an option of dial-in numbers where the software will call your number and you just have to answer the phone to tune in to the meeting.
The software automatically creates meetings for new calendar events.
Pros and Cons:
| | |
| --- | --- |
| It uses Polly and Dolby Voice technology that provides the best video and audio quality. | The in-meeting chat tool is clunky and not adequate. |
| GoToMeeting has an option of dial-in numbers. | The UI is relatively complicated. |
| It enables cloud collaboration for both desktop and mobile. | You can only attend meetings after installing their app. |
Skype Business is a web-based, cost-effective, and direct form of digital communication with instant messaging, screen sharing, file sharing, and both formal and informal calls. The free plan has numerous features and is widely used by freelancers, however, the business plan allows whiteboard capabilities, connection with other skype users, and more.
Price: $2/user/month or $5/user/month depending on additional features such as Microsoft Outlook to schedule meetings, etc.
Top features:
It has powerful integrations such as Microsoft, WordPress, Lucid Meetings, Mendix, SalesEx, etc.
Skype Business provides enterprise-grade security.
It is also integrated into all Microsoft Office apps.
Pros and Cons:
| | |
| --- | --- |
| It is quick and easy to use and allows 250 participants in a meeting. | There is no integrated dial-in audio conference feature. |
| It allows 10 hours of video conferencing a day. | Skype is more of a communication tool than a full-blown organization tool. |
| You can schedule a meeting from multiple devices like mobile phones, desktops, the web, etc. | |
Microsoft office is more organized than Zoom, but sometimes its deep compartmentalization can be a little complicated for first-time users. It seamlessly and deeply integrates with Microsoft Office apps like Word, Powerpoint, etc.
The free version offers free messages, unlimited collaborations, video calls, screen sharing, guest access, and customized backgrounds. Having Microsoft 365 gives Teams an edge over other video conferencing software as most businesses already rely on Microsoft.
Top Features:
Teams allow HD video and audio with in-line transcription.
You can seamlessly integrate with all Microsoft 365 apps.
It's possible to share files offline using SharePoint.
Teams integrate with more than 150 powerful software such as Cisco Webex, etc.
Guests can also create a channel, participate in private chats and channels, share a channel file, post, edit and delete messages.
Pros and Cons:
| | |
| --- | --- |
| It is quick and easy to use and is best for internal communication. | It is relatively expensive. |
| Teams let you collaborate with an unlimited number of people. | It has a relatively short period of message retention which could result in loss of valuable information. |
| You can Gifs, stickers, memes directly through the Microsoft store. | The deep compartmentalization makes for a steep learning curve. |
Here's How To Upgrade Your Video Conferencing Set-Up
Apart from excellent software, you need the right hardware to match up your conferencing requirements.
High-Quality Microphone
An external microphone with built-in legs and dedicated volume/mute control buttons is necessary for clear conversation. If you can get your hands on headphones with a noise cancellation feature, it'll minimize the chance of echo and the big over the ears headphones are also better for good sound quality.
Camera/Webcam
Your built-in webcam like mine may not be of excellent quality, so investing in an external webcam would be a better idea when conducting video conferences, webinars, etc.
They have more space for lenses so they offer better resolution, better quality photos, videos, and audio. If sound and picture quality are of absolute value, you should invest in a high-end webcam.
Stable Internet Connection
To run a conference smoothly, you and all your participants need a stable and quality internet connection to avoid audio/visual lags and that can support your data requirements.DSL and cable connections as well as T1 lines are great options for video conferencing.
Final Thoughts
Microsoft Teams beat all the meeting software with its deep integration with Microsoft Office that is already preferred by many businesses. Along with that Teams also integrates with powerful software such as Cisco Webex. It serves as the best internal collaboration tool.
On the other hand, if you want to go for a less expensive option Zoom can be your choice. You can record Zoom meetings with one click, share files, present screen and also use the breakout room feature to divide the meeting into 50 separate sessions and participants can choose to enter the room they like.
However, Zoom has had several issues with privacy and hackers finding their way in a closed meeting and causing disruptions, so it can be risky to use this video conferencing app to discuss internal company matters.
If your purpose is only to engage in an online meeting tool without any collaboration features then GoToMeeting is your best option. It isn't a real-time collaboration tool and you cannot create chat rooms outside of meetings.