With seemingly everything possible shifting to online means, increasing our dependence on the internet, slow load times for a website can kill crucial traffic.
While we pay great attention to factors improving the user experience like SEO, UI/UX, content, and graphics, we usually overlook the backbone on which the website runs, and the web hosting providers we use.
To avoid this, you need to make sure your web hosting service is capable of handling the load and demands of your website. To help you make an informed choice on the right web hosting services, here are some of the top statistics and facts about web hosting providers, cloud platforms, domain names, and more.
General Web Hosting Statistics
To get a good sense of the web hosting industry, let's first answer some of the burning questions, and then move on to some general web hosting statistics that help paint a better picture of the industry.
Most Popular Web Hosting Providers
Amazon Web Services is the leading web hosting service provider with a share of 6.3%, while tech giants Google, considered one of Amazon's biggest rivals, only ranks 10th. (W3Techs)
How Does a Website's Speed Impact its SEO Performance?

Nowadays, every pixel on the screen competes for a user's attention, from ads to pop-ups, to clickbait hyperlinks. You need to ensure you grab the user's attention and hold it successfully.
A slow-loading page does exactly the opposite, and it can have a drastic effect on the overall SEO performance of your page too. (FT Product & Technology)
A one-second delay causes a 4.6% drop in the number of articles a visitor read
A three-second delay can result in a drop as large as 7.9%
Visitors consistently read less when delays occur
Top Features of Website Hosts
Several factors contribute to a web hosting service being optimal for your website, and while they might vary depending on how your website is built or the use case scenario, you should pick a web hosting provider that delivers consistent performance in all key areas, including
Disk Space
Bandwidth
Security
Uptime
Website Speed
Pre-Installed Apps
Domain Names
Website Builder
Support
Backups
(Source: Bluehost)
Big Numbers from the Web Hosting Industry
1. The web hosting industry had a revenue of a whooping $290bn, as of 2022. (IBISWorld)
2. There were 74,691 players operating in the web hosting industry, as of 2022. (IBISWorld)
3. The web hosting industry is expected to expand at a compound annual growth rate (CAGR) of 15.5% till 2027. (Grand View Research 2019)
5. Web hosting players reported a handsome profit of $14.3 billion in 2019. (IBISWorld 2019)
6. The public cloud had the biggest share in terms of web hosting deployment type. (Fortune Business Insights)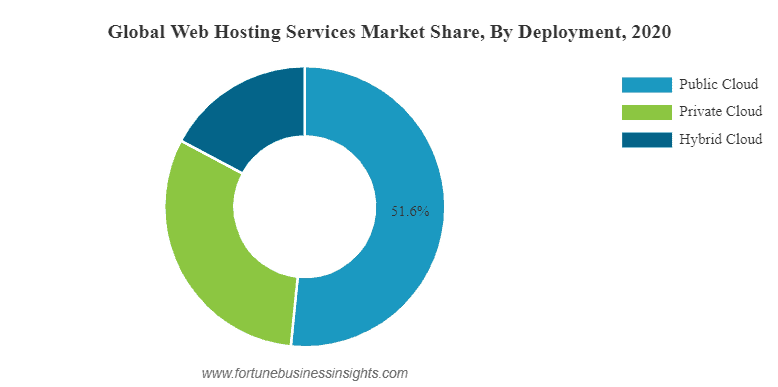 7. According to IBISWorld, web servers were primarily used for application services, business processes, data storage, and website hosting. (IBISWorld 2019)
Stats on Web Hosting Providers
Next, let's explore the titans of web hosting, as well as look at the popular choices when it comes to VPS (Virtual Private Server) as well as CMS (Content Management System) hosting providers.
1. Amazon Web Services is mostly used by high-traffic sites. (W3Techs)
2. AWS is the biggest cloud provider by global web hosting market share, while Azure and Google Cloud Platform follow in second and third spots, respectively. (Synergy Research Group)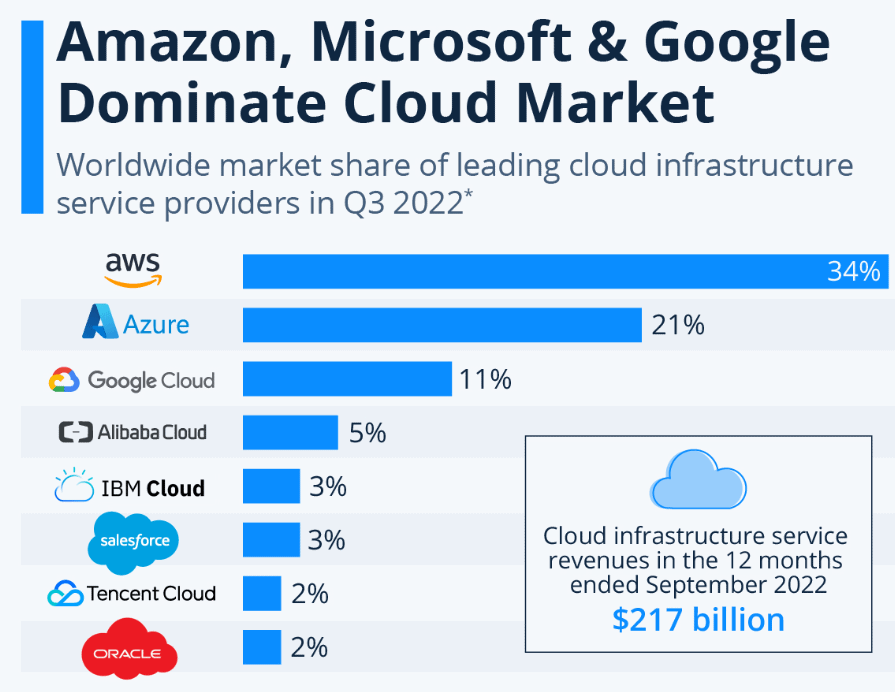 Virtual Private Server (VPS) Market Statistics
1. The global virtual private server market reached a valuation of US$ 3.43 Billion in 2021. (IMARC)
2. The VPS market is expected to reach a value of US$ 7.98 Billion by 2027, exhibiting a CAGR of 14.30% during 2022-2027. (IMARC)
3. There was rapid growth in the VPS market as it provides higher reliability, better privacy, root access to servers, and assists in the upgradation of server resources. (IMARC)
4. The COVID-19 pandemic has led to the rising adoption of VPS to remotely provide dedicated resources to numerous users and secure the organization from cyber-attacks and data breaches. (IMARC)
WordPress Hosting Providers Market Stats
1. More than half (52%) of WordPress users choose it because it's what they know best. (WordPress 2020 Annual Survey)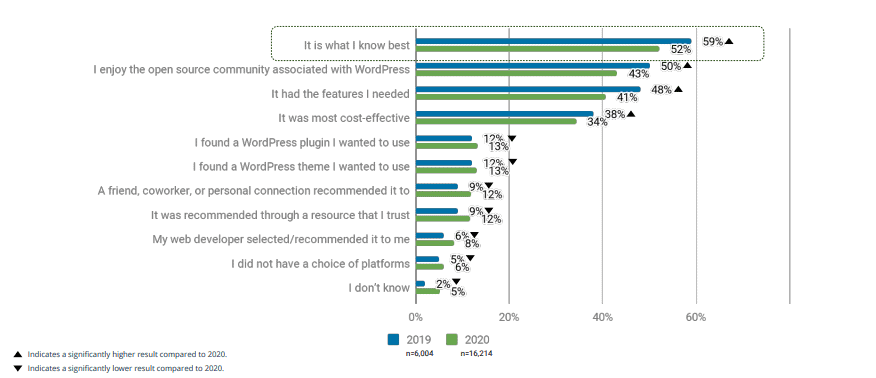 2. WordPress continues to be the preferred platform (91%) for the next website project. (WordPress 2020 Annual Survey)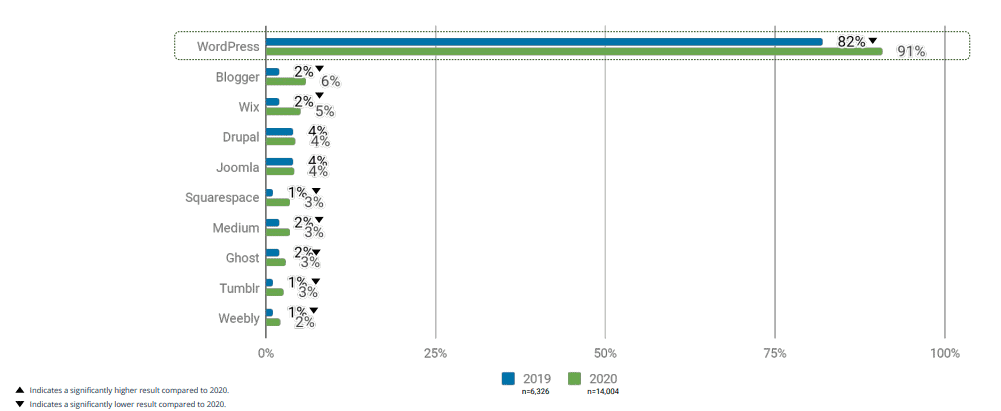 3. 80% of professionals feel WordPress is as good as or better than its competitors. (WordPress 2020 Annual Survey)

4. 73% of professionals prefer WordPress as a CMS (73%) in 2020, compared to 76% in 2019 and 2018. (WordPress 2020 Annual Survey)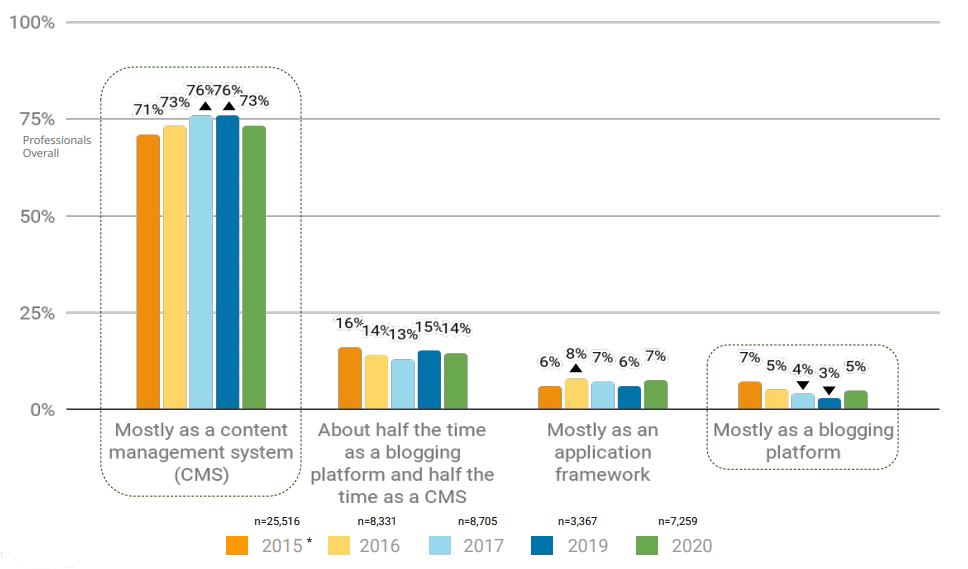 5. Nearly three-quarters (72%) of Pro Freelancers/Hobbyists use WordPress as a CMS. (WordPress 2020 Annual Survey)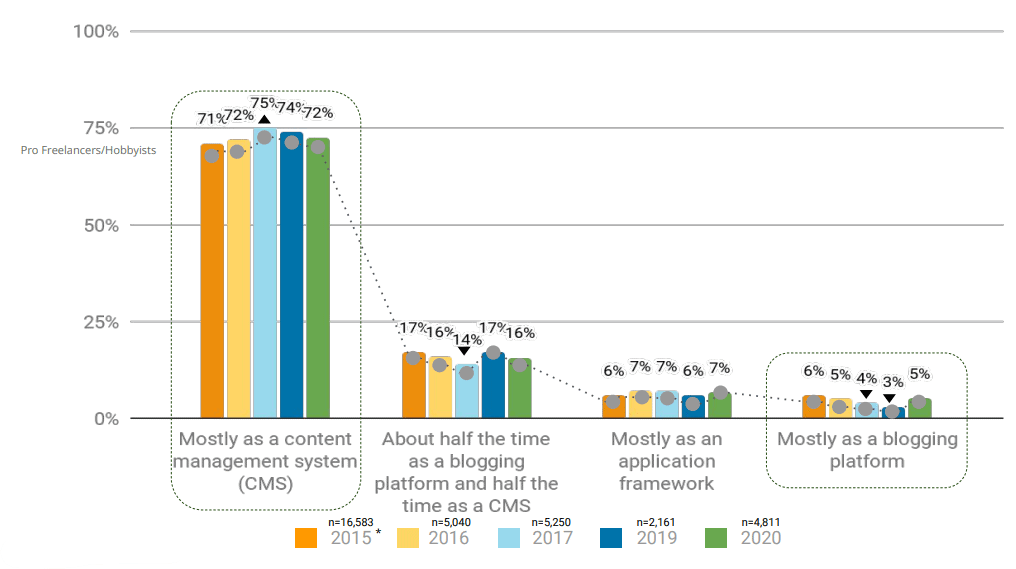 6. WordPress is mostly used on a freelance basis (22%). (WordPress 2020 Annual Survey)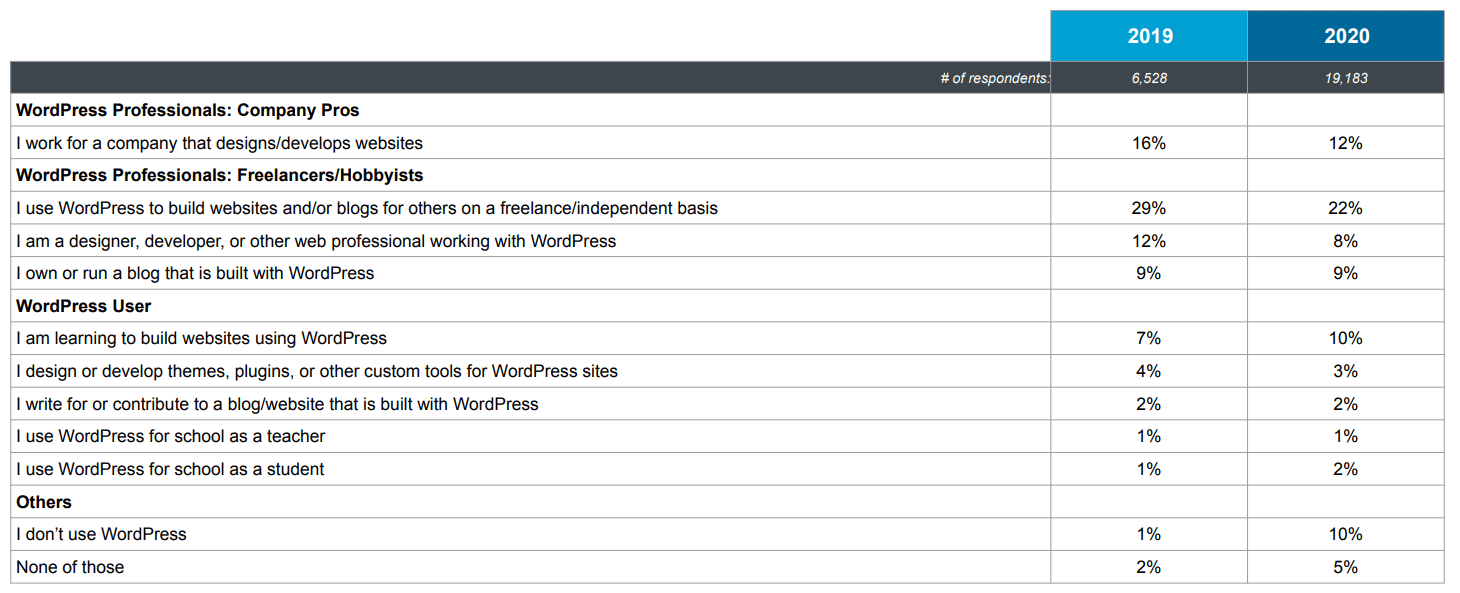 Website Builder Solution Stats
Often, when you are getting started as a business, you might want to quickly get your idea off the ground and not have to code your own website. For that, we have website builders who make our job much easier, letting you build a professional looking website without the need to code a line.
Here are some stats on website builder sites.
1. The global website builders market is expected to be valued at $1.8 Billion in 2022. (Fact.MR)
2. The Website Builder industry is expected to grow at a CAGR of 7.73% from 2020 to 2027. (Verified Market Research)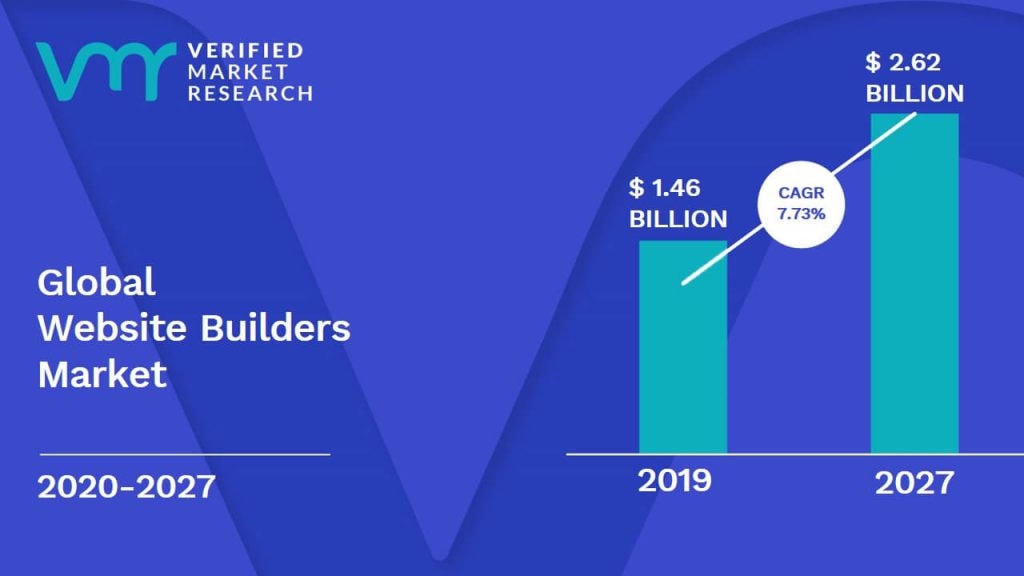 3. WordPress, at $4 per month, is the cheapest blog website builder in terms of their paid plan, while Weebly is the cheapest for small businesses at $6 per month (WebsiteBuilderExpert)
4. Wix is the best general purpose website creator, according to Tooltester. (Tooltester)
5. Wix.com had revenue of $2.5 Bn in the third quarter of 2022, with roughly 238 million registered users. (WiX)
Website Security and Threat Statistics
With so much of the global economy and data flowing through online measures, there is bound to be a security risk, with thousands of scams and cyberattacks on a daily basis.
To avoid these risks, it would be good to inform yourself about them beforehand so you can take some precautions and avoid any disastrous outcomes.
1. 62% of attacks comprise non-malware, hands-on-keyboard activity. (CrowdStrike)
2. There was an 82% increase in ransomware-related data leaks in 2021 as compared to 2020. (CrowdStrike)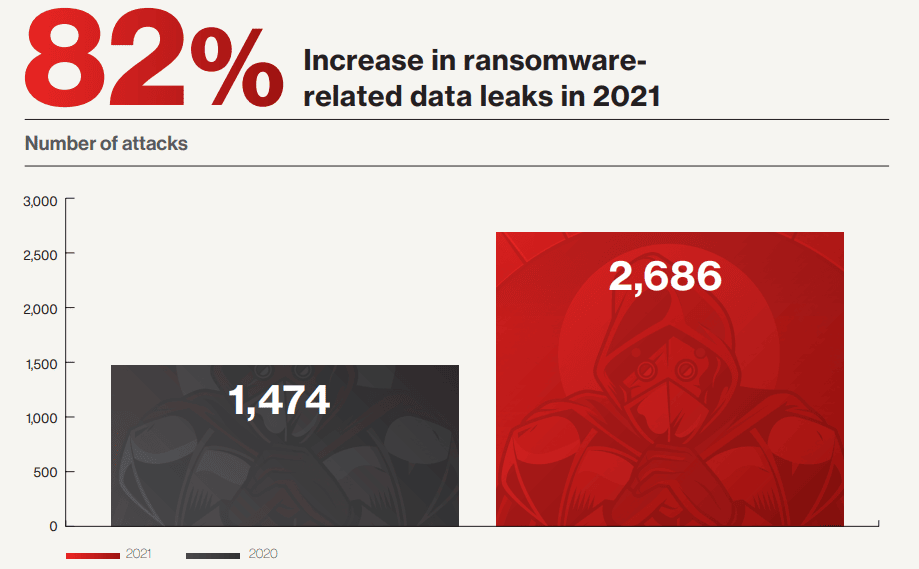 3. Industrials and Engineering industries had the highest number of ransomware attacks in 2021. (CrowdStrike)
4. Lack of skilled personnel seems to be the No.1 reason that organizations cannot defend against malicious attacks. (Fortra)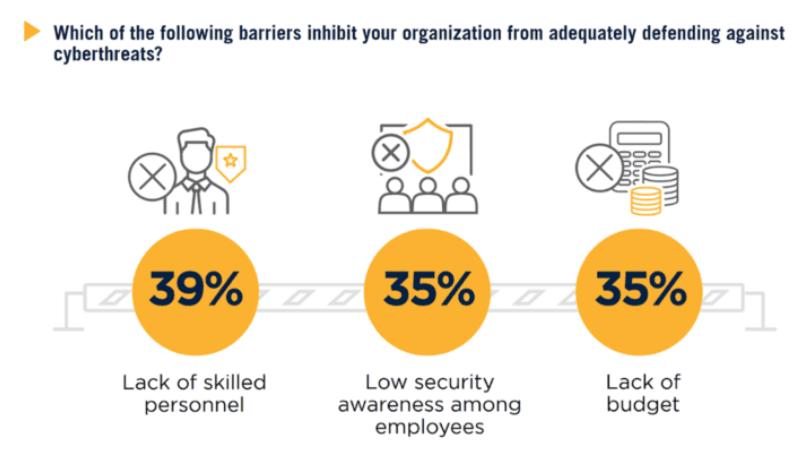 5. 44% of the organizations of the respondents of a recent survey have experienced data breaches. (Fortra)
6. 31% of the same respondents say they have been targeted by malware attacks, and 23% have experienced distributed denial-of-service (DDoS) attacks. (Fortra)
7. 48% of Small and Medium Businesses (SMB) think they are too small to be attacked, and only 31% believe they are vulnerable. (SiteLock)
8. SMBs lost $25k on average annually due to cyber attacks. (SiteLock)
8. Search engines often miss malware infections, with 92% of all malware-infected websites not flagged or blacklisted. (SiteLock)
Domain Name Statistics
Now that you're familiar with most things related to the World Wide Web, there is one more thing left to get well-versed with.
You should be familiar with the various types of domains available on the web, as these can significantly affect how users react to your site. Here are some statistics about website domains to consider before you pick one for yourself.
1. The first quarter of 2022 closed with 350.5 million domain name registrations across all top-level domains, an increase of 8.8 million domain name registrations, or 2.6%, compared to the fourth quarter of 2021. (Verisign)
2. Domain name registrations have increased by 13.2 million, or 3.9%, year over year. (Verisign)
3. The .com and .net TLDs had a combined total of 174.7 million domain name registrations in the domain name base at the end of the first quarter of 2022. (Verisign)
4. GoDaddy is the world's biggest and oldest domain registrar, with more than 20 million customers, 76.2 million domains, and 7,000 employees worldwide. (Straits Research)
5. Bluehost is one of the biggest competitors to GoDaddy, but they do not provide complete website building tools and do not provide free domains for VPS, dedicated, or managed WordPress. (Straits Research)
6. Revenue growth for the Web Domain Name Sales industry has increased to 6.2% in 2020. (Straits Research)
Where is The Web Hosting Market Headed: Statistics & Trends for 2023
1. The global web hosting services market is projected to grow from USD 83.99 billion in 2021 to USD 267.10 billion in 2028 at a CAGR of 18.0%. (Fortune Business Insights)

2. The number of domains registered is expected to grow at 6.7% annually till 2027, as per a recent study. And the number of domains registered is projected to reach a size of 597.5 million by 2027. (Research and Markets)
The number of domains registered is projected to reach 597.5 million by 2027, growing at CAGR of 6.7% (Research and Markets)
3. The domain name registrar market is expected to reach cross $1 billion by 2027, growing at a CAGR of ~4.7%. (Straits Research)
Final Thoughts
Picking the right web hosting provider is one of the most crucial parts of building your website.
As the internet expands rapidly, we see exponential growth in every aspect, and the web hosting industry is no different.
With this report on web hosting stats, we hope we gave you crucial insight into the current standing of web hosting services and helped you make an informed choice.