WebinarJam has gained popularity of late for its high performance and marketing tools. However, if it doesn't fit your requirement for some reason, I have some other webinar software that could eliminate your pain points. Before that, let's take a quick look at WebinarJam's capabilities and shortcomings.
Where WebinarJam Excels (And Disappoints…)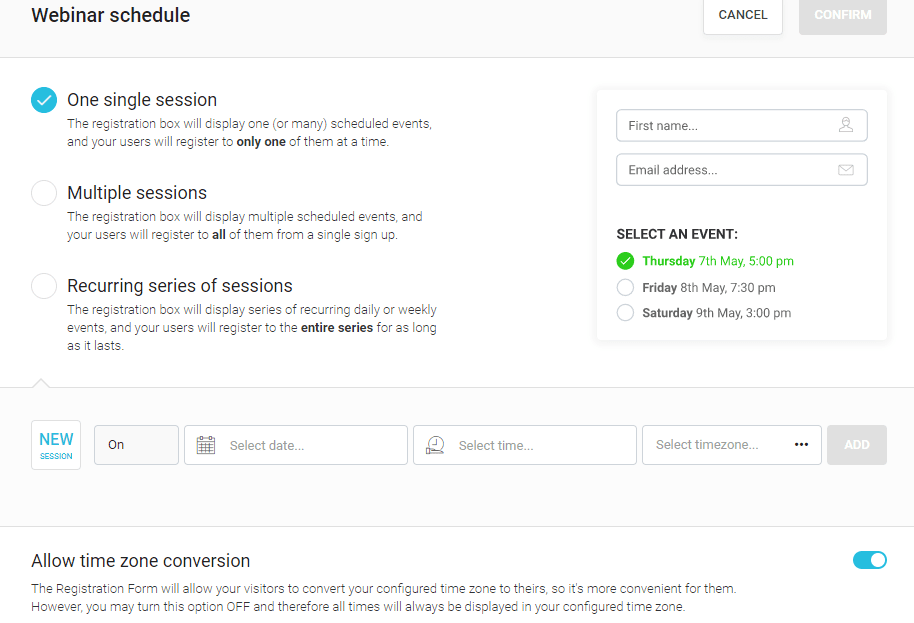 WebinarJam software is light software with an intuitive interface that caters to all your broadcasting needs at a meager price. It is best for conducting live webinars, but you may have to pair it up with EverWebinar to host automated and on-demand events as they are designed to work together.
Its marketing features like one-click registrations, active offers, attractive landing page templates with split testing, etc., contribute to, and the like can facilitate better conversions. However, the webinar analytics sections are rudimentary at best and lack in-depth reports, unlike in different areas like those presented by other webinar software like GoToWebinar and EasyWebinar.
Even though WebinarJam switched from Google hangouts to WebRTC, some users still experience a 10 to 30 seconds delay in streaming.
Here's what I like and dislike about WebinarJam.
Pros:
It's possible to set up one-click registration for webinars.
You can send notifications via WebinarJam's powerful automated email responder.
There's a control center for big enterprises to manage backend logistics.
Uploading the presentation to WebinarJam's dashboard eliminates the need to run a screen share.
This software has powerful integrations with CRMs, shopping apps, payment, gateways, and other software that let you access even more functionalities, etc.
Cons:
Your webinars might experience streaming with a delay of 10 to 30 seconds.
Foreign languages other than English do not display accurate translations on landing pages and emails.
The video annotations get lost while sharing presentations.
The recorded video of the webinar is not HD quality.
You can host on-demand webinars only after buying EverWebinar or any other software that runs automated webinars.
WebinarJam Pricing
WebinarJam's pricing plans are relatively affordable and value for money. Each offers unlimited webinars, but all three plans differ in the number of attendees, the number of presenters, and the webinar duration.
Basic: $499/year for 500 attendees
Professional: $699/year for 2000 attendees
Enterprize: $999/year for 5000 attendees
It's off-putting that WebinarJam doesn't have a monthly plan. But the company offers a 14-day trial period for $1 and a 30-day risk-free money-back guarantee.
The basic plan is well suited for beginners trying their hands at conducting webinars for the first time. It offers 2 hours maximum duration of running a webinar, and it shouldn't be an issue for most people, and you can have two presenters in one webinar and 500 attendees.
Even in its lowest plan, this webinar hosting platform offers 500 attendees, unlike Demio with 50 attendee-room and WebinarNinja with 100 attendee-room in their cheapest plans, making WebinarJam's initial plan more than enough for first-time webinar presenters.
Its Professional Plan has a duration of 3 hours with 2000 attendees, four hosts, an always-on room, and a panic button. The always-on live room is a valuable feature for people conducting back-to-back webinars.
The enterprise plan has an increased number of hosts, duration, attendees, and the Control room feature. If you have a huge team, you can effectively have one member take care of their logistics from the backend while the presenters are free to concentrate on their presentation.
Now that we have reviewed the features and pricing of WebinarJam, let's explore the alternative webinar software.
WebinarNinja is a simple, intuitive, and easy software to run different kinds of free and paid webinars at a competitive price. You can conduct live, automated, series, and hybrid webinars with customizable registration pages, thank you pages, registration forms, and automatic email notifications with replays.
The analytics section offers insight on basic but useful metrics such as conversion, user registrations, and replay attendees but does not offer advanced analytics like attendance trends, geographical reports, device and location information, etc.
Though WebinarNinja offers promising features for marketing and audience interaction, it lacks in performance as polls and offers to stay hidden inside their respective tabs with a lackluster design, and you cannot display them on the screen.
You may also experience audio and video lag issues if your session runs over 2 hours, you upload a heavy file, or you share your screen for a long time. WebinarNinja delivers less than it advertises.
I wouldn't recommend it for large teams or businesses with a large audience spanning countries, but it fits well with entrepreneurs who want to try out webinars for the first time.
There are four pricing tiers, and each of these majorly differs in the number of live webinar attendees, additional presenters, duration of sessions, and you can save 20% on annual payments. Each plan offers unlimited automated webinar attendees and a 14-day free trial.
Starter: $39/month, billed annually for 100 live attendees.
Pro: $79/month, billed annually for 300 live attendees.
Plus: $129/month, billed annually for 500 live attendees.
Power: $199/month, billed annually for 1000 live attendees.
The starter plan includes 100 attendees, two additional presenters, and two hour-long sessions along with live and automated webinars. It is pretty straightforward with essential features and useful for entrepreneurs and small businesses.
Jumping to the pro plan increases the live attendees to 300 with four additional presenters and 4-hour long sessions. You also get access to Facebook ad integration which you can use to promote your webinar on Facebook and track its effectiveness using pixels.
The Plus and Power plan have precisely similar features except for the number of attendees that increase from 500 to 1000; presenters change from 6 to 10, duration of sessions rises from 6 hours to 8 hours. You get access to run hybrid webinars on both plans.
Pros:
It is light and intuitive with a clean interface.
All pricing plans allow unlimited automated webinar attendees.
WebinarNinja automatically records webinars and creates replays in the replay room.
It integrates with top CRM software like Aweber, Mailchimp, Drip, Hubspot, etc.
You can run four types of webinars: live, automated, series, and hybrid.
The customer support is quick and live 24/7 with an extensive knowledge base.
Cons:
It has only one payment integration — Stripe.
You can experience lags and delays in streaming while conducting webinars longer than 2 hours or sharing large files.
The customization is limited and doesn't allow branding.
There are only four landing page templates with limited customization.
Demio has a no-download webinar experience for your audience with comprehensive marketing tools that help lead generation. While the customer support and simple UI will impress you, the absence of email customization, follow-up messages, and replay stripped of annotations can annoy you.
This webinar software sells itself on marketing; however, it isn't a full-stack marketing automation tool as it allows limited scheduling and customization options of webinar funnel pages and emails.
In this review and walkthrough, I'll take you through the process of creating a webinar with Demio, its key features, and some other webinar software you can try. Here's an overview of the software:
Demio Pricing
Demio has three pricing tiers and a 14-day trial with a room of 20 attendees, fundamental analytics, and one host.
Starter: $34/month (paid annually) for one host, 50 attendees, and a 3-hour session limit.
Growth: $69/month (paid annually) for one host, 150 attendees, and a 5-hour session limit.
Business: $163/month (paid annually) for four hosts, 500 attendees, and an 8-hour session limit.
The pricing isn't extremely high, but the features that come with it are less than desirable. Let's break it down.
The starter plan has a single host and a room limit of 50 attendees, nowhere near WebinarJam's introductory plan with 500 attendees. Small businesses would not benefit from such plans as the limited branding and no automated events and extra benefits.
The Growth plan allows you to have one host, 150 attendees, and a 5-hour session limit, along with room and email branding, automated events, and custom form fields.
At $163/month for the Business plan, you have access to a generous session limit but 500 attendee rooms. The number of hosts increases to 4, and I doubt that large enterprises with a global reach will have less than 500 attendees.
Apart from these three pricing plans, there's a bespoke premium plan with ten hosts, 1000-attendee and other features.
Pros:
It is easy to use with a simple UI.
You don't have to download any additional software to run webinars.
There are multiple audience interaction features like
You can connect with live customer support to solve your queries.
They have customizable sign-up landing pages with the availability of video embeds addition.
Demio integrates with powerful software like Zapier, Convertkit, etc.
Cons:
There is no general link available; instead, there's a separate link for each attendee.
You cannot use more than three webcams at once, and it could be a problem while holding a conference or panel discussion.
Webinar replays don't display annotations, chats, and polls.
The software lags and has bandwidth issues when accommodating over 100 attendees.
Just like Demio, BigMarker is also a no download software that allows you to host four types of webinars: Live, summit or series, on-demand, automated, and evergreen webinars. The interface is sleek and easy to use. It provides valuable marketing features like polls, follow-ups, pop-up offers, etc.
There are many customization features under sections such as headers, title banners, about, presenters, sessions, CTA, custom code, theme settings, and footer. Additionally, it comes with live studio features such as chroma keying, PDF presentations, lower third, etc.
However, BigMarker doesn't allow exporting reports to your autoresponder when it comes to email marketing integrations. It isn't as effective in integrating with third-party software. Fortunately, the analytics section is robust and gives you detailed conversion as well as engagement analytics.
BigMarker Pricing
BigMarker has three pricing tiers and a free trial.
Starter: $79/month with one presenter and 100 attendees.
Elite: $159/month with two presenters and 5attendees.
Premier: $299/month with four host licenses and 1000 attendees.
The starter, elite, and premier plans offer the same features as marketing email templates, custom URL, API access, embeddable webinars, landing pages, etc., except for the increased number of presenters and attendees.
There's another custom plan called While Label that allows 1000 attendees with extra features such as all types of webinars, enterprise support, dedicated account manager, white-labeled webinar room, domain masking, negotiable DPA, and tons of powerful integrations.
Pros:
It lets you create live, evergreen, automated, and series & summits webinars.
The marketing features such as live offers, custom questions, interactions are handy.
You can add a background image or filter to your webcam.
Cons
BigMarker has a mobile app with an underwhelming layout.
There is no live chat support.
The trial only lets you test the software with ten attendees.

Zoom is best for quick meetings and a better alternative to Skype, Google meets, Facetime, etc. It doesn't take much bandwidth to work, making it useful for meetings, discussions, interviews, etc.
This software got quite popular with schools and other academic institutions right after Covid hit the world. I wouldn't recommend Zoom for a large enterprise because of the lack of advanced marketing features and security issues.
Zoom Pricing
Zoom has three paid and one free plan with 100 participants, unlimited one-on-one meetings, and group meetings for up to 40 minutes.
Pro: $149.90/year for 100 participants, group meetings for up to 30 hours, social media streaming, and cloud storage.
Business: $199.90/year for 300 participants, company branding, and more.
Zoom united business: $350/year for 300 participants and phone meetings and other Business plan features.
Pros:
It has a virtual background feature.
Zoom allows you to stream webinars across Youtube and Facebook
The UI is simple to use.
It has easy invitation-sharing options.
Cons:
You may face security issues.
There is a lack of customization in registration pages and email notifications.
There is no custom branding.
You cannot run automated events.
You need to download the Zoom app to run it.
Zoom is a suitable and cheaper alternative to other webinars and video conferencing applications if you want to have an in-house meeting or training session.
GoToWebinar
GoToWebinar is a reliable solution to run recurring webinars with no downtime and a large audience spanning states and nations. You can see high-level summary statistics for all your webinar sessions divided into actionable reports on eight sections like sessions overview, engagement, multi-session attendee, and more.
However, it misses out on the UI, which is dull and old-fashioned. There's a lack of marketing features like active offers, attractive templates, and SMS notifications in other webinar software. Though the technical glitches are rare, there is no live customer support to assist you through it.
GoToWebinar Pricing
It has a 7-day free trial with no credit card requirements.
GoToWebinar is one of the most expensive webinar software with three pricing tiers that differ in features and the number of attendees.
Starter: $89/month, billed annually for 100 participants.
Pro: $199/month, billed annually for 500 participants.
Plus: $429/month, billed annually for 3,000 participants
The lowest plan alone is more expensive than that offered by other competitors, such as WebinarJam, with only 100 participants and no ability to share videos, record events, track sources, add transcripts.
Both Pro and Plus plans have the same features like reporting and analytics, webinar attendance, interest, participation, polls, handouts, Q&A, automated emails, and custom registration pages, except for the increased number of participants from 500 to 3000.
There's another bespoke enterprise plan accommodating 5000 attendees, and you can get a 20% discount on annual subscriptions.
Pros:
Its built-in analytics gives access to extensive attendee data and attendance trends.
You can customize the registration pages for branding by adding your logo and feature image.
Scheduling options like webcasts, on-demand, and standard webinars are available.
The video and audio are HD quality.
It is a reliable platform that offers a 7-day free trial with 100 attendees.
Cons:
The user interface looks dated.
It lacks marketing features like one-click registrations, active offer features for sales, etc.
The email notifications have limited customization options.
It is relatively expensive.
There is an absence of live customer support and a lack of documentation in its knowledge base.
GoToWebinar is suitable for large teams with experience and a wide audience.
Webex by Cisco is a dedicated video conferencing software but has webinars as a minor feature. You can schedule a meeting on the web app but can only host it after downloading the software. It doesn't have many scheduling options, and there are no pre-designed templates for registration, confirmation, and thank you pages.
It allows you to give attendees access to transfer files, take notes, and annotate. You can share UCF rich media for attendees and edit attendee privileges. If you have a global audience, unfortunately, there is no automatic time conversion option for attendees.
Webex Pricing
There are four pricing plans, including a free basic plan with HD meetings and 100 people.
Call Plan: $17/month
Meet Plan: $15/month
Meet + Call Plan: $25/month
Enterprise: It's a customizable plan
The Call plan provides premium calling features like the cloud phone numbers for each license and more. It isn't a suitable plan for hosting webinars and has little to no relevance.
The Meet plan allows HD meetings with 200 people, screen sharing, recording, breakout room, and more for $15/month. It's a significantly cheaper plan than that offered by other webinar software.
Because Webex is not solely built for webinars, the Meet+Call plan offers both premium meeting and calling features, but the number of attendees stays the same as in the Meet plan.
Another plan is for businesses with relatively large teams requiring more features and can directly contact Webex to discuss their requirements.
Overall, it's software geared towards hosting meetings and video conferences.
Pros :
It allows conducting basic webinars.
You can use UCF rich media for attendees.
The webcam automatically shows an inverted mirror image which you often see in phone cameras.
Cons:
It has limited scheduling options.
There are no templates for registration or a thank you page.
You will have to download the software to host webinars.
It isn't suitable for businesses that host regular webinars.
Final Thoughts
BigMarker is the best alternative to WebinarJam, which offers tons of marketing and promotional features and the option to hold several types of webinars. They also have a white label plan to fully brand your webinars at the cost of an increasing price.
This software isn't the cheapest, but it's worth the shot if webinars are essential to your company.
On the other hand, if you host less than two webinars a month and own a small business, Webex could suit your needs. However, it doesn't come with advanced marketing tools that other dedicated webinar software provides, so using Webex for internal communication makes more sense.
In my testing of WebinarJam alternatives, I found Clickfunnels and GetResponse to be extremely complicated and not primary platforms for hosting webinars. They are better suited for email marketing and creating sales funnels.