The number of websites in the world is growing dramatically, touching close to 2 billion websites today.
The number of internet users is growing at an even faster pace, with upwards of 5 billion internet users today.
To help you stand out from the crowd in this competitive online environment, you must be aware of the most recent web design technology and trends, as well as customer habits and expectations.
To help you through this, we've compiled the most important web design stats for the current times. Let's dive in.
General Website Statistics
To begin with, let's get started with some general website stats that will help you gain a broad perspective on the overall landscape of the internet industry.
You will learn of sites on the internet and the number of people online, among other crucial stats.
1. There are close to 2 billion websites on the web. (Internet Live Stats)
2. There are approximately 5.5 billion internet users in the world. (Internet Live Stats)
3. The top 10 most visited websites as of June 2022 are as follows. (Semrush)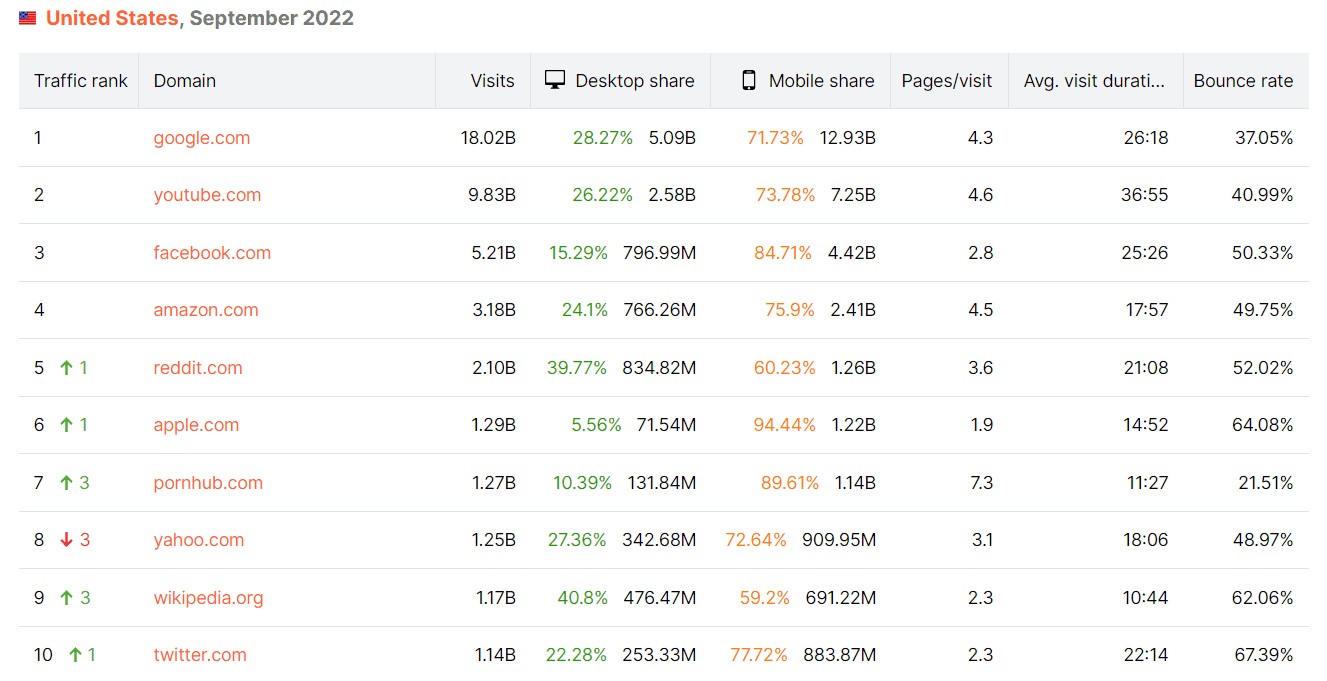 4. The average cost of designing a website with some essential features is $3200. (GoodFirms)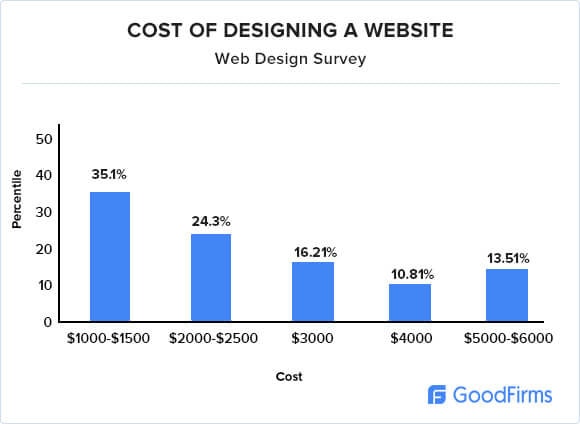 5. The average time a firm takes to build a website is about 2 months. (GoodFirms)
6. Google remains the no.1 visited website as of July 2022, with close to 65 billion visits and a bounce rate of 41.38%, at the time of writing this article. (Semrush)
7. According to a survey filled out by web developers, 88.5% agree that the most dominant current trend of web design is flat or material design, which makes for a positive user experience. (GoodFirms)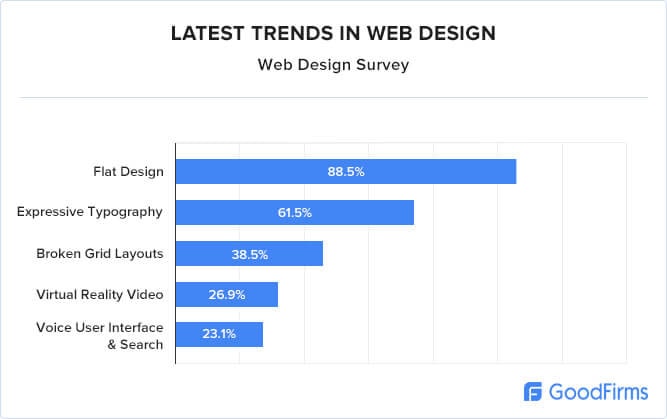 9. 88.5% of people said in a survey that they would form a negative first impression and most likely leave a site if it took too long to load. (GoodFirms)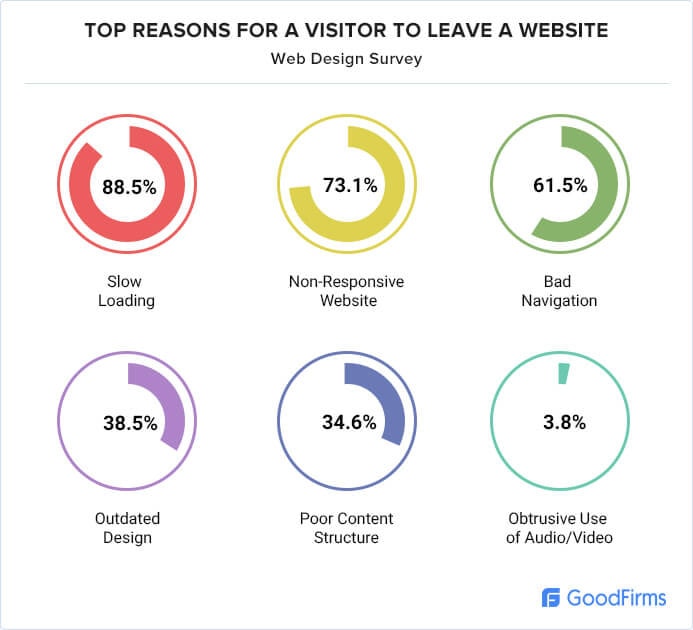 Website Usage on Mobile
If you wish to be successful on the internet, you must know some website statistics on mobile. So, let's dive right in.
1. An improvement in site speed sees the most positive influence on consumers progressing through the conversion funnel on mobile devices. (Milliseconds Make Millions, Deloitte)
2. A 10.1% increase in conversion rate on mobile was measured when there was a 0.1-second improvement. (Milliseconds Make Millions, Deloitte)
3. In the first quarter of 2023, mobile generated 58.33% of all worldwide internet traffic. (Statista)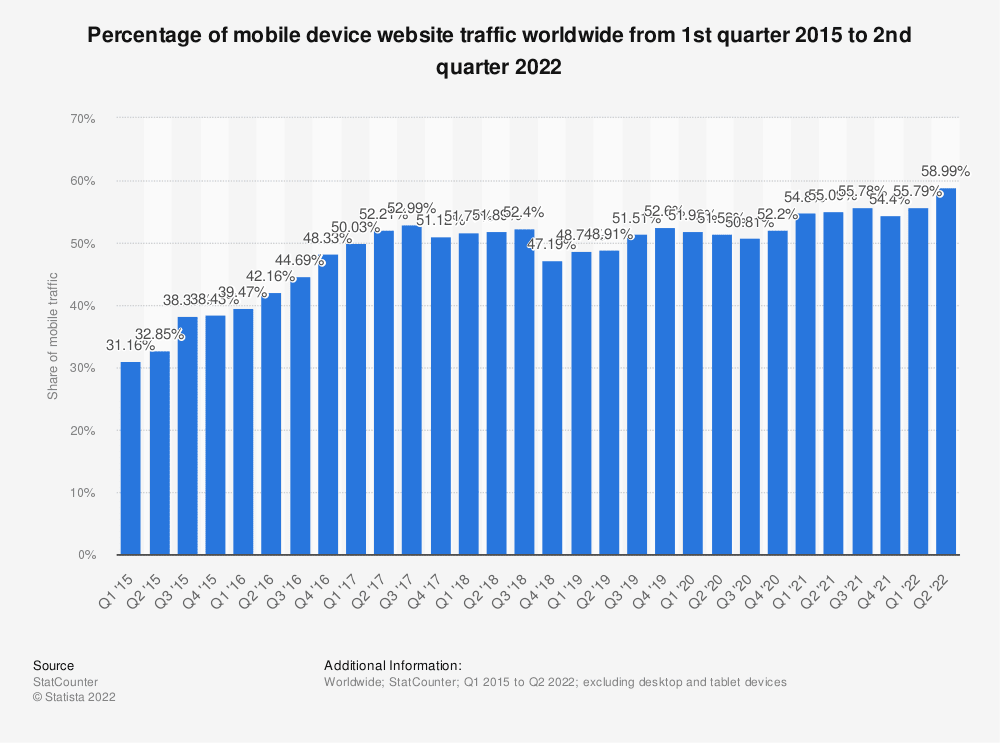 4. By the end of 2020, 51% of the world's population – just over 4 billion people – were using mobile internet (GSMA)
5. 30% of smartphone users are more likely to use a company or brand's mobile site when browsing or shopping on a smartphone when making a one-time purchase. (Think with Google)
Blogging Site Statistics
We have just looked at mobile web stats, an important platform that drives traffic on the web. One important category of sites that mobile, and desktop, web users drive traffic to is blog sites.
If you are an aspiring blogger, the stats that follow are relevant to you.
1. Bloggers who earn over $50,000 per year tend to put a lot of emphasis on SEO, with their top source of traffic being Google organic search. (GrowthBadger)
2. "Quality of content" is rated the #1 most important success factor among all bloggers. (GrowthBadger)
3. Google AdSense is the most popular monetization method bloggers use, followed by affiliate marketing. (GrowthBadger)
4. This is how bloggers rate 10 different factors that lead to the success of their blog. (GrowthBadger)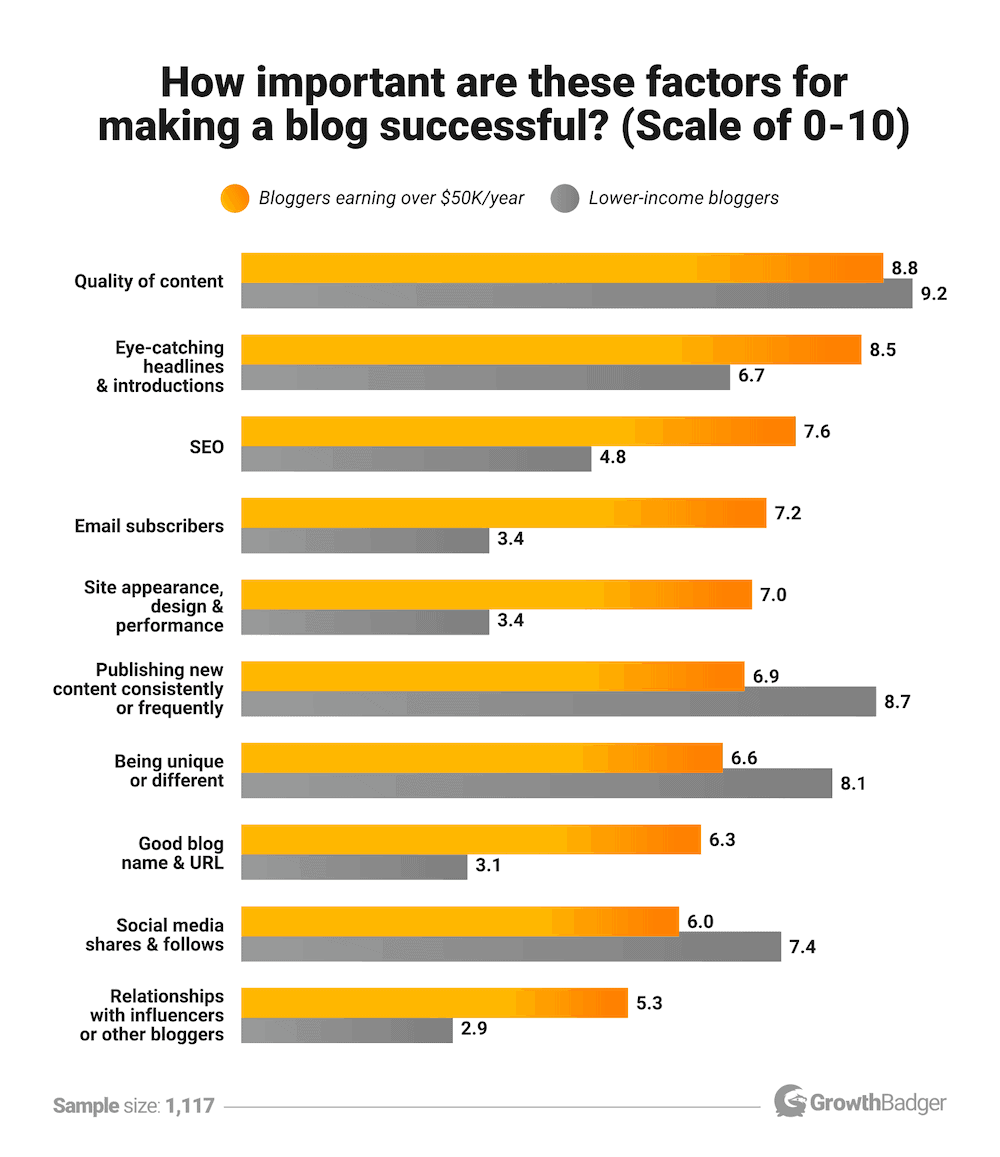 WordPress Blog Stats
One important platform that drives a lot of traffic toward blogs is WordPress. So it is important to get an idea about how WordPress operates, why it is popular, and why people prefer it.
1. More than half (52%) of survey respondents choose WordPress because it's what they know best. (WordPress 2020 Annual Survey)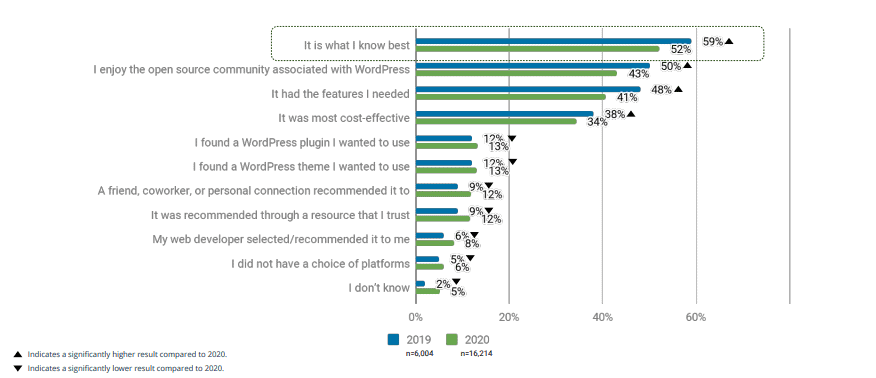 2. WordPress (91%) continues to be the preferred platform for the next website project. (WordPress 2020 Annual Survey)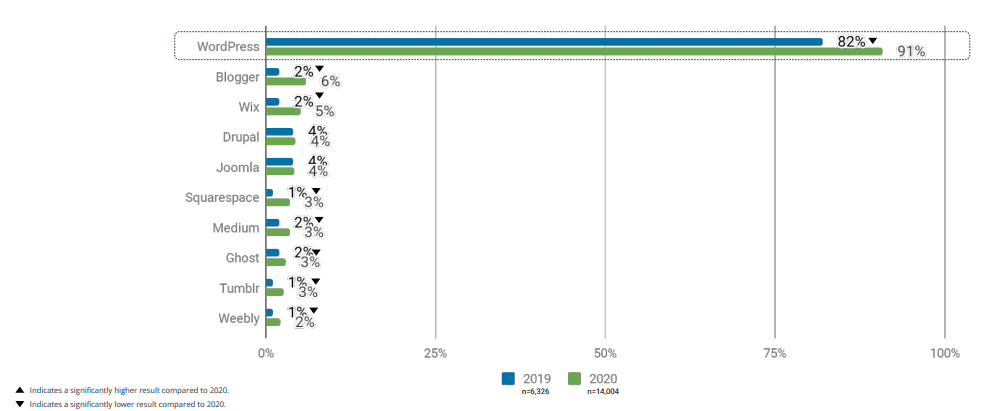 Statistics on Ecommerce Websites
We just had a look at blog stats, which are a category of sites on the web that account for a lot of web activity.
Another category of sites that are a cause of large web traffic count is eCommerce sites. If you are an aspiring internet entrepreneur in the eCommerce sector, these are some essential stats you must know.
1. These are the top 10 eCommerce sites as of 2022. (Similarweb)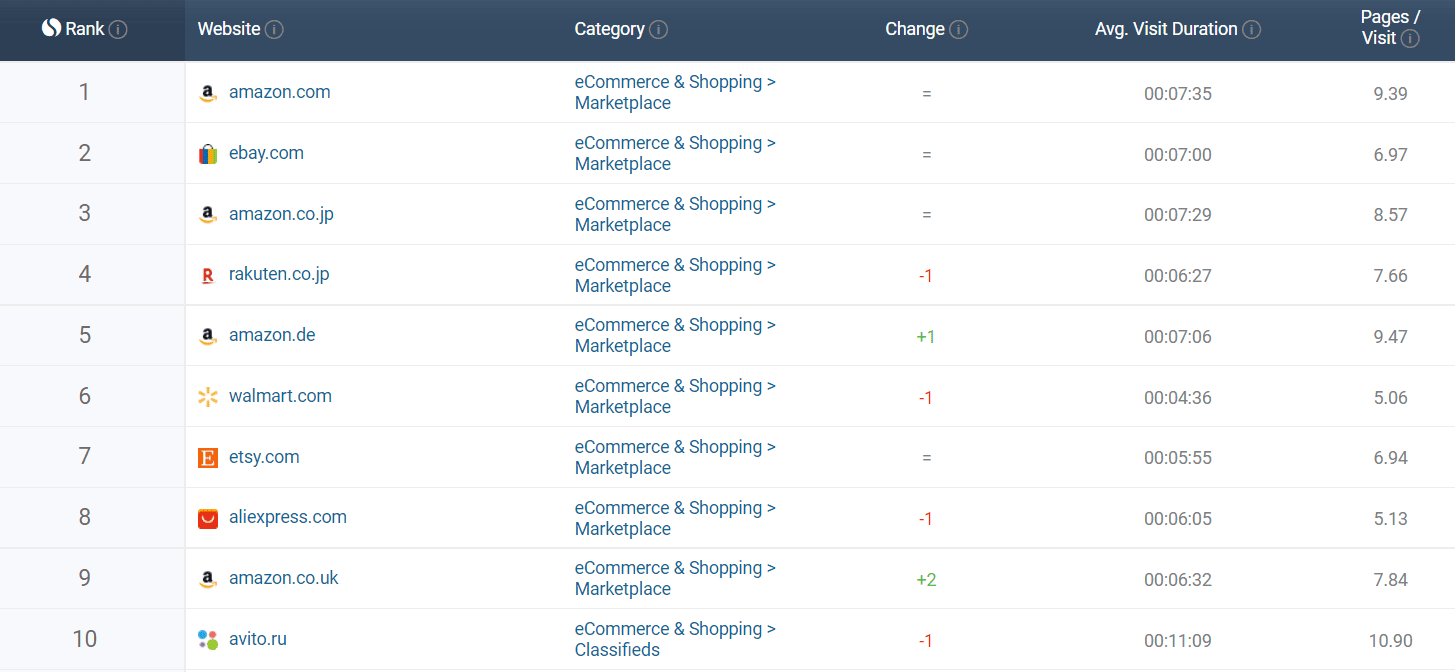 2. Amazon.com was ranked as the most popular website in the Ecommerce & Shopping category in July 2023, with the average amount of time that users spend on the website being 7+ minutes and looking at an average of 9.79 pages per visit. (Similarweb)
3. Amazon.com, the no.1 eCommerce store in the US made a revenue of $469.82 million in 2021. (The Wall Street Journal)
4. 77 percent of the US population shops online, making up a market of US $1.1 trillion. (J.P. Morgan)
5. The U.S. e-commerce market is projected to grow at a compound annual growth rate (CAGR) of 11.2 percent till 2024, as per a JP Morgan study. (J.P. Morgan)
6. Some 45 percent of total e-commerce is made via mobile. (J.P. Morgan)
7. Cards are the primary U.S. online payment method used for 58 percent of all e-commerce transactions. (J.P. Morgan)
8. A different study by Airwallex suggests that between 2021 and 2027, the cross-border Ecommerce market is projected to grow at an annual CAGR of 27%, reaching $4,820 billion by 2026. (Airwallex)
9. E-commerce makes up 14 percent of total retail in the U.S. (J.P. Morgan)
Social Media Website Statistics
We have already looked at stats on eCommerce and blogging sites, as these are an essential part of the current usage patterns of internet users.
Equally prominent on the web are social media sites. If you want to be successful on social media sites, you must be aware of these crucial statistics.
1. Facebook seems to be the no.1 social media site, as of 2022. (Statista)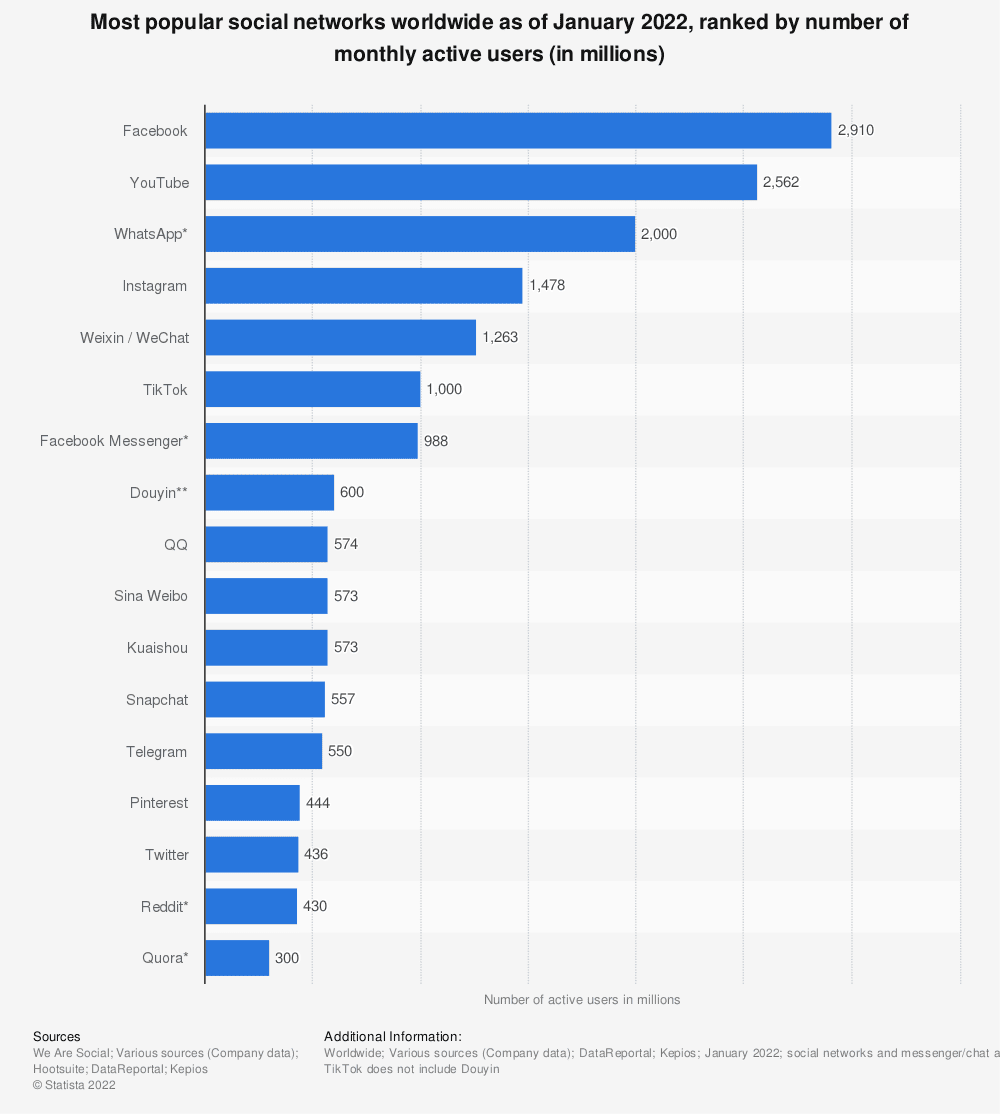 2. Google drives 8 times more traffic than all social media networks combined. (GrowthBadger)
3. In almost every industry, Facebook still sends more traffic than all other social networks, driving 65.36% of all social media traffic. (GrowthBadger)
4. Instagram drives very little traffic: under 1% overall across all niches. (GrowthBadger)
5. Reddit drives over 3 times as much traffic to blogs as YouTube. (GrowthBadger)
Website Rankings and SEO Statistics
All players in these domains are fighting tooth and nail for your attention. To do this, they try to get their website ranking higher on search engines like Google by doing various optimizations, one of which is search engine optimization, using tools like google analytics.
If you want people to know you on the web, first, you should know what others are doing to make themselves visible. Here are some stats to help you with just that.
1. Search is the single largest source of website traffic, driving well over 50% of most industries' web traffic. (GrowthBadger)
2. The no.1 result In Google gets 27.6% of all clicks. (Backlinko)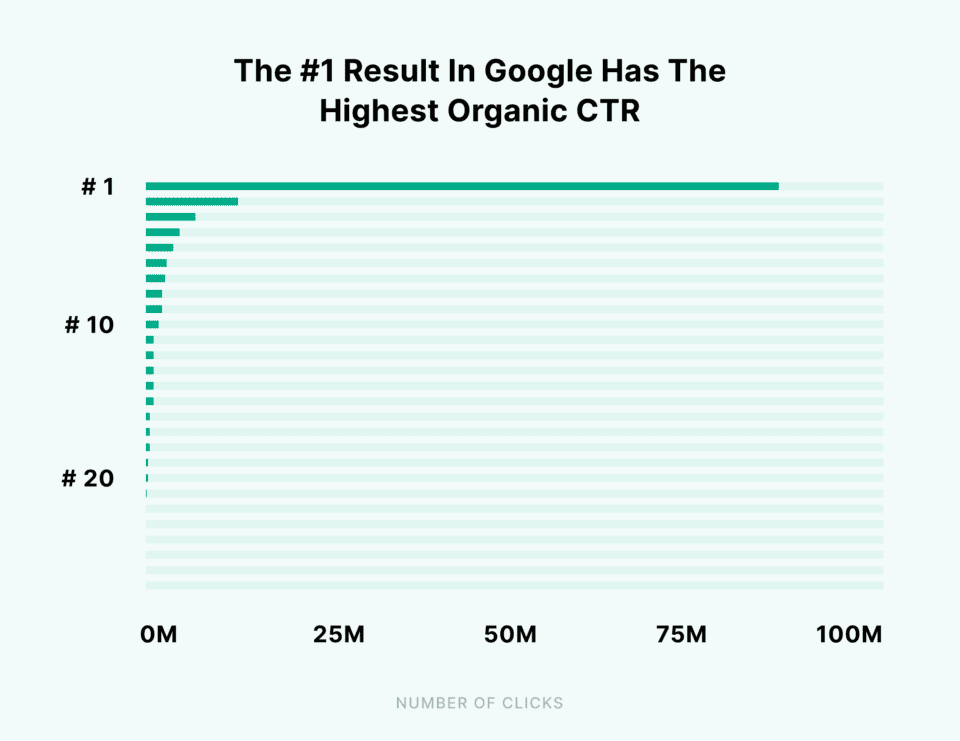 3) Using smart keywords is the one top SEO approach, according to 71% of marketers. (HubSpot)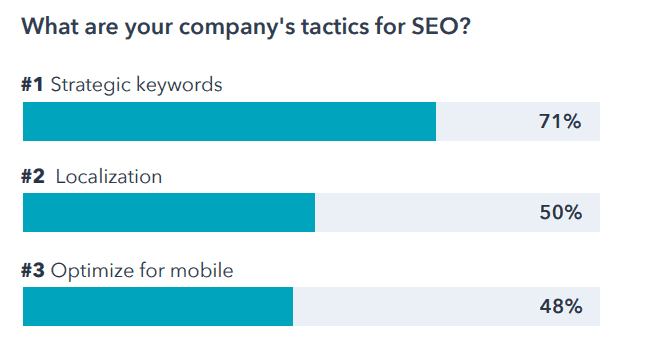 4) After social media, a company's website is the second most popular marketing channel. (HubSpot)
5) Mobile optimization is considered an effective investment by 64 percent of SEO marketers. (HubSpot)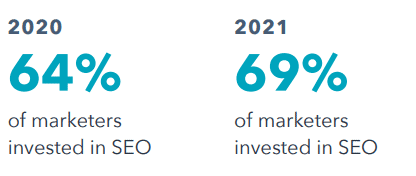 6) In the year 2021, 69 percent of marketers spent money on SEO. (HubSpot)
7) Organic click through rates for positions 8-10 are virtually the same. (Backlinko)
8) Only 0.78 percent of Google searchers went to the second page and clicked on something. (Backlinko)
9) CTR increases by 2.8 percent on average when you move up one slot in the search results. (Backlinko)
10) CTR increased by about 4.1% on titles with a positive sentiment versus a negative sentiment. (Backlinko)
Stats on Web Hosting
All the various kinds of sites that we have just looked at are hosted on the web, and web hosting services come in to help site creators get themselves live.
You might be thinking of getting yourself live, or you might want to start a hosting service. No matter what the reason, these are some essential stats you must know beforehand on web hosting.
1. The industry had a revenue of whooping $290B, as of 2022. (IBISWorld)
2. There were 74,691 players operating in the web hosting space, as of 2022. (IBISWorld)
3. These are the top web hosting providers in the world, with Amazon Web Services leading with a market share of 6.3%. (W3Techs)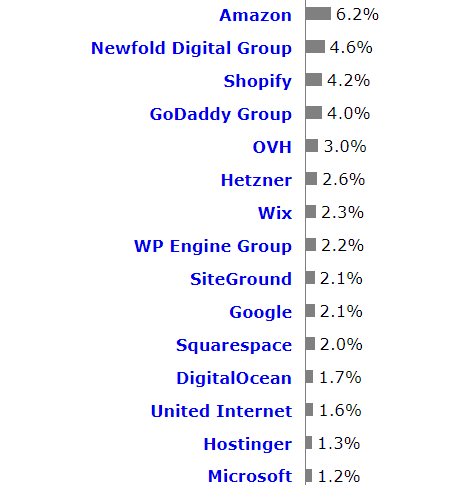 4. The web hosting industry is expected to expand at a compound annual growth rate (CAGR) of 15.5% till 2027, as per a study by Grand View Research. (Grand View Research 2019)
5. A study by Market Research Future, however, puts the growth rate of the web hosting industry at 16.31% till 2030. (Market Research Future)
6. Web hosting players made a handsome profit of $14.3bn, as of 2019. (IBISWorld 2019)
7. These are the share of web hosting in terms of cloud deployment type. (Fortune Business Insights)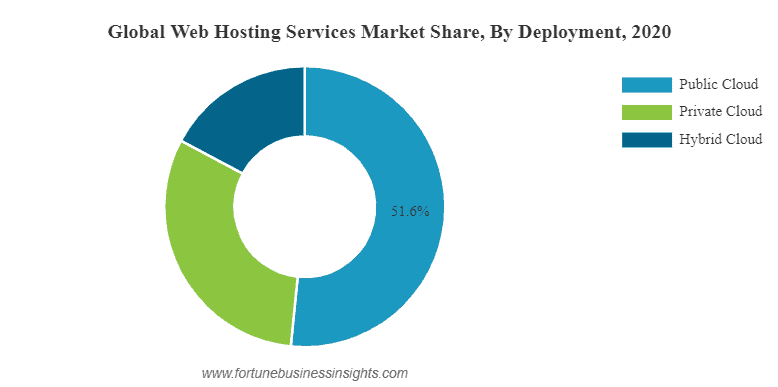 8. According to IBISWorld, this is the deployment share of web servers in various use cases. (IBISWorld 2019)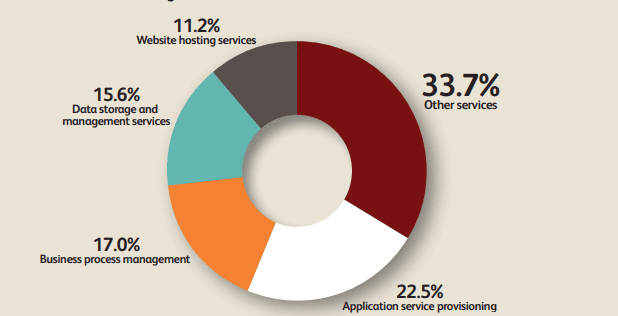 Domains Statistics
By now you should be well versed with the ways of the web. There is one final thing that we thought that would be important for you to know, that will help get you a full picture.
You must know about the kinds of domains that are purchased on the web because they often make a big difference to the way users perceive your site. Here are some website domain stats to help you make better choices while choosing your own domain.
1. The first quarter of 2022 closed with 350.5 million domain name registrations across all top-level domains, an increase of 8.8 million domain name registrations, or 2.6%, compared to the fourth quarter of 2021. (Verisign)

2. Domain name registrations have increased by 13.2 million, or 3.9%, year over year.
3. The .com and .net TLDs had a combined total of 174.7 million domain name registrations in the domain name base at the end of the first quarter of 2022.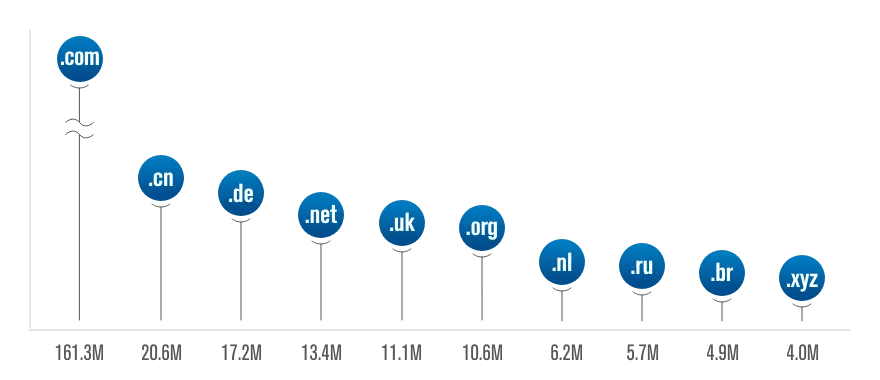 4. The number of domains registered is expected to grow at 6.7% annually till 2027, as per a recent study. (Research and Markets)
Final Thoughts
You must keep up with the latest website trends and statistics in order to be relevant and successful. Our comprehensive collation of website stats was designed keeping in mind your needs so that you can get the edge that you need.
Utilize the website design statistics and best practices in this article to ensure that your website is visually beautiful, mobile-friendly, optimized for speed, and provides customers the experience they demand, so you can have the success you crave for.