With the world relying heavily on technology, it's no surprise that the tech sector offers an endless supply of opportunities for people. Even so, women make up just 14% of the tech workforce in cloud computing, 20% in engineering, and 32% in data and AI as per World Economic Forum's 2021 Report.
With companies looking to attract all available talent, will the future of technology and its allied fields remain male-dominated?
Below is the compiled list of women in tech statistics covering barriers to women in leadership, lack of diversity in STEM, challenges faced by women at their workplaces, and also how things unfolded during the pandemic.
Women in Tech Stats: Overview of The Lack of Gender Diversity
Despite global discussions about gender equality, women in tech are underrepresented and often underpaid.
1. Out of the Big 5, Google has the highest percentage of women holding tech jobs, where only 25% of positions are represented by women. (Statista)
2. In 2020, women engineers (developers, applications, and software) earned an average of USD 1728 per week while their male counterparts earned an average of USD 2004 per week. (Statista)
3. The overall gender pay gap in the US for women in the tech industry is 1.6% according to a marketplace survey of 3,900 companies and more than 1.2 million job seekers. (Hired)
4. According to the women surveyed out of 450 tech professionals, 72% of them are outnumbered regularly by men by at least a 2:1 ratio in business meetings. (Trust Radius)
Does this gender inequality end with a simple workday?
5. 42% of women in tech left their jobs, at least partially due to gender inequality. (Women Who Code)
Hiring, Retention, and Advancement of Women in Technology
Women aren't entering the tech workforce at the same rate as men do. Below are the statistics showing the employment trends for women in tech.
1. According to a marketplace survey of 1.2 million jobseekers, 19% of the hiring candidate pool is women but they only receive 16.8% of interview requests. (Hired)
So after female employees are hired, are there any barriers affecting their growth in the said companies?
2. There are multiple constraints on women's professional growth. 66% of women surveyed in the tech workforce do not see a clear path in their current company, which is a barrier to promotion. (Trust Radius)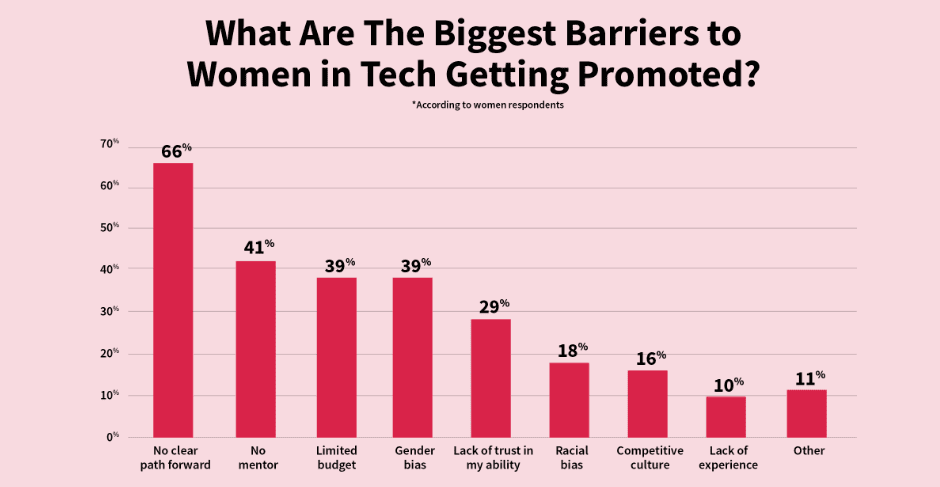 Women of color are less confident about their promotion than white women.
3. 37% of women of color believe that racial bias is a factor in their promotion. (Trust Radius)
Women speak about company retention solutions in the same report.
4. For supporting women in technology, companies can offer many solutions:
72% of women believe mentoring opportunities will be helpful.
A flexible work schedule is another solution for 64% of women.
Conducting unconscious bias training will be helpful for 57% of women in technology.
55% of women in tech believe that bridging the gender gap by offering equal maternity and paternity leaves will be helpful. (Trust Radius)
Even though gender equality is a crucial cause for concern in tech companies, the workforce is looking to integrate solutions for an improved future.
5. A marketplace survey of 20 large tech companies predicts that women's representation in the tech industry will rise to 32.9% in 2022. (Deloitte)
Statistics Related to Women in Leadership Roles
The tech workforce remains male-dominated but does that only affect entry-level circumstances? Below is a stats overview for women in leadership positions.
1. According to a survey of over 1200 tech professionals, the percentage of women in leadership roles is low.
Only 27.5% of women are managers in tech companies.
24% of women are C-suite or executives in the workforce. (Techopedia)
2. Within life science companies, 17% of women are board directors and 70% of boards include at least one woman.
Whereas, in tech companies, 11% of women are directors and 54% of boards have at least one woman. (Crunchbase)
Does this trend only include women growing in their respective tech companies or extend to women being hired directly at new workplaces?
3. The tech industry has hired only 24% of women in leadership positions till now. (World Economic Forum)
How can the leadership skills of women be supported by the tech workforce?
4. 78% of women feel they can be supported by companies in the tech industry by promoting more women into leadership positions. (Trust Radius)
The scope for women being in leadership positions is progressing in US startups with programs being aimed at the same. That being said, women are taking matters into their own hands as well.
5. 46% of US startups have a female founder and 14% of US startups have a woman in an executive position. (Silicon Valley Bank)
Women in STEM
Earning a quality education is the preliminary step towards a career in science, technology, engineering, and mathematics. Are girl children and women alike participating in the STEM sector? Read on to find out more about the education and employment statistics for women in STEM.
1. Advancement of the STEM fields begins at the school level. The Research Science Institute reports that for the first time, 55% of female high school students in the US were accepted into the STEM program which is higher than the number of male students. (Center for Excellence in Education)
So, early education is the key to career growth in STEM.
2. Women in STEM in the US make up a higher share, with 60% receiving their master's degrees as compared to bachelor's, research, and professional doctorates. (PEW Research)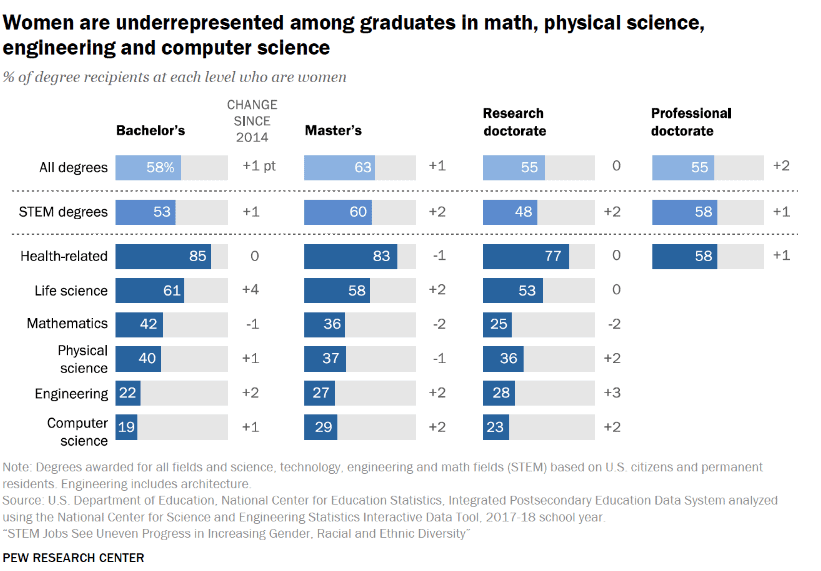 3. An average of 50% of women are employed in STEM jobs with the highest percentage of women in health-related jobs. (PEW Research)
4. Total employed women in computer science in 2020 make up only 25% of the workforce in the US. (Statista)
The numbers show that women's interest in the STEM sector is high. But does the gender inequality in the tech workforce also extend to STEM jobs?
5. Women in STEM in the U.S. on average earn less (USD 66.2k) than their male counterparts (USD 90k). The median earnings of women are 74% of men's median earnings. (PEW Research)
Struggles and Challenges of Women in The Tech Industry
Apart from the gender pay gap, there are several challenges faced by women in technology. Below are the latest statistics for factors influencing women's growth in tech irrespective of color.
1. As per a survey of 114 respondents, 60% and 69% of women of color and white women respectively in tech believe that the biggest barrier to their promotion is an unclear path forward. (Statista)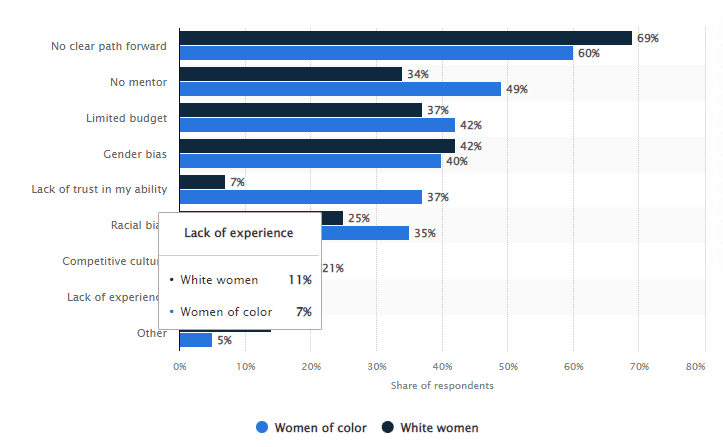 So, lack of promotion has been a consistent factor bothering women in tech.
2. As per a survey of 450 tech professionals, 78% of women believe they have to work harder than their male coworkers to prove their worth. (Trust Radius)
The same report also talks about bro culture being pervasive at the workplace.
3. 72% of women have worked at a company having a pervasive bro culture. This includes women in sales, marketing, and IT/Engineering. (Trust Radius)
Women in tech face a lot of stress and discrimination at their workplaces.
4. 69% of women feel run-down and emotionally drained at the end of their day in the tech industry. (Yerbo)
Navigating through multiple factors at work is stressful for women in tech but how far has the work-in-progress state gone?
5. Only 28% of women in technology feel that gender equality has improved in their workplace. (Trust Radius)
Women in Tech Companies Trends: Remote Work & Covid-19
Since the pandemic, many tech companies decided to offer hybrid working and remote working options for their employees. Read on to find out how the situation affected female employees of tech companies.
1. Women are divided over remote work in tech as per a survey of 450 professionals. 42% of women report that it has a positive impact, while others say the impact has been negative or it has had no impact. (Trust Radius)
2. In the Engineering and IT fields, 53% of women feel remote work has had a positive impact on them. (Trust Radius)
3. When surveyed about the impact of covid on women's work life, 57% of women in technology reported being burned out at work was the highest factor that affected them. (Trust Radius)
4. 42% of women in tech took on more household work and responsibilities during the pandemic as compared to 11% of men who did the same. (Trust Radius)
5. 40% of women in the IT sector have also reported being held back in career changes since the pandemic. (Kaspersky)
Frequently Asked Questions About Women in Tech Statistics
Which country has the highest number of women in tech?
55.6% of women are employed in STEM fields in Georgia, making it the country with the highest number of women in tech. (Statista)
Do women have an advantage in the tech industry?
Women help improve technological innovations. As per a survey of over 90 countries, a 15% net profit margin was found to be associated with a 30% female leadership versus no female leadership. (PIIE)
Who are the top 3 wealthiest women in tech?
Gwynne Shotwell (President and COO of SpaceX), Alyssa Henry (Executive vice president at Square), and Marissa Mayer (Co-founder of Sunshine Contact) are the three richest women in tech. (Nairametric)
Who were the top 2 women in technology in the 19th century?
Ada Lovelace and Grace Hopper were the female pioneers in computer science in the 19th century. (Purdue University)
Are women at a young age interested in signing up for careers in computer science?
14% of young girls are more interested in computer science than boys. (PNAS)
Final Thoughts
Sadly, gender diversity in tech is still low. However, all is not lost as we see changes happening at a slow but steady pace with tech companies increasing the percentage of women in the workplace, female founded startups coming up, and the rise in awareness about STEM field diversity and inclusion of women.
Closing the gender gap will not only breed a multitude of ideas but also make any business prosper when product quality rises.
"By teaching our girls to code, we're not just preparing them to enter the workforce — we're preparing them to lead it." — Reshma Saujani, founder of Girls Who Code organization
What are your thoughts on the latest women in tech statistics?