This review is authored by Matt Moran.
Whether you're looking to simply create landing pages or a full-blown sales funnel software, ClickFunnels is a great choice. But there are numerous ClickFunnels alternatives that also fit the bill. Let's look at three solid ones in this post.
What is ClickFunnels?
ClickFunnels is one of the most popular funnel-building platforms on the market. It's been around for a long time and popularized the idea of the sales funnel. But despite its cult following, ClickFunnels is by no means perfect.
The sales funnel builder has a very steep price tag, and its funnel and page templates are somewhat dated. Plus, it's missing a few important features, like a shopping cart and integrated CRM.
To find a better alternative to ClickFunnels, I tried and tested some of its biggest competitors. Then, I picked out the three best options. Let's have a look at them.
Best ClickFunnels Alternatives at a Glance
ClickFunnels

Leadpages

SamCart

OptimizePress

Ease of use

★ ★ ★ ★

★ ★ ★

★ ★ ★

★ ★ ★

Features

★ ★ ★

★ ★ ★

★ ★ ★ ★ ★

★ ★ ★ ★

Templates

★★

★ ★ ★ ★ ★

★ ★

★ ★ ★ ★

Value for money

★

★ ★ ★ ★

★ ★ ★ ★

★ ★ ★ ★ ★

Starting price

$127/month

$37/month

$39/month

$129/year
(~$10.75/month)
#1 – Leadpages
Best landing page templates
Leadpages is a website and landing page builder made for small businesses. Like ClickFunnels, you can use it to build high-converting landing pages that turn your visitors into paying customers.
There are a few reasons I think Leadpages is far superior to ClickFunnels, but let's start with the main one: Its page templates are much, much better. They are all professionally made and incorporate modern web design practices.
There are templates for pretty much every type of page you can think of: checkout pages, sales pages, lead capture pages, contests, thank you pages… you name it.
Once you've chosen a template, you can customize it in the drag-and-drop editor. This is pretty similar to ClickFunnel's page editor but with the addition of the nifty 'Leadmeter'—a feature I really liked. It tells you how well-optimized the page currently is for conversions and gives you pointers on how to improve it.
Aside from making it easy to build landing pages, Leadpages also has a bunch of other features to help with your conversion marketing efforts, including a lead management database, pop-up builder, alert bar builder, split testing tool, full website builder, and other marketing tools.
And despite all that, its entry-level plan is available for a fraction of the price of ClickFunnels ($37/month compared to $127/month). Plus, you even get unlimited leads on all Leadpages plans, whereas ClickFunnels limits you to 10,000 contacts on their basic plan, so it's excellent value for money.
What's the catch? Well, there are a couple of things that you can't do on Leadpages. The main features it's missing are a dedicated sales funnel builder, as well as funnel templates.
On ClickFunnels, you can choose a funnel template to create all the pages in your funnel instantly, and then customize each step individually.
But on Leadpages, if you want to build a funnel, you have to create each page individually first and then set up page-to-page connections inside the form and link settings. It's not a huge deal, but it does make the process a little more complicated.
Unlike ClickFunnels, Leadpages also doesn't come with email marketing software, so you'll need to rely on integrations to run email marketing campaigns.
Read our full Leadpages review.
Leadpages pros and cons
| Pros | Cons |
| --- | --- |
| High-converting page templates | No funnel builder UI |
| Easy to use | No funnel templates |
| Great value for money | |
| Unlimited leads and traffic | |
#2 – SamCart
Best for Ecommerce businesses
One of the limitations of ClickFunnels is that it lacks an integrated shopping cart. But SamCart is an Ecommerce platform that comes with all the features you need to sell products and manage your online business. Like ClickFunnels, you can use SamCart to build sales funnels, but it takes a very different approach. It also has some additional features that ClickFunnels lacks.
That includes flexible pricing options, VAT and sales tax support, multi-step pixel tracking, advanced reporting, order and customer management tools, automated abandoned cart recovery, etc. You can even use it to build and sell online courses. All of this makes it a better solution for serious ecommerce businesses.
When you first sign up, the setup wizard will guide you through the process of setting up your store and connecting a payment processor. It's simple, quick, and hassle-free.
After that, you'll be brought to your dashboard. From there, you can add products, create sales/product pages, view analytics, and build your entire checkout experience.
Under Upsells > Funnels, you can customize the checkout process by adding upsells, downsells, and order bumps to your products. This is how you create sales funnels.

Obviously, this is a completely different process than how you'd build funnels on ClickFunnels. And truth be told, it isn't quite as easy—so it does take a little longer to set up.
But what's good is that you can use SamCart to build single-page funnels, rather than the lengthy, multi-step funnels you get with ClickFunnels.
SamCart pros and cons
| Pros | Cons |
| --- | --- |
| Ecommerce features such as a shopping cart | Order bumps and upsells are not available in the entry-level plan |
| Streamlined checkout experience | Not as easy to use |
| Single-page funnels | |
#3 – OptimizePress
Best WordPress plugin
OptimizePress is the best ClickFunnels alternative for WordPress users. If you've already built your site on WordPress, you can use OptimizePress to build and deploy sales funnels for a fraction of the cost of ClickFunnels.
In terms of features, you get most of the same stuff with OptimizePress that you get with ClickFunnels: Responsive templates, a drag-and-drop page builder, a visual funnel builder, etc.
But unlike ClickFunnels, all those tools are accessible from inside the WordPress CMS. All you have to do is install the plugin, and you have it all at your fingertips.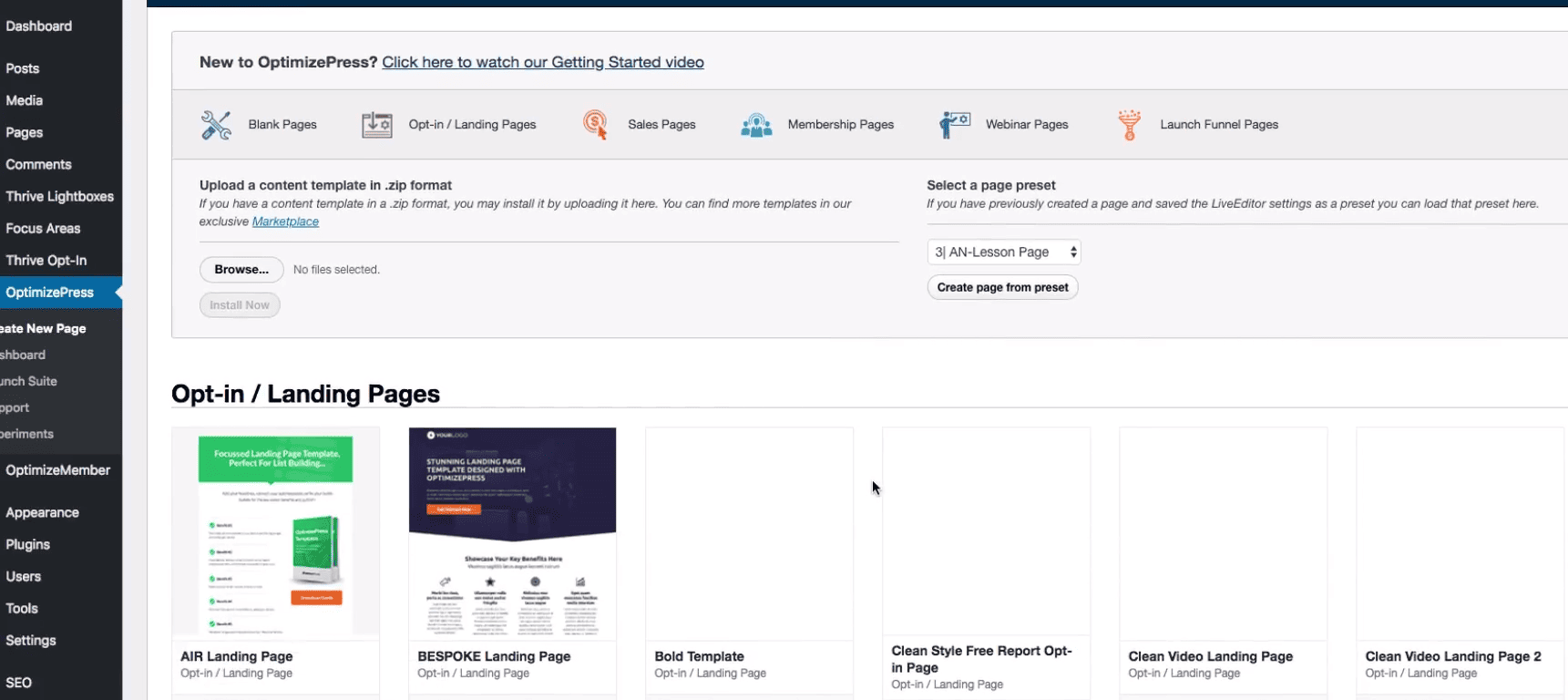 Not only is this more convenient than using a third-party platform, but it also gives you more control and ownership. All the data and content stay on your own WordPress site, rather than someone else's.
OptimizePress is also much better value-for-money than ClickFunnels. For the price you'd pay to use ClickFunnels for just one month, you can use OptimizePress for an entire year.
OptimizePress Pros and Cons
| Pros | Cons |
| --- | --- |
| Full control and ownership | Requires WordPress |
| Very affordable | UI has a higher learning curve |
| Super flexible | No free trial |
| Great template library | |
Final Thoughts
There you have it—three of the best ClickFunnels alternatives for different use cases. I hope you the review helps you land the right software for your landing page needs.