Leads are the lifeline of any business, and Leadpages is one of the best landing page software to convert your traffic into them.
In this article, let's review the software looking at its top features, pricing, and use cases. Let's begin with answering the most common questions around Leadpages.
Frequently Asked Questions About Leadpages
Leadpages is a landing page software to help you collect leads, generate email opt-in forms, and further engage with users via social media, websites, landing pages, and text messaging. It lets you create landing pages without any coding skills.
Clay Collins started Leadpages in 2012 in Minneapolis, USA. However, on 2nd March 2020, Collins sold Leadpages to a Canadian company called Redbrick Technologies Inc.
What is the difference between Leadpages and ClickFunnels?
Clickfunnels is an all-in-one sales funnel software, whereas Leadpages is primarily known for its landing page creation capabilities.
Yes, if you are a small business owner looking to create professional landing pages optimized for conversions, Leadpages is definitely worth it. WordPress plug-in makes it a suitable choice for bloggers and small entrepreneurs
How Does Leadpages Work: A Quick Look At Its Top Features
Let's have a look at its prominent features:
Strengths and Weaknesses
Strengths
Filters templates by highest conversion rates
Powerful analytics
Tons of marketing integrations like GoTowebinar, GetResponse, Mailchimp, etc.
Useful and easy A/B testing
No traffic limitation
WordPress plug-in
Provides downloadable HTML code that you can copy-paste to the back end of your website.
Weaknesses
No enterprise option
Lack of customization
Costs more to upload custom templates
Limited form options
Leadpages has some additional features which add to its credibility.
Leadlinks: These allow you to add your existing subscribers to sign up for an offer or register for a webinar by just clicking on the link in their email.
Leaddigits: These enable your leads to opt for your email list or webinars via phones through automated text messages
I subscribed to a 14-day free trial of Leadpages to test the software on its ability to create landing pages. Let's have a closer look at a hands-on Leadpages review.
Leadpages Pricing
To create a landing page you need to sign up with your card details. Leadpages has a 14-day free trial, but you'll need to fill up your card details and choose a plan, to even access that.
Curious how much Leadpages cost? It has three plans: Standard, Pro, and Advanced.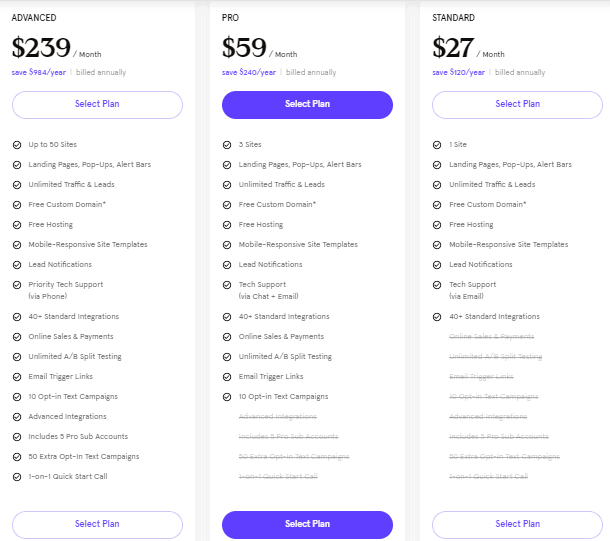 The standard plan is for $27/month, Pro for $59/month, and Advanced for $239/month. For novice marketers, the standard plan fares well. The Pro plan is good for online sales and payments, Opt-in text campaigns, etc. The advance plan is best for a one-on-one Quick Start call and other advanced integrations.
How To Create A Landing Page With Leadpages
The interface is impressive and professional. The first thing it prompted me to do was to choose from several professional templates. Choosing a template is easy, especially by using filters like: Conversion rate, newest templates, popular templates.
Page type: About, Newsletter sign-ups, Sales, Thank you page, etc.
Style: Bold, Colorful, Dark, Light, Minimal, Elegant, etc.
Industry type: Business & Marketing, Creative Services, Education, Travel, etc
Colour: Purple, Blue, Green, Red, etc.
I made the selections and went ahead with giving my page a name that won't be visible to my visitors. Leadpages has an easy-to-use drag-and-drop editor. Every single element can be added without any difficulty.
The first thing I did was add my logo. You have many options to customize it. You can choose to add an on-click pop-up, a Calendely pop-up, a Jump to a page section, a link to a URL, a Landing page, or a no-link option. To avoid distraction, I chose not to add any links.
However, while I could change the size of my logo, I couldn't change its placement. Since it is a template, changing the position of any element (logo, form, etc.) was also not possible. I would have liked more freedom to rearrange the components on my page.
Now, let's talk about the widgets. A lot of the major editing options are hidden and can take a while to figure out.
You can see a few options on the left side of the editor. These include layout, widgets, sections, page style, tracking, and analytics. Next, let's talk about each section and how appropriate it is to build a presentable landing page.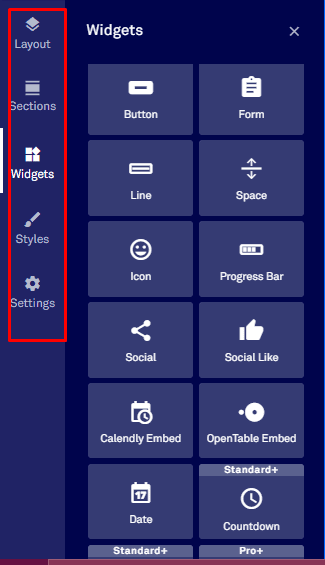 Page Layout:  Here you can decide on the sections you want to add or delete. You can further style the sections by adding or deleting the columns and rows. It is also possible to change the background image, color, padding, height, border, etc.I was impressed to see another addition – you can further style the section by choosing a device-specific display. This means that a particular section on your landing page will look different on a phone, tablet, or Desktop. Unlike Landingi, Wix, and Mailchimp, Leadpages lets you customize for tablets as well. Moreover, you can control the time of display of each section.
Sections:This is where you can choose to add the kind of section you want, like About, Hero, Logo, Testimonial, Pricing, Features, etc. For example, if you want, you can add a testimonial section to your page, but I don't recommend it. These additions can be helpful when you're making a website. But, they will be too much for a landing page.
Widgets: This is where you can find the building blocks of your landing page. You can add text, images, videos, custom CSS, HTML embed, social share button, social like button (like Facebook like icon), icons, line, progress bar, buttons, etc.
These are the usual elements that are available in most of the landing page builders.
Leadpages' integration with Calendly and OpenTable Embed will allow you to directly schedule a meeting and make bookings/reservations. If you are into a business like a restaurant or an online booking company then you can greatly benefit from these integrations.
Forms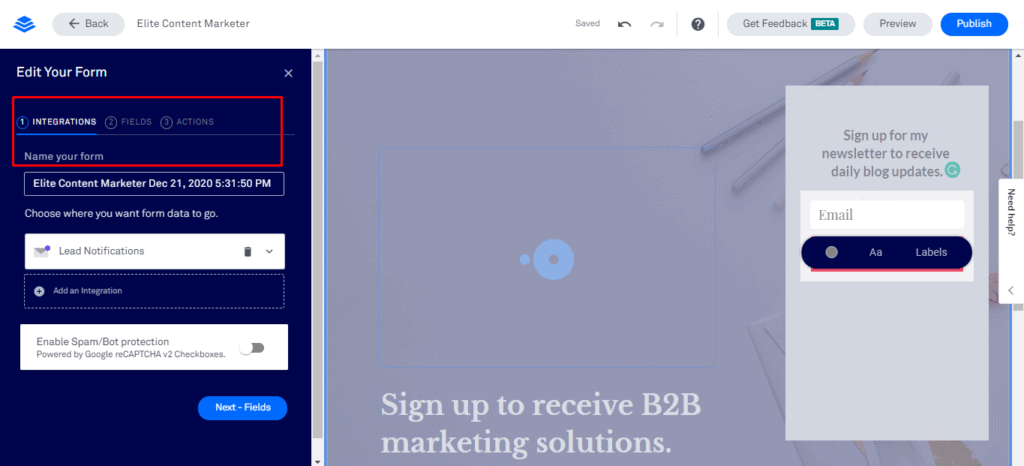 The form widget is remarkably flexible. You can customize every single aspect of your form. You can:
Integrate with email marketing, and webinar services like Mailchimp, GoToWebinar, GetResponse, Hubspot, Salesforce, etc.
Add New form fields
Choose where to take the user after they click on the submit button.
Add lead magnets to further attract visitors and get conversions. Lead magnets are the fastest way to fill up your subscriptions. You can call them ethical bribes.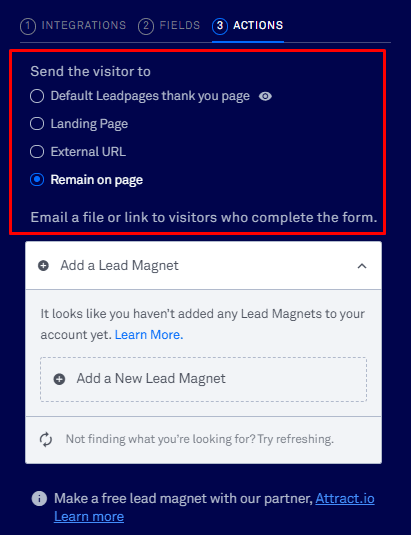 The action field has multiple options. You can make the user stay on the same page, direct them to a thank you page, Landing page, or an external URL. You can further email a file or link to visitors who complete the form.
Unlike in Landingi, my alignment is never out of place in mobile or tablet versions. It automatically resizes the pages depending on the device.
Thank You Page
You can either use the default Leadpages Thank You page or create your own from scratch. Leadpages have a decent amount of templates to choose from. It'll only take a short amount of time to create your thank you page. You can even track your conversions through this and can link this to your landing page editor. Then you're done.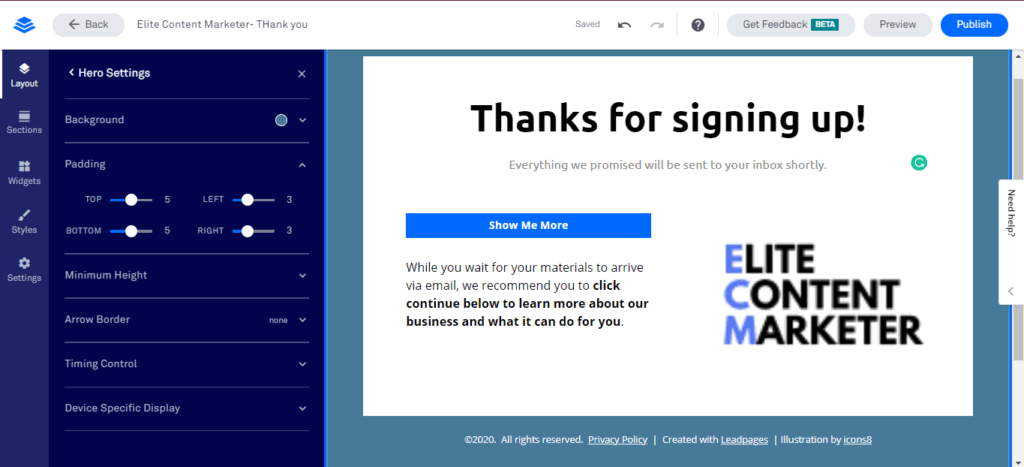 Now let's talk about Tracking, Analytics, and SEO.
SEO and Analytics
The page settings let you set your SEO preview, page title, description, and keywords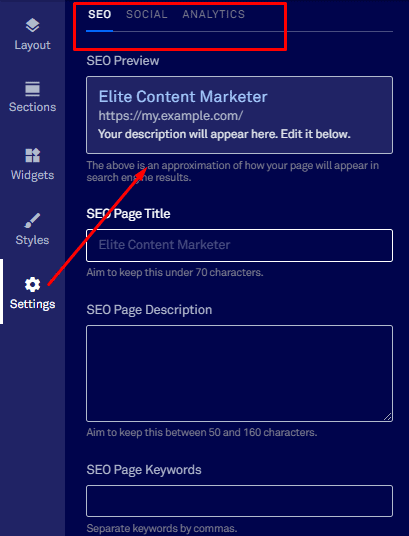 Setting SEO enables Google to rank your page better. But Leadpages allows you to choose if you want Google to index your page. Further, you can add your social URLs, page title, and description.
Leadpages performs analytics through your google tracking ID and lets you see stats for all your Leadboxes and landing pages. You can sort your web pages by conversion rate and unique views.
If you have used Leadboxes, you can see the number of subscribers. You can even see which is the most popular lead magnet. This is helpful as it lets you know what people look for. This will drastically improve your call to action. All in all, Leadpages' analytics are more powerful compared to Wix, Mailchimp, Landingi, Card, and other sites.
Split A/B Testing
A/B testing is a must-have feature in all landing page builders. You can create variations and split test different elements of your landing page like title, image, CTA, etc. You can also test a completely new design.

Much like Landingi, you can also control the amount of traffic that goes into each variant. Lastly, let's look at the publishing options.
Publishing options
Leadpages gives you two options: You can either directly publish your page on Leadpages or you can publish it on WordPress. Leadpages has a direct WordPress plugin so you can host the page on your domain.
You can also download a snippet of your landing page and use it anywhere. This works well for most sites. You need to remember that you cannot change your subdomain after publishing.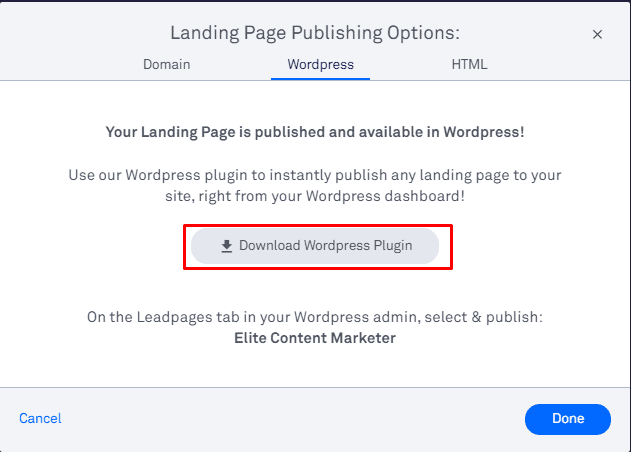 Creating A Leadbox
A Leadbox popup window appears as soon as the user clicks on a link, image, button, or text. You can create a fresh pop-up from the dashboard or you can create one within your website. Let's see how you can create your Leadboxes from scratch.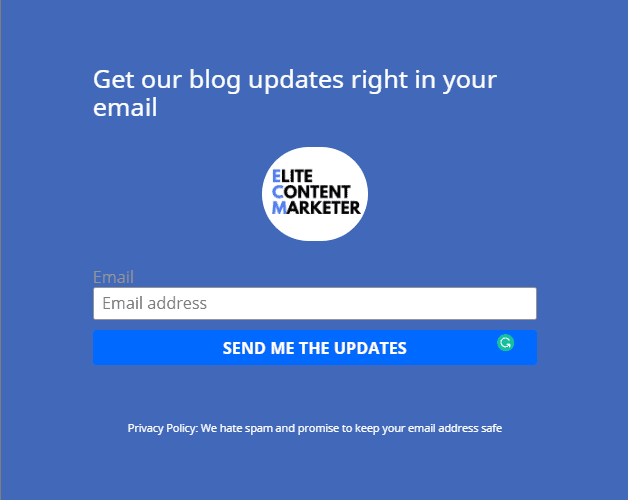 The editor is the same but with limited options. Here again, I have the same issue with placement. Leadpages restricts customization in so many ways. It's quite frustrating to not be able to place an image, icon, buttons, etc wherever I want. This isn't the case in Landingi, Wix, or even Google Sites.
You can track your lead boxes when you add them to your top-performing blogs. Your users will automatically receive the lead magnets when they sign up for this Leadbox when you link them.
Final Thoughts On Leadpages
Leadpages won't let you down in terms of creating basic landing pages with powerful integrations, easy split testing, and analytics. However, if you are looking for a CTR improvement software like Clickfunnels, Instapage, or Unbounce, then Leadpages has little to offer.