In 2019, businesses have largely adopted content marketing for demand generation and brand awareness. In the US, 84.5% of companies with at least 100 employees are now using it.
Are you still skeptical that content marketing will not work for your business because your audience is unique? Else, maybe, your boss needs some convincing to invest in this content thingy.
In today's article, you will see nine stellar content marketing examples. Whether you're still on the fence about content marketing or, you want new ideas for launching your next content campaign, I've got you covered. Let's go!
Love him or hate him, but he's pretty much everywhere.
That's how I would describe Neil as a result of his personal brand content strategy.
Neil Patel has started multiple successful blogs on online marketing, including Quick Sprout, KissMetrics, and his personal site. His in-depth guides rank among the top 3 spots for competitive terms like "online marketing" and "content marketing."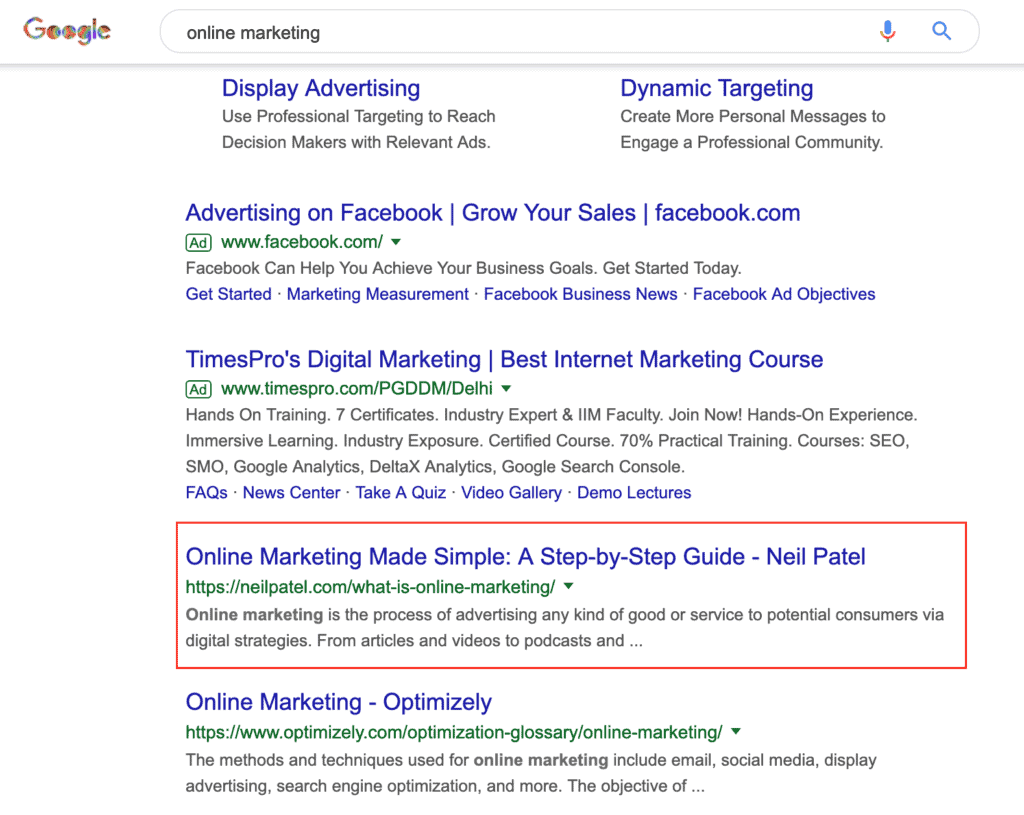 A major reason for his incredible success is his aggressive content marketing strategy. He goes all in and experiments with newer content formats much before they break out and become mainstream.
For instance, in 2013, he published a massive 30,000-word guide at Quick Sprout. He was among the first few marketers to publish such guides, and it led to 117% growth in his traffic. The results motivated him to create 12 such guides, which grew his traffic to over 378K visitors for his blog at that time.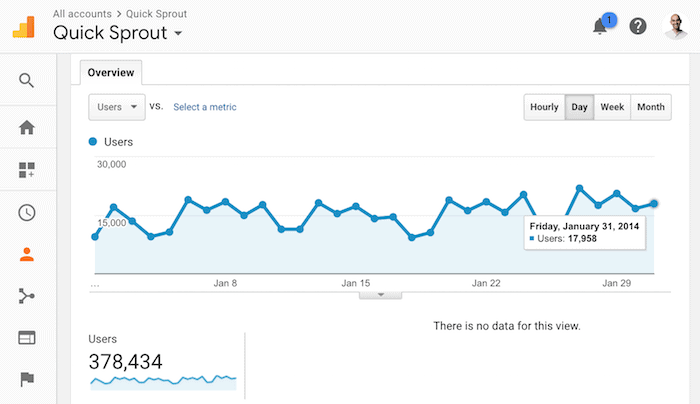 Once Neil saw the opportunity in long-form content, he scaled its creation on his website. In 2015, he started publishing as many as five 4000-word articles a week, before his competitors sniffed out demand for such content. Creating such massive sized content pieces doesn't come cheap, but Neil didn't shy away from spending as much as $30,000 on content and giving it away for free.
Now that long articles are the norm in the B2B marketing industry, Neil has pivoted towards audio and video content. He has produced over 1000 podcast episodes and has built a formidable brand on YouTube as well (with over 350k subscribers).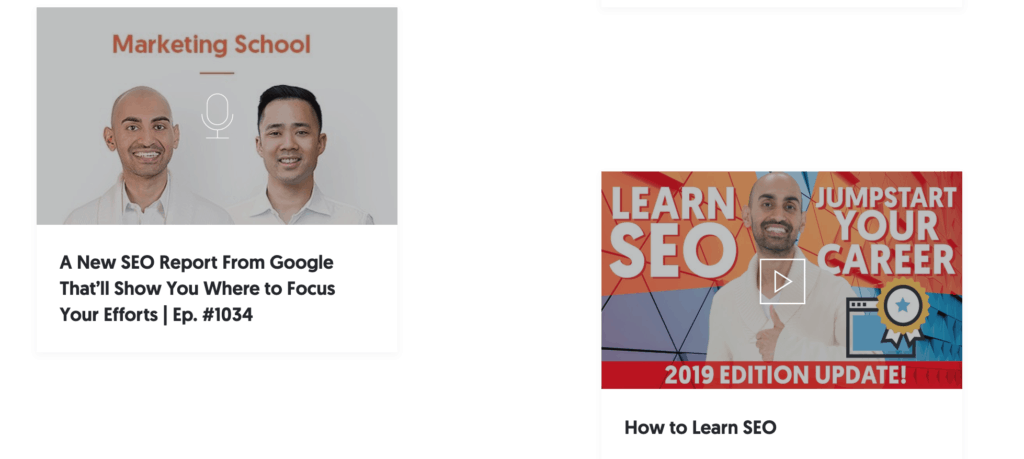 Further, he realized that the explosion in content production means that brands need to invest in other ways of offering value to their customers. Now, Neil is investing heavily in developing technology. He even regards tools as a "form of content."
That's why he bought Ubersuggest for $120,000, then expanded it into a free backlinks tool, an SEO Analyzer, and even a content ideas report.
Overall, Neil's approach involves scaling content marketing strategies aggressively. Then, taking data-backed decisions, which might even mean moving away from blogs and companies he built from scratch.

Takeaway: Aggressively capitalize on first mover advantage of lesser-known content marketing tactics. It might mean spending over a million dollars on various marketing tactics and adapting quickly. Also, having a content strategy in place is extremely helpful for building your personal brand.
Ahrefs operates with a super lean team of about 45 people competing against organizations like SEMRush (over twelve times larger) and Moz (over four times larger). Yet, last year, the company shared that it has an annual recurring revenue (ARR) of $40M with 65% YoY growth.
That's a huge achievement for a bootstrapped SaaS company. Let's look into their counterintuitive content marketing efforts that ushered 1136% increase in their blog traffic in about three years after Tim Suolo joined the company as the CMO.
What is a key factor that has facilitated rapid growth?
Their awesome product.
As Tim explains the Ahrefs philosophy, "Your product is your marketing." They prioritized investing resources in engineering, product design, and UX. It has allowed them to generate word of mouth and shun conventional marketing wisdom.
For instance, Ahrefs does not build an email list, and they don't offer a free trial like their competitors (it's at a fee of $7). Here's a list of hacks and other startup advice that Ahrefs ignores confidently (credits to Si Quan for the same).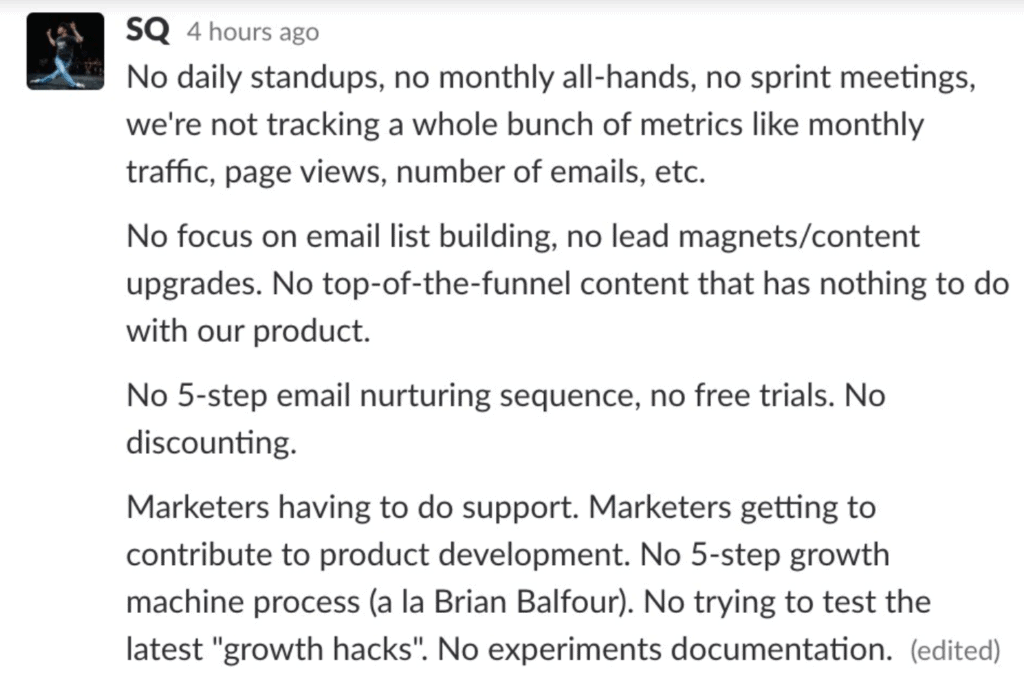 Each Ahrefs blog post weaves the toolkit inside their content. That's atypical of top of the funnel content, but their audience of expert marketing practitioners doesn't complain about it. Instead, they receive congratulatory emails like the one below.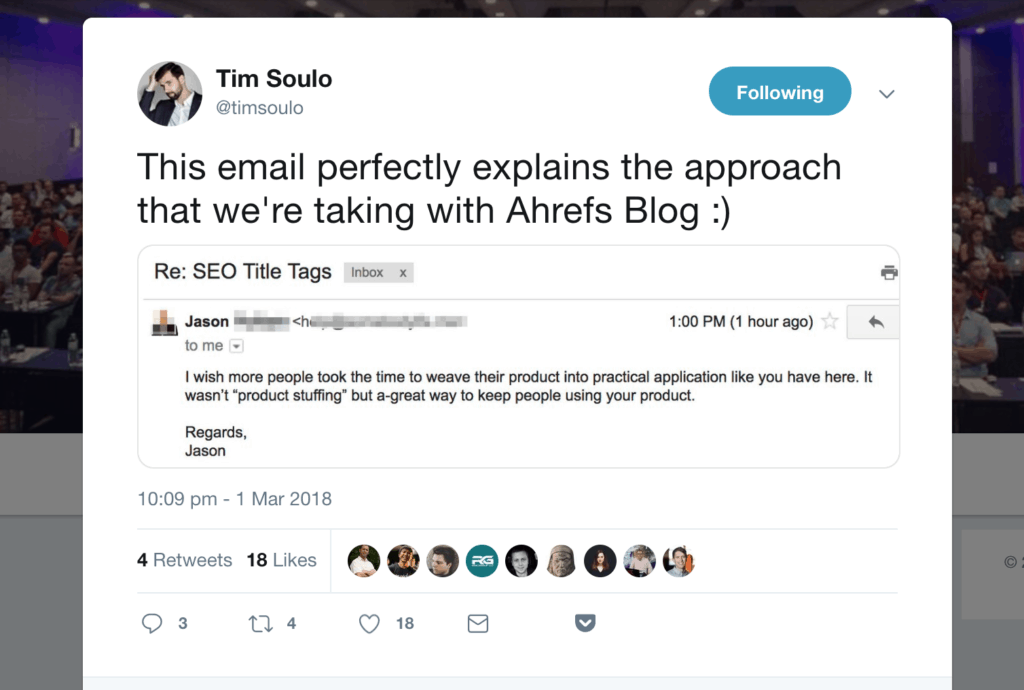 Here is how Tim Suolo explains their strategy, "…our marketing team is the communication bridge between our customers and developers." The principle is evident in the original research pieces on their blog that perform exceptionally well, and in the way, Ahrefs trains their new marketing hires. To understand the product, they work in customer support for at least six months.
Indeed, with the experience of speaking with the users, Tim wrote the homepage copy and the editorial direction for their blog. Remember how I told you that it pays to take an audience-first approach as per Content Marketing Institute 2019 research? That's the reason Ahrefs can "directly convert their readers into customers" instead of simply collecting their emails.
Takeaway: If you prioritize your budget and resources towards building an excellent product, then you can earn a license to play around with traditional marketing wisdom. You might get away with mentioning your product on the top of the funnel content and not building an email list.
An Ecommerce brand generally starts with selling a specific category of product on their website. However, through content marketing, you can kick off a fresh WordPress installation and build your site traffic even before starting an E-commerce business.
The Cup & Tea Leaf Blog is a great example. Content marketer, Nat Eliason, started it as a side-project and grew it to 150,000 visitors/month in eight months. He managed the feat by combining keyword research with publishing the best articles on the internet on all subjects he attacked.

Nat realized that he has an opportunity to monetize the traffic and show an end-to-end persuasive SEO case study for his prospective agency clients. So he converted the blog into an E-commerce store after finding a tea supplier. He details his journey of starting the business in three weeks here.
I reached out to Nat asking him how he chooses the products to sell at Cup & Leaf. He says that the search volume and the traffic on the articles play a part.
"So once an article gets ranked in Google and starts getting a bunch of traffic, we can create or gear products around that search intent. For example, when our article on the best tea for an upset stomach did really well on Google, then we made a custom 'happy tummy tea' blend."
Now that Nat has high-trafficked posts on the blog, he creates topic-specific relevant collections from the store for these posts. For instance, look at the CTAs below (in-line and visual) for the best black tea article.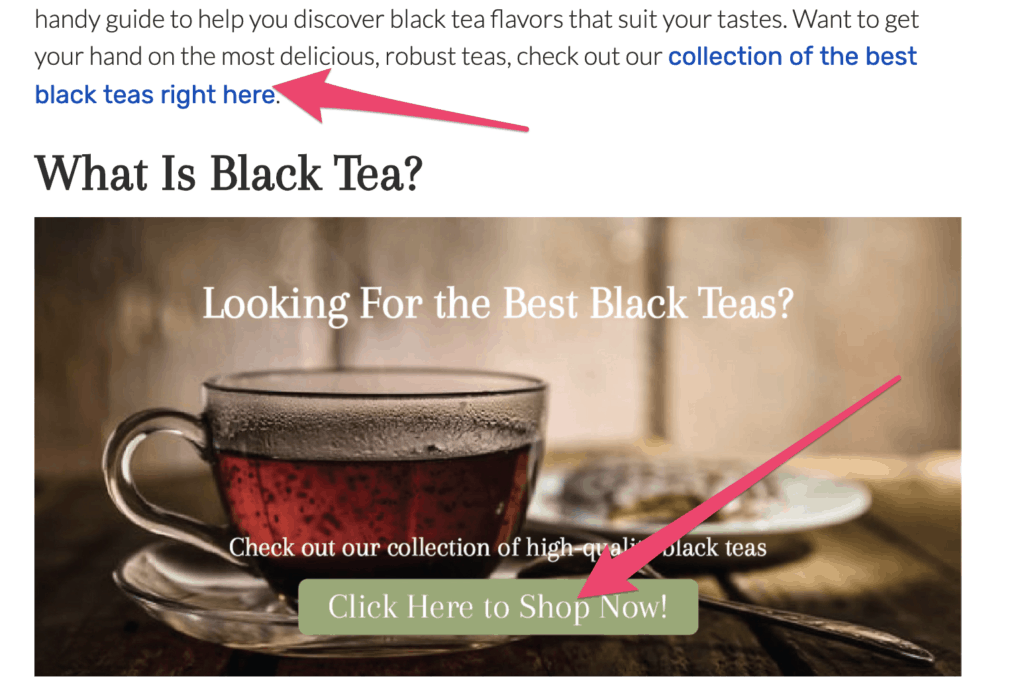 The strategy has helped Nat increase the traffic to his collection page. His sales have also grown from such conversion-focused SEO. Indeed, Nat expanded Cup & Leaf store further into a cafe.

Cup & Leaf is a contemporary Ecommerce content marketing example purely based on educational content. It requires staying patient and consistently publishing high-quality content to eventually reach the "fun and exciting" stages of traffic growth.

Takeaway: You can leverage content marketing to build an audience-first E-commerce business. To get results like Nat from your blogging efforts, though, you will need to produce the absolute best article on every subject you write.
The customer messaging service, Intercom, puts up an industry-leading content show and have considerably impacted the SaaS world. In a 2017 article, the company announced that they are dropping the term content marketing. Then, in 2018, they killed their blog.
What gives?
Well, a major reason for their success is baking content into the company culture and leveraging the expertise of its stakeholders. Des Traynor, an Intercom co-founder, set the tone for it early on. He wrote a staggering 94 out of the first 100 posts on the Intercom blog. Further, the company ruthlessly prioritizes creating high-quality content over marketing.
Most B2B SaaS companies struggle with content creation. In the absence of an in-house team, they try to hire experienced freelance writers for content production. Intercom, on the other hand, gets subject matter experts (including marketing, engineering, sales, and other product folks) to share their experience and write for their blog. Hence, the authority of their content is unparalleled.

Indeed, the Intercom blog even attracts talent. The recruits are often already aware of the high-quality write-ups by the company. Also, the employees view getting published on the blog as an achievement and report it under their quarterly goals.
Yet, Intercom faces a major challenge. Their subject matter experts are not professional writers. Sure they have lived experience and willingness to share their ideas with the Intercom audience. However, having over 200 authors that write on a growing variety of subjects isn't easy. To maintain quality, a smooth editorial process is critical.
That's where the twenty-year journalism experience of John Collins, a business and technology journalist, comes in. Intercom has a dedicated editorial team that pulls off the feat of guiding and coaching non-writers ridiculously well.
A senior editor Geoffrey Keating shared his editing process with Animalz. For all the contributors, he edits their articles by scheduling face-to-face calls. He refers to the process as collaborative editing and believes that it's a better process than leaving detailed comments in a document as it could discourage the contributor.
Inside the Intercom content machine, you'll find experts' writing backed by professional editors with a journalism background. It will take tons of time, money, and resources to attempt replication of their content strategy and inculcate a culture of content creation. Undoubtedly, their content marketing processes have created a moat for the company.
Takeaway: Getting people with a background in journalism in your content marketing team can be a game-changer. Of course, their storytelling skills should be mashed with business sense. However, as Contently shared in their 2019 state of content marketing, people like Margaret Magnarelli are showing us the way.
5. Taxi Mike
Banff is a touristy town in Canada with mountains, lakes, resorts, bars, restaurants, and skiing. As a local cab business owner, can you think of an innovative marketing strategy to stand out?
Taxi Mike puts together a printed dining guide for Banff on a piece of 8.5 x 11 yellow paper and distributes it to local establishments. Here's the front side of the guide.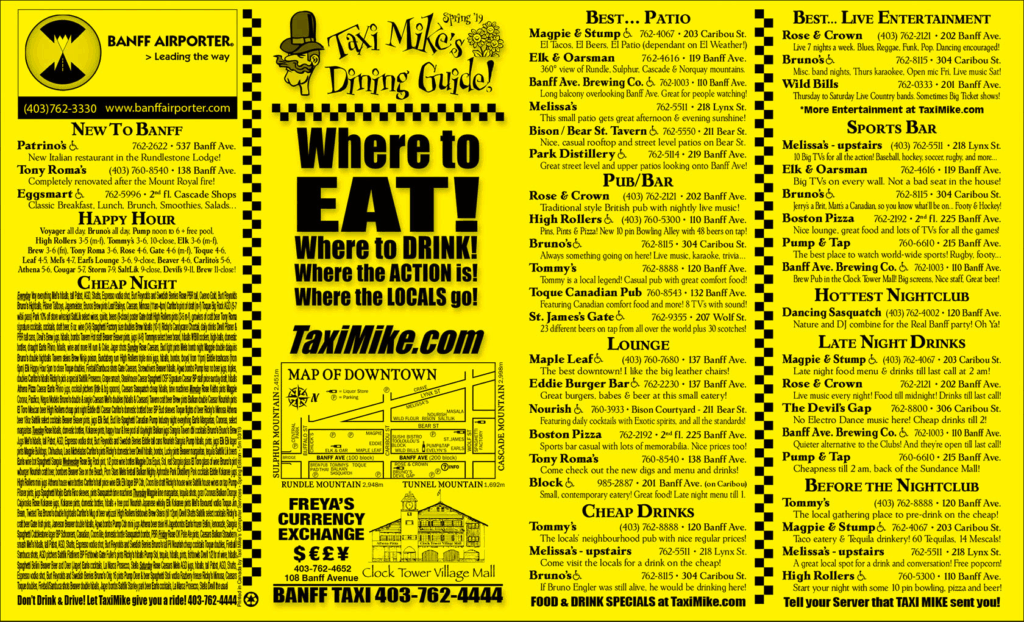 As you can see, there's information on where to eat, drink, and what to do in Banff. It's not the best design you'll see, but it lists almost every place in town. You'll find the guide across Banff at restaurants, bars, and even tourist establishments as Taxi Mike prints and distributes hundreds of them to local entities.
Wonder why these local businesses are happy to share this guide with their customers? It's because Taxi Mike provides accurate, comprehensive, and relevant information that's updated almost every quarter.
Once a tourist derives value from it and decides where they want to hang out in Banff, guess who they are most likely to call.
That's right. The Banff Taxi phone number printed at the bottom of the mini guide!
Taxi Mike has created the guide with his knowledge of the locality and pictures from his camera. This has lent him the status of a local celebrity.
To supplement the guide, Taxi Mike has also put together a website. Again, it's not the most visually pleasing website and provides an average user experience at best. The homepage contains the dining guide that Taxi Mike is renowned for.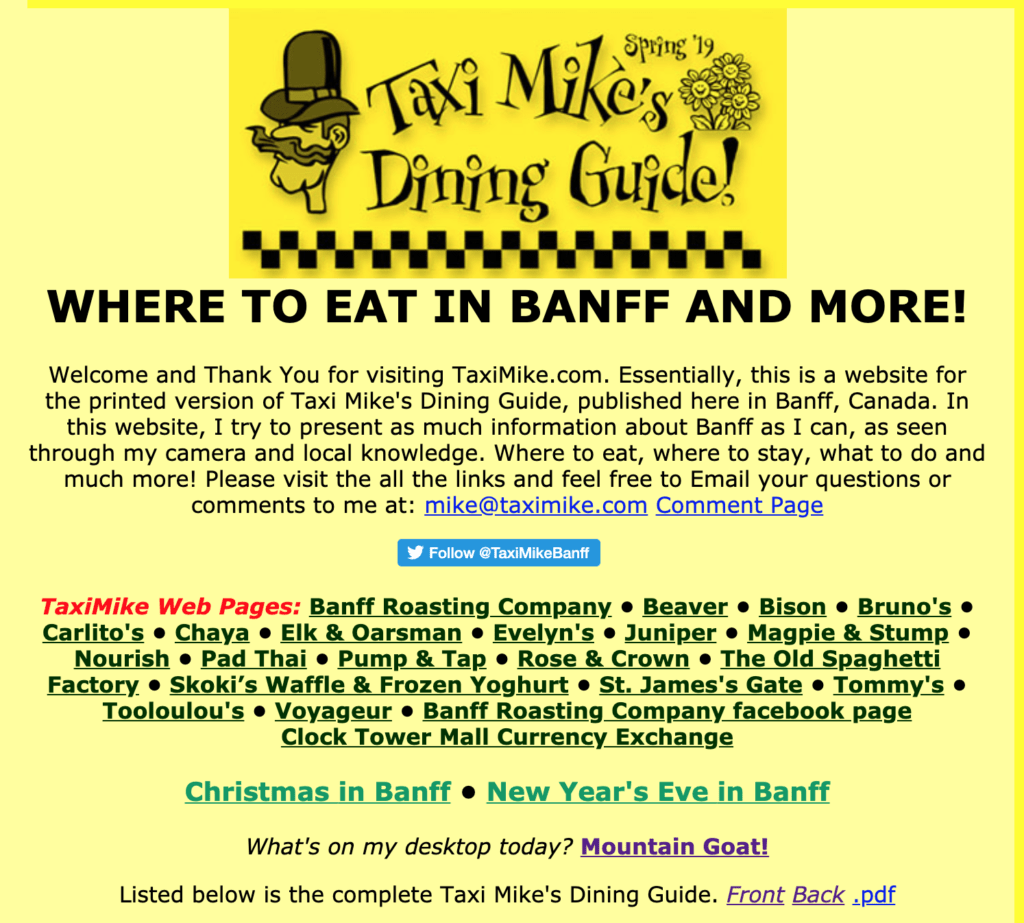 However, even his clumsy presentation of content gets the job done as it gets over 11k monthly page views as per Statcounter. More importantly, the site receives an average of 7.4k first time visitors every month.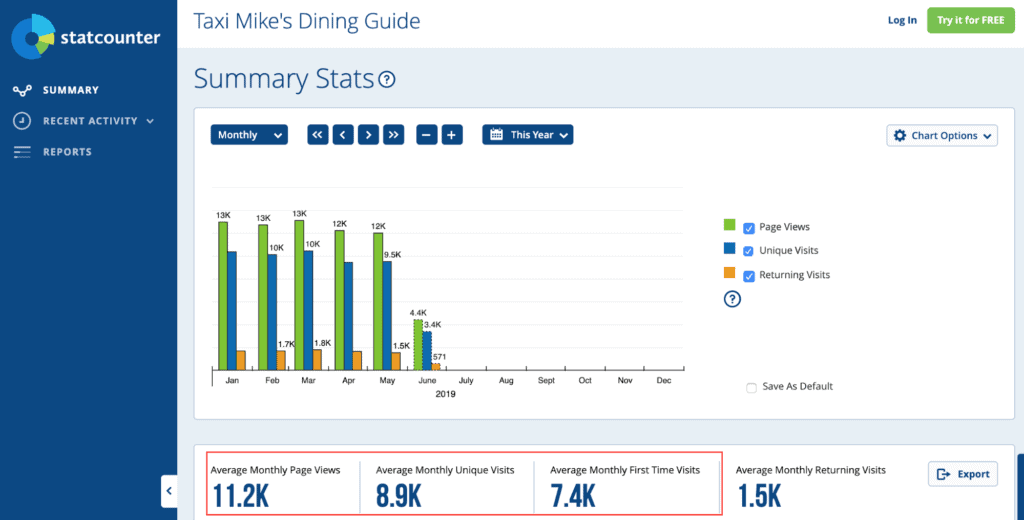 The website goes into great detail about the town with one theme per page. Beside the dining guide, you will find information about accommodation, entertainment, skiing, shopping, and the like. The navigation at the top of the site lists all these pages.

Taxi Mike has even created pages targeting special occasions like New Year and Christmas with relevant details on where the action happens.

Taxi Mike has also put an intriguing page with ghost stories of Banff by tourists (can we call these emails 'user-generated content'?)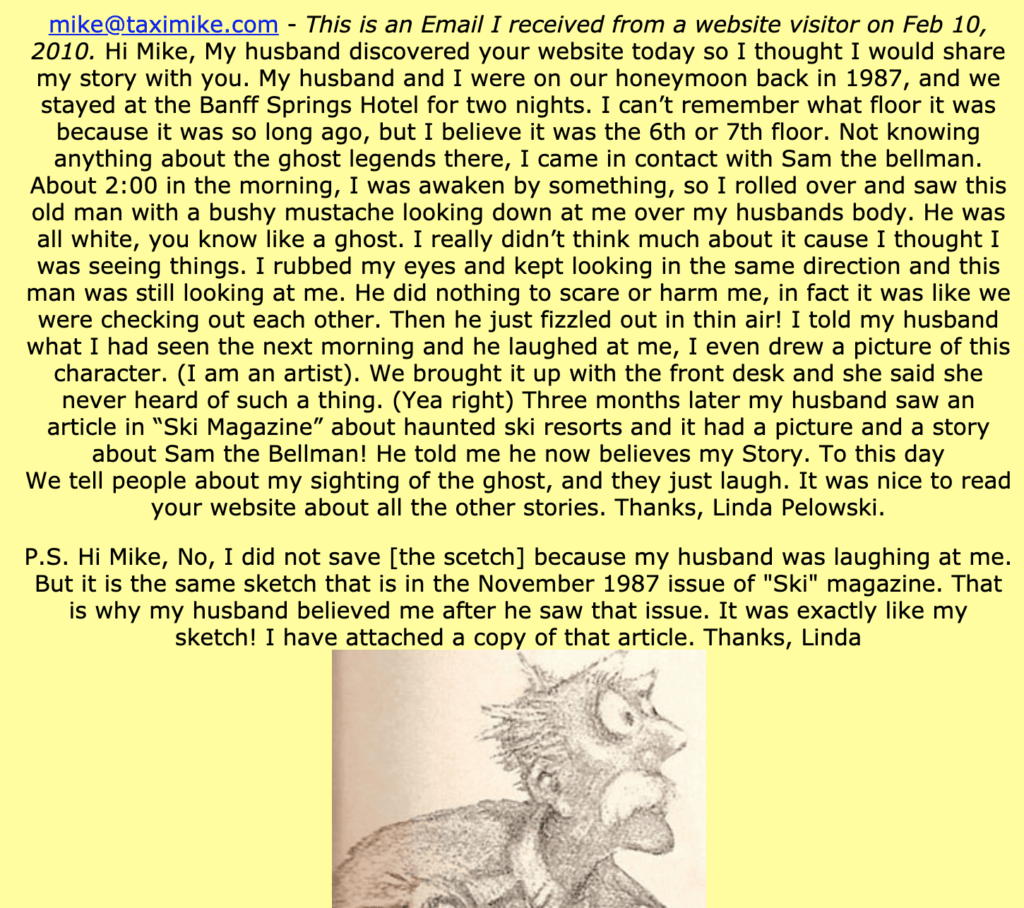 The website rakes in traffic for a LOT of local keywords.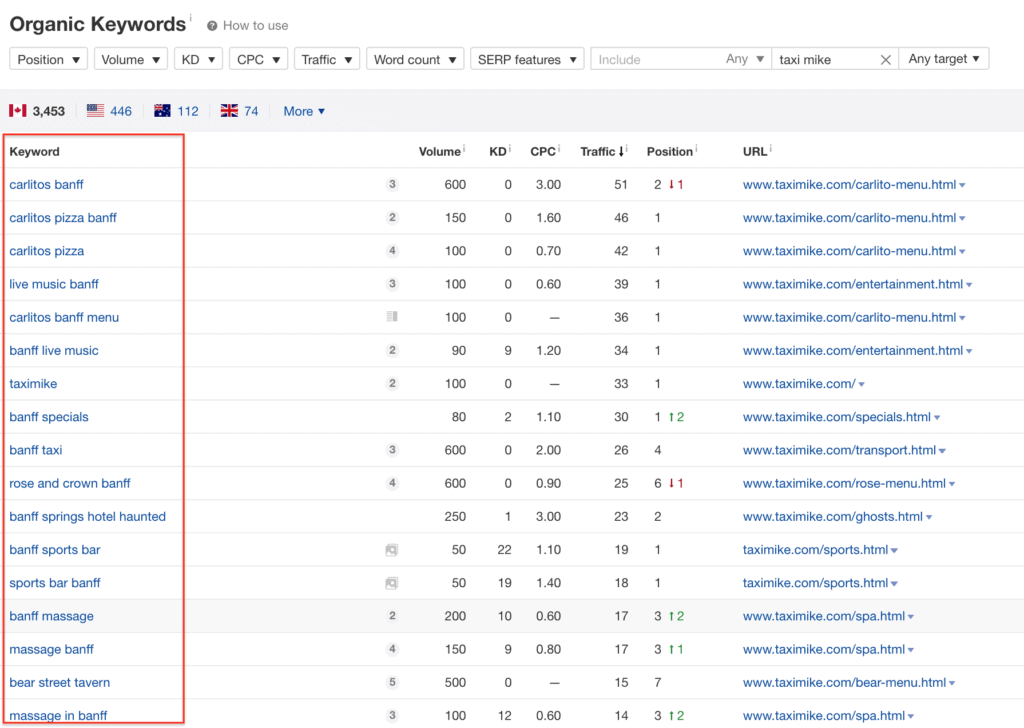 It might seem like that's a low amount of traffic. However, remember that Taxi Mike is conducting business limited to Banff. The traffic from these keywords is hyper-relevant and is likely to convert into customers for him. Even if it doesn't, Taxi Mike has built a moat against his competitors.
Takeaway: Local businesses can also leverage content marketing by being useful to their customers. Also, having a distribution channel in place to reach your prospective customers is as vital as creating valuable assets for them.
When you're talking about content marketing, you can hardly ignore Hubspot. They are the original inbound marketers that blog extensively.
However, I want to talk about the content marketing strategy for one of their lesser-known projects: Sidekick, an email tracking and scheduling application. The reason is the unique way in which they saw the adoption of the product.
The tool has now become a part of Hubspot Sales. Originally, though, Anum Hussain (growth marketer at Hubspot at that time) started a business blog to spread awareness of the product. It began with uncovering insights about the audience, producing blog posts, and growing email subscribers.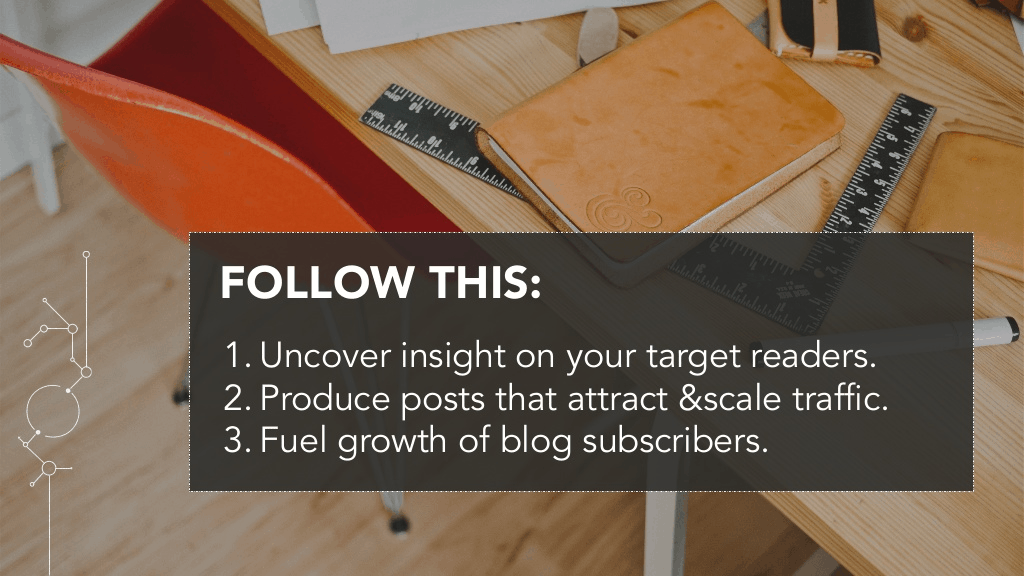 They followed a usual B2B content strategy, but after growing traffic faced a challenge: "converting content into a meaningful revenue channel."
Anum soon realized the mistake was considering Sidekick as a B2B product when it was a "B2C2B product."
Scratching your head around the term?

Well, here's how B2C2B works.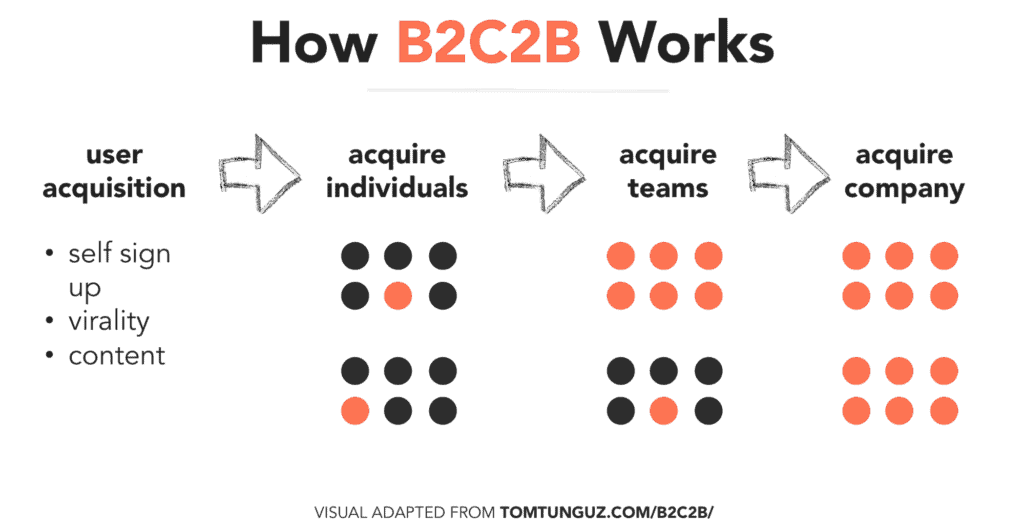 Anum realized that huge companies like LinkedIn and Slack rely on the same model. It calls for the adoption of the product by a professional. Then, letting organic (yet strategic) word-of-mouth take over so that the adoption spreads across teams and then the whole company.
Sidekick followed the freemium model and now had to come up with a B2C2B content strategy. Since there was no existing knowledge of the same, Anum and Co. decided to swear by the following principles to govern their process.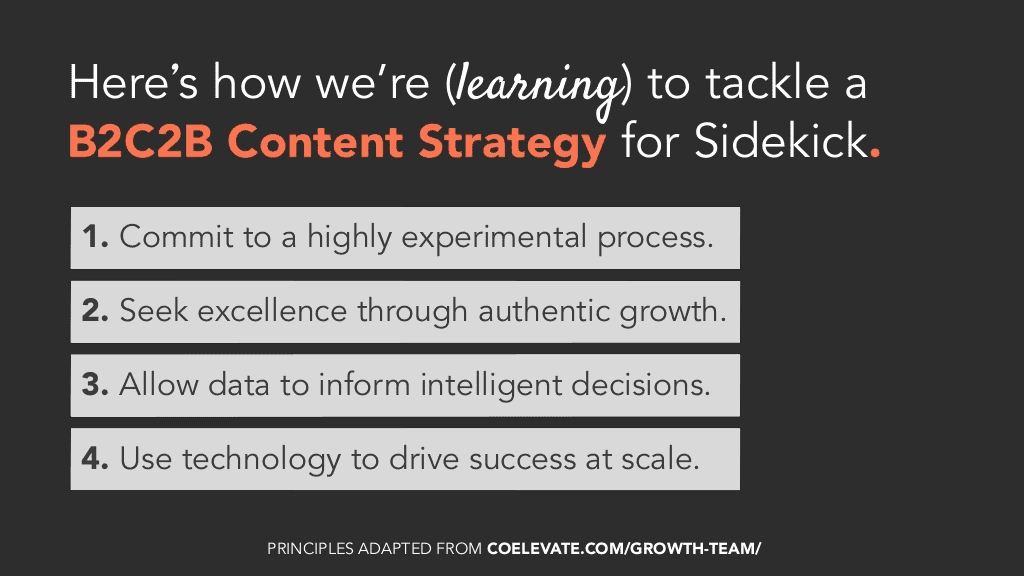 They started testing out the following tactics to find the method that can serve as a scalable channel for user activation.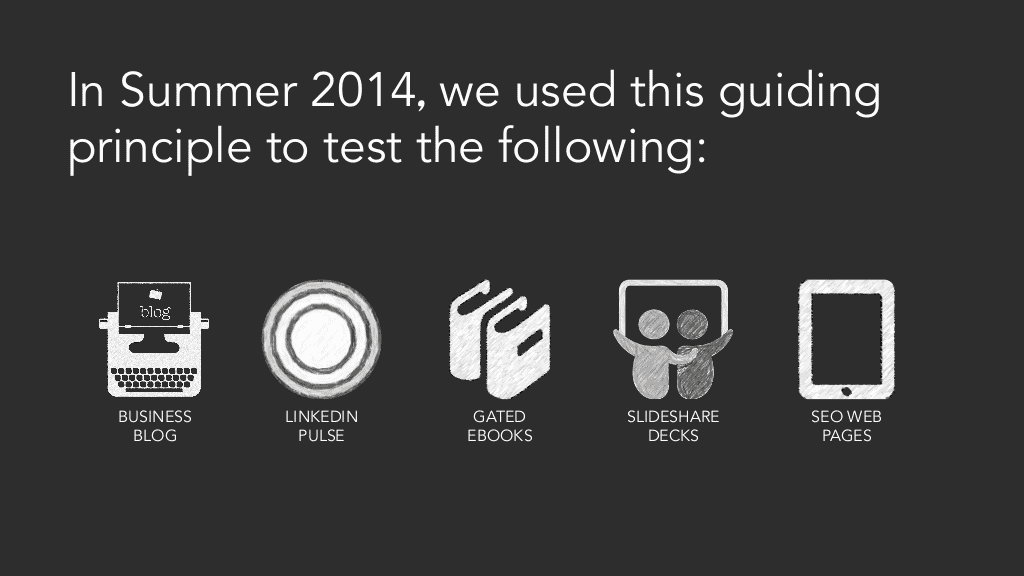 With LinkedIn Pulse, they generated a few subscribers and activated users. However, it didn't show enough viability as a standalone channel.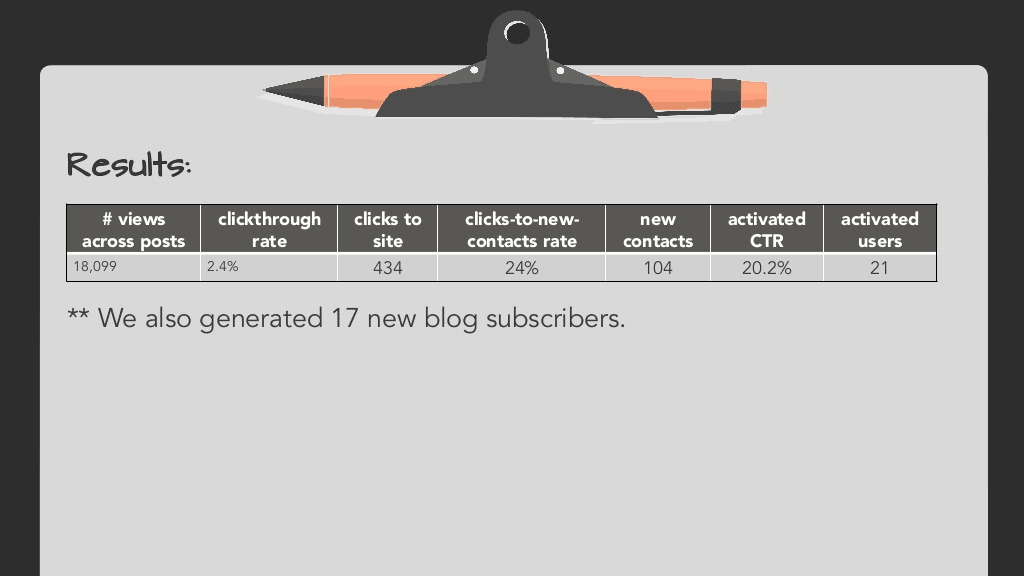 The Sidekick team also found that monthly active email subscribers were a tangible metric for them to monitor their audience growth. So they committed to growing their email list and keeping their subscribers engaged.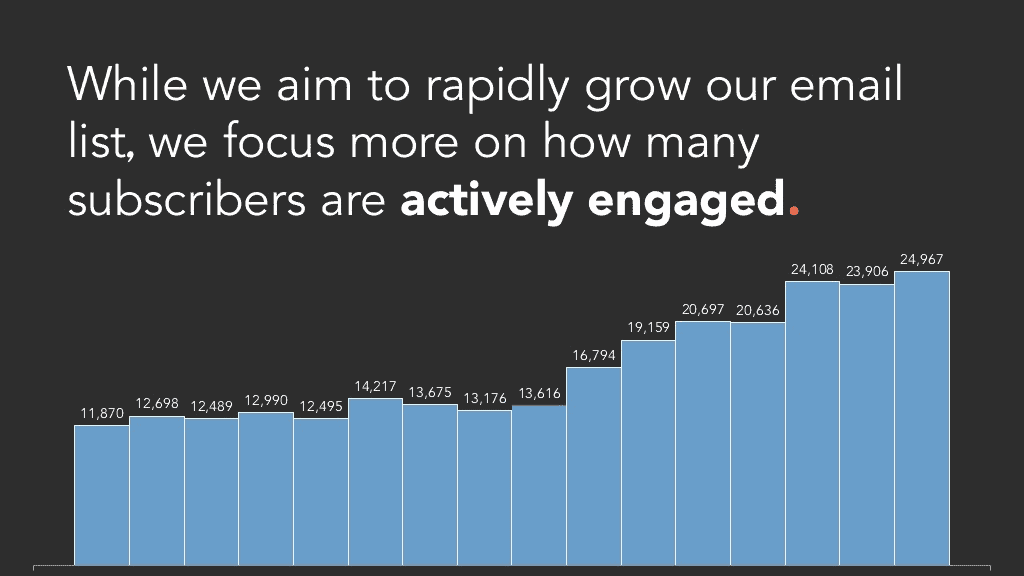 It was also here that Anum and Co. used data to find the importance of the following to grow organic traffic:
historical optimization of content,
creating comprehensive and SEO-optimized site pages (with proper internal linking) on a subject to establish topic authority.
Lastly, instead of simply sending content updates to new email subscribers, Sidekick started putting them through a 4-week drip campaign that contained their top-performing posts.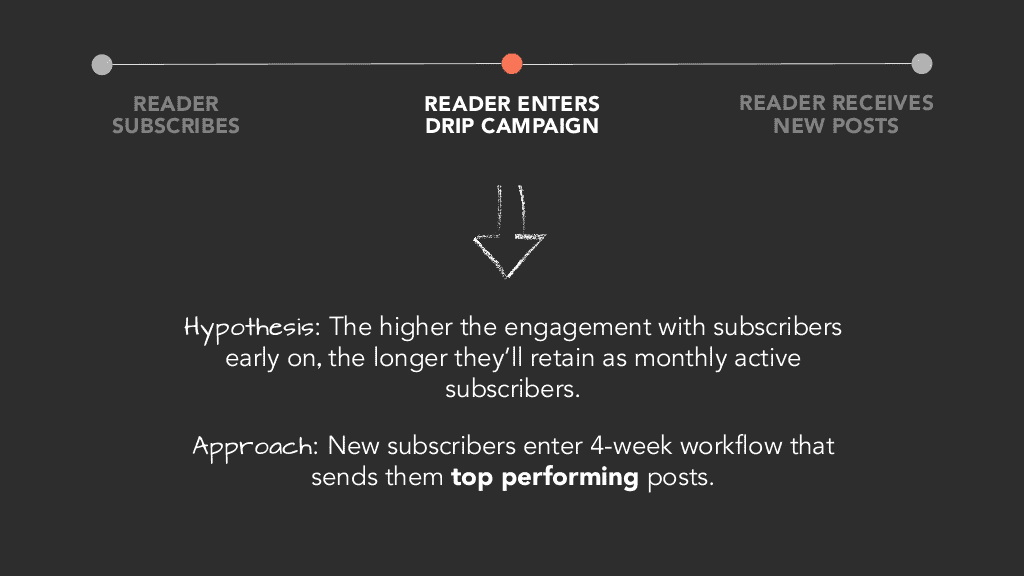 The result was a doubling of the CTR from these emails and hence a growth in monthly active subscribers. And that's how Sidekick put their B2C2B content strategy in motion.
Takeaway: Carefully look into the nature of your business. If it doesn't fit into a widely known type, then the existing content marketing framework won't work. In such cases, you need to experiment and adapt an iterative mindset.
7. The Furrow
When do you think businesses started leveraging content marketing?
Google Trends suggests that interest in the term started rising sharply since 2010.

Sure, in the modern format of blogs and social media, businesses have only recently invested heavily in content marketing. They tie it to traffic and conversions. However, corporations have been telling stories (content marketing 101) and helping customers build goodwill for centuries.
A great example of content marketing, "The Furrow" by John Deere, goes back to 1895 as per their company timeline. It was started as "A Journal for the American Farmer" to be a useful resource for its customers. The publication didn't strictly sell John Deere equipment. Rather, it educated their audience of farmers on being successful business owners. At its peak, in 1912, the readership of the publication grew to 4 million readers.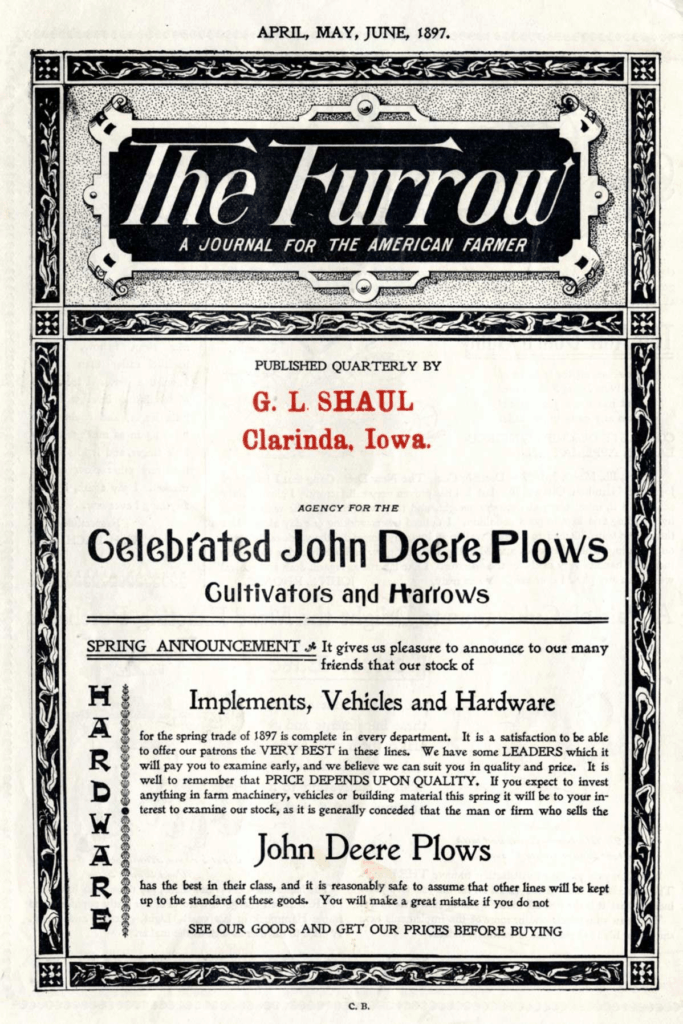 Initially "The Furrow" contained agricultural tips, reprinted articles, John Deere products, and photos on a 10 by 13-inch newspaper. However, it soon became visual with a strong focus on pictures as the information they shared wasn't unique and easily available at other places.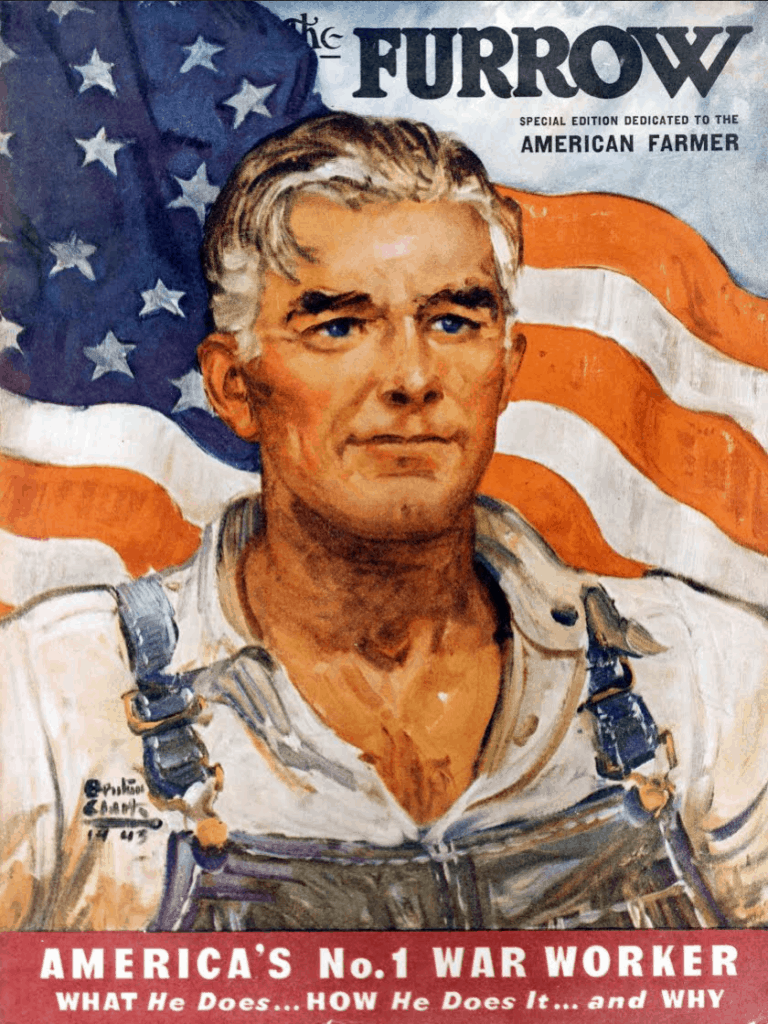 You can access a few editions of "The Furrow" from the archives section on their site. How does the publication survive with a legacy of over 124 years?
As per the art director, Tom Sizemore, who has worked on the magazine for the past 37 years, it's because the content focuses on farmers instead of the company products.
Now, they have a dedicated publication website with an exclusive web section. It is not your typical blog-style with SEO optimized content. Instead, it focuses on carrying the elegant design of a magazine with stories alongside high-quality pictures.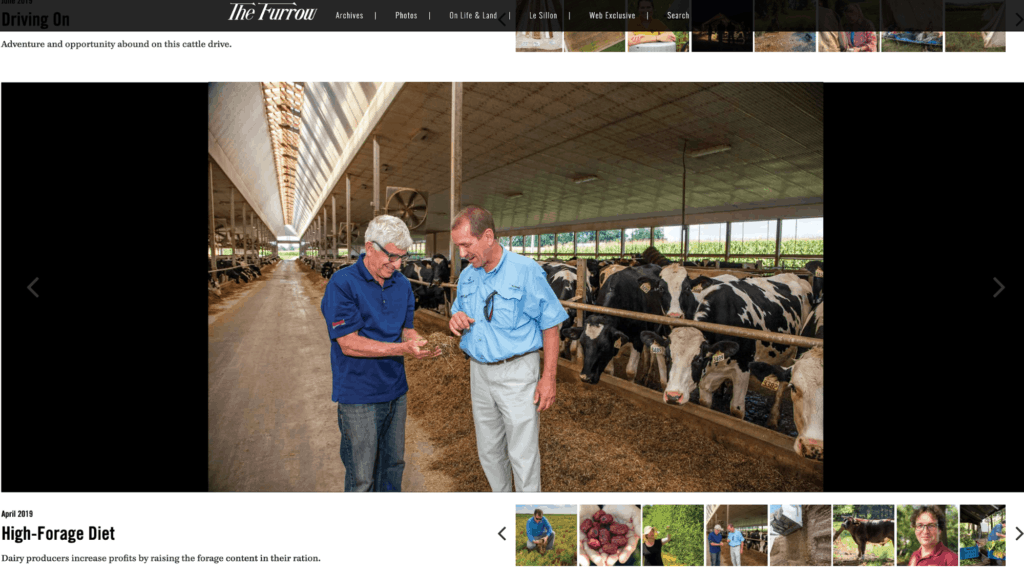 They also have an active social media presence, including a YouTube channel with educational and storytelling content. In April, the brand also started telling rural life, agriculture, and related stories every fortnight through their podcast "Life and Land."
Even after a massive following on all of the social media and sharing educational content online, consumer demand for their print edition surpasses digital. Their surveys reveal that about 80% of their readers still prefer paper over electronic.
The Furrow shows how to execute a content marketing strategy in a supposedly boring niche, like manufacturing.
Takeaway: Content marketing is fundamentally about telling stories and being useful to your customers. Social media and SEO are channels to reach your customers. However, you have to strike an emotional chord with your audience, which can even take place through high-resolution pictures.
If you sell a fun product directly to consumers (DTC), then would your audience appreciate reading comprehensive instructional articles? What if your product is centered around the humorous creature, a dog? Your audience will likely prefer consuming entertaining and light-hearted content.
Barkbox, a side project for co-founder Matt Meeker, adopted this unique strategy. They saw the dog toys and treats from their subscription service shared by a LOT of people in unboxing videos. So the brand started putting unboxing at the heart of the Barkbox experience. They started monthly themes to plan the items inside their boxes to provide a variety to the content creators.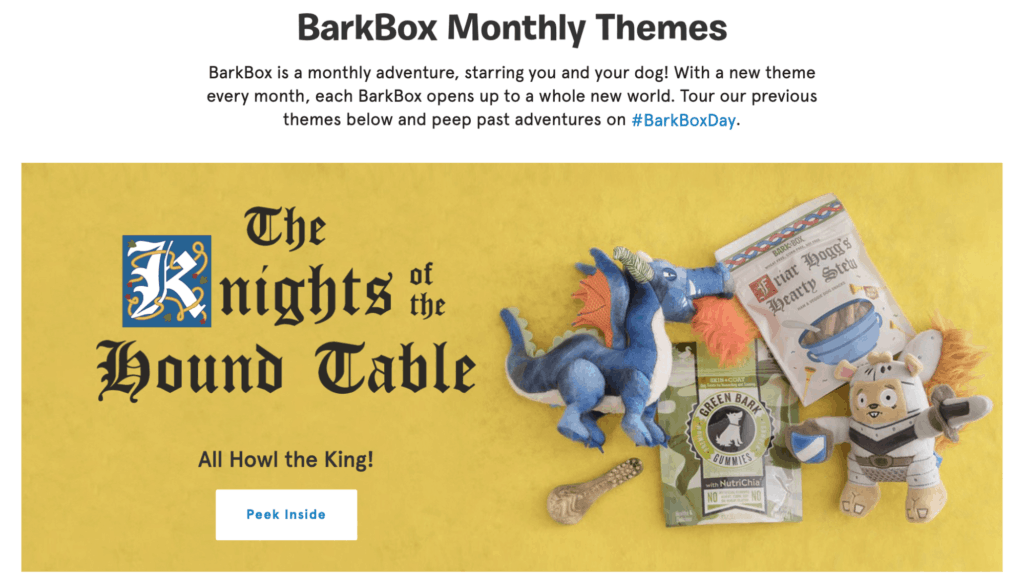 Further, they encouraged their box recipients to post unboxing videos on social media by giving special discounts and starting a referral program. The movement of unboxing videos sailed Barkbox past its initial 600,000 customers, and it put them on an upward growth trajectory that continues till date.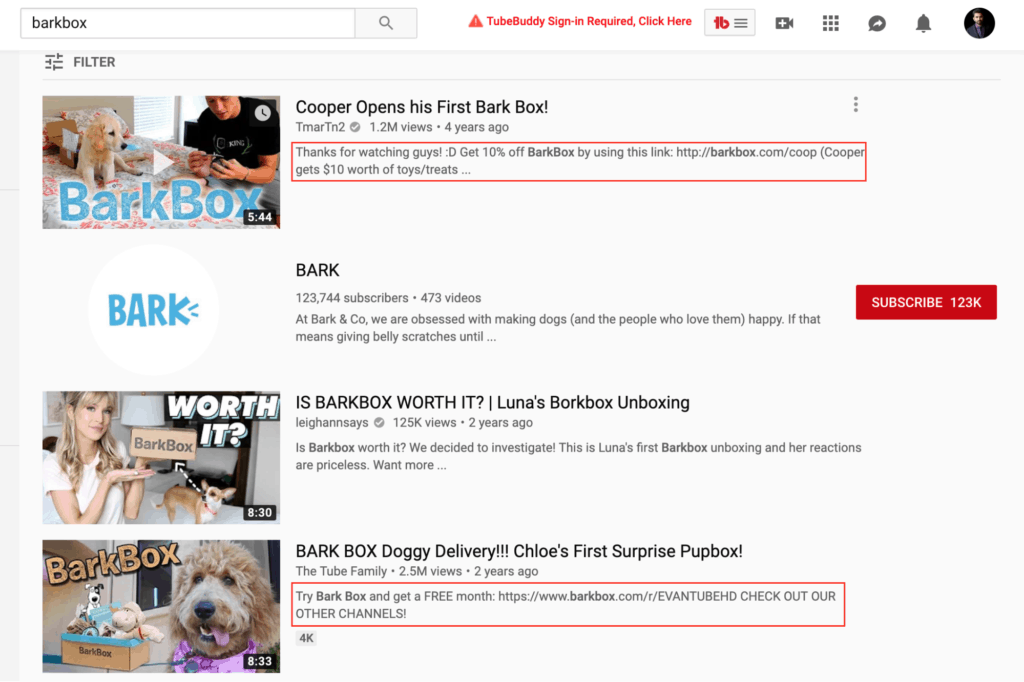 Besides YouTube, the company has tasted success on other social media platforms, including Instagram (with 1.5M followers) and Facebook (with close to 3M fans). They have even built their dog-themed content agency, Barkpost. It has grown reasonably successfully with over 500k monthly visitors (as per SimilarWeb).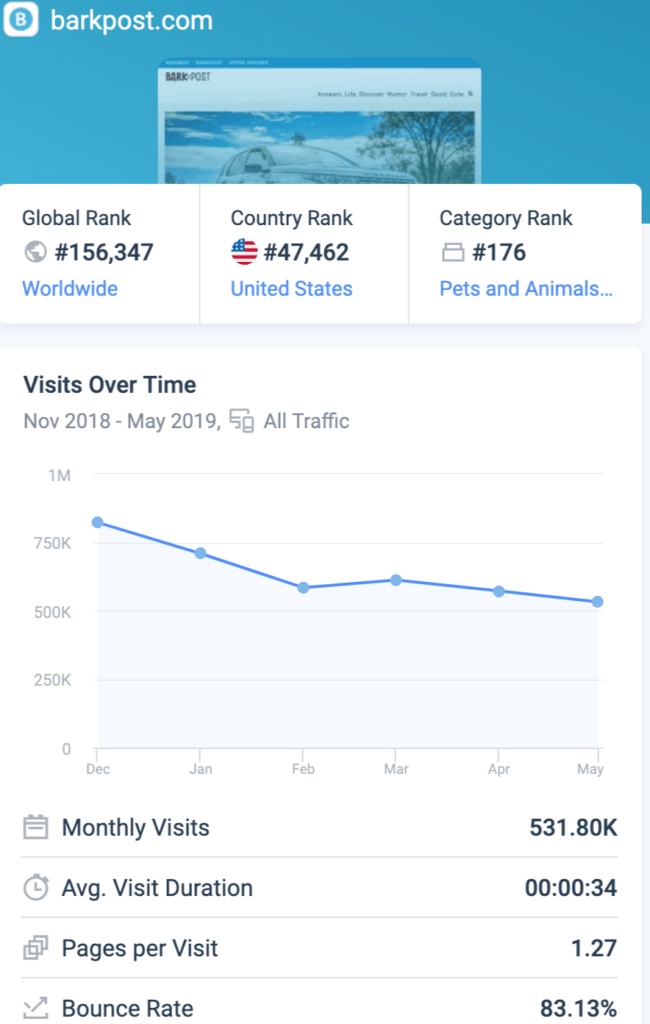 BarkPost focuses on entertaining their audience of dog lovers. It is aptly titled "Funny Dog News for Pup Parents" with categories like "cute" and "humor." The majority of their top-performing content in search (as per Ahrefs) is either visual-heavy, BuzzFeed style listicles. Else, it is fun articles like "how to understand dog meme."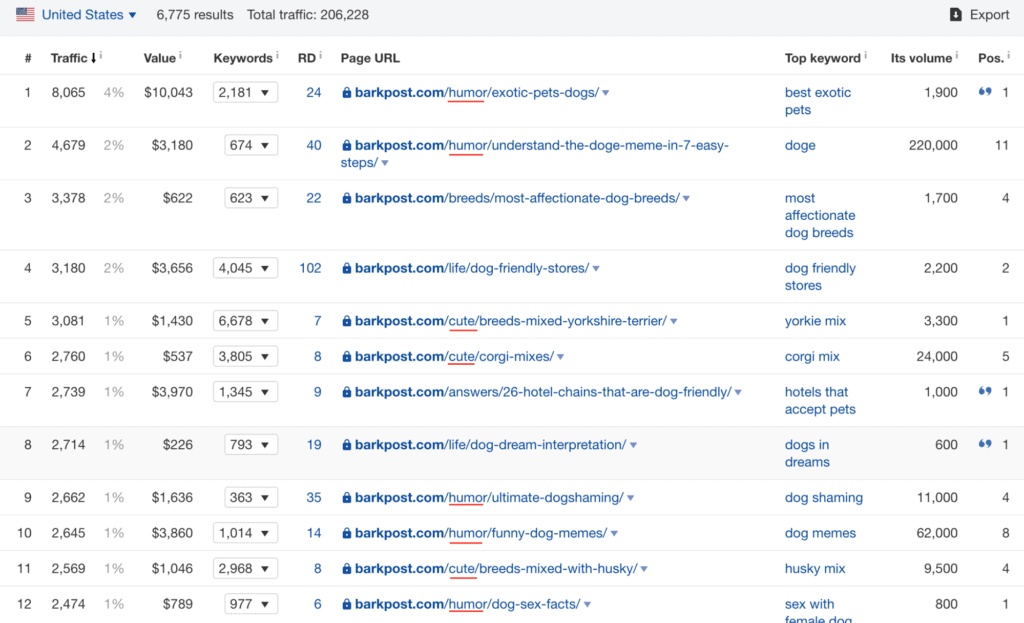 However, SEO was never really as crucial for the brand. Entertaining and humorous content took center stage that led to their audience growth on social media. Since the beginning, the brand was deeply invested in creating engaging content around celebrating dogs and entertaining their audience of "crazy dog people" as they call it.
Instead of focusing on lowering their marketing spend, Barkbox has built an in-house digital ad agency. It consists of comedy writers and actors that create funny dog content (like memes) and thereby, lets Barkbox stand out over traditional pet retail companies on social media.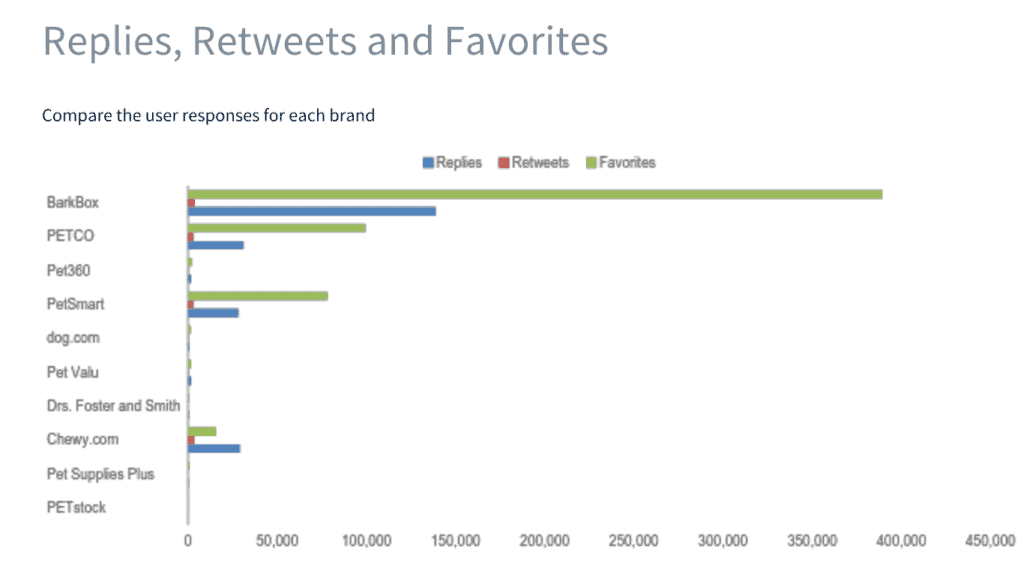 Barkbox has emphasized on hiring dog-obsessed comedians instead of traditional writers and marketers. It has helped the company create engaging content and go viral with videos like the Dog Mom Rap. Indeed, the Barkbox team structure is a major reason for their content initiatives to thrive.
The content team reports to Henrik directly as he takes care of the creative aspects and their organic channels rarely push out sales content. On the other hand, the marketing team focuses on paid channels. In a candid interview, Stacie, head of content at Barkbox, used the following analogy: "The content team is the DJ, the marketing team is the party promoters."
Further, the company wanted to be the place where dog owners and enthusiasts hang out even if they aren't buying. And that's the motive behind their content property BarkPost and their social media properties.
It's interesting to take note of the brand's adaptability. Since its launch in 2012, Barkbox spent about 75% of their marketing budget on Facebook advertising. However, with the changes in the Facebook algorithm and increased competition in ad inventory, the brand reportedly cut the Facebook ad spend to 25%. The rest of the budget now goes towards traditional channels like TV, direct mail, events, and retail.
Takeaway: You can call Barkbox an entertainment company that thrives on dog humor. They just happen to sell dog products. So building a creative content team can help to make a strong emotional connection with your customers. Also, incentivize your audience to create and share visual content related to your brand.
Last, let us look at Cards Against Humanity (CAH) that has its roots in crowdfunding. With the tagline "a party game for horrible people", the game quickly gained a cult following.
Curious as to how it started?
A bunch of eight friends got together during their spring break, every year, to organize "New Year's Eve for Misfits." While planning for their biggest party, they had to put together a structured game to be able to entertain a large group of people together.
They conceptualized answering objectionable questions hilariously, under the name, "Cardenfreude", and it was a hit. Their friends at college started requesting a hands-on copy of the game. It was then that Max Temkin and Ben Hantoot (two of the eight friends) learned InDesign, created a website, and made a free PDF copy of the game available for download.
Near the download button on the site, the two friends had also put an email field to let anyone express an interest in a professionally printed version of the game. In the course of 1.5 years, it resulted in the collection of over 1600 emails.
Soon, the crowdfunding platform, Kickstarter, caught the eye of Max through the success of the Designing Obama campaign. Max tested launching another game he had designed, called Humans vs. Zombies, as a small-scale Kickstarter project. He tasted success by surpassing his goal of raising $2,000 by $275.
So he shared the idea of Kickstarter with his friends, and hence they decided to take the Kickstarter route. They pushed their Kickstarter project live on December 1, 2010. Five days into the launch, they decided to tap into their email list of 1,632 people. So they sent the following email to their "horrible friends."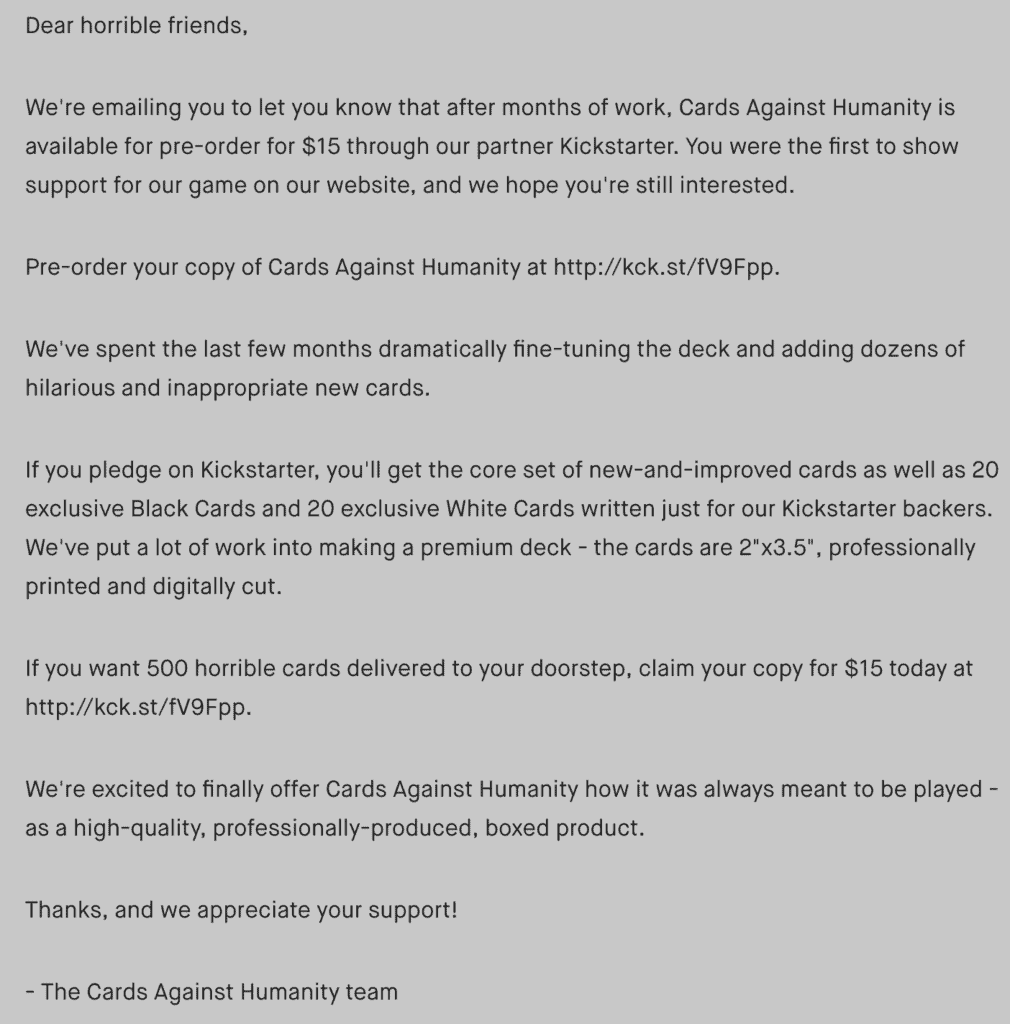 The fundraiser was successful within two weeks of launch. In fact, Max and Co. surveyed their backers, found a demand for adding more cards to the deck, and ended up achieving two "stretch goals."

A key aspect that helped throughout the campaign was the availability of the game for free as a PDF. Even if a person didn't back the project, they could play the game with their friends and help it via word of mouth. It also meant that Max and Co. could request bloggers in the gaming niche to review Cards Against Humanity and lend it credibility.
In a couple of years, the game scaled to a multi-million dollars and as of 2013, had generated $12 M in revenue. Even as the company has grown and matured, their tone and personality has remained constant. You'll neither find educational blog posts nor regular social media "engagement-driven" updates from the brand.
The gaming company swears, insults their audience, and pulls off a sarcastic tone effortlessly. For instance, they have titled the frequently asked questions on their homepage as "Your dumb questions."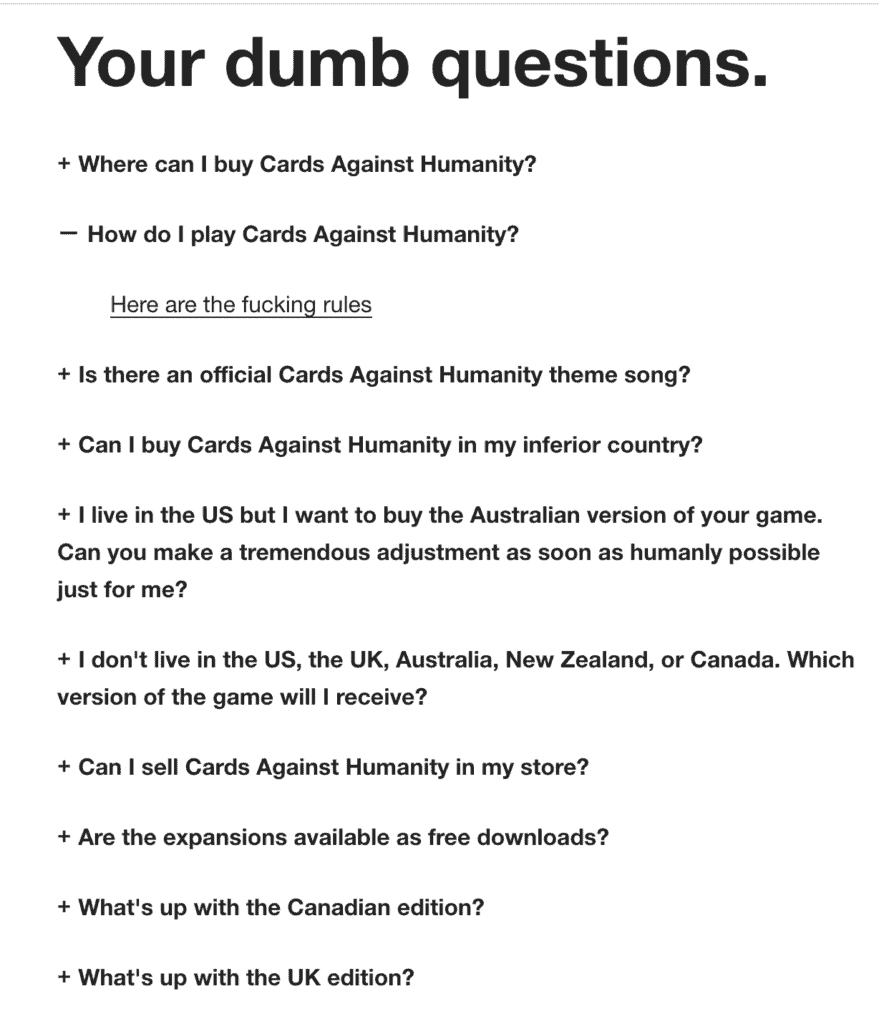 During the special events, like Black Friday, the company can receive tens of thousands of customer service emails. Yet, they managed to answer emails in a "funny and delightful manner", maintaining the CAH voice.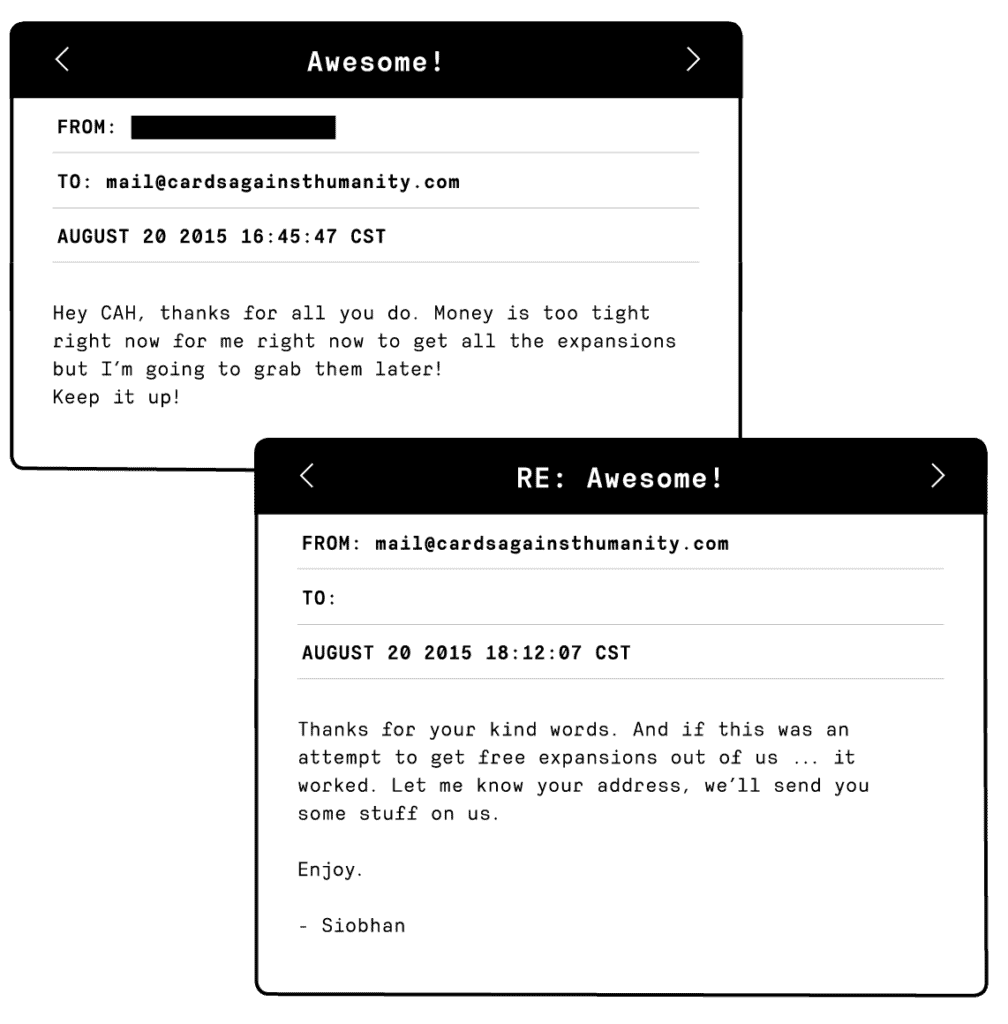 By creating training resources for their new hires that see previous examples of support emails and learn how to write "in voice."
At the heart of CAH is an addictive product that its audience has fallen in love with, and built a strong association of it with fun and comedy.
Hence, they can pull off super bizarre Black Friday campaigns (jokes?) like selling $6 a box of bullshit to 30,000 people, raising $71,145 selling "nothing", and even raising $100,000 to dig a pointless hole.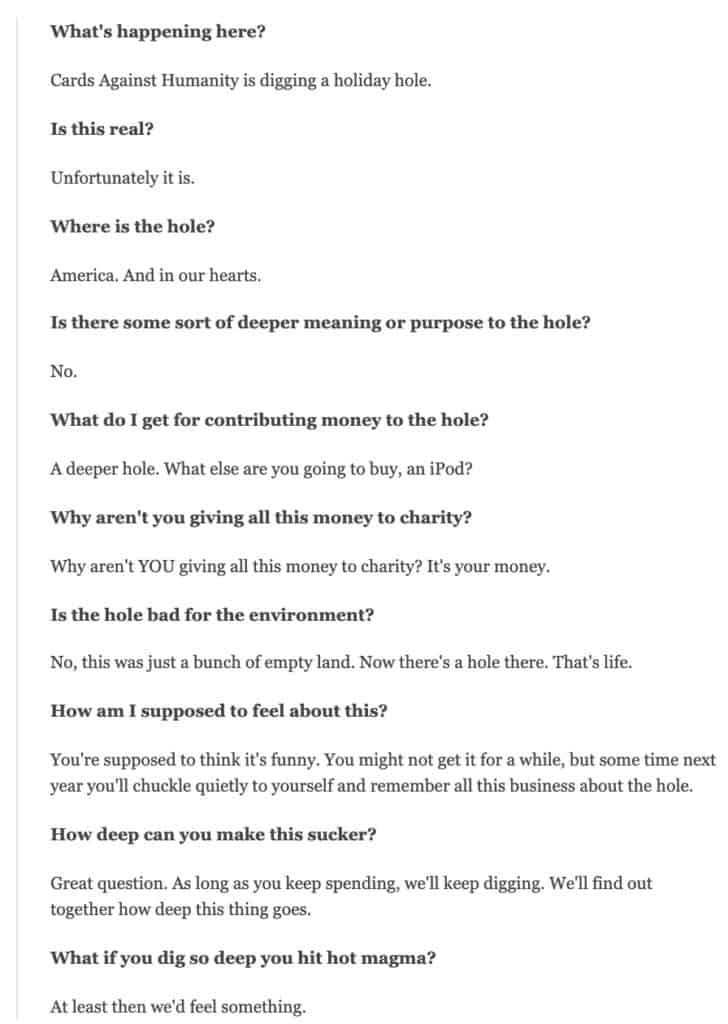 They even aired a 30 second Superbowl advertisement featuring a stationary potato with the word 'advertisement' on it. On the most recent Black Friday, they put up a 99% off sale with the "greatest deals in the history of mankind."
Takeaway: Go back to the basics of marketing, i.e., building your owned media assets (like email list) and maintaining a tone of voice for your brand.
Right now, CAH gains eyeballs by taking huge risks and expecting their audiences to participate in their pranks. As their community supports these jokes (even financially), they can earn tremendous brand exposure. Even without publishing any content, the game has garnered a mention from 1,869 unique domains in the last year alone (as per Ahrefs Content Explorer).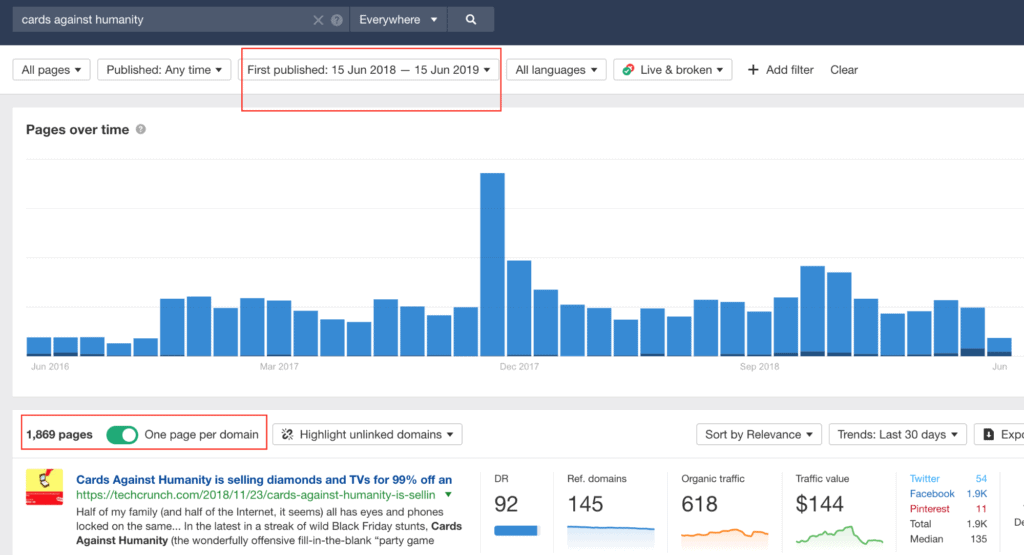 Final Thoughts
Content marketing works in extremely diverse kinds of industries and audiences. However, creating a business blog and SEO are just a couple of tactics. In this article, you explored nine myriad content marketing examples that included content marketing even without any content and a strategy involving the creation of "the best article online."
Choose your approach carefully based on what works for your brand, access to talent, and availability of resources. Once you have documented your strategy, then off you go!
How do you plan to use these examples of content marketing in your job? Did I miss out on your favorite content marketing case study? Share them with me in the comments below.
LET'S MEET IN YOUR INBOX 😃
ADDITIONAL READING