The interface is light and intuitive, with an overview of analytics on the dashboard and the option to switch between EverWebinar and WebinarJam software. WebinarJam also lets you translate the interface completely, including the buttons and attendee instructions, into 25 different languages.
There is a seamless flow between the segments of creating a complete funnel, and it also has an extensive database with in-depth articles to solve issues or questions related to the features. However, it doesn't show an interaction timeline overview, and you have to pair up with WebinarJam to host live webinars.
Another drawback of Everwebinar is the non-flattering and limited thank-you page templates, but you can redirect your audience to a custom page of your choice.
WebinarJam's team follows up constantly to give you tips and tricks for running successful webinars and to make sure you understand how to use the platform to its full potential.
Why are automated webinars important?
Live webinars can be exhausting especially when you have them lined up one after the other. Imagine running a company and taking out time to be present in front of the camera for about 60 minutes multiple days? This is where evergreen webinars step in to save the day.
Automated webinars are not time-bound: It's possible to watch automated or evergreen webinars round the clock and would cause no scheduling conflicts for your international audience who can watch it at convenient hours concerning their time zones.
It runs on autopilot: Being an entrepreneur or a small business owner takes away the luxury of having lots of free time. To run an evergreen webinar, you do not have to be present throughout the session or be there at all and you use this time to invest in other projects.
The webinar experience is similar to live: Although it cannot clone a live session, it lets you recreate the live environment for your audience and you can also put a fee on it. Recurring automated webinars will generate recurring revenue.
Software such as EverWebinar makes automation near perfect and easy to set up.
Pros
It makes the automation process easy and quick.
There are multiple audience interaction features such as live chat stimulator, polls, survey, quizzes, etc.
Everwebinar offers powerful integrations such as Mailchimp, Drip, Zapier, etc.
It's possible to set up active offers via timestamp with an urgency timer and live sale count.
Cons
The analytics, although actionable, misses out on detailed information like at which point the attendees dropped out.
You cannot run a live webinar with EverWebinar.
The thank-you page templates are outmoded.
There are no monthly pricing plans.
It has no live chat support.
Frequently Asked Questions About EverWebinar
Here are some of the most asked questions about this evergreen software, EverWebinar.
Who uses Everwebinar?
Everwebinar is an automated webinar software popular with B2B companies, online creators, eCommerce store owners, and anybody who has advice or training to offer.
Is EverWebinar effective?
Yes, EverWebinar is highly effective for automated, hybrid webinars with tons of audience interaction and marketing features like active offers, countdown timers, live-chat stimulators, etc.
Can I use my WebinarJam session in EverWebinar?
Yes, you have a choice between pulling a WebinarJam session or adding your plans14-day video
source.
What external video sources can I use with EverWebinar?
EverWebinar allows you to use any MP4 video or your previous WebinarJam session, but they recommend using a Youtube video source file.
What is a one-click registration hotlink?
You can use a one-click registration hotlink to allow people already on your autoresponder mailing list to quickly register for your webinar without filling out the registration form again.
EverWebinar Pricing

EverWebinar's pricing is different from all other webinar hosting software as it consists of installment, annual, and biennial plans. So you can't get a monthly subscription.
Installment plan: $199/ year in 3 installments.
Annual plan: $499/year
Biennial plan: $799 for 2 years
All the plans give you access to automated webinars, advanced simulation tools, pre-made landing pages, 24/7 chat support, flexible scheduling, clickable offers, email and SMS system, polls, surveys, dynamic attendee display, analytics, and more.
You get a 14-day free trial at $1 and a 30-day risk-free money-back guarantee.
EverWebinar Customer Service

WebinarJam doesn't have the best customer support with no live chat option, and their email response can take anywhere between 24 hours to five days for them to get back to you.
That said, there's a knowledge base called DocumentWiki to help you navigate and solve problems related to almost every aspect of Webinarjam. They also provide training via videos to help you understand all its advanced features.
But these videos aren't the first thing to pop up when you log in, and you'll have to find them under the training section available on the dashboard.
WebinarJam also has a Facebook community where business owners and WebinarJam enthusiasts connect with users facing similar or different issues. It's a private forum for members to connect and share information.
EverWebinar Key Features
EverWebinar has a refreshing onboarding process that includes onscreen guidance as well as an email message to get you started. Let's look at some of the best features of EverWebinar and their effectiveness.
HD Presentation Quality
EverWebinar helps with HD fast video and audio broadcasting, so you can share your screen, share images, and do a PowerPoint presentation without worrying about it being pixelated.
Email Reminders & Follow Up
EverWebinar supports full email and SMS communication systems. You can either use this evergreen software's inbuilt emailing system, plug in your own SMTP gateway, or integrate your preferred and trusted autoresponder like ConvertKit, Mailchimp, etc.
There is no cap on scheduling pre-session notification reminders, and it's also possible to edit the color, font size, images, bullet lists, etc., in the body of the email. The follow-up email contains a recorded replay of your webinar session.
My biggest issue with the follow-up email is the lack of boolean logic, as audience segmentation emails based on their attendance behavior are missing.
Polls, Quizzes, And Other Engagement Features
Audience interaction features such as polls, quizzes, announcements, file sharing are possible with this evergreen webinar software. You can set up options, a starting and ending point for polls, as well as the results.

Highlighted announcements
At any given time during the webinar, you can highlight a comment by adding a timestamp to it. It could be a testimonial to promote your product or anything you want the audience to know.

File Sharing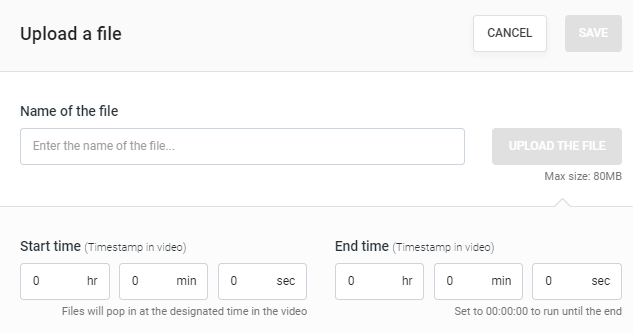 It's also possible to upload the file in advance and make it pop up during the webinar by adding starting and ending time stamps.
You can also use the sticky message option to provide quick links to a customer support chat or a tech support URL, etc.
Automated Offer Set-up
EverWebinar lets you design your product offers in a highly attractive manner to get high conversions. A clear product image, an inviting CTA button, and urgency times make the product appeal to the audience.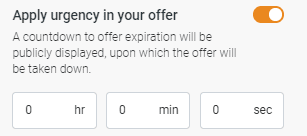 You can set up offers and live sale alerts to notify attendees via popups on the screen and creating urgency by adding a countdown timer. Further, it's possible to show the attendees live sale alerts as and when people make purchases in the webinar room, which may encourage others to buy the product.
To make it convenient for your audience, you can add the product to their cart in the same tab and make purchases on the spot.

Flexible Scheduling
The flexible scheduling options let you organize weekly, monthly, or daily webinars with automatic time conversion for registrants. You can enable instant watch replay, and it'll create an on-demand webinar that your visitors can watch without waiting for the next session.
It's also possible to allow registrants to join an already running webinar without making them wait for the next session. However, this feature isn't useful because it'll auto-forward to the appropriate time stamp to make it look live.
The Just-In-Time feature allows the registrant to join the webinar even if they arrive on the page a few minutes before the event is scheduled to begin, and they can watch the event as they register.
Attractive Landing Page and Form Templates
There are various attractive editable templates available for the registration page and the registration form that lets you play around with the color, image, background, fonts, add CTA, etc. It's possible to split test the registration page templates and understand how and if it has any effect on conversions.
EverWebinar allows you to design your registration form to match your brand colors, but it doesn't let you add custom form fields. You can only add first name, last name, email address, and phone number.
When it comes to the post-registration survey, you are free to add custom questions to the thank-you page to get feedback from your audience in the form of single choice answer questions, short textbox answer questions, multiple-choice answer questions, or long text-box answer questions.
Dynamic Attendance
Everwebinar gives you the option to simulate the environment to make it seem like there are many attendees in the room at the same time.
If you want to make it appear that there are always 500 attendees in the event, you can set up the attendee number in advance, and it'll display that to attendees. However, I wouldn't recommend this technique for ethical reasons.
Hybrid Webinars and Live Chat Simulator
Audience interactions do not have to suffer in evergreen webinars. You can anticipate the needs of your audience and pre-schedule questions and answers via a live chat simulator so that questions and answers appear in the live chat box visible to the audience.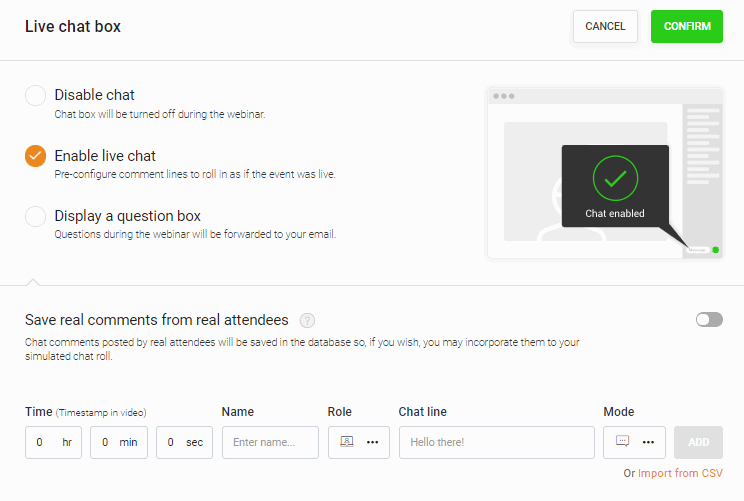 It's also possible to download and import the chat history you have on another webinar to this evergreen webinar, or you can use pre-configured chat lines via the time stamp through the event.
To further help in interactions, you can combine automated and live experience by answering questions while the presentation is still running, making your webinars virtually live and hybrid.
Evergreen Actionable Webinar Analytics

EverWebinar presents you with powerful insight into attendee behavior metrics that are the number of attendees leaving the room early and the ones staying till the end.
If you run paid ads in your webinar session, you will also have access to monetization analytics such as the number of tickets, total revenue, live and replay sales conversions, and earnings per attendee.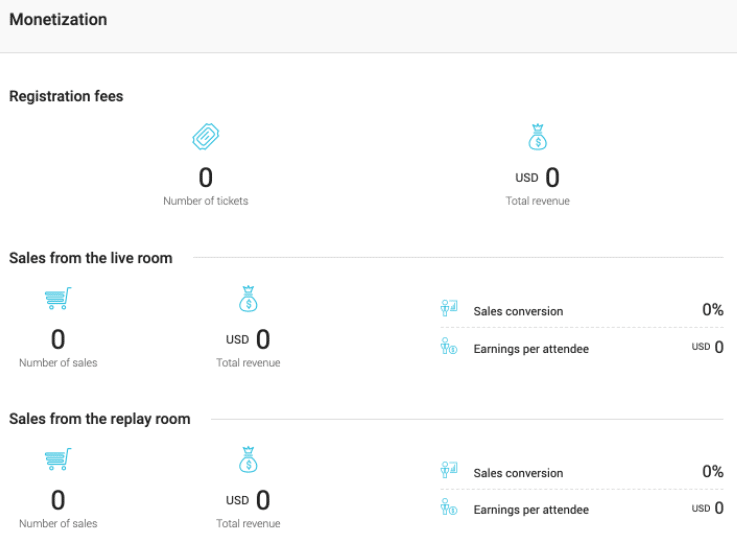 Further, you can embed a third-party tracking token such as Google Analytics, Facebook Ad tracking, and more to analyze every part of your funnel, such as registration page, forms, thank-you page, live-room, and replay page tracking.

Unfortunately, it lacks some details that make the reporting weak. For instance, it doesn't tell you exactly at what point an attendee bounced off the webinar.
EverWebinar Alternatives
If EverWebinar doesn't fit your requirements or budget, you have several other options to run your webinar.
EasyWebinar
EasyWebinar allows you to conduct live and automated events with flexible scheduling options, attractive funnel pages, customizable email templates, and direct HD live streaming on Youtube and Facebook with no latency.
The interface is attractive but slightly clunky as it has jam-packed features making the experience complicated and confusing. It may take a little while to get used to it, and once you are familiar with it, you'll be able to flesh out webinars within no time.
The analytics section is extremely detailed, and you can further use Google Analytics and Facebook pixel for tracking. However, the navigation is relatively complicated, and the database is confusing as it doesn't display information even for the most common keywords like analytics.
Pros:
It provides actionable analytics.
You can conduct both live and automated webinars.
The customer support is quick and efficient.
Cons:
The interface is attractive but clunky.
You may find navigation to be a bit complicated.
The database lacks a thorough explanation of queries.
WebinarJam
The software is light with an intuitive interface that caters to all your broadcasting needs at a very low price. It is best for conducting live webinars, but you'll have to pair it up with EverWebinar to host automated events.
Its marketing features like one-click registrations, active offers, attractive landing pages with split testing, etc., contribute to better conversions. However, the analytics section is basic and lacks in-depth reports on different sections like those presented by other webinar software like GoToWebinar and EasyWebinar.
Even though WebinarJam switched from Google hangouts to WebRTC, some users still experience a 10 to 30 seconds delay in streaming.
Here's an overview of WebinarJam.
Pros:
It's possible to set up one-click registration for webinars.
You can send notifications via WebinarJam's powerful automated email responder.
Control center for big enterprises to manage backend logistics,
This software has powerful integrations with CRMs, Shopping apps, Payment gateways, etc.
Cons:
There is no free trial.
You can experience streaming delay for 10 to 30 seconds.
Foreign languages other than English do not have accurate translations in landing pages and emails.
The video annotations get lost while sharing presentations.
The recorded video of the webinar is not HD quality.
Final Thoughts
If you are a SaaS company looking to educate customers, an entrepreneur offering professional services, or an educator offering the same course to multiple students, automated webinars would fit well within your requirement. With EverWebinar, you can gain customers on autopilot.