Ever gone through a mini heart attack when the potential client asks: "What are your rates?"
Experienced freelancers will answer this question quickly. But new writers might panic.
You don't know how much to charge for a 500 or 1000-word article.
Should your freelance writing rate match those of others?
What are the standard rates in the first place?
What are the different factors that affect these rates?
The truth is there is no right answer. Setting your freelance writing rates is as complicated as you want it to be. But let's explore
How Much Should Freelance Writers Charge?
The pricing depends on various factors — time required, deadline, taxes, cost of living, the complexity of specific writing gigs, etc. So your freelance rates need not match others, but you can use industry examples and standard rates as a starting point.
Ashley R. Cummings is a freelance writer for SaaS, Marketing, and eCommerce platforms. She surveyed 344 freelancers to find out how much they charge their clients.
She found that freelancers use different pricing structures shown in the graph below.
40% charge per project
38% charge per hour
18% charge per word count
Let's go deep into these pricing models to know how much an average freelance writer charges.
How Much Should Freelance Writers Quote Per Project?
In the U.S. — pricing per project is the most common way freelancers charge.
A survey by Peak Freelance found that an average freelance writer charges between $250-$399 per blog post. For content like a whitepaper, the most popular rate is between $500-$999. The rates are for an under 1,500 word blog post:
Many six-figure income freelance writers charge between $1000-$1500 per blog post.
Freelance writer Priscilla Tan charges $650 for a blog post of 1,000 – 1,250. Whereas Elise Dopson starts at $1 per word.
But the case is slightly different for a freelance copywriter vis-a-vis a content writer.
Writing copy for the About Us, Sales Pages, Product pages, Landing pages, etc., requires more research and time. So freelance copywriter rates are more per project.
Freelance medical copywriter Sarah Turner charges $2500 for web page content. "She combines marketing and biology to help clients get more patients."
In contrast, Kayla Hollatz is a website copywriter with a starting rate of $5000. She works with creative entrepreneurs and small businesses.
How Much Are Freelance Writer Rates Per Hour?
What's better than hourly freelance writing rates?
According to Payoneer's 2022 Global Freelance Income Report, the worldwide average freelance rate is $28 per hour.
Payscale has found that freelance writers in the US earn an average of $24.51 per hour.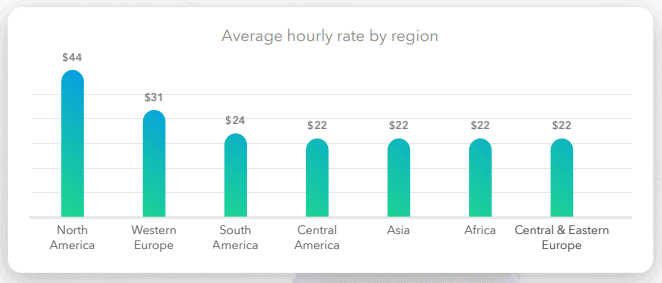 Though it is difficult to define hourly rates for freelance writers. Still, Ashley R. Cummings's survey found that freelance writers charge between $30-$40 per hour.
Many freelance writers with over 8 years of experience charge $100/hour.
There is a variation of the hourly rate used by copywriters called the "Day Rate". Day Rate is the amount companies pay to someone to work with them for an entire day.
According to Media Entertainment and Art Alliance (MEAA), freelance copywriters can charge a "day rate" of around $257.
Laurajane Johnson is a UK freelance copywriter. She charges €425 as the standard day rate for her services.
Some copywriters even go for the "rushy day rate," where they produce a web copy for the client in less time, such as 1-2 days.
US copywriter Christy Wolff charges $2625 for her VIP services. The VIP service consists of working with clients for 8 uninterrupted hours.
How Much Do Freelance Writers Charge Per Word?
Charging per word means charging on the length of a piece of writing. This is generally the least popular pricing strategy used by freelance writers.
Beginner freelance writers charge anywhere between $0.10 per word and $0.30 per word.
This ensures that how much money you can make depends on how many words you write. But this doesn't consider the time taken to do research.
But with more experience, they charge over $1 per word. Typically, the more experience you have, the more you earn.
Charging per word can be an effective strategy, like charging for a project.
Beginner writers can charge per word to build a portfolio. But make sure to revise your rates on time and do not work for less than you deserve.
Freelance writers Elise Dopson and Ashley Cummings charge $1 per word to write long-form content.
What Factors Affect Freelance Writing Rates?
Many factors can affect freelance writer rates. Let's look at three major reasons in the freelance world affecting hourly rates.
1. Industry
This is one of the top reasons for the variation of prices in the freelance world.
Industries like SaaS, technology, and cryptocurrency have higher content budgets than other industries. That's why they pay higher rates than consumer-facing brands like fashion, travel, etc.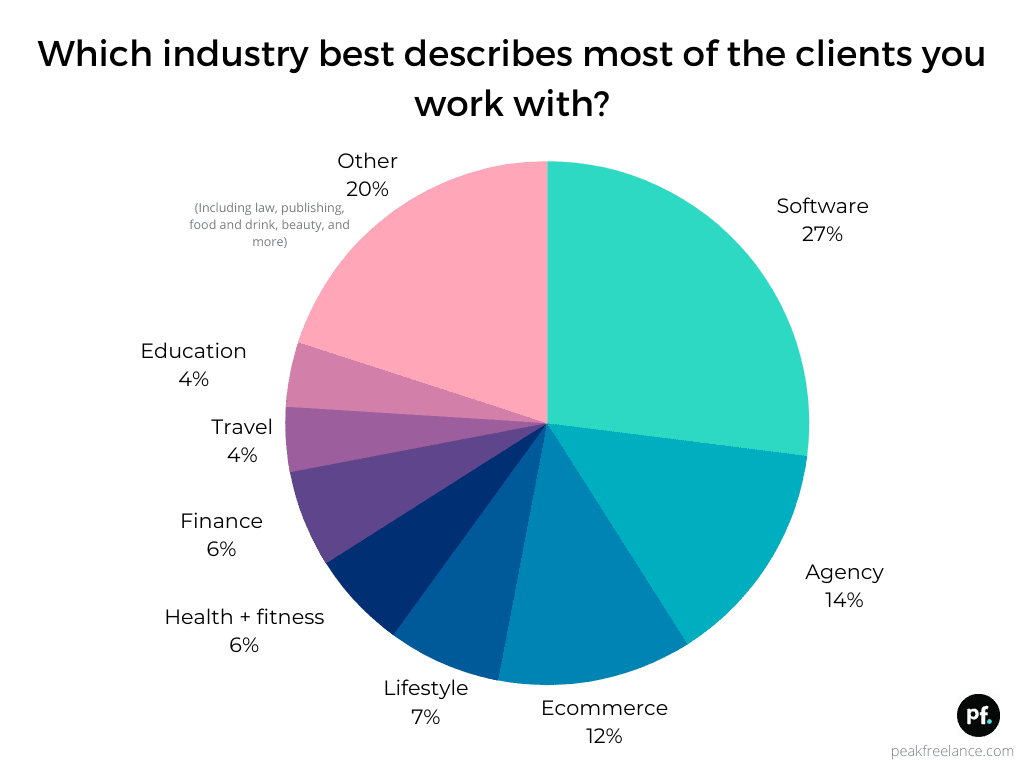 Kat Boogard is a B2B SaaS freelance writer. She writes for clients in career, project management, productivity, and human resources. In 2020, she made $1,27,000 as a full-time freelance writer.
Bureau of Labour Statistics report states that freelance magazine writers earn an average salary of $69,510 per year (as of 2021).
2. Niche
Writers can niche down within the industry. Some writers focus on email copywriting for eCommerce brands. While others only write website copy for Finance brands.
Long-form content, like case studies, whitepapers, etc., pays more than short-form content. Because long-term content takes more time.
A B2B SaaS website copywriter earns more than an average lifestyle brand copywriter.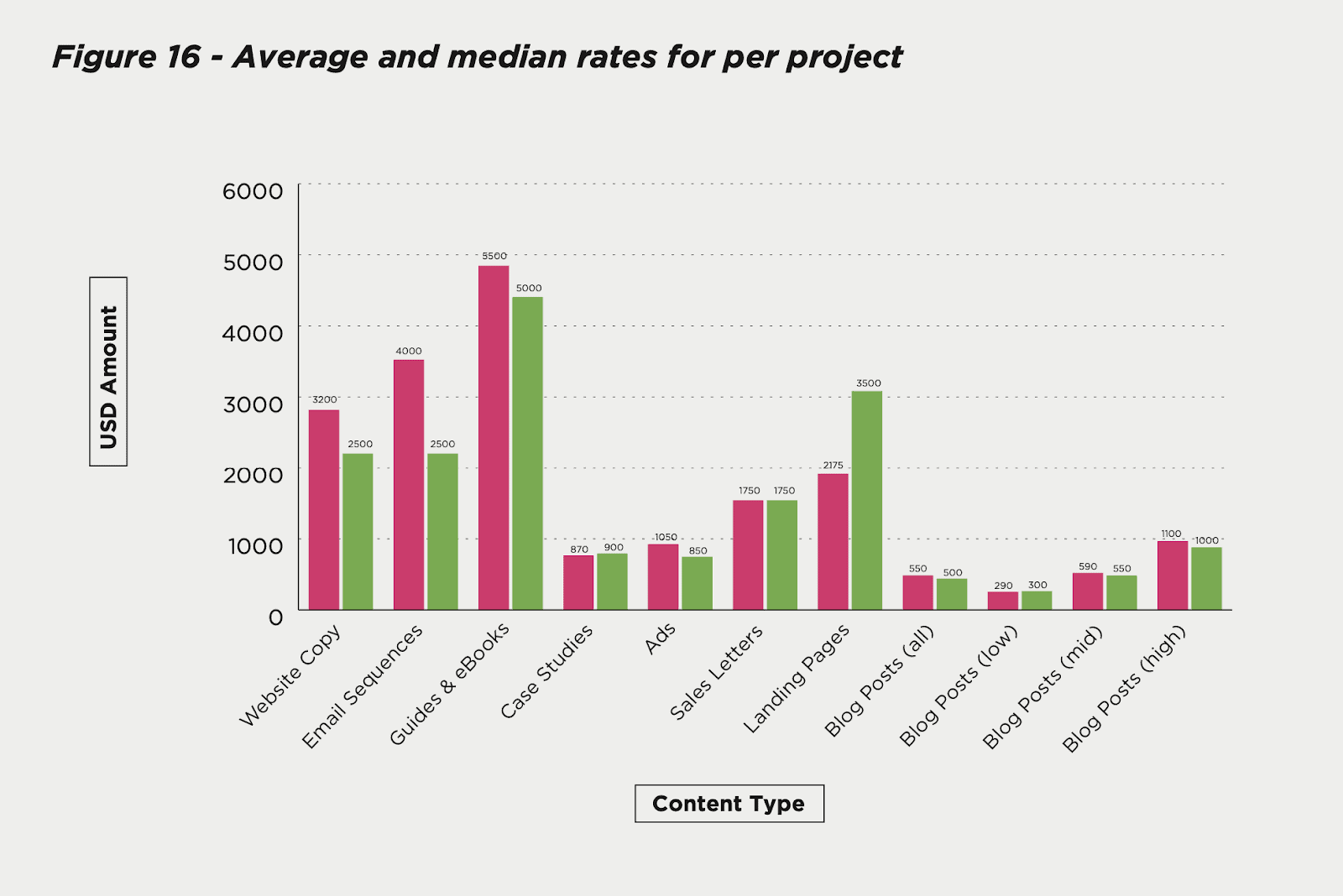 3. Years of Experience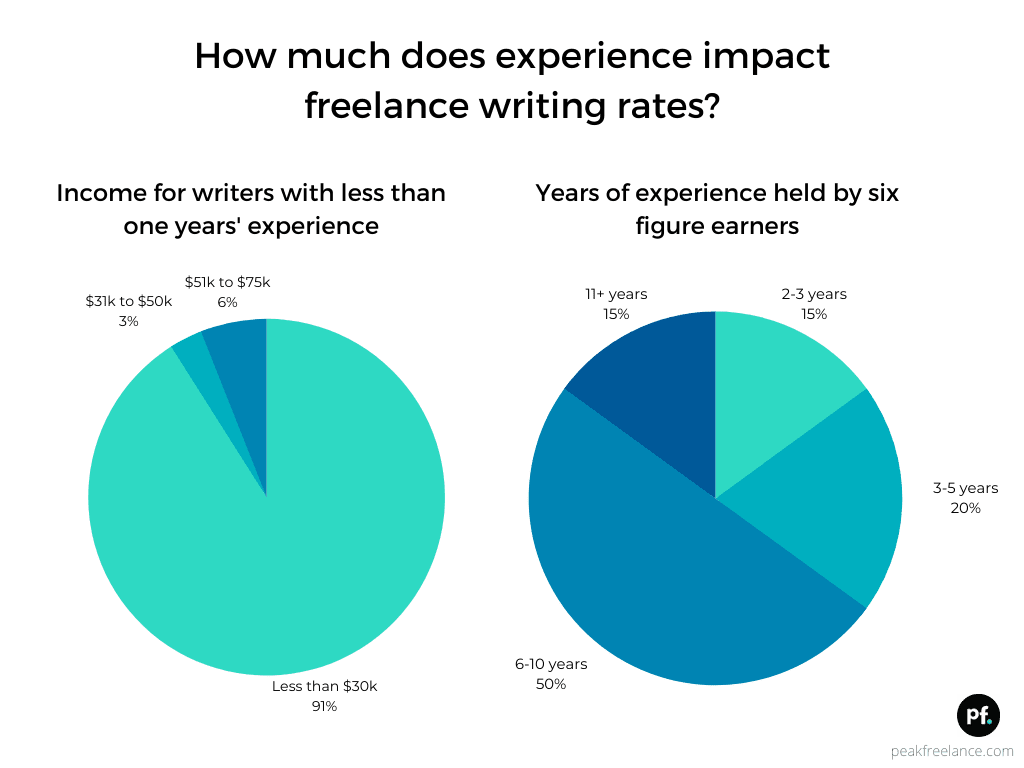 There is no doubt that experienced writers earn more than new writers. The image given below determines the potential of earning based on experience.
The same is the case for Carrie French. A copywriter for small and medium-sized businesses who earned $315 per hour as of 2021.
Newer writers need more skills and experience to earn this much.
Treyton Devor is a finance writer, creative entrepreneur, and financial planner. He started his freelance writing journey in 2021 and made $24,166 in the first year of freelancing.
What Are the Freelance Writing Rates For Different Types of Writing?
Let's look at the rates for a few common different types of writing:
1. Long Form Blog Posts
Content marketing will skyrocket to a $600 billion industry in 2024. Businesses use content as a marketing tool. They get conversions through sales page websites or email newsletters.
Blog writing is one of the most in-demand writing jobs across the world. The 2023 Freelance Writing Stats & Facts Survey states that 77% of freelance writers write blog posts.
An average blog post writer can charge between $250 and $399 for a 1500-word piece of content.
This will take more hours for you to produce high-end quality content. Thus, you can bundle blogs for a month-long project or use per-hour pricing for this type of content.
2. Ghostwriting
According to the AWAI, ghostwriters can charge $150-$500 for a blog post. A ghostwriter writes for someone else without getting credit for their work.
Ghostwriting is a lucrative kind of writing. Businesses from all niches need ghostwriters and are willing to pay well for putting their own name on your work.
You can write as a ghostwriter for a publishing house, a celebrity, or a politician.
A business owner might hire you to help them share their expertise and knowledge with the world.
Many business owners on LinkedIn also hire ghostwriters to write posts for them.
Tim O'Leary is a professional ghostwriter and an award-winning screenwriter, playwright, and columnist. He has shared his experience of landing a ghostwriting project worth $ 30,000 to write a memoir.
James Patterson is a famous American author and fiction novelist. He outsources the majority parts of his books to a ghostwriter.
3. White Paper Writing
71% of B2B businesses use white papers in their content marketing strategy. And B2B industry takes up to 30 to 50 percent of the US market. This means you can work with a good number of clients.
A white paper is a detailed explanation guide on a particular topic and consists of at least 2500 words.
White Paper writing is a well-paid job with few complexities. You're supposed to write technical articles like guides, software manuals, etc.
Writing a whitepaper requires advanced level skills.
Subject matter expertise
Excellent writing skills
Deep research skills
Problem-solving skills
You can use per project pricing for writing the white paper. You can calculate your hourly rate based on the time taken to complete the project.
According to AWAI, Copywriting Practice Guide 2022, the average rate for writing a white paper is between $2,000 and $10,000. The rates also depend on the complexity of the project and your experience level.
4. SEO Writing
SEO writing is one of the highest-paying writing jobs. According to Ahrefs, freelance SEO writers can charge $75-$100 per hour.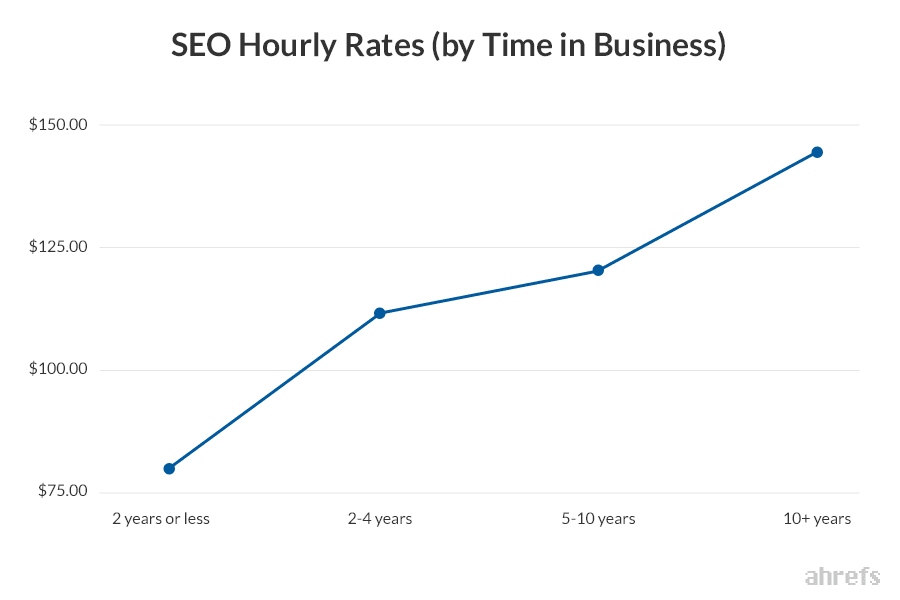 SEO writers help businesses to get their websites to rank higher on search engines. It increases the chance of a user buying products from their websites.
SEO writing requires hard skills like keyword research, technical SEO, link building, etc.
As this is a specialized field, you can charge good rates for your writing services.
You can use per word pricing starting from $0.20 per word.
You can even go for a "day rate" if the project requires an entire day to complete the project.
The hourly freelance writing rates pricing is also workable if you know how much time will it take.
5. Email copywriting
Email Copywriting is a rewarding job. All industries — SaaS, fashion, finance, education, and eCommerce hire email copywriters.
This is a popular genre used by companies to grow their mailing list or sell products and services.
Peak Freelance survey suggests that an average email copywriter charges $99-$249 for an email.
Elna Cain is a B2B freelance writer. With over seven years of copywriting experience, she charges $275 per mail.
You can also decide your writing rate based on your level of experience. Even bundling it as a retainer project is a good option.
What to Consider While Setting Your Freelance Writing Rates?
After reading the pricing model and factors affecting rates, you might have some idea. But if you're confused about exactly how to charge, then do consider the aspects given below:
1. Time to Complete The Project
When you charge on per per-hour pricing, you're charging for your time and efforts. You can also use per per-project pricing model to give justice to your work.
To calculate the same, figure out how much it takes you to complete the project and multiply it by the hourly rate.
The actual time spent on writing depends on the length of the content piece. You can also add charges for extra revision.
2. Type of Writing
Being a freelance writer, you have the freedom to work on projects that excite you. You can decide your rates based on the industry and niche you wish to work on.
If you're into technical writing jobs such as ebooks and whitepapers, you can charge a higher price. Because this type of writing is complex and requires more time.
Apart from this, the rates for content writing and copywriting also differ.
Copywriters usually charge 5x to 8x higher prices than content writers. Because copywriting requires outstanding research and creativity skills which is time-consuming.
Specialized writers also charge higher prices. If you're specialized in a particular writing niche, you can charge high rates.
3. Experience
Experience plays a vital role in the freelance journey. If you're a new writer, then you might start with lower rates.
Clients might even pay you on a word count basis. As a beginner, you want to price your services lower rather than getting exactly what you wish to earn.
In the beginning, it will help you develop your skills and build an impressive portfolio. As the years of experience increase, you can charge higher prices from the clients.
4. Deadline
When figuring out what to charge, turnaround times and deadlines are hard to miss.
Sometimes companies want you to complete a copy or blog post within 24 hours. It means you'll give more priority to this project over other projects.
Thus, you should charge more. As we discussed "rush day rate." You can use this pricing model and charge a premium or VIP prices for quick turnarounds.
Final Thoughts
Now, you're ready to enter the market with your freelance writing services. I hope the above information has helped you benchmark your rates.
Let me know if this has helped you or not. If you've any questions or if you feel I've missed any point. Do share in the comments below!