Grammarly is one of the most popular grammar-checking software(s) out there. Apart from checking for basic grammar and spelling errors, it also corrects poorly formulated sentences, contextual errors, and misused words.
But it does not suit the needs of every creator or aid in editing all types of texts.
Here I've listed the top 9 alternatives to Grammarly along with their pros and cons. This list will help you choose the best-suited grammar checking software for your individual writing needs.
[table id=12 /]
Table of Contents
1. ProWritingAid
ProWritingAid is a grammar checker primarily geared towards bloggers and content creators.
Price: ProWritingAid's free version is limited to a count of 500 words in its analysis. The premium version offers three plans and a 14-day guarantee for all features, excluding the plagiarism checker. The monthly subscription starts at $20, or you can buy a lifetime version for $319.
Top Features: ProWritingAid is excellent in terms of its accuracy. It hardly misses any grammatical errors, punctuation mistakes, or scope for increasing the readability.
The "disabling a rule" feature is particularly useful for fiction authors with unusual character names. This is something that Grammarly lacks.
Along with a surface-level analysis of why a particular error is wrong, ProWritingAid also offers an in-depth summary report analyzing your writing style, what you are good at, and which parts of your writing could use some improvement.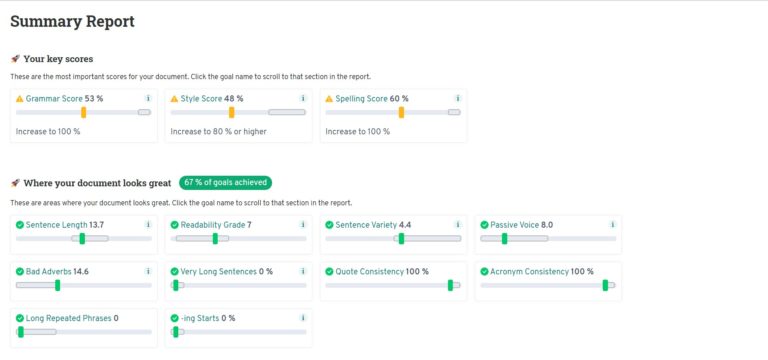 Strengths and Weaknesses
Strengths
Writing Analysis: It is the best software out there for getting detailed reports on your writing.
Article repository: An insightful repository of grammar articles is available alongside every error made.
Compatible with Scrivener: It is compatible with Scrivener, unlike many other grammar-checking software(s).
Cheaper: It is cheaper than Grammarly despite having competitive features.
Safe from plagiarism: ProWritingAid is safe from plagiarism – it does not save your writing after you exit the software.
Weaknesses
No application: This can be a drawback when you want a quicker way to check your grammar.
Can be a little slow: Especially if you upload a lot of data together, ProWritingAid tends to hang. This can be a severe drawback for fiction authors.
Save manually or loose: If you don't save all of the data corrected by ProWritingAid manually, it is lost forever.
No offline version: Even in the premium version, ProWritingAid does not work offline.
Pricing plans: The plagiarism checker is not included in the premium pricing plans and comes separately. There is also another plan available to buy only the plagiarism checker. This can become unnecessarily tedious quickly.
2. WhiteSmoke
Whitesmoke is a grammar-checking software most suitable for non-native English speakers. It also proofreads your texts and offers stylistic suggestions.
Price: WhiteSmoke does not offer a free plan. You can get the most basic Web plan for $5/month and the most advanced Business plan for $11/month.
None of their plans can be billed monthly, though — either make a one-time annual payment or buy a 3-year plan at a cheaper cost. If you don't like Whitesmoke, you can request a refund within 7-days of purchasing.
Top Features: WhiteSmoke has a dictionary and translator for over 50 languages, which is extremely helpful for any non-native English writer. However, the plagiarism checker available in the software is a little slow and largely inaccurate. You can only check 10,000 characters at a time.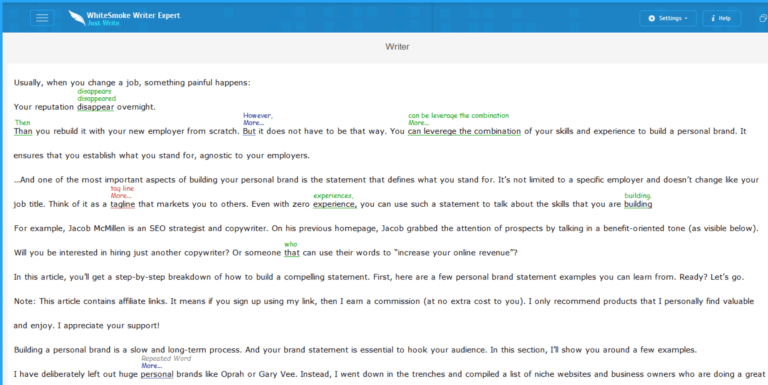 Apart from that, WhiteSmoke gives you a "Writing Score" for your text, examining it based on sentence length, structure, word choice, etc. There is also an option of "How to use" if you click on a suggestion made by the software. This is another valuable feature that can be helpful for someone whose first language isn't English.
The fantastic built-in writing templates can be helpful when you need a quick pre-made draft. There are also tons of writing tutorials available to guide you through many of the slippery grammar rules.
To get a more detailed analysis of every Whitesmoke feature, see our verdict here.
Strengths and Weaknesses
Strengths
Translates over 50 languages: Whitesmoke has an in-built dictionary and translator for over 50 languages.
Writing score: Whitesmoke offers you a writing score out of 10 that can help you quickly scan the parts in your article that are working well and the ones that have scope for improvement.
Writing tutorials: There is a lot of helpful video content available for someone who wants grammar lessons. This can be especially useful for non-native English speakers.
Built-in templates: There is a whole repository of editable built-in templates.
"How to use" feature for every suggestion: You can check how to use a particular suggestion offered by WhiteSmoke.
Weaknesses
No monthly plans available or free trial: Whitesmoke only offers a yearly or 3-year billing along with a 7-day refund policy.
10,000 character limit: This becomes a severe limitation, especially if you want to check a long article or a piece of a fictional novel.
Limited use of plagiarism checker: The plagiarism checker is largely inaccurate and checks for every word – rendering all the results from just the web is not particularly useful.
User-interface: Compared to its competitors, WhiteSmoke doesn't cut the bar for a smooth user-interface.
3. HemingwayApp
Hemingway remains one of the most beginner-friendly and reliable grammar-checking software(s) on the market.
Price: HemingwayApp's web-based editor is free, but the desktop app can be downloaded for a one-time fee of $19.99. The app offers no other features except for a distraction-free environment.

Top Features: HemingwayApp color codes your writing to analyze it in digestible forms. It also gives you a readability score and offers two modes – "Writing" and "Editing."
This software does not offer any contextual suggestions, synonyms, or any other advanced features compared to Grammarly.
Strengths and Weaknesses
Strengths
Distraction-free: You can switch to "Writing" mode if you want to write distraction-free from the software's suggestions.
Deeper writing analysis: The suggestions HemingwayApp offers improves the readability of your document considerably. It is also divided into neat chunks for seamless reading.
Weaknesses
Lacks many features: HemingwayApp does not offer many contextual suggestions, synonyms, access to dictionaries, etc.
Paid app has no extra features: The paid application does not offer anything different from the web version.
4. Ginger
Ginger is a grammar-checking software that would be perfect for fiction authors.
Price: Ginger has a free version with limited grammar checking and character limitations. The premium plans start at $20/month and also offer a virtual writing tutor apart from advanced grammar-checking features. There is a translation feature available in the premium version.
Top Features: Ginger has a translator for over 60+ languages – a simple double click can help you find its synonyms. However, the software can be a little slow and is prone to miss small errors.

The "Rephrase" feature of the software is beneficial for fiction authors looking to avoid monotonous sentences dulling their story's pace. The "Personal dictionary" feature can also help fiction authors add unusual character names.
Strengths and Weaknesses
Strengths
Personal dictionary: This feature can allow you to add unusual character names, barring the software from highlighting them as mistakes.
Rephrase feature: This feature tells you the many ways in which you can frame a single sentence.
Translator: There is a translator available for over 60+ languages in Ginger software.
Weaknesses
No plagiarism detector: There is no plagiarism detector available, even in the premium versions.
Limitations of the free version: The free version does not check for advanced writing mistakes like subject-verb agreement or other grammar rules. The translator is also not available in the free version.
Misses small errors: Ginger software is prone to miss small spelling errors, requiring another round of proofreading before publishing.
5. Slick Write
Slick Write is a free grammar-checking software with an impressive user-interface.
Price: Slick Write is free of cost.
Top Features: Slick Write checks your text in four different ways – features, structure, quotes, and vocabulary. All of the checkings are color-coded and handy to use by navigating the pages at the top.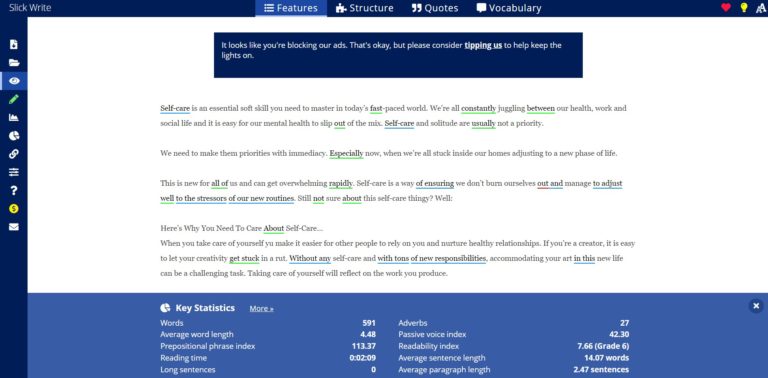 Slick Write also offers many statistics like passive voice index, prepositional phrase index, sentence types, vocabulary variety, etc. You can also alternate between "editing" mode and "critiquing" mode as and when required for the ease of editing and improving your text.
What I did not like about the software is that you have to click on every mistake/suggestion, and it only names the error with no resolution or pointers to rectify it. This can be unhelpful for non-native speakers.
Strengths and Weaknesses
Strengths
Straightforward grammar checker: The software is easy-to-use, laying out a beginner-friendly interface.
Useful statistics: The software offers useful indexes and scales that can be beneficial for analyzing your writing.
Dictionary and thesaurus available: The software has an embedded dictionary and thesaurus.
Free: The software is free of cost. It does take donations though!
Weaknesses
Does not have a plagiarism checker: The software does not include any feature to check for plagiarism.
No alternate solutions: The software only highlights the mistakes, but it does not offer a straightforward solution to rectify the error.
May miss small errors: The software tends to miss out on small spelling mistakes and contextual errors.
6. After the Deadline
After The Deadline is an open-source software that uses AI (artificial intelligence) and natural language processing technology to rectify your writing mistakes.
Price: After The Deadline is an open-source software, so it is free of cost.
Top Features: After The Deadline offers spelling, grammar, and style suggestions for your writing. It detects most basic errors, but it did not work for me on the Brave browser.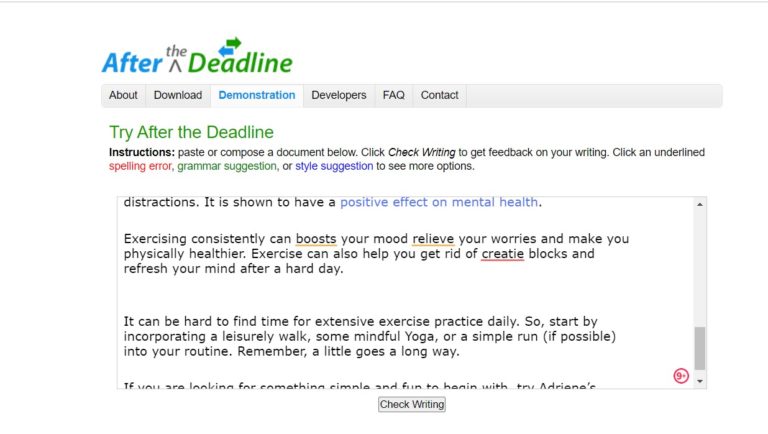 It checks for contextual spelling errors, misused words, etc. Hovering over the underlined mistake shows the solutions to the errors. You can also turn off certain rules if you want to add character names to your "Personal Dictionary."
Strengths and Weaknesses
Strengths
Contextual grammar checking: This software checks for contextual and grammatical errors.
Free of cost: After the Deadline is an open-source software that is free of charge.
Weaknesses
Does not work on all browsers: After the Deadline does not work on the Brave browser. This might be a recurring problem in uncommon browsers.
No advanced features: After the Deadline does not offer any features to check for plagiarism, to find synonyms, or to search words in a dictionary.
7. Paper Rater
Paper Rater is a web-based grammar-checking software specially customized for checking academic assignments.
Price: Paper Rater has a free version with certain feature limitations attached to it. The premium version offers more plagiarism checks, faster processing, premium modules, etc. There is only one premium plan available at $14.95/month. The same can also be billed annually.
Top Features: Paper Rater allows you to select an education level for those reading your writing. If you are writing for a particular demographic, this feature can be extremely helpful. There is also a quick snippet of writing analysis available examining your word choice, vocabulary, style, etc. The plagiarism checker is also great, albeit a little slow.
There is no dictionary or option to insert synonyms in Paper Rater. It can also miss certain contextual errors like "affect-effect."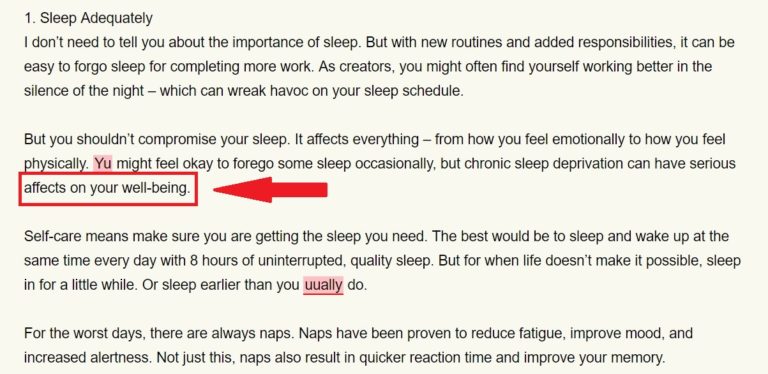 Strengths and Weaknesses
Strengths
Free plagiarism checker available: Even the free version of the plagiarism checker at Paper Rater is decent and quite reliable.
Styling suggestions: Quick snippets of the writing's analysis are also offered, which can enhance the readability of the text.
Choose the education level feature: The user can choose the educational qualification of their readers, which can come in handy, especially when writing for certain demographics or age groups.
Weaknesses
Misses contextual mistakes in text: Certain contextual errors can be missed.
No desktop or mobile app available: Paper Rater is only available as a web version.
No dictionary or synonym feature: A dictionary or a feature for inserting a synonym option is not available in Paper Rater.
8. Google Documents
Google Documents has in-built grammar checking software that allows you to check for basic grammar and aids in proofreading.
Price: Google Documents is free of charge.
Top Features: Google Documents offers basic grammar checks as you write. The best part about this is that you don't have to correct small spelling errors, the document corrects them as you type.

Google Documents does not have many advanced grammar checking tools like a plagiarism checker, synonym finder, writing style analysis, etc. But it is a great software, reliable for basic proofreading. There is also a "Personal Dictionary" feature that you can use.
Strengths and Weaknesses
Strengths
Accurate: Google Document is reliable for basic proofreading and hardly ever misses an error.
Free: Google Documents is free of cost.
Easy-to-use: It is effortless to use with a beginner-friendly user interface.
Corrects on the go: Google Documents corrects your basic errors on-the-go without you having to rectify them.
Personal Dictionary: You can add certain words to your personal dictionary, like unusual character names.
Weaknesses
No advanced features: There are no advanced features like writing analysis, plagiarism checker, etc., available on Google Documents.
9. Reverso
Reverso is a translation tool that can translate your text into 15 different languages, along with spelling and grammar checks.
Price: Reverso is free of cost and checks up to 1200 characters. The cheapest plan begins at $5.99/month. There is also a customized enterprise plan that can be tailor-made to your needs.
Top Features: Reverso checks the basic grammar and spelling mistakes along with offering synonyms and recommendations. You can also decide to switch between US spelling or UK spelling.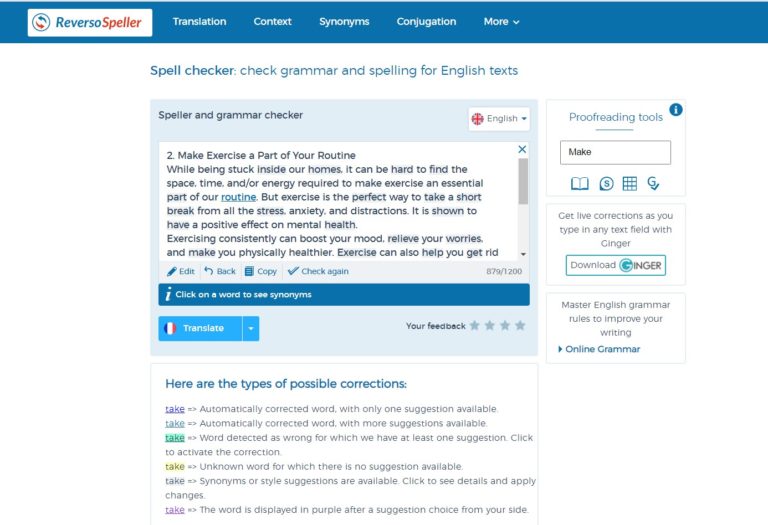 Strengths and Weaknesses
Strengths
Translator and grammar-checker in one tool: You can check for grammar and translate your text using the same tool.
Choose between US and UK English: You can decide which spelling format you want your text to follow.
Weaknesses
1200 characters limit: You can only check 1200 characters in the free version.
Basic features: The tool does not offer advanced grammar and writing style suggestions.
Frequently Asked Questions About Grammarly Alternatives
Before we conclude our review, let's address the common questions about Grammarly competitors.
Is there an alternative to Grammarly?
There are many alternatives to Grammarly available in the market. If you want a deeper writing analysis, go for ProWritingAid. In case you are looking to enhance your document's readability, HemingwayApp would be better for you. WhiteSmoke offers many useful features for non-native English speakers. You can also use Reverso to translate and check grammar within the same tool.
What's the best grammar checker?
Grammarly remains one of the most popular grammar-checking software(s) in the market. It is accurate and reliable for all kinds of text. But Google Documents and ProWritingAid are also recommended when looking for the most accurate grammar checking tools.
Is ProWritingAid better than Grammarly?
ProWritingAid is better than Grammarly at analyzing your writing and giving you a detailed report of where you can improve your writing. If your focus is on improving your writing style and readability, ProWritingAid would be an excellent tool for you.
Final Thoughts
As you can see, there are several alternatives to Grammarly. Most of them are similar to Grammarly, offering the same suggestions and highlighting similar errors.
Many of these software(s) work the best when used together – like using Grammarly to check if your document is free of mistakes and then using HemingwayApp to enhance its readability.
I often use ProWritingAid to get a thorough writing analysis and WhiteSmoke when I need premade editable templates.
I hope this list will help you figure out an alternative to Grammarly or some software that you can use alongside it.
What other software(s) do you use for grammar-checking? Which is your pick among the Grammarly alternatives?