InMotion remains one of the biggest names in the competitive web hosting industry. It has been around since 2001 — helping creators like you build and run their websites smoothly.
They boast about having the most website transfers in the industry and their unparalleled 90-day money-back guarantee. But is all the hype true or just bells and whistles for nothing? In this review, you can know for sure.
Note: This article contains affiliate links. This means if you purchase anything using our links, then we earn a commission (at no extra cost to you). We only recommend products that we find valuable and enjoy. We appreciate your support.
Before we get into the nitty-gritty of things, here are the overarching pros and cons of hosting your website via InMotion:
| Pros | Cons |
| --- | --- |
| Excellent 99.9% uptime and features that improve site speed | Few plans have a monthly billing option |
| Has a premium site builder: BoldGrid | Lacks window servers |
| Offers free domains in almost all plans | Competitively priced, but not the cheapest |
| Free SSL certificates, site transfers, and add-ons | Confusing admin interface for beginners |
| 24/7 US-based support | |
| 90-day money back guarantee | |
| Easy-to-use website building software | |
| SSD drive storage | |
Now that you know what you're in for, let's break down the pricing for different types of hosting plans, performance & uptime, and alternatives for InMotion.
InMotion Pricing Plans
The price you pay at InMotion for hosting your website depends on the type of hosting you choose.

When you compare plans for each type of hosting, there are differences in the number of websites you get, the storage you get, and the number of email addresses you get. All plans offer unlimited bandwidth, free domain, one-click install, free SSD drives, and SSL certificate.
The standout thing about InMotion is their 90-day money-back guarantee — quite a lot more than the industry average. You'll have a ton of time to decide if you like the service.
But remember that while a free domain is offered for cheap in almost all plans at InMotion, the renewal price is steep.
Types Of Hosting Offered By InMotion
InMotion offers various types of hosting plans — standard across all hosting platforms. Let's discuss each of them in detail to figure out which one's right for you:
Shared Hosting
To give you a quick refresher: Shared hosting is perfect for you if you don't expect a lot of traffic on your website. It's affordable because you share servers with other websites. At InMotion, the price starts at $4.99/month (in the 1 year billing period).
The price gets lesser if you opt for a larger billing period.

Only the Pro plan is available for a monthly contract — the rest are available for a 1 year, 2 years, or 3 year billing period. The Lite plan is limited in its features and doesn't offer a free domain.
Each plan keeps building on the previous one by offering more websites, more storage, more email addresses, and advanced marketing tools. All plans are Linux-based and thus cPanel is their management tool. InMotion does not offer Window-based servers. If you need that, a good alternative is HostGator.
You can also transfer up to 3 of your websites for free. Post that, the cost is $10 per website.
VPS Hosting
VPS hosting is more costly than shared hosting, but for good reason — your site shares its server with far fewer sites and you're guaranteed a minimum number of resources by the web host. If you don't mind the extra cost, VPS hosting is certainly more reliable.
The billing period here can be 1 month, 6 months, 1 year, 2 years, or 3 years. For 6 months, the cheapest plan with only 2 GB RAM will cost you $17.99/month.

Apart from the RAM difference, each plan in the tier also adds on more CPU cores, more SSD storage, and more bandwidth.
All plans offer free website transfers and server setup along with cPanel & SSL certificate.
In VPS hosting, you can get managed or unmanaged cloud hosting. If you're an expert, the unmanaged cloud VPS hosting is far cheaper for you, starting at just $5/month. You can also choose your operating system in the unmanaged cloud VPS hosting.
Dedicated Servers Hosting
If you don't want to share your resources and servers with any other websites, go for Dedicated Hosting. It may be expensive, but it's far more reliable — especially if you expect a lot of traffic onto your website. This is also crucial if you don't want to experience any downtime for your website that may cost you a sale.
At InMotion, Dedicated Hosting has 4 billing periods: 1 month, 3 months, 6 months, and 1 year. The cheapest plan for one year starts at $139.99/month.

As with VPS hosting, InMotion offers Dedicated Servers Hosting both fully managed and unmanaged. If you're an expert or developer, you're better off with the unmanaged plan starting at $99.99/month, allowing you to choose your own operating system.
WordPress Hosting
If you're looking for WordPress hosting, InMotion offers some solid packages. Although the top web hosting platform itself recommends Bluehost, InMotion is popular for its excellent WordPress hosting. The cheapest plan starts at $6.99/month with yearly billing.

The differences in each plan are mostly with regards to the number of websites, storage space, etc. The WordPress hosting at InMotion is Linux-based and comes with a preinstalled content management system.
There are also other benefits for using InMotion for hosting your WordPress website: You get automatic updates of third-party plugins, unlimited email & bandwidth, and advanced caching. There are also special server configurations that are a better fit for WordPress websites.
Overall, InMotion's managed WordPress hosting sorts everything out for you — from security to updates — and you don't have to worry about a single thing. I'd recommend going for their Managed WordPress hosting if you're an enterprise or get a lot of traffic on your site. Otherwise, their WordPress VPS hosting is great.
Reseller Hosting
Looking to get into the web hosting game yourself? Check out InMotion's Reseller hosting. You don't have to worry about providing bandwidth or spin up your own servers. The cheapest plan starts at $21.39/month in a 1-year billing period.

You get a free dedicated IP with all of them and the differences are largely in bandwidth, SSD storage, and the number of cPanel accounts. There's a multi-layer defense for added security and you get WHMCS included as well. You also have the ability to use your own custom nameservers.
Performance, Uptime, And Security Features
InMotion guarantees 99.99% uptime and security monitoring on its homepage. You can count on InMotion to build a solid, reliable website.

When it comes to speed, InMotion has some great features that ensure that your website's speed stays optimal at all times. The SSD technology gives you a major boost in speed and reliability (unlike the commonly used HDD).
InMotion also uses PHP7 that is famous for increasing the speed of WordPress sites. The custom server caching also increases the load time.
In the security aspect, you can trust InMotion to keep your data safe and backed up. Many higher-tied plans include automatic backups and if that isn't enough, you can always install security & backup plugins to ensure your data is there.
There's a free SSL certificate included in almost all plans, regardless of the hosting type you choose. You can take it a step further by subscribing to Spam Experts for a small monthly fee.
InMotion Customer Support
There are five ways to get your questions about InMotion answered:
1. The Q&A section
2. The knowledgebase
3. Phone customer support
4. Email customer support
5. Live chat support
If you're a beginner at web hosting and using InMotion, the Community Forum would be helpful. The Support Center is also quite well-organized and detailed for anyone just getting started. The chat service is also quick and painless. The team is knowledgeable, supportive, and responsive. I got a response in about two hours. I had asked the difference between VPS hosting and WordPress VPS hosting.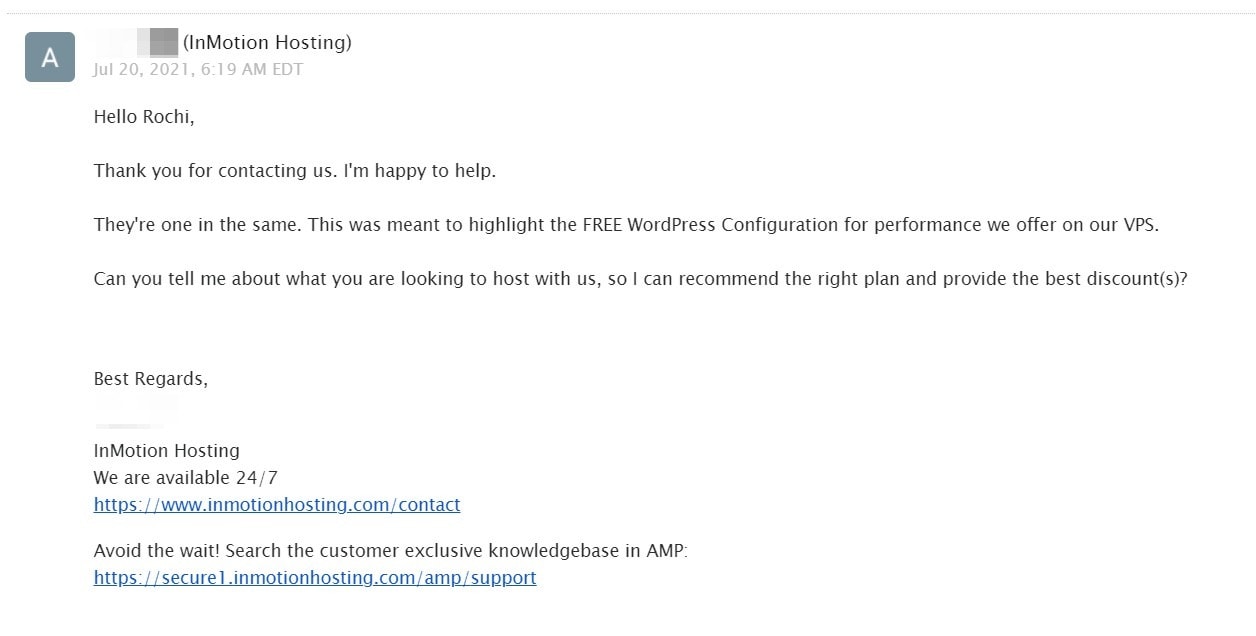 For the most part, InMotion is known for its helpful service. Some reviewers do highlight that's hard to get someone to chat or pick up the phone (especially for non-US customers), but the response part is fairly communicative and easy to understand.
Other Features & Add-ons At InMotion
There are certain standout features at InMotion that make it shine among its competitors. Here are the most critical ones:
90-day money-back guarantee
InMotion offers a 90-day money-back guarantee which makes it an exceptional and appealing choice compared to its competitors. This time frame is certainly larger than the industry standard and gives you a lot of room to evaluate the software.
Free Site Transfers, Website Builders, And eCommerce
InMotion transfers your site with no hassle at no cost. They also ensure zero downtime. This is great for when you don't want to pull your hair into the complexity of site migration. Building a website and adding eCommerce tools like WooCommerce on it is a straightforward affair. If you don't want to create your WordPress site, this is a great alternative.
BoldGrid: The Premium Site Builder
The website builder at InMotion is BoldGrid which is a great one. It's built on top of WordPress — which means you get all the extra features but at reduced complexity. BoldGrid's UI is intuitive and super simple to use with its drag-and-drop builder.
InMotion Alternatives
It doesn't hurt to look around web hosting platforms — it's a competitive space and there are several platforms to address all your needs. Here's how InMotion stacks up against its top competitors:
InMotion vs Bluehost
For starters, Bluehost may cost you less for the starter packages. Both offer SSD and SSL certificates. But InMotion has some extra features like offering free site migration and a 90-day money-back guarantee. Bluehost might meet your needs better if you have a WordPress site. In my Bluehost Review, I go into further detail about when you should use Bluehost.
InMotion vs WP Engine
WP Engine is a robust CMS with premium features. It may be a bit heavy on the pocket, but its excellent features make up for it. The cPanel of WP Engine is more beginner-friendly and aesthetically pleasing than InMotion. In the WP Engine Review, you can find more details about its features.
InMotion vs HostGator
HostGator is better for smaller and simpler sites than InMotion. It offers fewer features but also costs less. Especially if you're looking to opt for a shared web hosting plan, HostGator fares better than InMotion. It offers unlimited email, unlimited storage, and adds the choice of Windows-based servers absent from InMotion.
Final Thoughts: Is InMotion The Right Web Hosting Platform For You?
InMotion is a great web hosting platform. But it isn't the best one in the market. There are alternatives that are cheaper and have more features. A couple of things that make InMotion standout are — the excellent speed it offers to the websites hosted on the platform, SSD storage, and other perks like unlimited emails, bandwidth, and no-downtime site transfers.
I'd recommend trying out InMotion without worry if you want to give it a shot — their 90-day money-back guarantee has your back.