WordPress powers over 40% of the websites on the internet. It's a robust content management system (CMS) — and WPEngine is a premium WordPress-specific web hosting company. Among mostly cheap and affordable WordPress hosts, WP Engine hosting stands out for being expensive.
But is WP Engine worth its hefty price tag?
We'll find the answer in this WP Engine hosting review. I'll walk you through the host's top features, plans, and compare their concierge service with cheaper hosts. Let's get started with the most commonly asked questions about WP Engine.
Frequently Asked Questions About WP Engine
Here are answers to some of the most frequently asked questions by webmasters about WP Engine:
Touting themselves as a "digital experience platform", WP Engine offers managed web hosting services for websites and apps built on the WordPress platform.
Is WP Engine owned by WordPress?
No, they just provide hosting services for WordPress websites. The CEO of the company is Heather Brunner and its founder is Jason Cohen.
The company is headquartered in Austin, Texas, United States.
Though expensive, WP Engine offers solid performance, great uptime, and excellent customer service. Its WordPress-specific features are a cherry on the top.
Do I need managed WordPress hosting?
If you don't want to spend time conducting website backups, ensuring site security, and other administrative tasks — then a managed WordPress hosting is probably your best bet.
Now that you know the basics, let's get started with exploring the features, pricing, and downsides of WP Engine.
Getting Started With WP Engine
The platform doesn't provide a standard Cpanel as it's a managed WordPress hosting. They have a proprietary control panel from where you can access your tools. It is intuitive and easy to navigate. ECM's website is hosted on WP Engine, so I can give you an insider look into the control panel and features. This is what the dashboard looks like once you log in:

But before that, you might want to check which pricing plan suits you best.
WP Engine Plans
WP Engine plans begin at $25/month. WP Engine offers plenty of tiered plans you can choose from. All plans offer 24/7 support, 30+ premium themes, and daily backups. The differences arise in the number of sites you can own, the local storage capacity, and the bandwidth per month.
The startup plan has only one site included with 25,000 visits/month and local storage of 10 GB. The bandwidth per month is 50 GB.
The growth plan includes 10 sites with 100,000 visits/month and a 20 GB local storage. The bandwidth per month is 200 GB.
The scale plan has 30 sites and 400,000 visits/month. The local storage is 50 GB and the bandwidth/month is 500 GB.
If none of these plans suit all your needs, you can get a custom plan to get personalized pricing for your requirements.
For getting a further detailed analysis of all their plans, you can check out their pricing page.
I know WP Engine is a bit pricey. But its features may be worth it. Let's explore if the price equals value:
Top Features Of The WordPress Host
WP Engine divides all its features into four pillars: creative agility, ecosystem integration, enterprise performance, and actionable intelligence. In this section, we'll explore the best features of WP Engine that helps it stand out from other web hosting platforms:
Top-Notch Performance
WP Engine doesn't disappoint in terms of its performance.  Most other web hosts require you to install them, but with WP Engine, the content management system comes pre-installed. You just receive your login credentials via email and get started without any additional setup.
A free Content Delivery System (CDN) is included on all plans. This helps you minimize the delays in loading web pages on your website by reducing the distance between server and user.
You can test this through WP Engine's Page Performance Tool that allows you to evaluate how any page is performing. You can also see a set of recommendations to improve your load time and page speed. I ran a check for the top free business tools article on ECM's website to check what analytics show up:
WP Engine also offers a free SSL certificate on every page and is compatible with over 58,250 WordPress plugins. It is a breeze to create posts or pages and it also automates many functions like daily site backups and plugin updates.
Daily Backups
WordPress is highly secure. But this doesn't mean that your website is immune to attacks or malware issues that might cause you to lose content. All plans of WP Engine ensure daily backups of your website.
You can also make a backup checkpoint if you are making major changes to your website. Even restoring your previous backups or downloading them in a ZIP format is super easy.
You can also decide if you want to exclude anything from backups.
WP Engine Security
WP Engine scans for plugins that may expose your website to vulnerabilities and automatically disables them. The hosting platform also disallows any plugins that may impact the performance of your website. There's a comprehensive list available for all the plugins that are disallowed including the reasons why.
Apart from plugins, WP Engine has a proprietary firewall that evaluates the traffic on your website and disables malicious activity or bots. Overall, WP Engine's security is A1.
Staging Support
A staging site allows you to bridge the gap between the developmental version and the live version of your website. A staging site is not accessible by Google or your users, so live visitors never have to face any issues if there are some changes required in the code of your website.
WP Engine allows you to create a staging site right from the control panel, enabling you to catch errors and bugs without putting your site at risk. This feature is available in all the plans. You just go to your sites and click on "Add Staging" to create one from scratch or choose an existing template:
WP Engine Uptime
Web host uptime service is no light thing. If visitors or potential buyers visit your website during its downtime, when they aren't able to access your product or services, they might never come back.
In this aspect, WP Engine is highly stable. It is solid in keeping your website's downtime to a minimum and delivers an amazing web hosting experience. WP Engine also lists some plugins classified from A-Grade to C-grade that you can install to monitor your website's uptime.
Studiopress Themes
WP Engine offers Studiodpress themes as one of its tools. There are over 30 themes with different designs that are easily customizable for your needs. You can also mark your favorite themes and easily filter them out later.
Before installing, you can also preview how a theme looks and if it is the aesthetic you want for your website.
WP Engine Customer Support
I contacted WP Engine's support about their CDN service to get a taste of their customer support team's effectiveness. The team answered quickly and promptly about every follow-up question I had and was willing to get on a call to discuss further.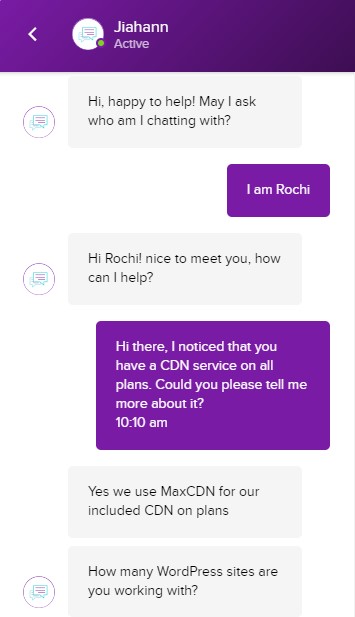 The access to help (via chatting) is 24/7/365. Their average chat response time is under 3 minutes – which is absolutely great, especially for beginners.
Where WP Engine Misses Out
WP Engine is a great web hosting platform. But there are a few areas where it misses out compared to its competitors. While the features make it worthy, WP Engine might not be for everyone considering its 3 primary shortcomings:
Price
Even for its extensive features, WP Engine is expensive. The startup plan begins at $25/month which is relatively pricey for a web hosting platform. Although the plans aren't cheap, it is worth a look if you are looking to level up your website with its plentiful features.
Email Hosting
WP Engine doesn't offer email hosting with any of its plans. You will have to register with third-party services to get electronic mail. This is a major downside to the hosting platform since many of its competitors include an email as part of each hosting plan. A lack of email hosting also makes WP Engine less convenient, especially if you are starting from scratch.
Domain
WP Engine doesn't register domain names. You have to use another domain registrar like Namecheap to register your domain. This omission makes WP Engine a far less tempting option considering its heavy pricing and additional costs of getting a domain.
If any of these shortcomings were a dealbreaker for you, let's explore alternatives to WP Engine that might suit your needs better.
Alternatives To WP Engine
There are tons of web hosting platforms in the market. In this section, let's explore the top 3 alternatives that are close competitors in features and pricing to WP Engine:
WP Engine Vs. Bluehost
If you're a beginner kicking off a new online business or starting a blog, then Bluehost is an affordable web hosting alternative you can consider. Bluehost offers regular and WordPress hosting plans and even gives you a free domain for one year. It is also more user-friendly and easier to navigate.
WP Engine Vs. Siteground
Siteground is more popular than WP Engine when it comes to web hosting. Siteground might be more preferable for you if you want to run a lot of websites since it doesn't limit the number in the middle and higher plans, unlike WP Engine. Siteground is also more generous with its bandwidth because it doesn't meter the traffic to your site. It also offers to create as many email accounts as you need.
WP Engine vs. Flywheel
Flywheel might be for you if you don't have the budget for WP Engine. Their plans begin at $13/month which is fairly cheaper than its competitors. Flywheel is also more beginner-friendly although their 24/7/365 customer service only begins once you become a customer.
Final Verdict
WP Engine is a superb WordPress host. It's reliable, delivers top-notch performance, and offers managed plans — so numerous administrative tasks for your website are taken care of.
But it's expensive and might be too pricey for beginners without email and domain service. If you are looking to level up your website or have a lot of use for WP Engine's amazing features, it might be the right web hosting platform for you.