Are you a content creator, or pursue any other kind of creative endeavor?
Then, like any business, there are multiple things to take care of simultaneously: analyzing your performance, marketing your products and services, responding to emails, finding new customers, managing your team (if applicable), and the like.
No wonder, running a business gets expensive, time-consuming, and overwhelming pretty quickly. Luckily there are more free business tools than ever to help you. Here's a list of a few of the most useful ones you can integrate into your workflow straightaway:
1. Mailchimp
An email list is an invaluable asset for any online business, and Mailchimp lets you use its email marketing software for free until 2000 subscribers. You can use it to build one-to-one relationships with your target audience by interacting with them regularly. Send weekly newsletters, set up autoresponders, and keep your customers in the loop about all your new updates.
The best thing Mailchimp offers though is its email campaign builder: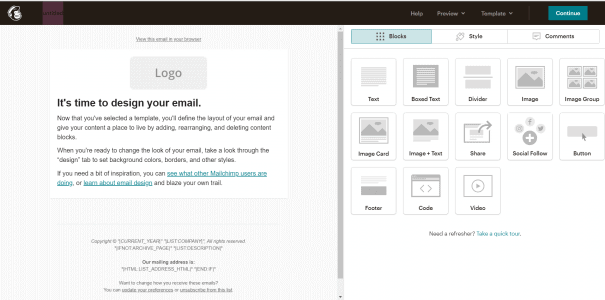 If Mailchimp doesn't work for you though, see the best alternatives for it here.
2. Evernote
One of the best tools for bookmarking material you want to read in the future or use for research purposes is Evernote. It has notebooks, tags, and other ways to organize the bookmarks you make. You can use it for brainstorming ideas, collaborating with others on a project, and simply manage all your hustles in one place.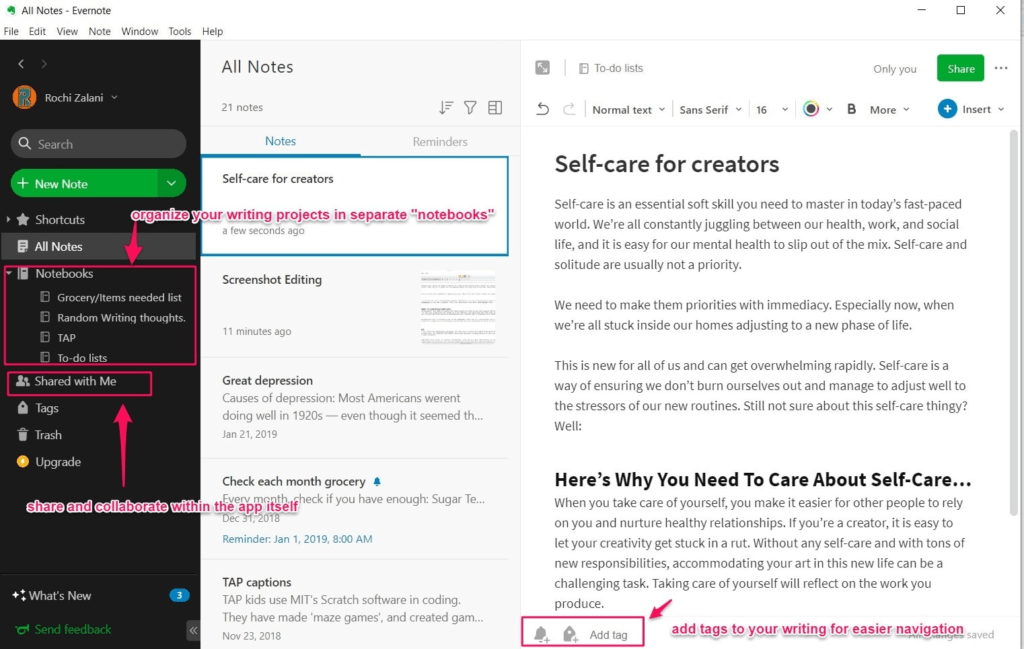 3. Workflowy
A good to-do list app is your best friend when you want to maximize your day as a creator. Workflowy's minimalistic design and plentiful features would be amazing for jotting down all your tasks in one place and keeping them organized.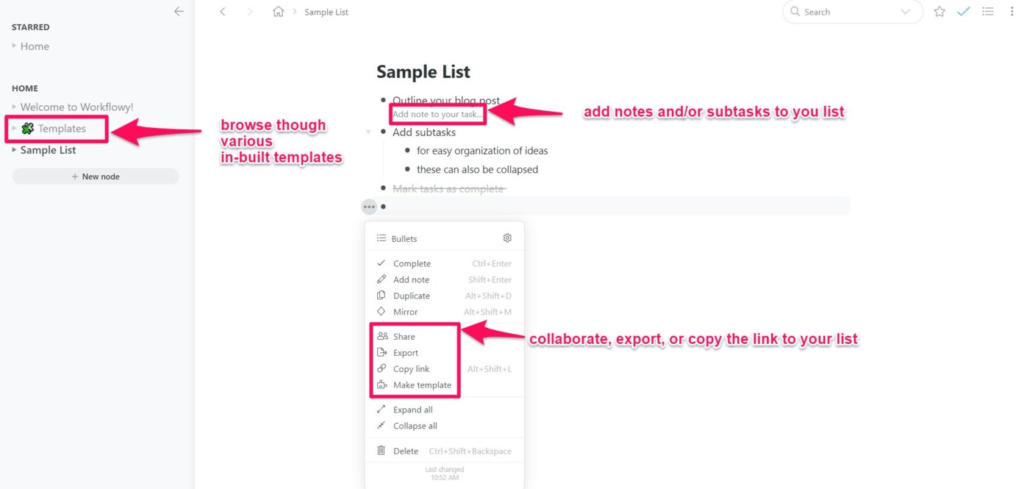 4. Gmail
Gmail can be your go-to email tool because it's simple to use, integrates with other Google cloud software, and offers generous free space. Hangouts, email tracking extensions, and various other software integrate seamlessly with it, thereby increasing its utility.
You also get 15 GB of cloud storage with your Gmail account through your Google Drive account. You can keep your business-related documents, images, and even the occasional raw footage if you're filming video content. Pretty neat to get for free. And hey, if you run out of space the paid plans are affordable.
5. Dropbox
You don't have to necessarily use Google Drive for cloud storage. Dropbox is a great option as well. It allows you to store traditional files, cloud content, and web shortcuts together in a single place. It is super handy when you want to centralize all your content for your team or personal convenience. The free plan allows for up to 2GB of storage in 3 devices.
6. Zapier
There are only so many tasks you can do manually. The biggest thing that can help your productivity is automation. Enter: Zapier. Zapier allows integration with the apps that you use most every day and does the busy work for you. It integrates with over 3000+ apps for all roles. The free plan allows you to automate 100 tasks per month.

7. HubSpot
If you want to track customer interactions on automation, use HubSpot CRM. The free software has the basic features without all the unnecessary complexity. You can sort out every communication you've had with your customers and keep track of your online business' activities.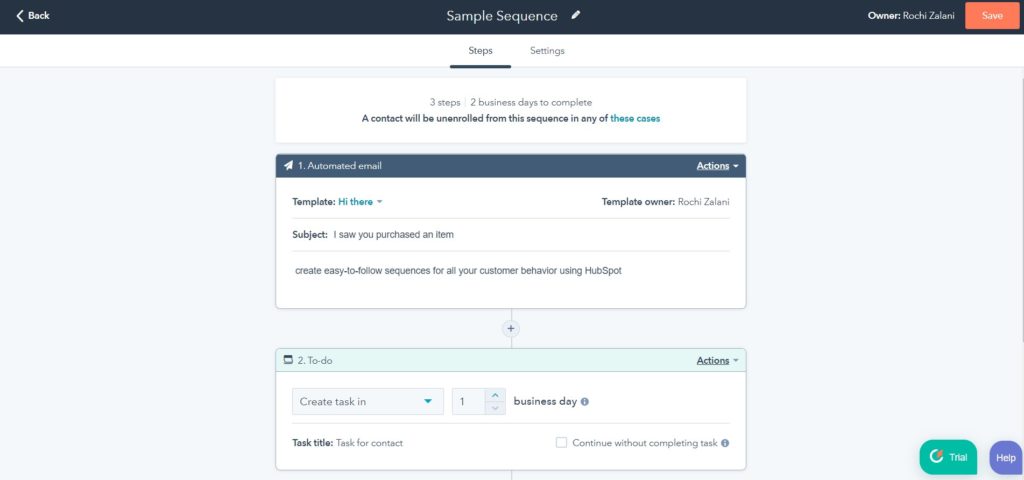 HubSpot also has a useful blog idea generator and email marketing software.
8. Buffer
If you target an international audience and send out educational or entertaining content on your social media account, then you want to schedule updates. And Buffer makes it easy to manage multiple platforms from a single place. The free plan has certain limitations but should do if you're a moderate social media user.
9. WordPress
WordPress has been the default choice as a content management system (CMS) for many creators because it's free, flexible, and powerful. Being an open-source software, it has numerous extendable functionalities through plugins. You can build a full-fledged E-commerce store, business website, or simply start a blog on the top of WordPress — it makes everything a breeze.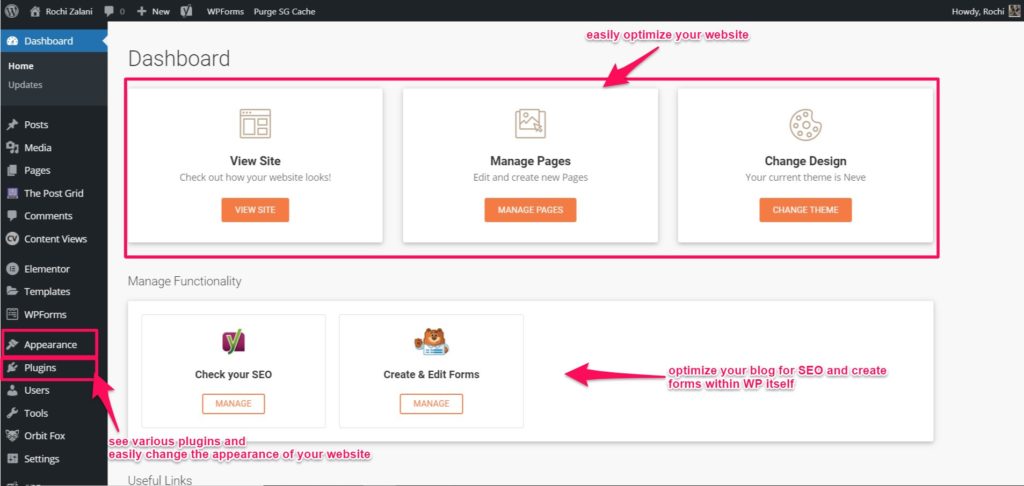 For hosting your WordPress websites, WP Engine is a favorite web host. It has great customer support and is easy to use.
10. Canva
The go-to graphic design tool for non-designers is this drag-and-drop software: Canva. It has numerous templates that will let you take care of almost all your social media marketing, branded graphics for your blog, and other marketing collateral such as Ebooks.
For instance, there were many beautiful templates available for blogging graphics:
11. Udemy
Udemy has short, focused courses that can help you get practical advice to fast-track your online career. It stood out as teachers there were practitioners who were pursuing teaching on Udemy as a side gig. I searched for "online career" and then filtered it to "course creations" to get exactly the courses I wanted: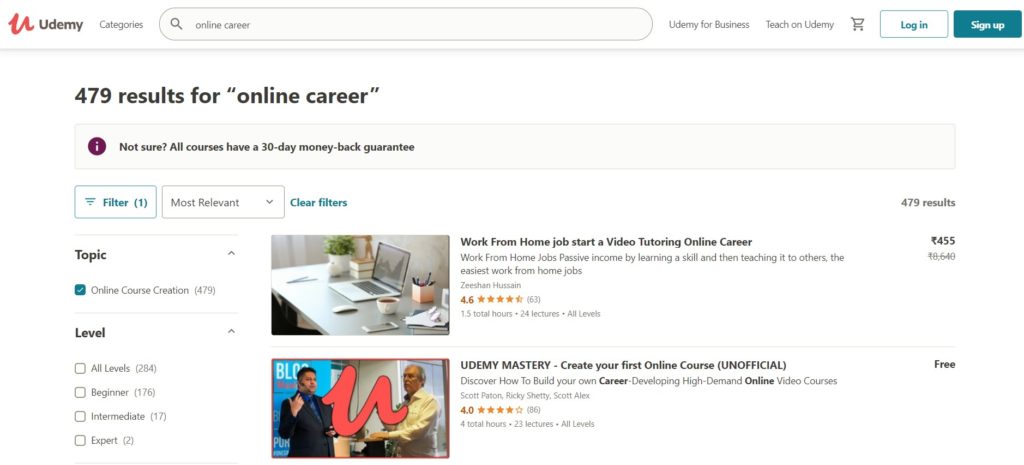 If you want to introduce yourself to new subjects, then the platform could hook you up with a decent instructor. Plus most courses (besides the free ones) now sell for affordable rates, so you won't make a dent in your pocket — even if you take a paid one.
Other online learning platforms you can consider are Skillshare, edX, Coursera, and Masterclass.
Recommended reading: 15 Best Online Course Platforms To Sell Your Skills
12. AngelList
If you are looking to grow your business by hiring more people, AngelList is the number #1 place you should look at. Hiring people with niche-expertise can help you delegate tasks you're intermediate at to experts and provide more value to your clients. AngelList has many talented people listed on the platform who are looking forward to working with creators and small businesses.
13. Elementor
The visual editor inbuilt on the WordPress platform works nicely, but using Elementor could extend the functionality of your website. It's a content builder which can create a beautiful and responsive website for you from scratch. Add ratings, boxes, accordions, etc. to make your blog post interactive.
For example, we used Elementor to make our Buzzsprout review more interactive and digestible: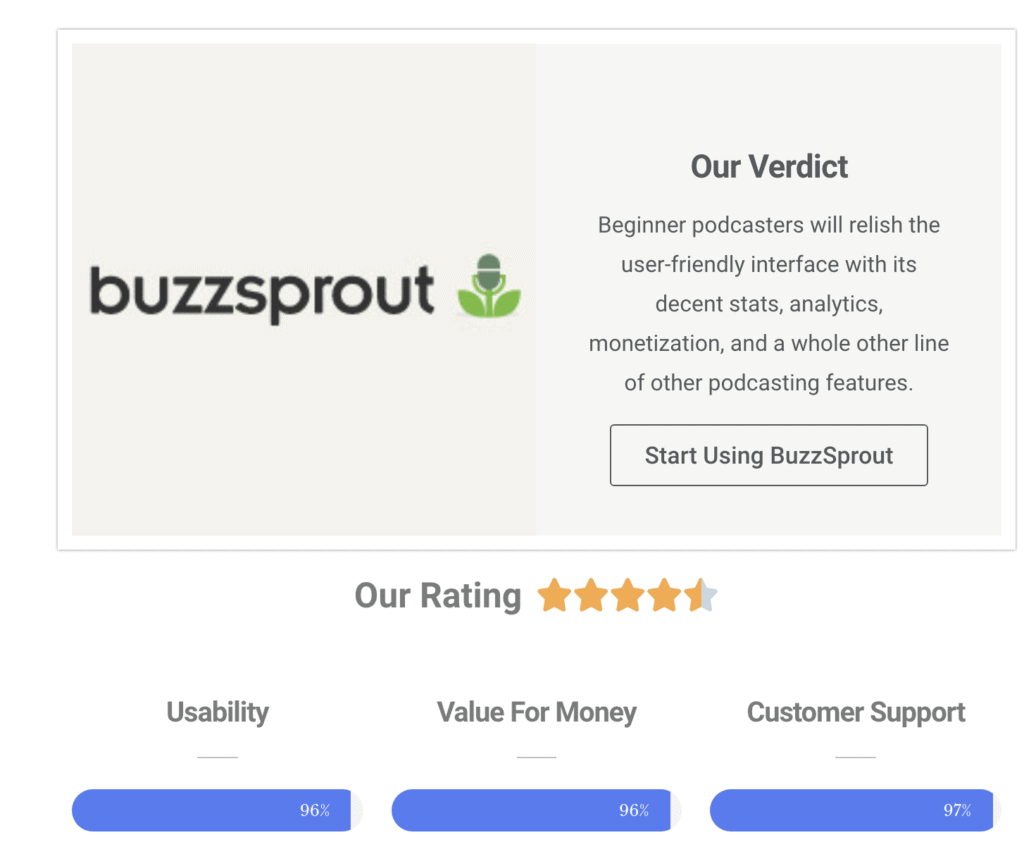 But even if you just want to add a table of contents, content boxes, and some layouts for improving the reading experience of your blog — that works too!
14. Google Analytics
Once you've started working on your website, you need to get an analytics platform like Google Analytics to monitor your content's performance and visitor's engagement. Based on data, you can make informed marketing and business decisions to keep getting upward momentum.
But there is so much data here that it can get overwhelming real quick (especially for beginners). This is when custom dashboards created by other professionals such as this Pinterest Dashboard by Kristie Hill also come in handy for tracking specific data points.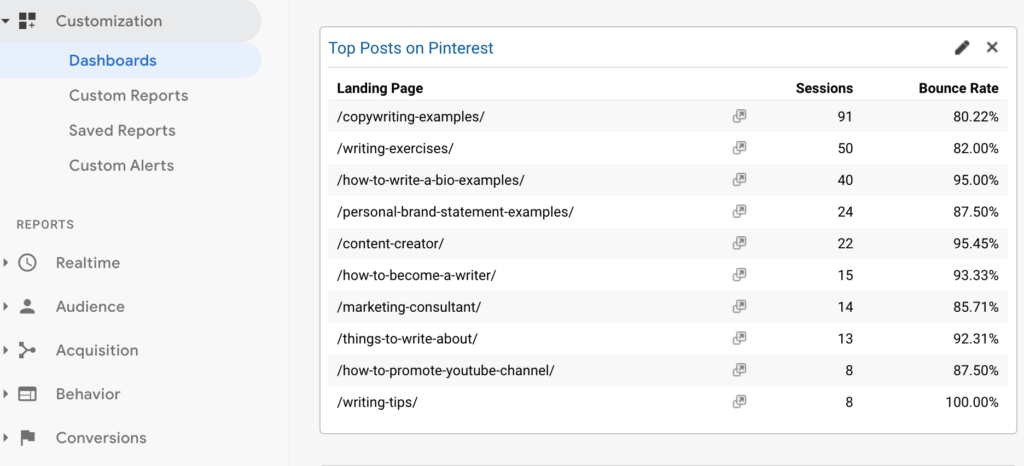 15. Google Documents
Google Documents is a life-saver for creators. It can be used to create blog posts, collaborate with others, brainstorm ideas, or outline your course. The various ready-made templates at Google Documents also come in handy.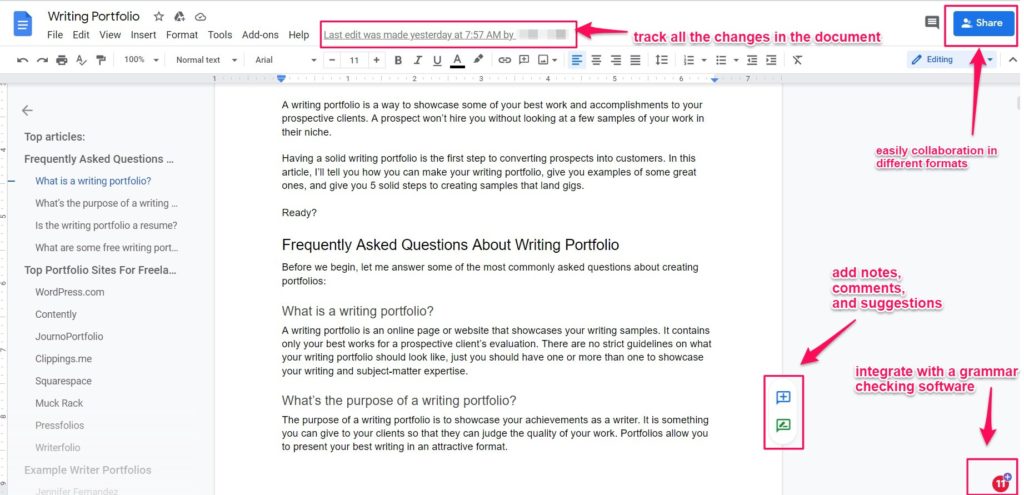 16. Gumroad
Getting paid for your work should be easy. Gumroad makes it possible. It makes it hassle-free for customers to pay you and for you to receive that payment. Their free plan allows you to sell unlimited products with a higher charge fee and commission. Your profile also enables you to track sales and monitor growth. It also allows customers to give ratings to your online products.
17. Unsplash
To add a visual flavor to your articles, you can use high-resolution pictures. But getting elegant stock photos for free isn't easy. Unsplash has pictures for most broad subjects you might be writing about. Here I just typed "content creation tools" in the search box to get thousands of relevant photographs:

18. Grammarly
If you send an email where an embarrassing typo slipped through, it could lead you to lose some business. Grammarly extension can perform a grammar and punctuation check for all of your writing for free. Though it can't substitute a human proofreader or self-editing, it could serve as an extra layer of defense.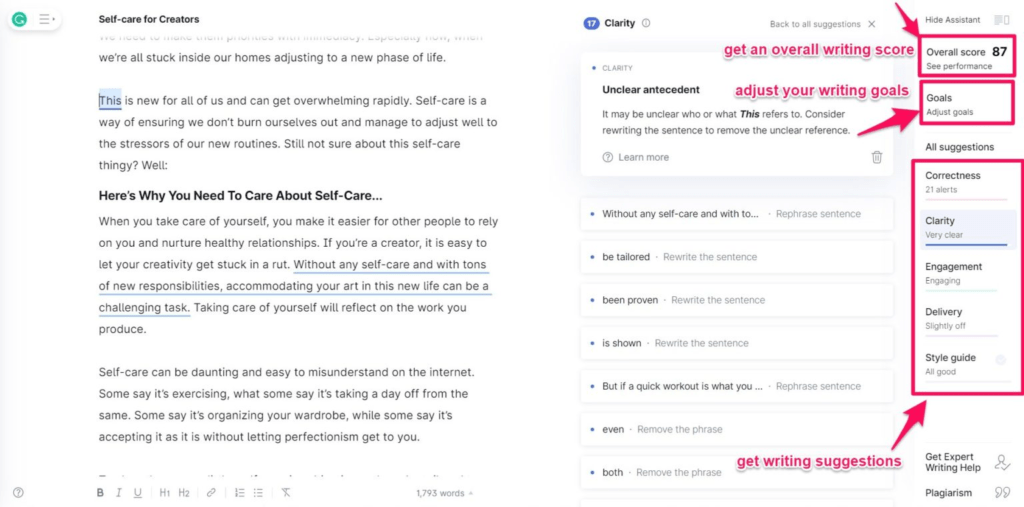 19. Trello
Trello is a robust project management tool. What I love about this tool is that the creators have been very generous with the Free version. The feature set offered in the Free Version is enough to suffice for most writers and creatives.
Here is how ECM uses Trello to manage the editorial calendar: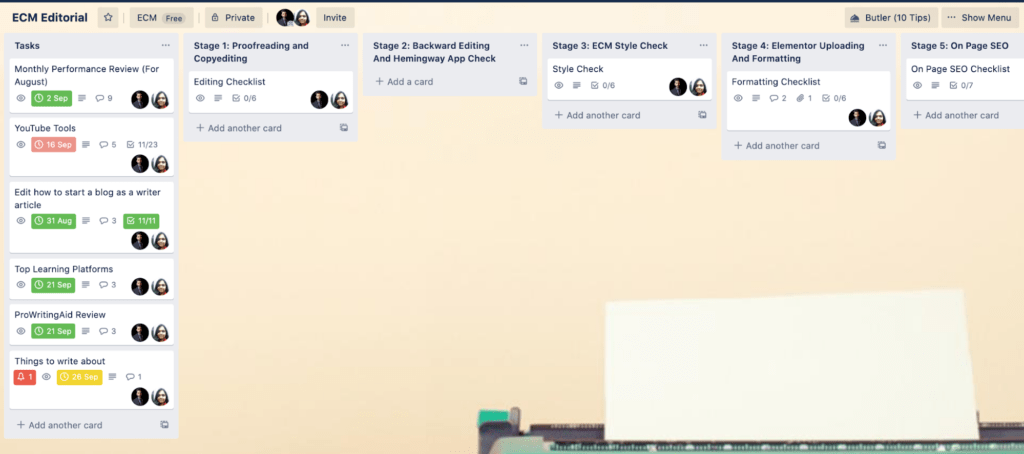 But you can also use Trello for other projects by using features like cards, labels, and tags. Each card represents a task. You can create lists and shift cards from one list to another to track their progress.
An alternative to Trello for project management and collaboration can be Asana.
20. Zoom
Zoom is useful for video conferencing, but can also function as a webinar software. The tool saw an unprecedented rise in its valuation and usage after the COVID-19 pandemic broke out. The tool is being used by professionals and businesses across the globe. As a result of its ubiquity, you can know that conducting an online meeting is easily possible using Zoom.
What if you can't communicate over Zoom? Most people still have a Skype account and would readily be available for a Skype meeting if nothing else works out. It has transcended from being a video conferencing platform to a network. So, using other online meeting software like Skype or Google Meet can also come in handy for communicating virtually.
21. PayPal
PayPal is almost synonymous with online payments. So much so, that almost all clients request to use this tool when it comes to money transfers. As an Indian citizen, all I needed to register was the national identity of my country and my tax identification.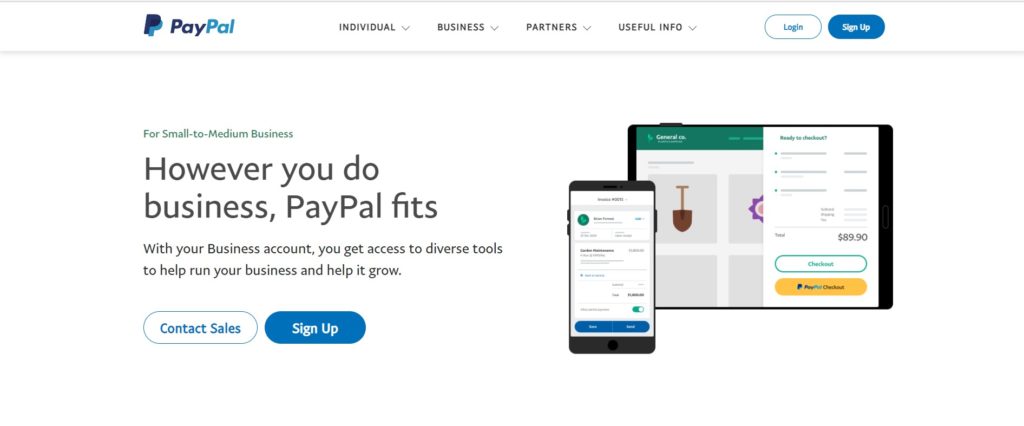 The issue with Paypal is that it is very expensive: both the conversion fees and the transaction fees are very high. The time taken for the transfer of the money to your bank account is also high.
I err on the side of Payoneer, Stripe, or even Wire Transfer instead of Paypal, because of how expensive it is, but if there aren't any other options available, Paypal works fine.
22. Wise (Formerly TransferWise)
Wise is a cheap and better alternative to PayPal.  The tool can be used to make payments and offers better exchange rates and charges minimal transaction fees. However, the tool isn't available in as many countries as PayPal and the initial process for your clients to sign up is a tad tedious. Nonetheless, your clients will love the tool once they are on it.
TransferWise is the fastest of them all: a transfer that would take an entire week with PayPal takes a single day with TransferWise.
23. Thinkific
Online courses sell like hotcakes. And Thinkific, with its drag-and-drop course builder, makes it easy for creators to create them. It also has handy ready-to-use templates and can serve as the ultimate course creator to get you started.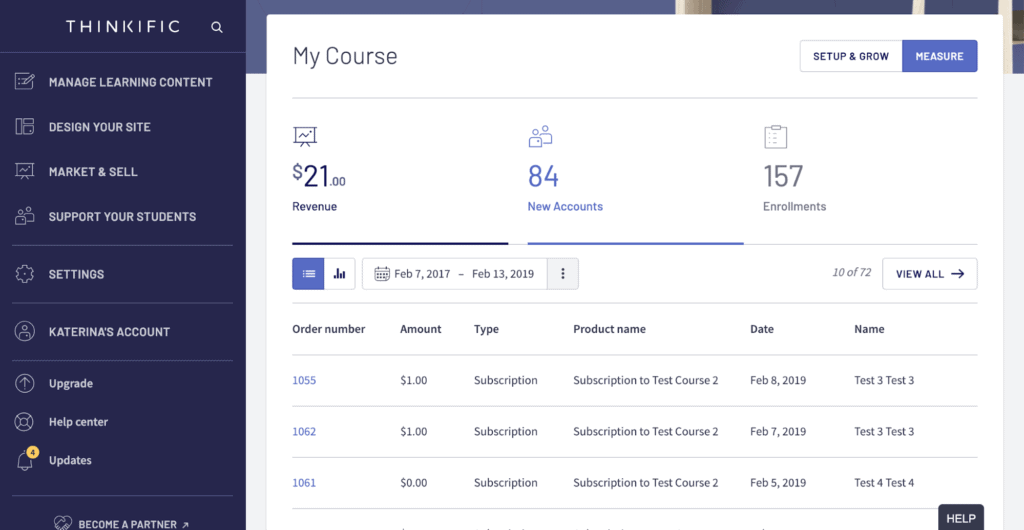 24. Buzzsprout
If you are an online podcast creator, Buzzsprout is a great podcast hosting platform. It has all the necessary features to get you started. The user interface is intuitive and even if you get stuck somewhere, the company offers good customer support. Read our full Buzzsprout review. Or see the best podcast hosting platforms in the market.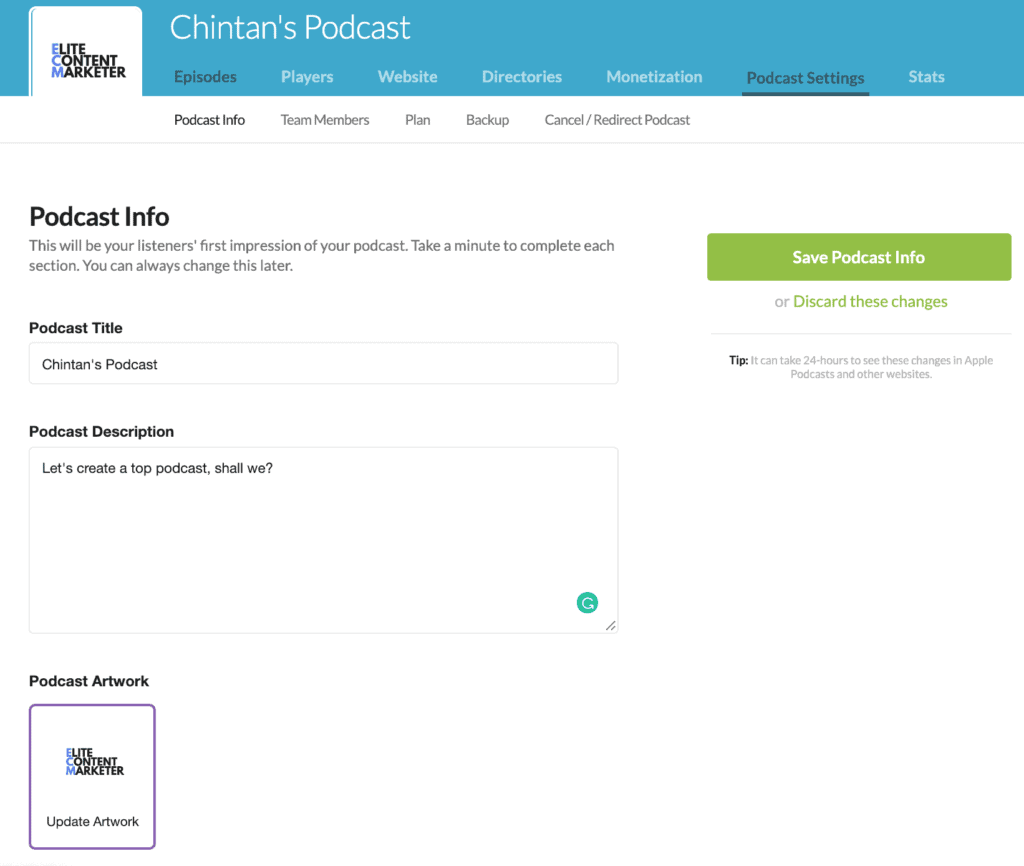 25. RescueTime
RescueTime takes the guesswork out of where you actually spend your time on your laptop and the websites you visit most. It also automatically categorizes the websites you visit as productive, neutral, and distracting. This you can change manually to get the right fit.
The tool sends you a weekly report that enumerates the number of hours you spend on your screen and what your productivity pulse has been for the week. You can also recognize the patterns in your workday: when you tend to be most productive or sluggish. Through this information, you can prioritize your work sessions around the times you tend to be alert.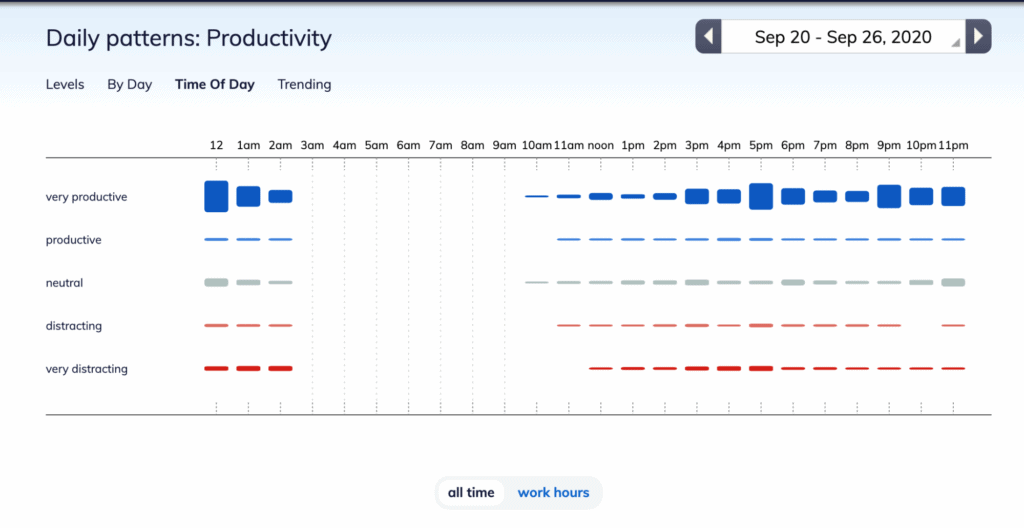 The premium version offers a "focus time" feature" to block distracting websites while you work. This works great in helping you completely immerse yourself in your latest creative endeavor.
26. Calendly
Calendly is a calendar and schedule management software. It automatically associates with your Google calendar and you can integrate the two applications together. You can also block out certain times of the day for business meetings in a minimum of 15-minute blocks.
It also sends out automatic email reminders to all the attendees so that you can stay on top of everything. Here too, the Free version will suffice for most people's needs.
A nice alternative to Calendly is the Hubspot scheduler.
27. Slack
Slack is the go-to communication tool when it comes to communicating with your clients. It is ubiquitous. You can create Slack communities within your industry, or for your brand or website.
It is the preferred tool of community creation by most professionals over Facebook. This is because there are a few privacy issues with Facebook communities that most people aren't comfortable with. Slack does away with this problem.
28. Fiverr
Fiverr is a marketplace for hiring freelance talent.
It provides a platform for freelancers to provide their services to customers online. So if for example, you want a voice-over for your article so that it may be available in the audio format as well, you can hire someone via Fiverr to do it for you.
The company provides various services such as Graphic Design, Translation, Data Entry, and SEO to name a few. There are numerous one-time jobs that are available through the platform. The best part of all? All of this comes at a very affordable cost: you can hire a seller to do the work for you at a low price.
The tool is also helpful in fulfilling tedious administrative tasks. It can help you out in looking for the contacts of prospective websites that you want to create for and even establishing contact with them.
An alternative to Fiverr is Upwork. You can get access to subject matter experts on the platform.
Final Thoughts
There are thousands of softwares out there to help you move your business forward and automate tedious processes. Even if you have a limited budget, there are free tools that can help creators running small businesses.
There's no reason to not use these SaaS and technology tools to take your business to the next level – they are free, they are easy to use, and they will help you get the job done. Take advantage of these free softwares and continue creating!