When I started looking for proofreading jobs, I had little to no exposure. It was a tiring and lengthy process to look for work as a new freelancer. However, later I realized, I wasn't looking at the right places for opportunities.
To iron out your path, I have a comprehensive list of sites that help you find proofreading work from home or office. Before that, let me address some common questions about proofreading jobs.
Frequently Asked Questions About Proofreading Jobs
Here are some of the most asked questions regarding proofreading jobs.
Proofreading is a part of editing a document and highlighting or correcting grammatical, structural, stylistic errors, and more.
What skills do you need to become a proofreader?
You must have extensive knowledge of the language and subject and be excellent in grammar and spelling. A sharp eye for details is required. Further, you need to possess the ability to deeply edit the content and check it for relevancy, style, structure, and presentation.
How do you become a proofreader with no experience?
Begin by polishing your skills and practice editing several documents, each with an increasing level of difficulty. As an amateur, sites like Domanite are a good starting point. Though they pay relatively less than other proofreading job boards, you will gain experience by working with different clients.
How much money do proofreaders make?
On average, Proofreaders earn $15 to $20 an hour and with experience, this can rise up to $25 to $50 an hour.
ProofreadingServices.com
Wouldn't you like to earn between $19 and $46 an hour from the comfort of your place of choice and flexible working hours? Proofreading Services provide, you guessed it—proofreading jobs. All you need to do is answer their questionnaire, which has a time limit of 20 minutes.
The best part about joining Proofread Services is the exposure you get by connecting with some of the world's top proofreaders and editors.
Freelancer
Endless proofreading job opportunities are available at Freelancer. Get started with completing your profile by adding your picture, resume, work experience, certificates, skills, and more. On the sidebar in the looking for work section, mention the time duration of the project you're looking for.
I like the idea of being able to sift through jobs by adding the pay range. Another exciting thing is that you can enter into contests which are projects with strict deadlines posted by clients. Think of it as a technical interview. They start from $8 an hour and can go up to $191.
UpWork
UpWork is yet another site with a myriad of proofreading job opportunities. Start by selecting the type of work, and browse through different positions posted by clients. Some clients display fixed prices and some are open to negotiations.
It is the place for freelancers and they are always open to take people in their team. The more projects you complete, the more likely you are to get noticed by the UpWork team. Accepting payments is done through multiple options like Paypal, wire transfer, etc.
Fiverr
Fiverr is well known for sellers and buyers alike. It can be your go-to option to get gigs, projects, etc. $5 is the starting bid and can go higher depending on the type of work you offer and client negotiations.
Set up your profile by adding description, adding languages, skills, education, certification, and link your social accounts like LinkedIn, Github, Facebook, etc. To start selling your service, you need to complete your Fiverr profile and follow their guidelines.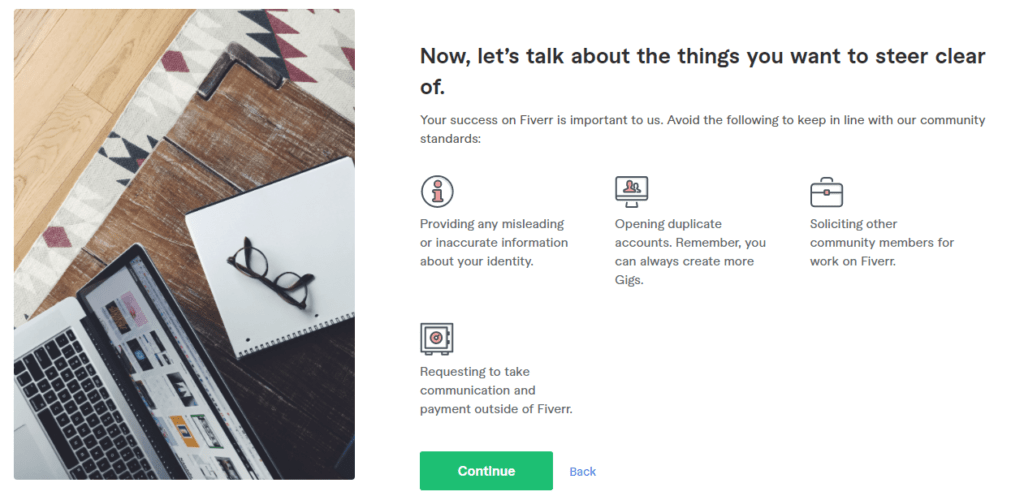 Interesting to note, this website also tells you what you shouldn't do while selling your work online. Fiverr calls this the onboarding overview. Once you're done, you're ready to start selling.
MediaBistro
Media Bistro is yet another job board through which you browse your perfect job/client. You will find all the jobs related to marketing and media. Sift through different options using tabs available at the top of the dashboard.
I like the job alert feature as Media Bistro notifies via email every time there are available jobs for the keywords you type. Just sign up, and you're ready to traverse suitable opportunities.
Reedsy
Reedsy connects professionals to clients. Once you sign up, you can instantly connect with clients and respond with quotes. As a professional offering service, Reedsy levies a 10% service fee.
This job site uses data science to match you with the most appropriate client. Here's how your tab would look :
When you don't wish to take clients, simply turn on the out-of-office button on the tab's left side.
LinkedIn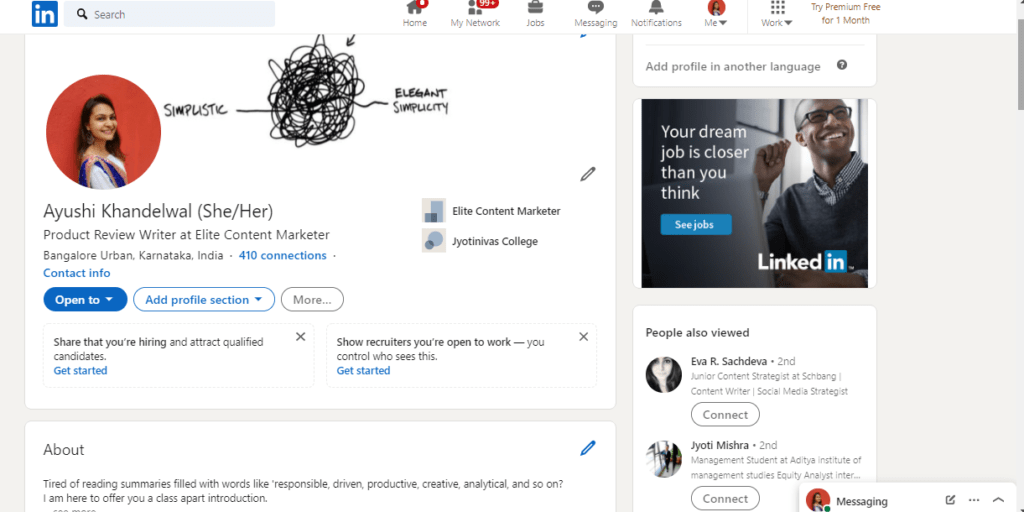 My go-to place to find a job is LinkedIn. You are exposed to unlimited companies looking for freelance, full-time, or part-time proofreaders and other services. Much like other job portals,
LinkedIn requires you to complete your profile by adding your bio, work experience, certificates, and so on.
It is one of the social media platforms solely directed for professional connections. You can share your work and explore companies, people looking for the same job as you.
You can set up your job preferences and leave them to the team to suggest new openings or similar job roles. Take advantage of LinkedIn and connect to the who and whos of the industry.
EditFast
As the name goes, EditFast prides itself on quality and efficiency. Begin by registering your account and passing their review. It is a freelance opportunity, and EditFast is not under any obligation to provide you with clients.
Upload your resume in their system; if a client is interested in hiring you, EditFast will notify you with the same. There is a detailed registration process involving nine steps and can take between one and two weeks. Without a webpage, you cannot take any new projects or clients.
ClickWorker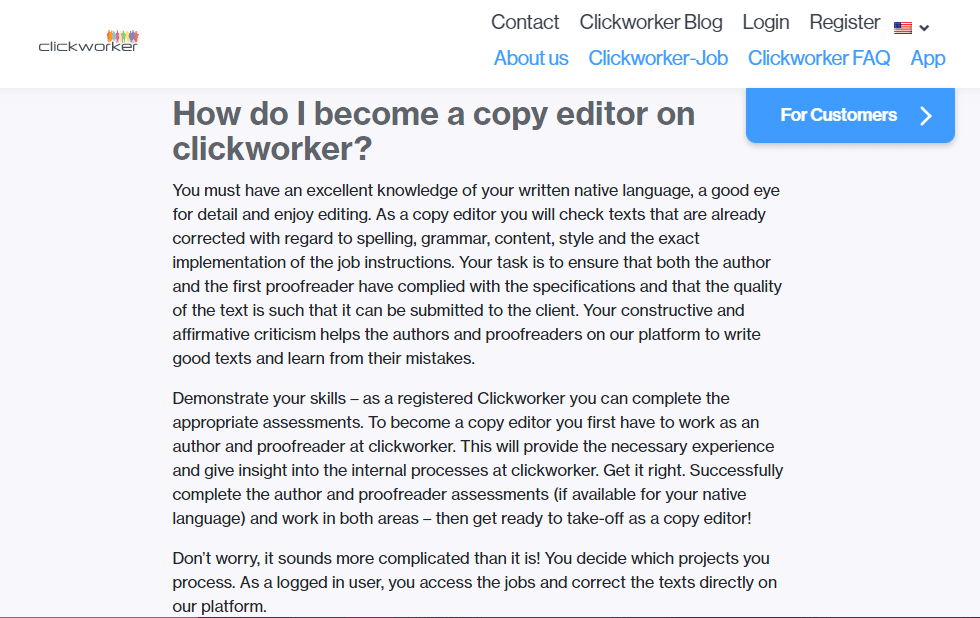 Clickworker opens its door to copy editors possessing excellent knowledge of the written native language, a good eye for detail, and who can have fun while editing. To be a Clickworker, you need to register with them.
To work as a copy editor, you first have to work as an author and a proofreader. According to Clickworker, this will provide the necessary experience and insight into the internal processes.
Once you complete the author and proofreader assessments, you can become a copy editor and access the proofreading projects. You access the jobs and correct them directly on Clickworker's platform.
Wordvice
Be it a research article, dissertation, or essay, Wordvice employs experienced freelance editors to provide quality edits. Take a look at their requirements:
Native fluency in English.
Be enrolled in or have completed a graduate degree program.
Minimum two years of professional experience.
Knowledge and application of various formatting styles such as APA, MLA, AMA, and Chicago.
Advanced proficiency in MS word and its "track changes" feature.
Strong technical writing skills.
A keen eye for errors in writing.
These are the necessary qualifications. They have a list of what they prefer in a candidate. After submitting your resume, you will undergo an assignment, after which they'll declare the results via email.
Scribe Media
It's all about helping authors. Book editors are welcome on Scribe and are allowed to take ownership of their projects. A proofreader's position is open, paying $35/hour or $1/word for proofreading full book manuscripts.
You get to work with famous authors, entrepreneurs, company CEOs, etc. You can expect to hear back from them within 15 days, after which they don't encourage a follow-up. They only consider candidates authorized to work in the United States, and they do not sponsor applicants for work visas.
Domainite
As a newbie proofreader, you will gain tons of experience through Domainite. Their pay is relatively less. Focus on getting clients and attaining expertise. To register with Domainite, fill out their form available on their website.
The process is slightly different from other job boards. You need to generate a random five-digit code and email the same to [email protected]. Their team cannot process your samples unless you do this.
Along with the code, mention if you are applying for the position of a writer or editor. Type the code in the application form and continue to fill it. If your sample impresses them, they will contact you regarding the position.
Proofreading Pal
Earning between $500 to $3000 per month as a student is more than you can think of. As an editor, your job will be to edit for sentence structure, clarity, and style. There are two conditions before application:
Are currently or enrolled as a graduate or postgraduate student in an accredited United States college or university and have a 3.5 GPA or above.
Have a graduate degree with a minimum of 5 years of professional proofreading and editing experience.
If you meet the above criteria, you need to answer a short independent contractor interview. You can expect to hear from them in the next five to ten business days regarding the hiring process's next employment assessment steps.
Cactus Communications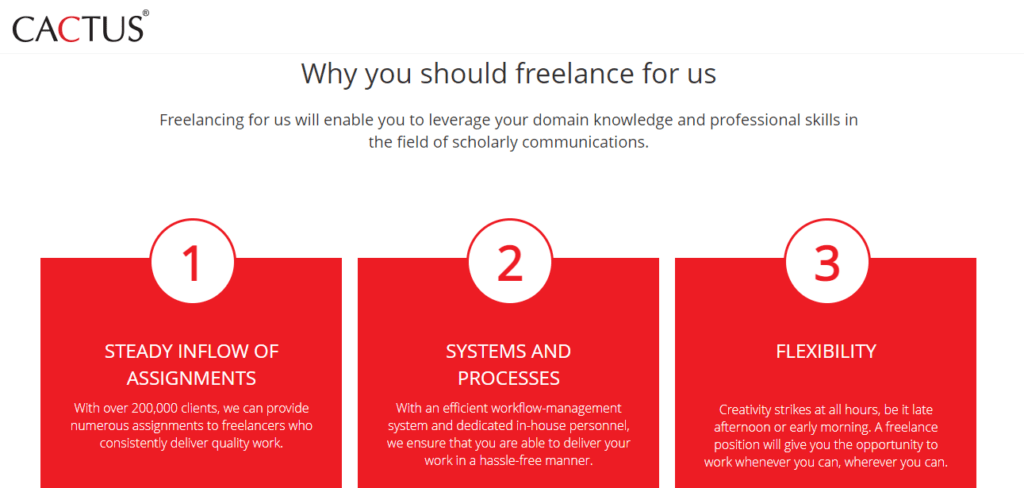 At Cactus, a position for a freelance editor is open with multiple options. As a freelance editor:
you have the flexibility to determine work hours,
an additional fee of up to 20%,
and the freedom to work from anywhere.
But with freedom comes responsibility. Here are the two requirements of working for Cactus:
A Ph.D./master's/bachelor's degree or expertise in one or more specialized subject area in physical sciences, material sciences, engineering, health care, life sciences, medicine, and surgery.
Excellent English editing skills and attention to detail (prior editing experience would be great).
If you possess the required skillset and are eligible to apply, fill out their application form. In case of queries, please contact [email protected].
Gramlee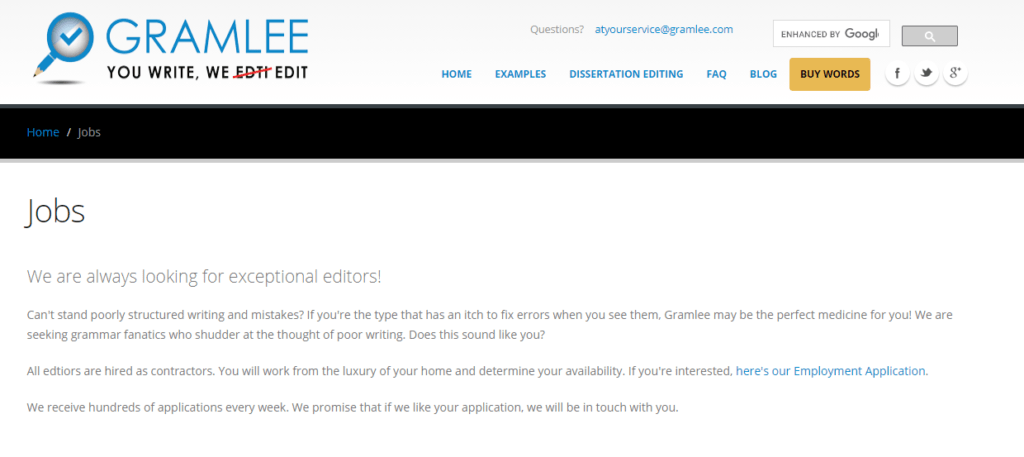 Are you an exceptional editor? Gramlee is looking for you! If you itch to fix the errors and can't stand poorly structured content, join their team and proofread from home.
They pay three cents per word for 3000 words. Projects with over 3000 words are assigned a senior editor and may be paid more depending on the quality of original writing. Fill out their employement application to be a part of the Gramlee family.
Scribbr
Scribbr follows a long process before recruiting a candidate.
Pass the language assesment consisting of spellings, word choice, sentences, punctuation, style, and consistency.
The second part is the academic writing review checking the tone, quotations, numbers, appropriate voice, numbers, and understandability.
When you pass these assessments, you are given the assignment to complete.
Upon completion of the assignment, you are required to complete two simulations/made-up orders, after which you can start taking real projects.
Now for the big question— How much do you earn? The starting price is $0.017 per word and goes higher depending on the deadlines and quality of work.
Writer's Relief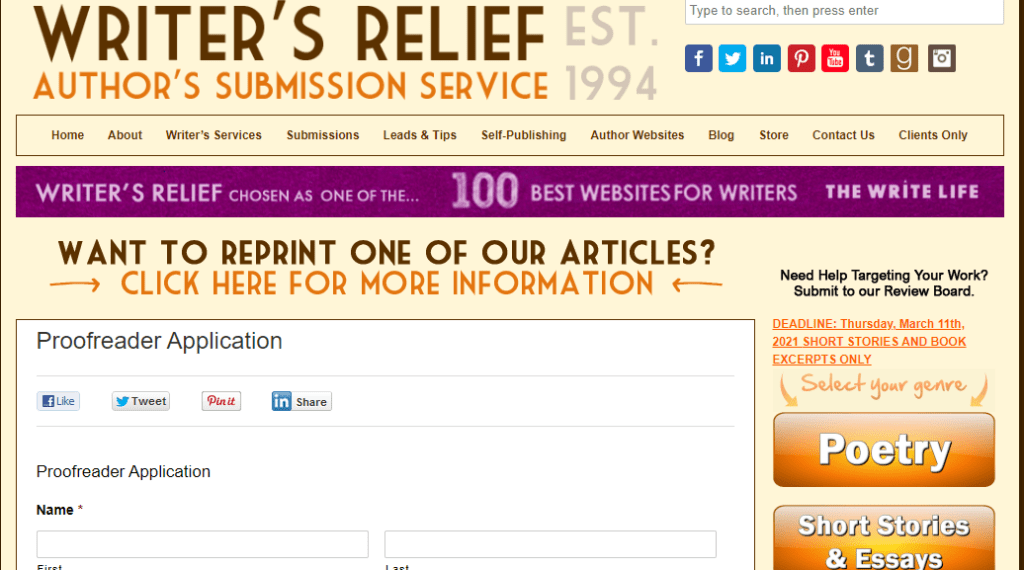 You cannot find a better site to showcase your creativity. Writer's Relief gives creative writers a chance to get published and accept only 2% of applications sent by writers and proofreaders. It may be a hard nut to crack, but nothing can deter you if you have the right skills.
Fill out their application to submit your query.
SmartBrief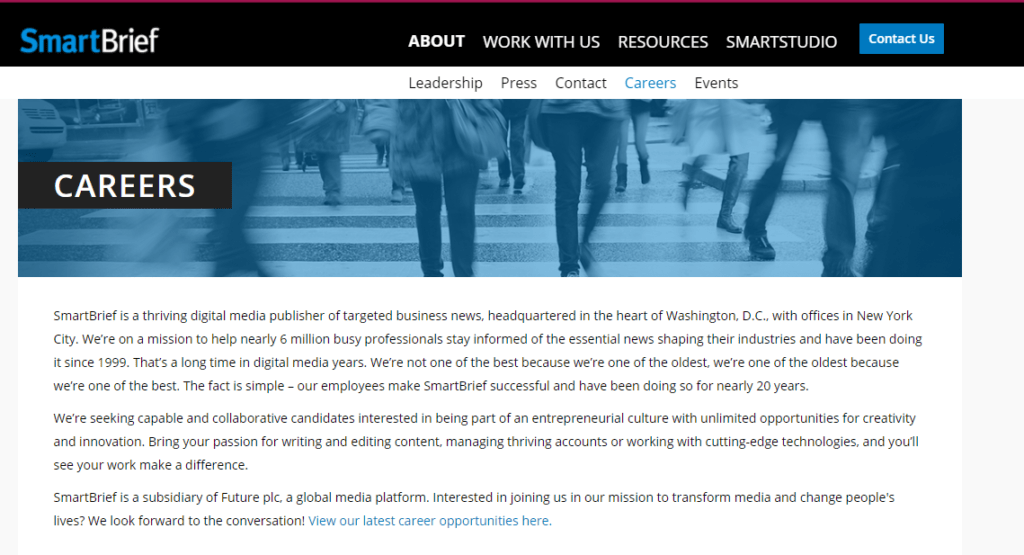 SmartBrief is a digital media publisher and has openings for content editors and part-time copy-editors. They have detailed guidelines with job descriptions available on their site. The application process is quick, done, and you can expect a response from them within 48 hours. Here take a look at this:
If strict deadlines do not intimidate you, this job is for you.
Polished Paper
Do you consider yourself a world-class proofreader and editor? Because that's precisely what Polished Paper aims to deliver. Finding out the application process may be a bit tricky. Head to the bottom of the page and click on editing opportunities.
From then on, you will have to register yourself, upload your resume, and answer their 35-editor question test. Sounds tiring, right? However, you are free to use outside sources to complete the test, e.g., MLA, CSE, APA, and Chicago formatting guides.
Tools To Begin Your Proofreading Journey
Grammarly is an all-in-one grammar checker. It corrects punctuation errors, wordiness, sentence structures, and so on. Moreover, it is a digital writing assistance tool based on artificial intelligence and natural language processing. Real-time feedback and explanations of corrections are crucial to learning and improvement.
Price: Free plan: Free to use with an internet connection.
Premium version: $29.95/month.
Business: $12.50/month/member.
ProWritingAid
ProWritingAid is designed to improve your writing style by checking readability, grammar, and spelling. It fixes writing mistakes and typos and provides a detailed summary report. It also has a handy plagiarism checker. It flags misuse of commas. ProWritingAid provides synonyms and automatically deletes some of the grammatical and punctuation errors. Use this proofreading software in MS Word, Google Docs, Open Office, Google Chrome, and Scrivener.
Price:
Free plan: Free of charge with an internet connection.
Premium plan: Starts at $20/month.
Premium Plus plan: Starts at $24/month.
Unlike other editing and proofreading software, Hemingway doesn't correct mistakes but highlights them with different colors. The readability score helps to understand the quality of the content. It works well for checking other grammatical errors like style, use of adverbs, etc. The free version is useful for well-practiced and proficient writers.
Price: The desktop version is available for a one-time payment of $19.99.
Final Thoughts
A consistent approach to enhancing your language assessment skill will make you a better proofreader. It's all about different edits like in-depth editing, presentation edit, structural edit, content edit, etc. when you combine all these in a sequence, you can get the best results.
Each website mentioned above has a different set of guidelines and approaches towards providing proofreading or editing jobs. I highly rate LinkedIn as you can explore various options and make valuable connections in the publishing industry.