YouTube has seen unprecedented growth in the last decade — especially in 2020 when everyone started spending more time on screens.
But what kind of videos get the most views on the platform? Which YouTube marketing tactics work in 2022? Below are key YouTube statistics to help you understand the platform.
Whether you're a new video creator looking to make money on YouTube, or a seasoned marketer who wants to promote a brand's YouTube channel, these numbers will come in handy.
YouTube Stats Overview
Let's begin with YouTube stats on the platform's most popular videos, its user demography, and the like.
1. YouTube is the second most popular website in the world receiving over 60 billion views. (SEMRush)
2. 'Baby Shark' is the most viewed YouTube video with 10.41 billion views. (Statista)
But let's move back in time a bit.
3. YouTube's website was launched on February 14, 2005.
The first video uploaded to YouTube called "Me at the Zoo" had 246 million views (at the time of writing this article).
By 2006 the platform received 100 million views per day. (USA Today)
4. The U.S. has the second largest YouTube audience of 247 million viewers after India. (Statista)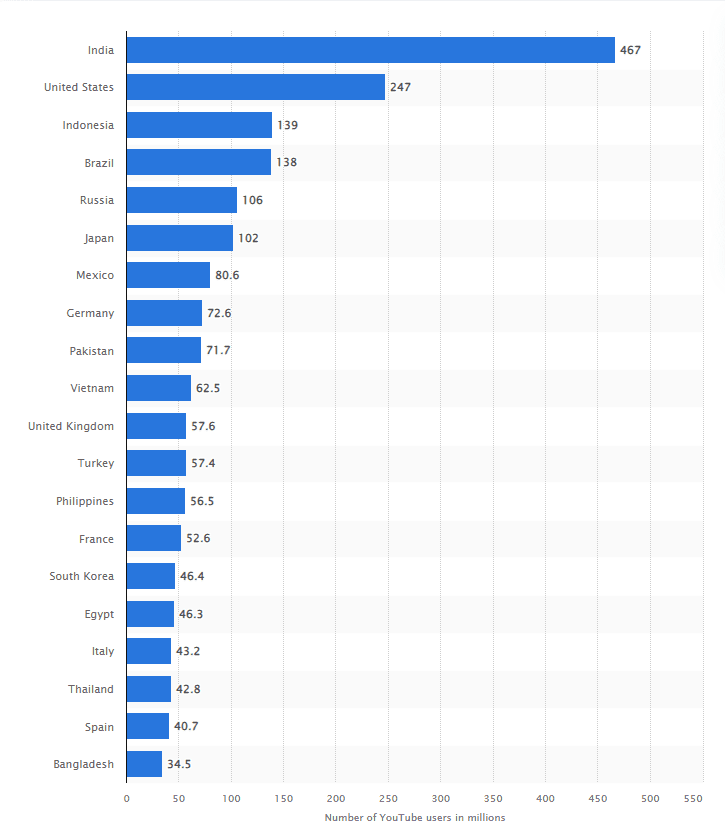 But how are viewers tuning in to YouTube?
Phones are always a go-to whether it's an emergency or just a lazy Saturday. However, the big screen isn't too far behind.
5. 79% of viewers access YouTube via the website on desktops as opposed to mobile devices. (Statista)
This isn't the case with the U.S. population, though.
b. 49.3% of people who use YouTube access it via their mobile devices in the country. (eMarketer)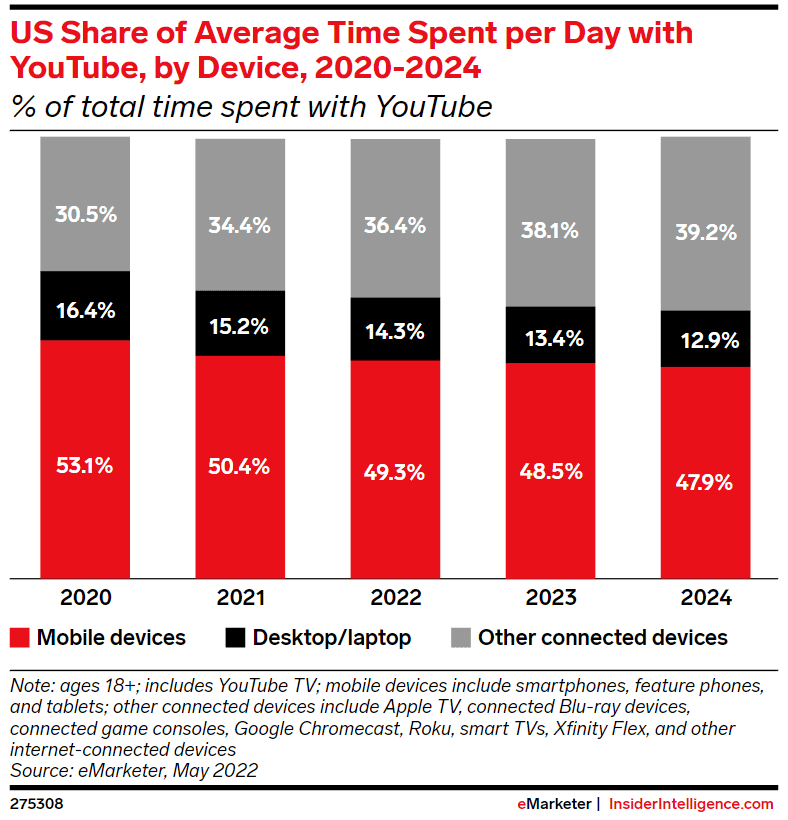 6. As per YouTube Culture & Trends Report, 78% of people watch personally relevant YouTube videos as compared to largely talked about information. (YouTube)
After all, the stresses of life get to us.
Aye?
7. Viewers prefer watching live streams and podcasts on YouTube.
Last year, more than 12 million people tuned in to watch the inauguration ceremony of the President of the United States,
13 million people watched the KSI and Logan Paul podcast. (YouTube)
Haven't considered live streaming or podcasts yet in your marketing strategy?

Perhaps it's time to reconsider.
8. YouTube is available in over 100 countries and 80 different languages. (YouTube)
9. Global users spent 23.2 hours per month on YouTube's Android app in Q1, 2022. (Data Reportal)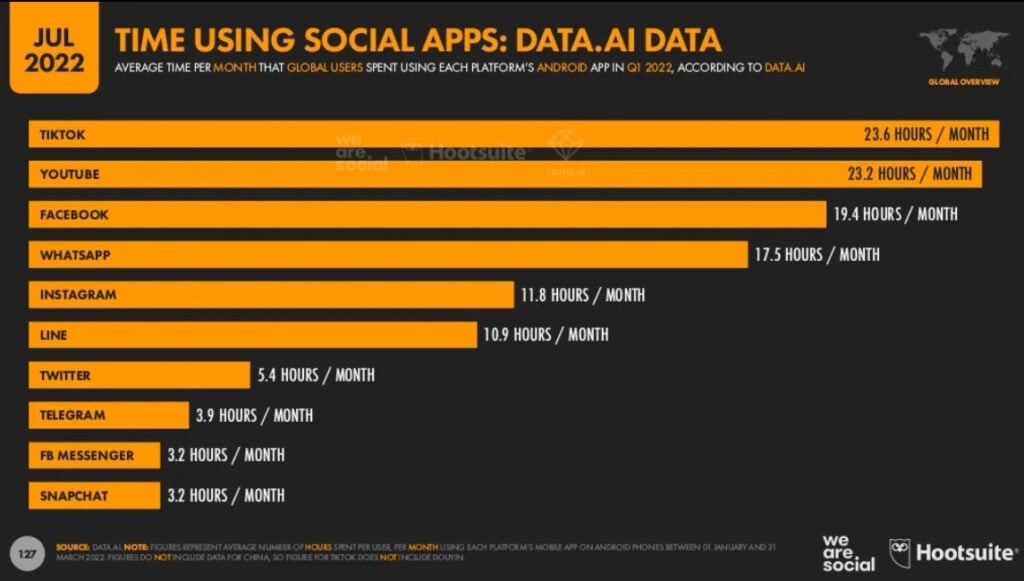 That's almost an entire day in a month! Can you already imagine the marketing potential present on YouTube?
YouTube Trends 2022
People don't experience digital culture in the same way as they used to a decade ago. Broad cultural breakthrough viral videos are not common.
YouTube's Culture & Trends Report 2022 puts it aptly, "Internet culture has become popular culture and popular culture has become more individualized." But gaming, comedy, and music videos soothe our souls and top the YouTube charts. Let's look at some YouTube stats that define 2022 trends.
1. T-Series has the most YouTube users with 223 million subscribers and billions of views. YouTube movies, Cocomelon Nursery rhymes, and SET India are not too far behind. (Statista)
2. In 2021, content creators uploaded 250 million gaming videos on YouTube. (YouTube)
3. In 2021, the year's top 10 trending YouTube videos have been watched for over 70 million hours and are topped by Mr. Beast's "I spent 50 hours buried alive". (YouTube)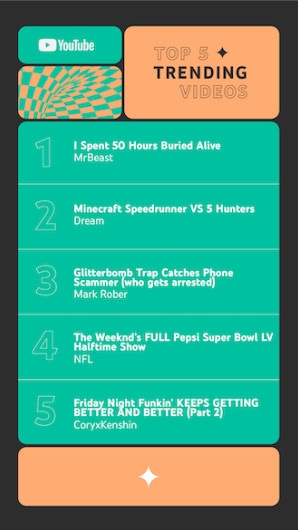 4. 63% of GenZ users follow meme accounts as per YouTube's survey of GenZ and millennials. (YouTube)
So remember, memes and humor are the way to go.
5. The same report also talks about other broad trends like community, emotional needs, and GenZ and Millenial users.
Fandom is one of the drivers of community culture for GenZ users. 61% are fans and superfans of someone or something.
90% of GenZ youtube users have watched at least one video if not more that transported them to another place. Who doesn't want to be in Hogwarts even for a few minutes right?
83% of GenZ users have watched videos that help them soothe and relax.
Whether it's GenZ or Millenial, 78% use youtube to watch videos that are personally relevant to them. (YouTube)
6. Short YouTube videos by content creators like Dental Digest received over 6 million subscribers and over 2.4 billion views. (YouTube)
For a dopamine hit, go for some short but fulfilling content.
YouTube Users and Usage: Viewership and Subscriber Statistics
Here are the top YouTube usage statistics that show the demographics like age group, gender, devices, regions, usage, and competition statistics about the video platform.
1. 81% of internet users from the U.S. watch YouTube content over using other platforms like Facebook, Instagram, and LinkedIn. (Statista)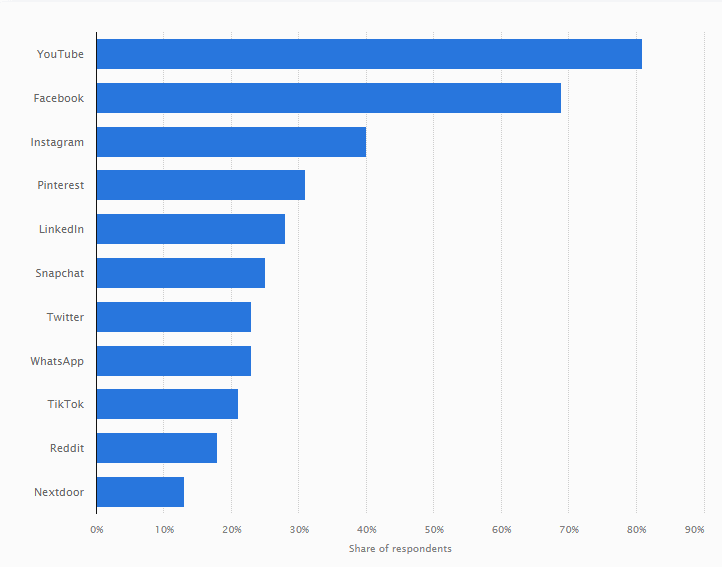 2. More than 500 hours of video content are uploaded to YouTube every minute as of 2020. (Statista)
Who doesn't mind a healthy challenge?
3. The video hosting platform is more popular among the younger demographics. 85% of GenZ users have posted video content on YouTube according to a survey of 5000, as of May 2022, individuals aged between 18 to 24 years. (YouTube)
4. Average adult users of the U.S. spend 45.6 minutes watching content on YouTube. (eMarketer)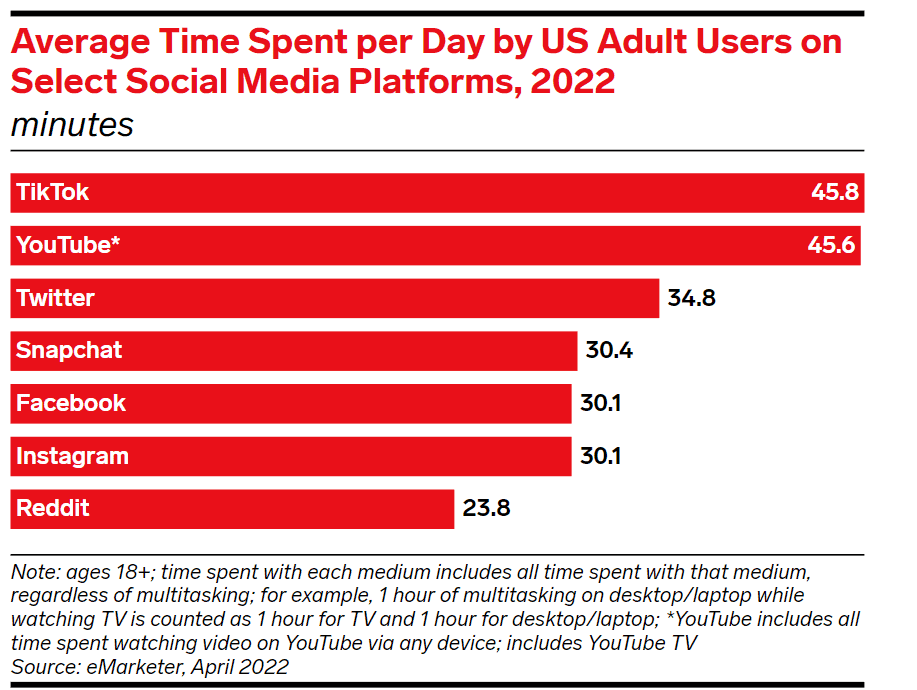 5. Over 53.9% of YouTube's viewers are male. (Statista)
6. Horror content appeals to 53% of GenZ YouTube viewers in contrast to millennials. (YouTube)
7. YouTube music and premium have reached 50 million subscribers, all age groups and gender bias aside. (CNBC)
8. Over 10 billion android mobile users download YouTube through the Google Play Store for audio and video content. (Google)
9. YouTube is used daily by 62% of users as of the 3rd quarter of 2020. (Statista)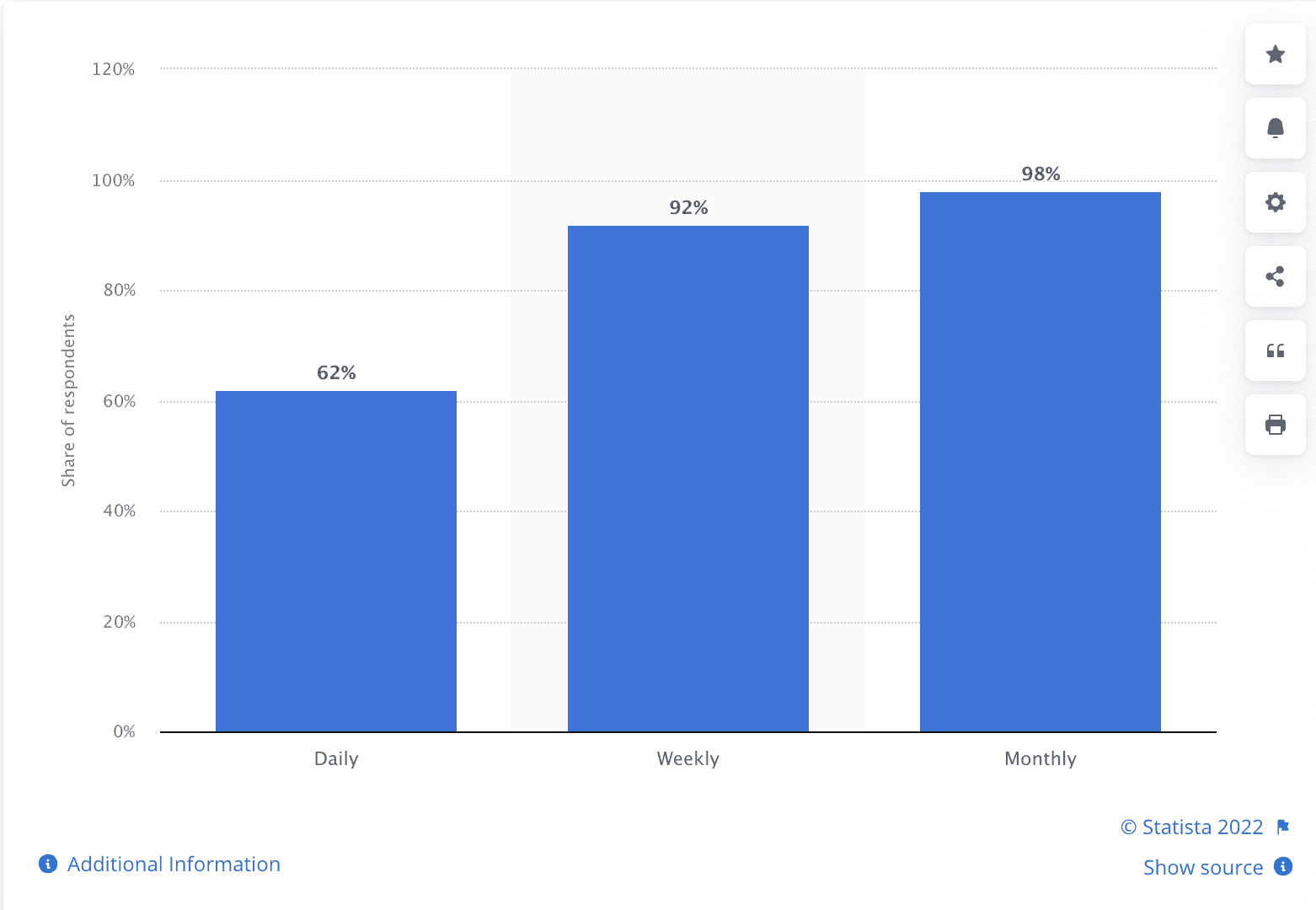 YouTube Statistics for Marketing and Businesses
If your brand wants to pursue YouTube marketing, then here are a few YouTube for business stats that you can use to create a data-informed strategy.
1. 87% of video marketers use YouTube to increase their marketing strategy. (Wyzowl)
2. 47% of marketers use YouTube to publish videos. It comes at the third spot behind Facebook and Instagram, though. (Social Media Examiner)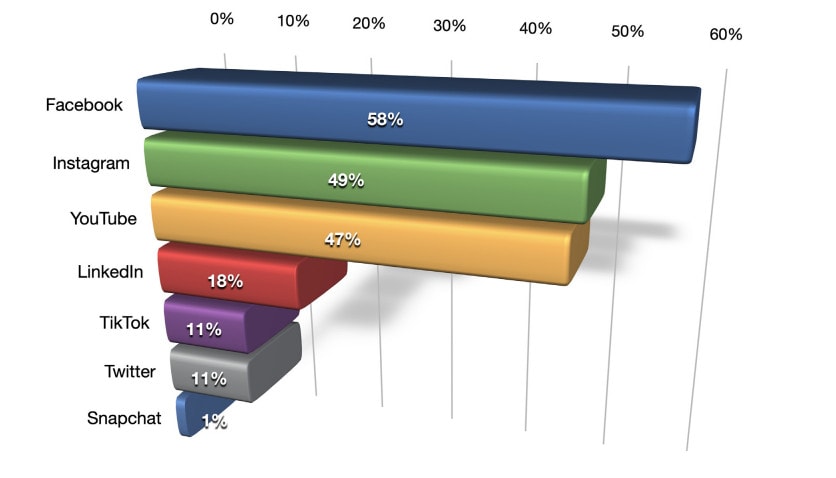 The same report also found marketers curious to learn more about the diverse YouTube channels and video ads.
3. Average engagement rate is 4.064% for YouTube channels having more than a million subscribers but lower for smaller channels. (Influencer Marketing Hub)
4. As per a survey of over 1,600 B2B and B2C marketers, 15% are investing in YouTube shorts which is a new emergence of the platform. (HubSpot)
YouTube Shorts continues to remain an opportunity for getting discovered as many channels featuring in the 'Creator on the Rise' section are heavily reliant on them. Let's talk about viewing habits.
5. The best time and day for marketers to post content on YouTube is between 6 pm to 9 pm on a Wednesday as per Hubspot's State of Inbound Marketing Trends Report. (HubSpot)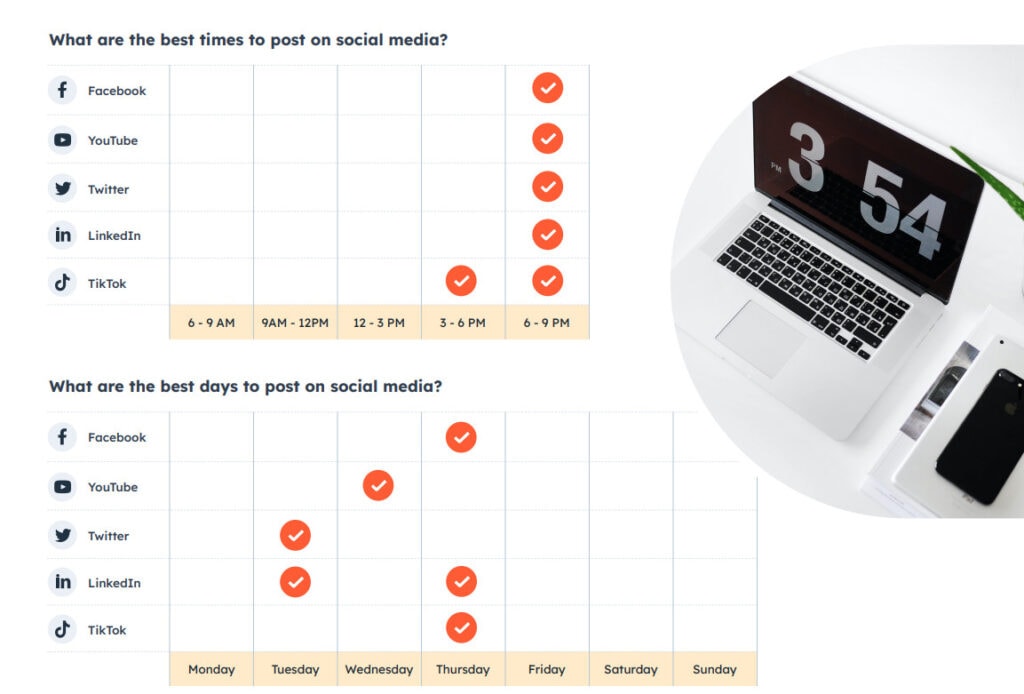 YouTube is valuable for businesses but can video content survive and thrive on the platform?
6. In 2021, Mr. Beast aka Jimmy Donaldson has the highest digital and media revenue estimated at USD 54 million from YouTube. (Statista)
YouTube Advertising Statistics
Here are some YouTube ad stats to inform your paid advertising campaigns on the video platform.
1. As per a survey of leading U.S. advertisers, Apple Inc. has the highest video platform generated ad revenue of USD 19.77 billion. (Statista)
2. In the first six months of 2022, YouTube ad revenue is estimated at USD 14,209 million. (Alphabet Inc.)
3. 31% of YouTube ads made by marketers have the potential to reach a global audience. (Data Reportal)

4. At $245M, the U.S. has the second largest YouTube ad reach. (Data Reportal)
5. 18% of marketing companies advertise online using YouTube. (Hubspot)
6. As per Hubspot's survey of over 1000 social media users, 26% of participants find new products using YouTube ads. (HubSpot)
The same report says that YouTube was in the top 5 social media channels that resulted in the highest ROI.
7. 70% of people end up buying a product after viewing an ad on YouTube. (Google)
YouTube Influencers Stats
You've already seen the cutthroat competition on YouTube and the prominence of popular channels in a previous section. If you're creative, is this platform worth spending your time on at all in 2021? You can answer this question for yourself using the Youtube earnings and creator stats below.
1. In a survey of 400 creators, full-time YouTubers stated "expressing creativity" as their top goal at 51%. It was closely followed by promoting their business/brand at 34%. (Storyblocks, 2019)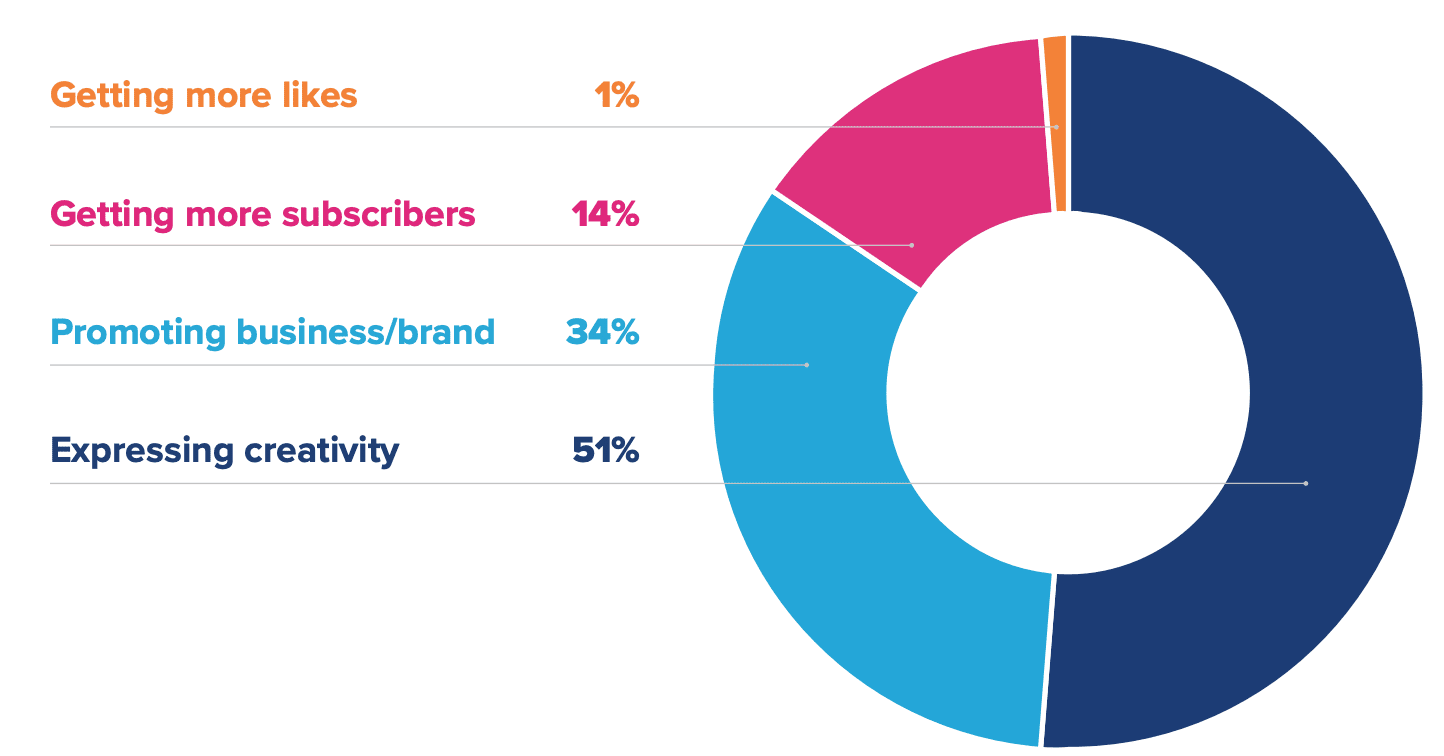 2. A substantial number of creators, almost 23%, mentioned the lack of time as their top challenge. As a one-man show, many are also starved of resources. (Storyblocks, 2019)
3. YouTube users who follow creators and engage with their channels every day grew by 70% between 2017 and 2018. (Think With Google)
So, how does it translate into tangible revenue?
4. Well, "success" on YouTube might mean a life of poverty because even with millions of views every month, you might be unable to make rent. It's no wonder that many creators consider YouTube as a creative project/hobby. Merely 27% use it for their work full-time. (Fortune)
There's some good news though:
5. The number of YouTube channels earning six figures per year grew more than 40% y/y. And those that earned $10,000 per year grew more than 50% y/y. (YouTube, 2020)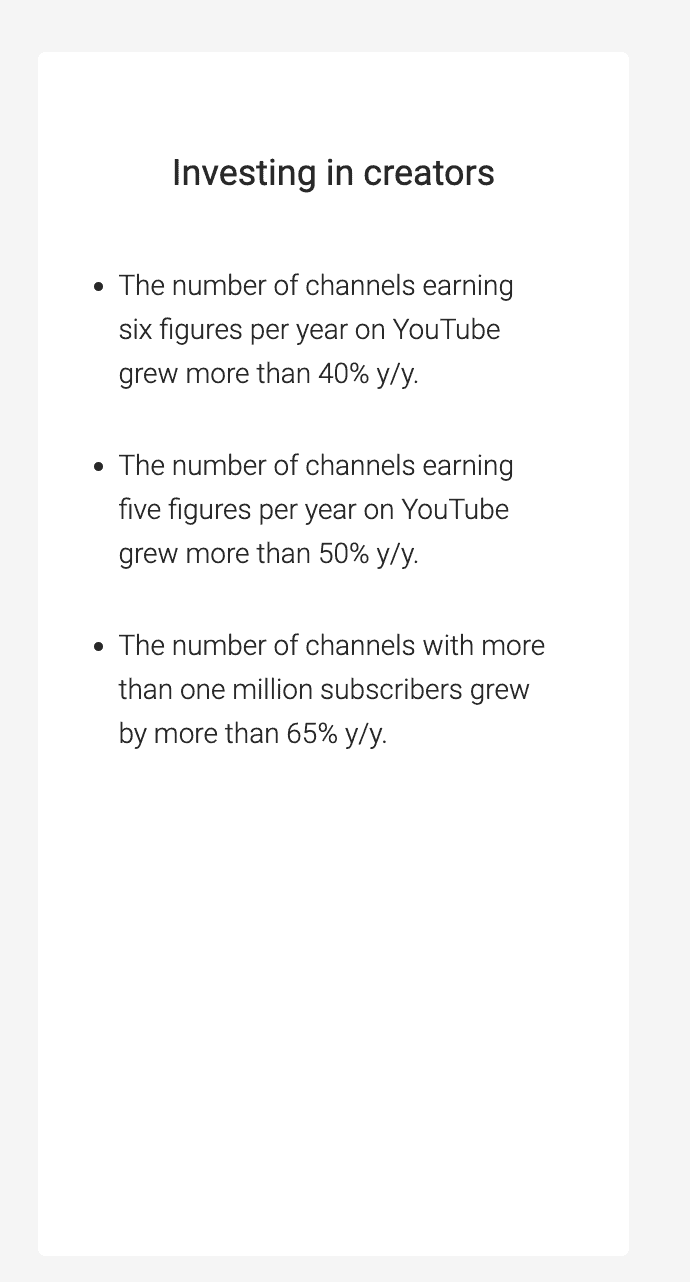 Do those income figures discourage you from starting a YouTube channel?
6. Graham Stephan, a YouTube millionaire, had six revenue streams as shown below. (CNBC)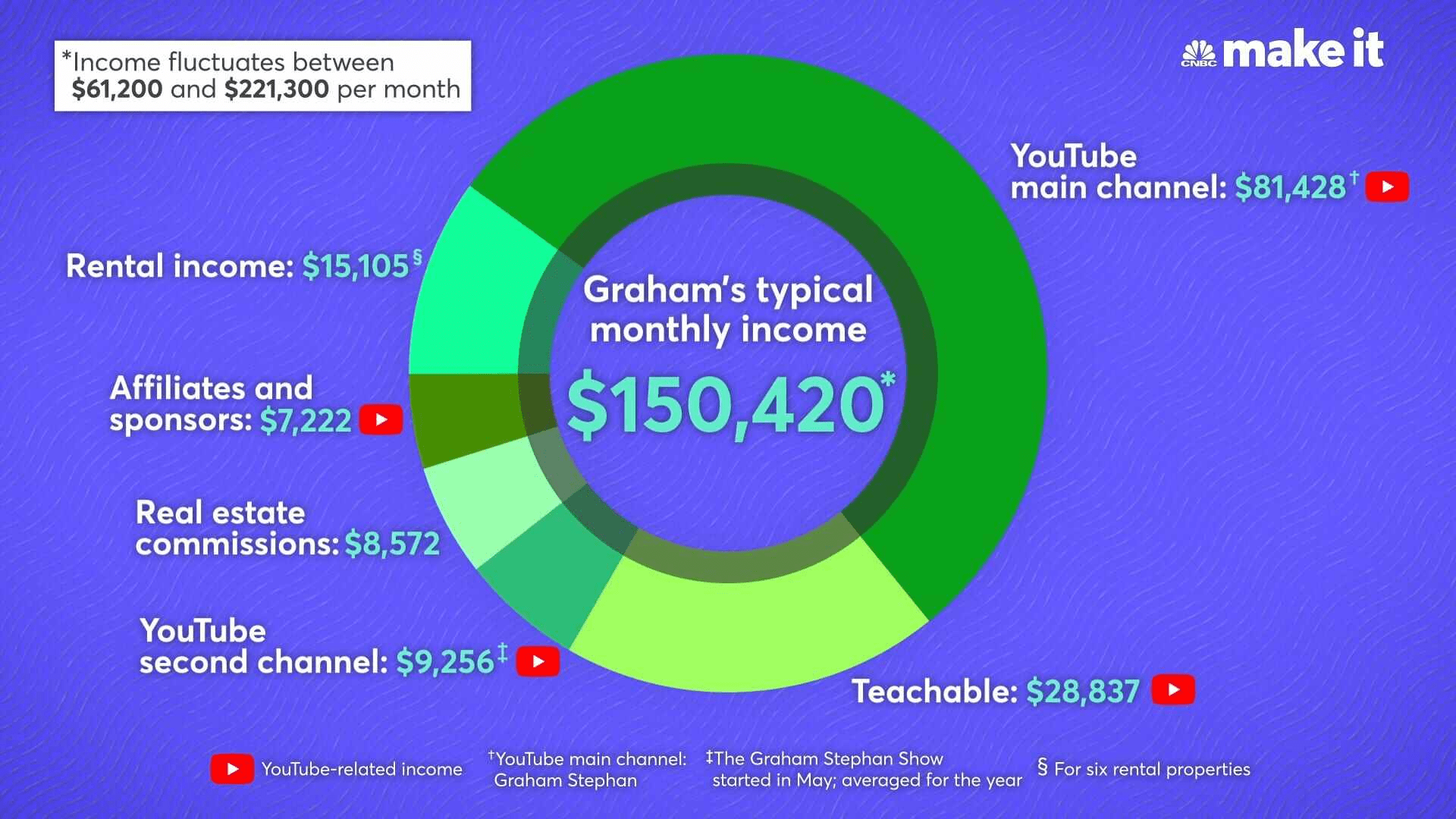 So it's a question of getting your priorities right.
Instead of chasing subscribers and millions of views, seek relevance and resonance with your audience. Also, don't rely on the YouTube Partner Program alone to generate income.
Depending on your channel's niche, diversify your income sources by integrating affiliate marketing, online courses, sponsorships, and the like.
7. Influencers are just as likely as celebrities to drive buying decisions. Indeed, YouTube creators are 4x more effective at driving a lift in brand familiarity than celebrities.
As we've seen in the previous stats, viewers don't care about your age either. One of Chintan's favorite creators, Rick Beato, started his channel in his mid-fifties and now enjoys an audience of millions on Everything Music.
Frequently Asked Questions About YouTube
What is the most searched thing on YouTube in 2022?
In the U.S., 'PewDiePie' is the most searched on YouTube. However, globally, BTS takes the top spot with over 16 million searches. (Ahrefs)
What type of content is most viewed on YouTube?
Almost two-thirds of searched content worldwide on YouTube is related to music (even though the U.S. uses it less). The top 5 global searches point to relaxing/soothing content. (Ahrefs)
How long will it take to watch all the videos on YouTube?
30,000 hours of video content is uploaded to YouTube every hour. So it could take you a lifetime or two to watch every video on the platform. (Statista)
What is the fastest-growing YouTube channel?
AddictedA1 is the fastest growing global YouTube channel with a YoY growth of about 200% by 2020. (Statista)
Final Thoughts
YouTube is now the third largest search engine in the world. It continues to dominate the video market. Hope the above YouTube statistics on demographics, usage, and advertising among others give you food for thought for your video marketing strategy.
Next up, read our statistics on video marketing! All the best in your YouTube journey.