It's likely you use Apple Podcasts or Spotify for listening to your favorite shows. And those are great! They work fine, at least at first. But there are so many other great alternatives to your usual podcast player.
The best podcast app does more than just play your episodes or give you a notification when a new episode is released. An ideal application for your podcast app has a plethora of other features like personalized recommendations, sleep timers, customized playlists, silence trimmer, playback speed adjustment, etc.
In this article, I'll give you my top 15 best podcast listening applications. Some are available on both Android and iOS, some are only available on one of those platforms. I've linked them to the app store so you can quickly check them out. You can also find the benefits of a premium plan (if available) for each application.
Castbox has a clean and sleek user-interface with a good selection of podcasts. Creators can also publish and monetize their own podcasts here. The app also suggests podcasts to its users using their recommendation engine. This personalizes the experience, unlike the "top 100" lists that other platforms provide. Castbox is also compatible with Alexa, Apple Watch, Google Home, Android Auto, and CarPlay.
Pricing: Free. But there is a premium version starting at $4.80/month that gets rid of ads, allows you to subscribe to more than 100 channels, gives you a personalized homepage and priority support. There is also a free trial available for 3 days.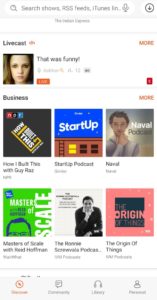 Platforms: iOS, Android, Windows, Mac
Although popular for its music collection, Spotify also hosts podcasts. The user's podcast activities are indexed in a separate dedicated area, away from the music. Creators can publish their podcasts, and users can ask Spotify to list their favorite podcasts on the platform as well. Spotify doesn't have as many controls and management options as a traditional podcaster app. But if you are looking for an app that can host both your music and your podcasts, give it a go.
Pricing: Free. There is a premium version available starting at $9.99/month that eliminates ads and enables offline listening.
Platforms: iOS
Castro isn't cluttered with too many complex features. You can use their "Queue" feature to queue your desired episodes in a personalized order. The episodes can be downloaded, and you can even customize the playback speed. Castro is compatible with CarPlay and Apple Watch.
Pricing: Free. There is a premium version called Castro+ starting at $18.99/year which consists of advanced features like sideloading, night mode, trimming silence, enhancing voices, etc.
Google Podcasts, released in June 2018, has become a must-have if you have a Google Home. The smart speaker enables you to pick up where you left off. You can also adjust the playback speed and get personalized recommendations using the "For you" section.
Pricing: Free.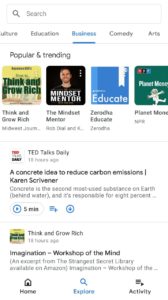 Platforms: iOS
Overcast is a podcast app with a clean design and various useful management features. The ads in this podcast are also of other recommended podcasts that you can listen to. You can also do up to a minute of "clip sharing" of a podcast you love. The voice boosting feature and smart speed feature make for a fantastic listening experience.
Pricing: Free. There is a premium version to hide ads for $10/year.
Luminary, launched in 2019 with its library of exclusive shows, is a sleek user-friendly app. Subscribers can get access to these shows ad-free. The free version also enables you to listen to a wide variety of podcasts, and use its great features like the discovery tool, playback control, and offline mode.
Pricing: Free. The premium version, charged annually, is priced at $2.99/month. There's also a free trial available for 7 days.
The Himalaya app suggests podcasts and playlists left, right, and sideways, and also for different times like afternoon slumps or morning routines. Creators can also publish and monetize their podcasts here. You can apply filters based on your choices or import your subscriptions from Spotify, Google Podcasts, or TuneIn Radio. The categorization of the various podcasts is done in impressive depth.
Pricing: Free. The premium version is ad-free, has a community of like-minded members, and 100+ expert-led courses. The plans start at $11.99/month with a 7-day free trial.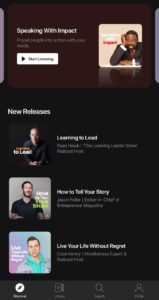 RadioPublic is a free application that doesn't even require you to log in. Just download the application and start listening! The app offers podcasts spanning various categories. You can download episodes to listen offline, add private RSS feeds, and access their great organization tools.
Pricing: Free.
Platforms: iOS
Spreaker is a podcast player app with personalized listening recommendations from various categories. You can set a timer for when you want your podcast to stop playing, download certain podcasts to listen to offline, and can even adjust the playback speed. Spreaker is also compatible with Chromecast and AirPlay. It'll even let you host your podcast.
Pricing: Free.
Podbean is a popular podcast hosting company that also has a podcast app. They have a user-friendly interface that allows you to access thousands of podcasts easily. You can search for categories or get recommendations based on your current listening habits. Podbean also automatically downloads the new episodes of a podcast you are listening to and deletes those that have already been heard.
Pricing: Free. There are three premium plans offering unlimited storage, unmetered bandwidth, and video podcasts. The cheapest plan starts at $9/month billed annually.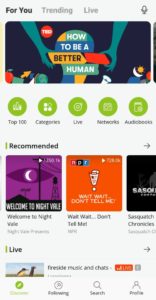 Pocket Casts is the app for you if you listen to a lot of different kinds of podcasts. It syncs across devices and platforms, auto-downloads episodes, and has useful filtering options available. The app also offers many other controls like sleep timer, time skips, etc.
Pricing: Free. But there is a premium plan that offers compatibility with Apple Watch, desktop app, and extra themes. The plan starts at $1.17/month. You can also get a 14-day free trial.
Stitcher allows you to search for episodes and not just entire podcasts – enabling you to combine episodes of different podcasts and create a personalized playlist. The podcast app syncs over devices, so you can continue listening on the web version as well.
Pricing: Free. The premium version is ad-free and begins at $4.99/month. Stitcher also gives you access to exclusive episodes in the premium version. A 7-day free trial is available.
Laughable is a comedy-focused podcast app but it has other content as well. It has podcasts by athletes, writers, musicians, etc. When you search for a particular comedian on Laughable, you get not only the podcasts they host but also where else they have appeared.
Pricing: Free.
Downcast offers compatibility with iPads, Apple Watches, and CarPlay. It syncs across devices and auto-downloads episodes so you stay up to date. You can create customized playlists and use the various playback options to make for a great listening experience.
Pricing: $2.99 for iOS and $4.99 for Mac.
Breaker has over 1 million podcasts from across genres and categories. It has all the features of a good podcast app – sleep timer, playback speed adjustment, custom playlist, dark mode, and personalized recommendations. You can also share a podcast you loved with a friend on Breaker itself.
Pricing: Free.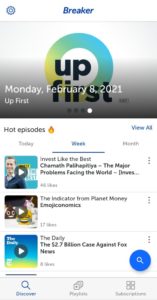 Final Thoughts
So there you have it. The best 15 podcast listening apps on the market. Choose the one that helps you customize your listening experience and contains podcasts you enjoy.
If you are a creator hunting hosting platforms to create your own podcast, check our guide to five free podcast hosting platforms here.
What is your favorite podcast listening app? Tell me in the comments below!