Demio has a no-download webinar experience for your audience with extensive marketing tools. While the customer support and simple UI will impress you, the absence of email customization, follow-up messages, and replay stripped of annotations can annoy you.
This webinar software sells itself on marketing, however, it isn't a full-stack marketing automation tool as it allows limited scheduling and customization options of webinar funnel pages and emails.
In this review and walkthrough, I'll take you through the process of creating a webinar with Demio, its key features, and some other webinar software you can try. Here's an overview of the software:
Pros:
It is easy to use with a simple UI.
You don't have to download any additional software to run webinars.
There are multiple audience interaction features like
You can connect with live customer support to solve your queries.
They have customizable sign-up landing pages with the availability of video embeds addition
Demio integrates with powerful software like Zapier, Convertkit, etc
Cons:
There is no general link available instead, there's a separate link for each attendee.
You cannot use more than 3 webcams at once and it could be a problem while holding a conference or panel discussion.
Webinar replays don't display annotations, chats, and polls.
The software lags and has bandwidth issues when accommodating over 100 attendees.
How To Create A Demio Webinar [Walkthrough]
While registering, Demio asks a couple of questions about your business and the intent of creating the webinar, then they customize the event according to your needs.
The onboarding session is much more engaging than WebinarJam as it has a video guide to get you started and you have a sample webinar to run and learn all its features by testing them in the live room.
The dashboard has a quick overview section for registrant insights. You can customize your registration and thank you page by changing the form fields, background color, adding images, logo, etc. Each template has a prominent CTA button, but limited use cases.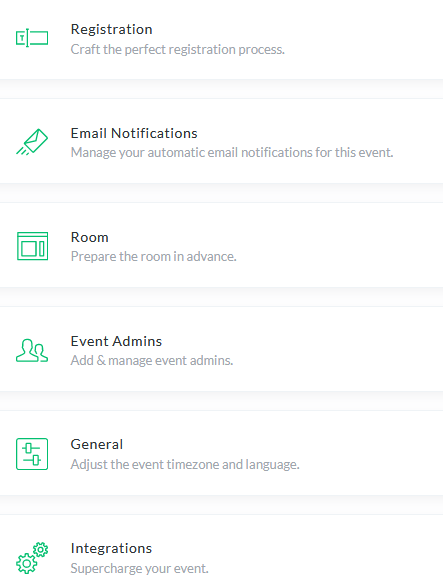 When you turn on enhanced validation, Demio will automatically deny undeliverable email addresses from registering for your event.
If you are using Demio for communication within your company, you can set a registration limit per session. This feature is also handy for teachers with a set number of students for online lectures.
Demio sends automatic reminders with an option to personalize the email.
You have the option to decide whether you want to send the reply to all registrants, only attendees, or to the ones who didn't show up.
Demio lacks the robust follow-up and email system as there is no option to send a notification only to people who started the registration process but never went through with it.
Another disappointing part is the absence of SMS notifications as Demio doesn't have its own SMS sender.
If you have a presentation to give that includes handouts, polls, and questions, the Room feature makes it easy to prepare them before your event.

After the session ends, Demio directs them to their own thank you page promoting people to use their service, and to avoid it you need to turn on the post-session redirect button from the settings and add a custom URL to redirect your audience to your page.
You're all set to fire up your webinar once you're done setting it up. Let's look at the key features that'll help you fire up your webinar using Demio.
Demio Pricing
Demio has three pricing tiers and a 14-day trial with a room of 20 attendees, basic analytics, and 1 host.
Starter: $34/month (paid annually) for 1 host, 50 attendees, and a 3-hour session limit.
Growth: $69/month (paid annually) for 1 host, 150 attendees, and a 5-hour session limit.
Business: $163/month (paid annually) for 4 hosts, 500 attendees, and an 8-hour session limit.
The pricing isn't extremely high but the features that come with it are less than desirable. Let's break it down.
The starter plan has a single host and a room limit of 50 attendees which is nowhere near WebinarJam's introductory plan with 500 attendees. Even small businesses would not benefit from such plans as the branding is limited and there are no automated events and extra benefits.
The Growth plan allows you to have 1 host, 150 attendees and a 5-hour session limit along with room and email branding, automated events and custom form fields.
At $163/month for Business plan, you have access to a generous session limit but 500 attendee rooms. The number of hosts increases to 4 and I doubt that large enterprises with a global reach will have less than 500 attendees.
Apart from these three pricing plans, there's a bespoke premium plan with 10 hosts, 1000-attendee and other features.
Customer Support
You would love the customer support of Demio as they're always available to answer your questions. However, on some occasions, you may have a wait time of an hour, which isn't bad considering Demio's competitors.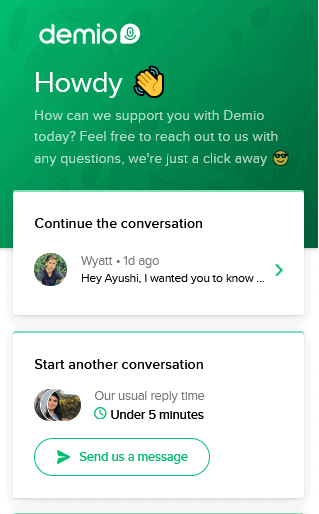 This section also displays recent updates and changes made to the software and other than the live support, there's a database of articles available on their support page.
Unfortunately, the database isn't of much help as the query articles don't explain processes in-depth and leave you all the more confused.
Demio Webinar: Marketing, Engagement, And Analytics Features
Demio tries to make the webinars interactive by offering different features such as the following.
Customizing The Landing Page
Although there aren't any pre-made templates with use cases, you can play around with the colors, gradients, images, and add elements such as videos, featured presenters, webinar descriptions, sub-headline, and your logo.
The confirmation page has a date and time to make it easy for the registrants to add it to their calendars. However, there is no option to automatically convert the timezone of the visitor's place which makes it inconvenient for your audience in a different time zone.
It's possible to embed your registration forms as inline embeds and popover embeds that you can directly add to your text as an inline link or a button link.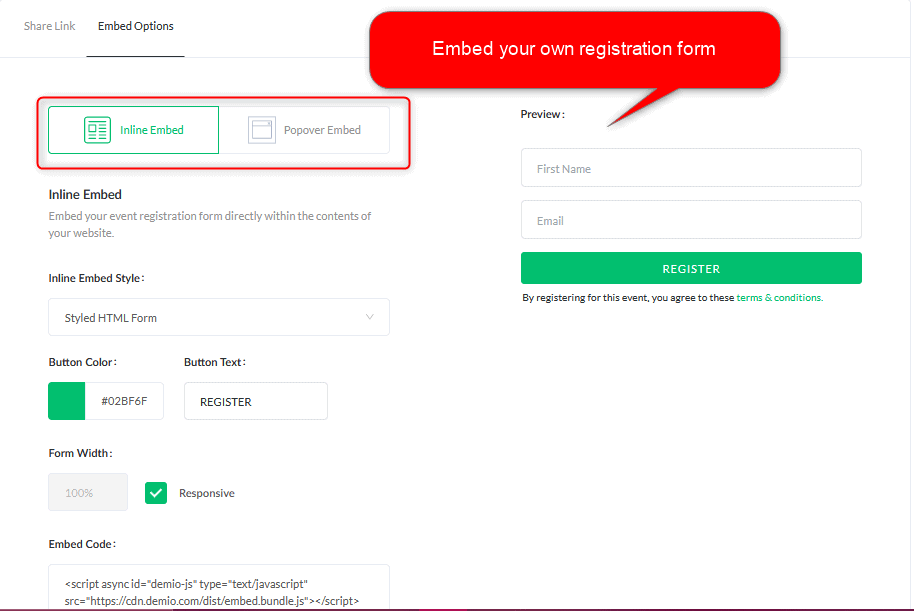 You can also add a custom thank you page by pasting the URL in the box.
Live Events Experience
You can change the view to show or hide handouts, collapse the screen, change the webcam size, etc, but the changes you make do not reflect on the attendee's screen.
I liked having the ability to blur or change my background as it's useful if you're conducting an emergency webinar with a less aesthetic background.
Unlike Zoom, you cannot see all the registrants and presenters on one screen and your webcam will have a dark overlay when you share your screen and you won't be able to see the webcam view.
Unfortunately, in my case, I received multiple error notifications and couldn't share my screen.


Average Automated Replays
It's a shame that Demio cuts out all your polls, animations, chats and displays a simple video on your landing page. In case the attendee has questions about the webinar, they will have to either mail it to you due to lack of a live chat feature.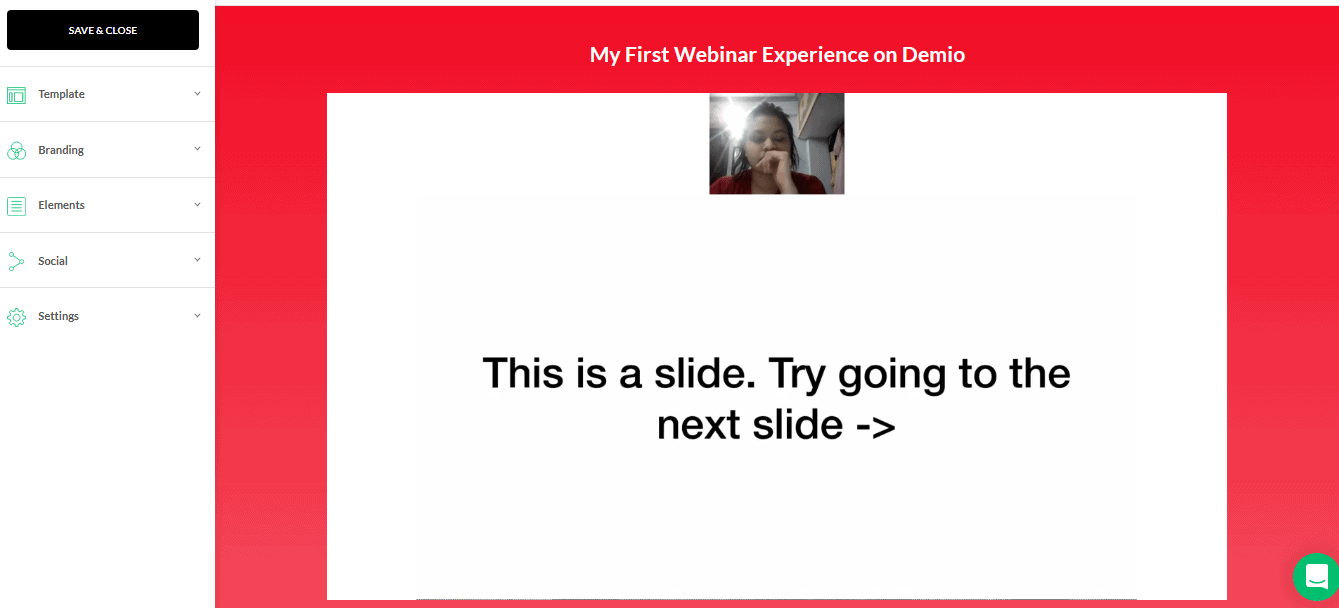 It is like embedding your video on your website and is extremely disappointing and meaningless. Creating an automated webinar based on your recording is one way to solve this issue, however, you will have to add everything manually and recreate the resource with the same timings.
Interactive Polls, Launch Offers, Handouts, And Gifts
You can either set up polls, handouts, gifts and offers before launching the webinar or on the fly. By using polls, you can collect data on customer satisfaction, webinar effectiveness, etc, and pin it to your website as a promotional tool.
This could help professionals or content creators holding webinars to increase their reach by displaying the credibility of their content.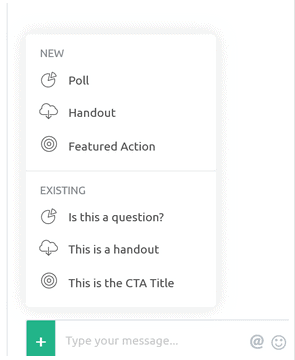 When you share the polls and handouts, they appear at the top of the chat area and easily get the attention of your attendees and you can customize the color, button, title, image, etc to align it with your brand.
Let's say you're doing affiliate marketing and you share your offer in the chatbox, your attendees can choose to hide it and reopen it later. This makes it likely that they may not remember about your offer and as a result, you'll have fewer conversions.
Connect With Private And Public Chat
Demio lets you choose between making the chat public or keeping it private, and because the chats may keep flooding with questions or comments with attendees, it can be a little difficult to answer all questions as a teacher running a class, or a trainer giving expert advice.
Choosing a private chat is good for the attendees but can be overwhelming for you as the questions may flood in and the only thing you can do to separate them is to tag them as a question.
If you have an assistant to manage this section for you, it'll not be an issue and they can mention the attendees or send reactions to give a personal touch.
Integrations
Demio has limited integrations as compared to webinar software like WebinarJam, GoToWebinar, and the like. Mailchimp and Ontraband are available and you can use them as your email notification sender.
However, if you don't like the limited native integration, there's Zapier to connect with your preferred software. It can be a tad bit annoying to use Zapier as additional software to meet your other needs.
Actionable Post-Webinar Analytics
Demio provides basic analytics to help you get a broad view of the situation.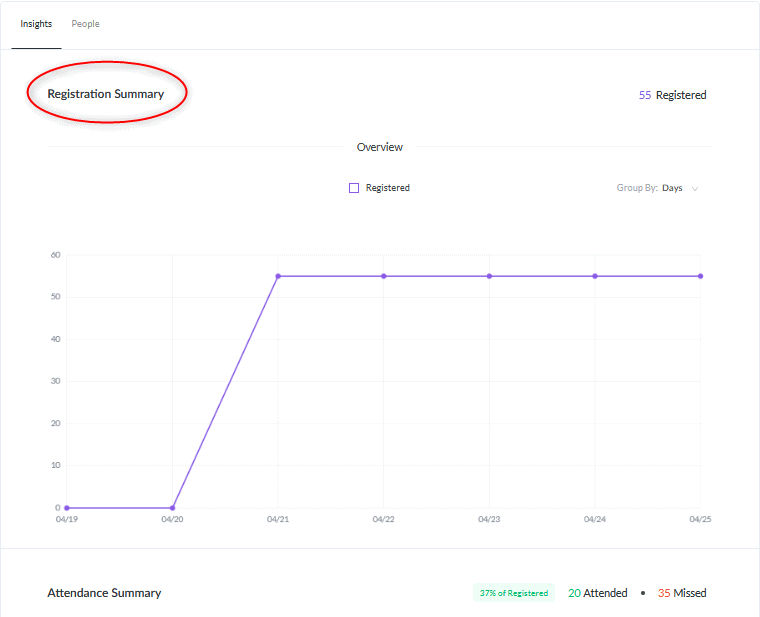 You'll be able to access the insights on the dashboard under the past events section. The attendance summary shows the average focus time of your attendees and you can improve that by dividing your segments into activities and presentations to keep the attendees engaged.
By this insight, in the future, you can gauge how you're performing in every webinar and the issues you need to fix.
Further, you can export the entire list of attendees, registrants, polls, and handouts you shared in a CSV format.
The analytics are built-in but quite basic and could definitely need an upgrade with multiple reports on Engagement, attendee trends, registrations, and more like GoToWebinar does.
Demio Alternatives
There are many places that Demio can improve like analytics reports, A/B testing, Integrations, etc. You can consider other cheaper and possibly better alternatives for different use-cases.
WebinarJam
It is a web-based platform for you to create live webinars. From registration to replay, you can live stream everything. The software is light with an intuitive interface that caters to all your broadcasting needs at a very low price. It has tons of benefits that Demio lacks.
Pros:
It's possible to set up one-click registration for webinars.
You can send notifications via WebinarJam's powerful automated email responder.
Control center for big enterprises to manage backend logistics,
This software has powerful integrations with CRMs, Shopping apps, Payment gateways, etc.
Cons:
There is no free trial.
You can experience a streaming delay of 10 to 30 seconds.
Foreign languages other than English do not translate accurately in landing pages and emails.
The video annotations get lost while sharing presentations.
The recorded video of the webinar is not in HD quality.
You can host on-demand webinars only after switching to EverWebinar
Price: WebinarJam's pricing plans are quite affordable and impressive. There are three pricing plans and each one of them offers unlimited webinars:
Basic: $499/year for 500 attendees
Professional: $699/year for 2000 attendees
Enterprize: $999/year for 5000 attendees
All three plans differ in the number of attendees, the number of presenters, and the duration of the webinar.
Zoom
Zoom is best for quick meetings and a better alternative to Skype, Google meets, Facetime, etc. It doesn't take much bandwidth to work, making it useful for meetings, discussions, interviews, etc.
This software got quite popular with schools and other academic institutions right after Covid hit the world. I wouldn't recommend Zoom for a large enterprise because of the lack of advanced marketing features, and security issues.
Pros:
It has a virtual background feature.
Zoom allows you to stream webinars across Youtube and Facebook
The UI is simple to use.
It has easy invitation-sharing options.
Cons:
You may face security issues.
There is a lack of customization in registration pages and email notifications.
There is no custom branding.
You cannot run automated events.
You need to download the Zoom app to run it.
If you want to have an in-house meeting or training session, Zoom is a suitable and cheaper alternative than other webinars and video conferencing applications.
Price: Zoom has three paid and one free plan with 100 participants, unlimited one-on-one meetings, and group meetings for up to 40 minutes.
Pro: $149.90/year for 100 participants, group meetings for up to 30 hours, social media streaming, and cloud storage.
Business: $199.90/year for 300 participants, company branding, and more.
Zoom united business: $350/year for 300 participants and phone meetings along with other features of the Business plan.
Final Verdict
Demio is a solid solution for quickly hashing out automated webinars with intuitive UI, and affordable pricing plans suitable for freelancers, and small businesses and gives you the ability to scale.
It offers powerful integrations and is a cloud-based platform with a 14-day free trial that gives you enough time to test out its features.