Despite being sister companies, Liquid Web and Nexcess offer different kinds of web hosting services. Liquid Web is a household name in the market, but Nexcess does have a niche market in the content and ecommerce businesses.
Are you undecided which one to choose? This article will tell you all that you need to know.
Note: This article contains affiliate links. This means if you purchase anything using our links, then we earn a commission (at no extra cost to you). We only recommend products that we find valuable and enjoy. We appreciate your support.
| Features | Liquid Web | Nexcess |
| --- | --- | --- |
| Products | Dedicated Servers, Cloud Dedicated Servers, Server Clusters, HIPAA Compliant Hosting, VMWare Private Cloud, VPS Hosting, Database Hosting | Managed WordPress Hosting, Managed WooCommerce Hosting, Managed Magento Hosting, WPQuickStart, WooCommerce Store Builder |
| Customer Support | Phone, Email, Chat 24/7/365 (59 seconds initial response guarantee) | Phone, Email, Chat 24/7/365 |
| Standout features | HIPAA and PCI compliant, 99.999% uptime guarantee, High-performing servers, Big names backing up their reliability | 14-day free trial, Built-in CDN, Free site migration and backups, Regular security checks, WP QuickStart, Instant auto-scaling |
| Server type | Fully customizable dedicated server | Fully managed hosting |
| Best caters to | High-load websites and enterprises | Content sites and up-and-coming ecommerce stores |
Frequently Asked Questions About Nexcess And Liquid Web
What is Nexcess?
Nexcess is Liquid Web's sister web hosting company. It specializes in fully managed eCommerce and CMS hosting like WordPress, WooCommerce, and Magento.
What is Liquid Web?
Liquid Web is a reliable hosting provider specializing in Cloud, VPS, and Dedicated servers. It boasts of providing services to some Fortune 500 companies and powers more than 500,000 websites.
Is 'Nexcess' a legit or a scam web hosting company for a WordPress website?
Nexcess is an actual web hosting company for hosting a WordPress website. Reviews highlight its excellent speed and security.
What type of web hosting services does Nexcess offer?
Nexcess primarily offers three types of web hosting services:
Other services at Nexcess are:
Store builder for your WooCommerce store
BigCommerce for WordPress sites (has headless ecommerce that supports high-traffic sites)
Drupal—a scalable and configurable platform E
Expression engine to act as your content editor
Craft CMS to make a simple theme-free, secure site
Membership sites with WP QuickStart
Does Liquid Web offer 100% uptime?
Liquid Web claims to have 99.999% uptime. The web hosting provider is famous for its excellent speed and uptime.
Does Nexcess offer any free trial?
Most web hosting providers offer a money-back guarantee but no free trial. Nexcess is different—it provides a 14-day free trial. You don't even need a credit card to test it out. But the free trial is only available for fully managed WordPress hosting.
What are the cons of the Liquid Web?
Not-beginner friendly: If you aren't technically savvy already, Liquid Web might be painful for you to use. Their technical experts are also well-versed in enterprise hosting rather than a standalone creator website. Other service providers in the web hosting space like InMotion are easy to use for beginners as well.
Expensive: Liquid Web isn't the cheapest web hosting provider out there. Their lowest tier VPS hosting alone is $59/month. Other web hosting providers like Bluehost are far more affordable. Wesley Whetten (senior affiliate program manager at LiquidWeb) reckons that the company's $15/month for a 2-year plan is more popular. So longer commitments can make LiquidWeb relatively affordable.
No shared hosting: Shared web hosting may have made Liquid Web more affordable—but the web hosting platform doesn't offer it.
What is the primary difference and which one should you choose?
Liquid Web is the best solution if you want Dedicated or VPS hosting. Nexcess is better for WordPress and E-commerce hosting.
It also depends on your budget and how much traffic you're expecting—Nexcess is cheaper and budget-friendly, but Liquid Web is better for high-load websites and scaling.
When you compare the technicalities, Liquid Web is more suited for experts or someone at the mid-to-high level. Nexcess is more beginner-friendly.
Does this sound like you?
You're tech-savvy or have a team of IT professionals
You operate large e-commerce, SaaS, or enterprise website
You want an excellent VPS or dedicated server hosting
You have a large budget and want advanced features and services for your website
If this is you, go for Liquid Web. But if not, the following may seem more familiar:
You are an up-and-coming e-commerce or blogging firm
You aren't that tech-savvy and require resources and support
You want to host your website on WordPress or Magento
You want something budget-friendly with the option to scale
If you fit in the above case, Nexcess is the better-suited option.
See the infographic for a quick comparison between their products:
Liquid Web Vs. Nexcess Pricing Plans
Liquid Web and Nexcess offer different kinds of hosting plans at different pricing. I've summarized them for you below:
| Web Hosting Plan | Liquid Web | Nexcess |
| --- | --- | --- |
| Managed VPS Hosting | Starts at $59/month (when billed monthly) | Not available |
| Managed Dedicated Hosting | Starts at $199/month | Not available |
| Managed WordPress Hosting | Starts at $9.50/month | Starts at $9.50/month |
| Cloud Dedicated Servers | Starts at $149/month | Not available |
| Private Cloud Hosting | Starts at $510/month | Not available |
| Managed WooCommerce | Starts at $9.50/month | Starts at $9.50/month |
| Magento Cloud | Not available | Starts at $49/month |
| HIPAA compliant | Starts at $384 (for Windows) | Not available |
| Managed Cloud Hosting | Not available | Starts at $49/month |
| Drupal Hosting and Express Engine | Not available | Starts at $29/month |
| BigCommerce for WordPress | Not available | Starts at $59/month |
There are many different web hosting plans on both platforms. Overall, Liquid Web is much more suited towards enterprises, big companies, and websites that expect high traffic. Nexcess is better for small businesses, creators, and websites that don't expect a massive surge of visitors.
Customer Support
Both Liquid Web and Nexcess offer chat and phone support. At Nexcess, you can contact the billing department separately. But at Liquid Web, you can only either reach Support or Sales.
Liquid Web also has a "59" guarantee—meaning that they will give you an initial response to all your queries, whether by chat, phone, or helpdesk, in 59 seconds. That's a pretty sweet deal, especially when you need a bit of hand-holding to set up things initially.
I got responses from both the web hosting platforms within seconds of posting my query. At Liquid Web, I asked about server clusters, how they work, and the agent asked me a couple of follow-up questions concerning my hosting requirements.
Liquid Web Support Agent
I'll say this: Liquid Web's features, support agents, and entire platform is more suited for someone who already knows a tad bit beyond the basics when it comes to web hosting. If you're just a beginner and need more assistance knowing what a product can do for you, Liquid Web's support may feel inadequate.
Nexcess, however, is better suited for beginners. The features aren't as advanced as Liquid Web; you'll get plenty of assistance on simple things too. I asked the support agent about WPQuickStart on our chat, and he redirected me o a helpful article. Post a few follow-up questions, the chat ended.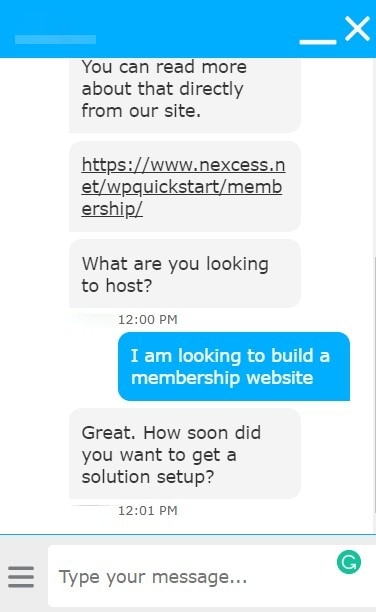 Support Agent at Nexcess
The knowledge base at Liquid Web and Nexcess is well-versed and organized. All articles are neatly divided into categories, and Liquid Web even has the most frequently asked questions in its 'featured articles' section. I'd say it's a tie on the knowledge library front.
Noteworthy Features And Services Offered By Liquid Web
Liquid Web specializes in VPS and Dedicated servers, making it a perfect fit for enterprises and big companies. It is best for providing hosting to high-load and high-traffic websites.
Here are some noteworthy features and services that may make you choose Liquid Web over Nexcess:
Great speed and uptime: Liquid Web offers a 99.999% uptime guarantee and boasts superior server performance than Amazon.
HIPAA and PCI compliant: It is crucial to take customer data seriously in 2021. But few web hosting providers take as many steps for it as Liquid Web. It is both HIPAA and PCI-compliant.HIPAA is the Health Insurance and Portability and Accountability Act of 1996 that refers to businesses that store and transmit health information to comply with its physical safeguard requirements. PCI Compliance Scanning service is for ecommerce businesses to provide quarterly and on-demand PCI scans from an Approved Scanning Vendor (ASV).
Expert support 24/7 with a "59" guarantee: Liquid Web offers premium support available to you 24/7 via chat, helpdesk, or phone throughout the year. They have a 59-second initial response guarantee on all their support channels—elevating the customer experience.
Liquid Web: Support Guarantee
Dedicated, customizable, high-performing servers: Liquid Web's Managed Dedicated Servers provide you with complete control over your servers to customize them in whatever way you want. This service becomes a huge pro coupled with its uptime guarantee and real-time monitoring.
Highly reliable with big names backing it up: Liquid Web is not your ordinary web hosting provider. With 20+ years in the industry, it has the backing of reputable brand names like National Geographic and Home Depot. Its high security with scanners for malware, VPN, and firewalls, take its reliability up a notch.
Noteworthy Features And Services Offered By Nexcess
Nexcess is a fully managed hosting provider and a Liquid Web brand itself. If you're looking for fully managed web hosting solutions for WordPress, Magento, or WooCommerce, Nexcess would be your first choice.
Here are features that may convince you to choose Nexcess over Liquid Web:
Fully managed hosting: Nexcess is a fully managed hosting platform for CMS platforms and content sites. You don't have to waste your time or energy focusing on anything in the backend—a huge appeal for many creators who don't have the time or technical expertise to manage servers.
Access to premium tools for free: There are many premium tools that Nexcess offers for free on all its plans—WP Merge, iThemes Security Pro, Tiny PNG, and more.
Free site migration, security, and backups: Nexcess offers a free website migration service and security checks. It also backs up 30 days' worth of data on the off-server.
14-day free trial: Few web hosting platforms offer a free trial of their services (plenty provide a money-back guarantee, though). Nexcess offers a 14-day free trial on its WordPress Managed Hosting.
Built-in CDN: The built-in CDN at Nexcess comes with 22 locations. Visitors globally will get faster loading times for your website. The advanced caching feature increases the loading time even more.
WP QuickStart: The WP QuickStart feature at Nexcess is a special boon for creators. Suppose you want to build a membership site or a store at a lower cost. In that case, Nexcess has a unique membership package for you—including built-in payment integrations, automated emails facility, and multi-level subscriptions.
Final Thoughts
Hopefully, this article helped you decide between Liquid Web and Nexcess. Remember that Nexcess is the sister company of Liquid Web—so they pretty much have the same kind of customer support. The reviews also rate them both pretty much the same.
In my opinion, Liquid Web is more suited for bigger websites and Dedicated/VPS hosting. Nexcess is better for beginners and up-and-coming e-commerce stores or bloggers who want to scale in the future.