Your company sells a software. It runs on the cloud and keeps iterating. Besides an intangible product, your company doesn't have a physical presence either. How do you build trust and persuade your prospects to buy?
It's tricky being a SaaS marketer (especially because of the intense competition in the market).
Don't worry, though.
In this article, you'll get introduced to a few ways for marketing your SaaS tool. First, let's discuss the basics:
What Is SaaS Marketing?
SaaS means Software As a Service (SaaS). Therefore, SaaS marketing includes the various strategies you use to market and sell your software as a service to other companies.
Note that SaaS companies typically work on a subscription business model. And collecting recurring revenue means you need to deliver ongoing value to your customers. Else, you'll see a high churn and struggle to remain profitable. With that in mind, let's get right into SaaS marketing strategies.
6 Proven Saas Marketing Strategies (And 68 Things You Shouldn't Do)
Given that there are over 4 billion people on the internet, you have a tremendous opportunity to find your tribe that loves your product. However, here are 68 things you shouldn't do in your SaaS company, courtesy of Anand Sanwal, the co-founder and CEO of CB Insights.
Now that you have the skinny on things your SaaS shouldn't do, here are a few ways to get started with your first campaign.
1. Offer A Trial
SaaS companies have disrupted almost every segment of the market. So even if your product might be better than your competitors', your prospects need to get a handle on it.
Offering a trial of your product is a great way to generate leads for your business. Indeed, as a software company, that's your leverage over traditional companies selling physical products.
By offering a "free" version of your product that solves the pain points of your market, you lower the barrier of entry. It's your best shot at getting users to spend time with your product. These potential customers are referred to as product-qualified leads (PQL) and signal high buying intent.
And guess what…?
Product trials require little marketing investment.
You can offer a paid trial of your product as well. For instance, Ahrefs offers a $7 trial for seven days.

Pro Tip: Before you offer trials, it's wise to create a knowledge hub and drip email campaigns to walk your new users through the product. You'll see a few examples in the next strategy.
2. Get Started With Content Marketing And SEO
When woven together, content marketing and SEO can deliver an incredible amount of targeted traffic to your site. Indeed, creating content for prospects is one of the most common ways SaaS marketers generate brand awareness and build trust.
Typically, content marketing is about offering free education that solves the pain points of your customers. Alongside publishing articles on your site, you also build backlinks to your website to increase its authority. By relying on guest posting alone, I have raised my domain rating from 0 to 24 in four months.

Organic traffic is a terrific growth channel for SaaS businesses because the returns of the informational content they create are compounding.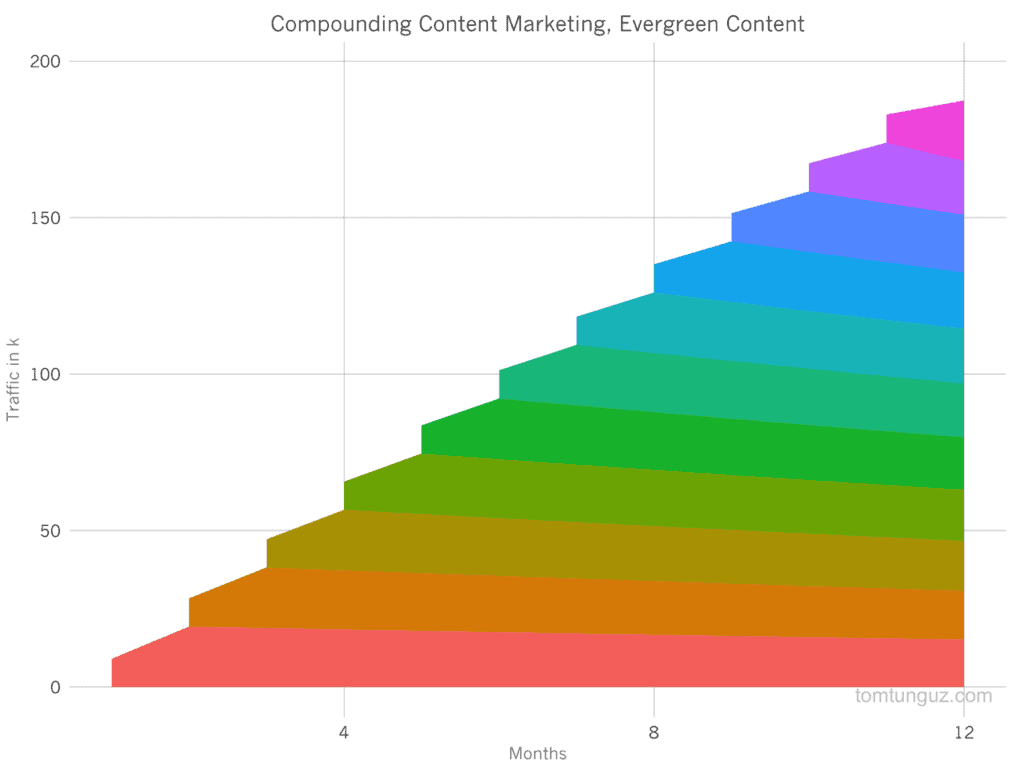 Once traffic starts rolling, you can create lead magnets to convert your visitors into email subscribers. Later, you can pitch a trial of your SaaS product to them.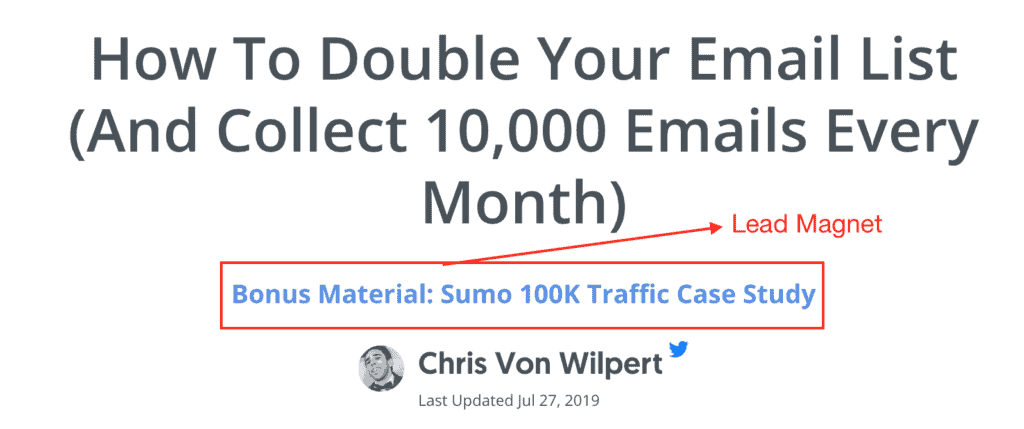 You can also offer a "free trial" of your product directly to the visitors that come from your content marketing and SEO efforts. That's what Ahrefs does. They don't collect email addresses anywhere on their blog and directly try to convert visitors into PQL.
Another approach to content marketing is producing content for the middle and bottom of the funnel. It might mean:
creating your knowledge bank (example),
documentation (example) of your product,
or its use-case pages (example).
If you want to get started with content marketing, then I have written more about it here. You can also look at a few content marketing examples here.
3. Focus On Retention
The sales cycle of a SaaS business follows these three steps:
Acquisition of new users,
Monetization of prospects into paying customers,
Retention of these customers so that they pay you month-over-month.
For a SaaS company, business is heavily reliant on ongoing subscriptions. Data from Price Intelligently reveals that monetization and retention have a larger impact than acquisition.
So how can you convince your customers to stick around? Start with ensuring that new users see the value in your product. Find out the key events that lead to activation of a new trailer and focus on optimizing for their completion.
For example, Autopilot found that the key events that drove up their activation rates were: publishing a journey and adding the tracking code for their product. The Autopilot team aligned their product experience to nudge trailers (through in-app messages) to complete these activities.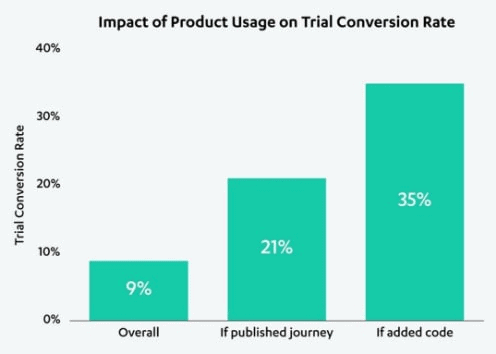 A couple more classic strategies are upselling and cross-selling add-ons to your main products. For example, a few years ago, Front grew to $10M by relying on retention and upselling to existing customers.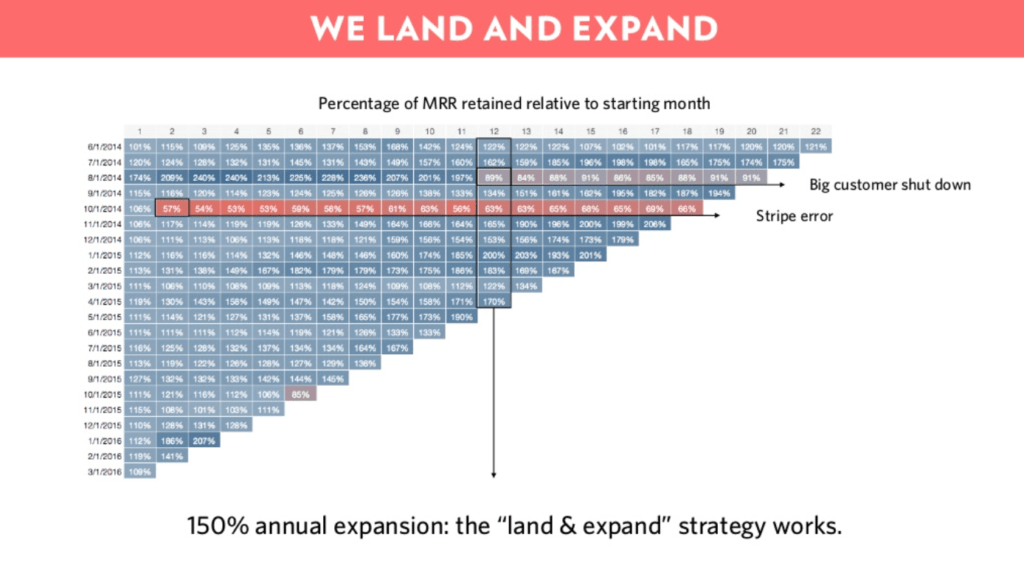 In the long-run, your users should see a continued value. There's no substitute for improving the experience of your customers. You need to find out the most liked features by your long-time customers and experiment with marketing around them.
4. Run Google Ads
Both SEO and content marketing take a few months to deliver results. However, paid advertising can generate leads from day one. A significant advantage of investing in PPC ads is the ability to drive targeted traffic at scale. Also, the predictability of results and the associated cost makes it easier to allocate marketing budget based on your requirements.
Julian Shapiro recommends a Google Ads 'hack' that you can use even to test your content marketing/SEO campaigns.
A hack for quickly testing whether your SEO/content marketing strategy might produce $$ is running Google Ads for a week.

Target the same keywords you'd be targeting with your blog/SEO, and see if that traffic truly converts into customers when it hits your blog/site.

— Julian Shapiro (@Julian) August 2, 2019
Google has a robust advertising system and granular audience targeting options. However, the CPC bid for software related terms can run as high as 100$ per click.
Intimidated much?
A couple of ways to bypass these high costs are:
Running video ads on the Google Display Network. You'll be able to reach the same audience at a fraction of the cost of a search network campaign. It might not convert as well, but you'll get massive exposure.
Target your competitor's audience through Gmail ads. They are a relatively cheaper way to get into the inbox of people using similar products. To get started, you need to plug target your competitor's domain.
You'll need to experiment with various combinations of ad copy, creative, and audience targeting to hit the sweet spot.
Pro Tip: Experiment with lesser-known networks like Quora because fewer businesses leverage them. Your ads will mimic the question and answer format of the usual Quora post and appear in your audience's feed.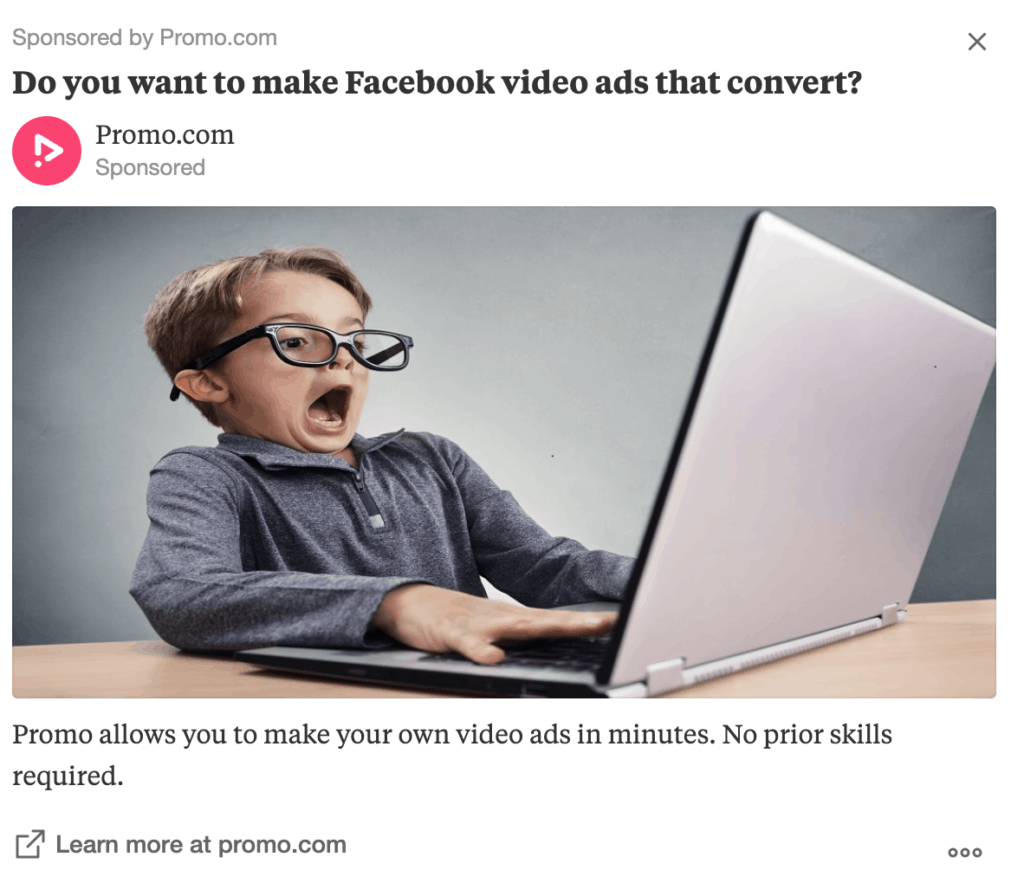 5. Set Up A Referral Engine
In its 2015 research, Neilsen found that recommendations from friends remain one of the most trusted forms of advertising among consumers. Billion-dollar behemoths, including Dropbox, Paypal, and Uber relied heavily on referrals from their early adopters to power up their growth.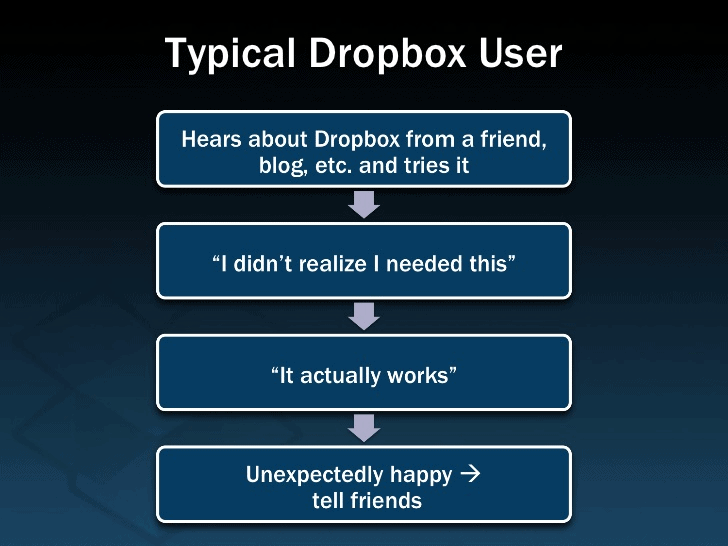 How can your SaaS business get your users to close new deals for you? Begin with checking your Net Promoter Score (NPS). It's an accurate metric to find if your customers find your brand worth promoting. Airbnb found that a higher NPS corresponds with higher rebooking and referral.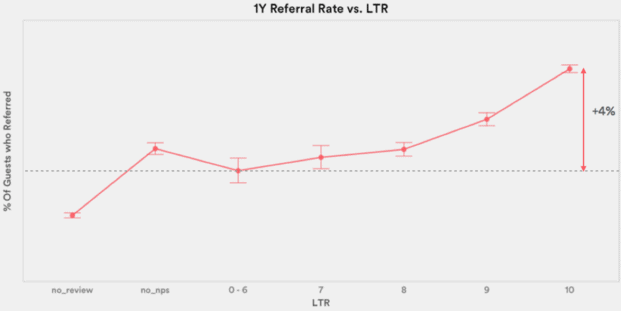 You can also talk with existing customers over email. Check if you have organic mentions of your product on social media. These are positive signs that you have a high-value product and increase your chances that a referral program might work.
Next, check the number of transactions happening per month. If it's above 200, then you're cool. To launch your referral program, you can set up a landing page where your users can refer to others. You can reward your advocates for promoting your brand in the form of hard cash or offer discounts.
For instance, website builder Strikingly gets one month of its "Pro" plan for every new user that signs up. In its landing page below, you can see how the company rewards its users for even syncing their LinkedIn profile and Gmail account.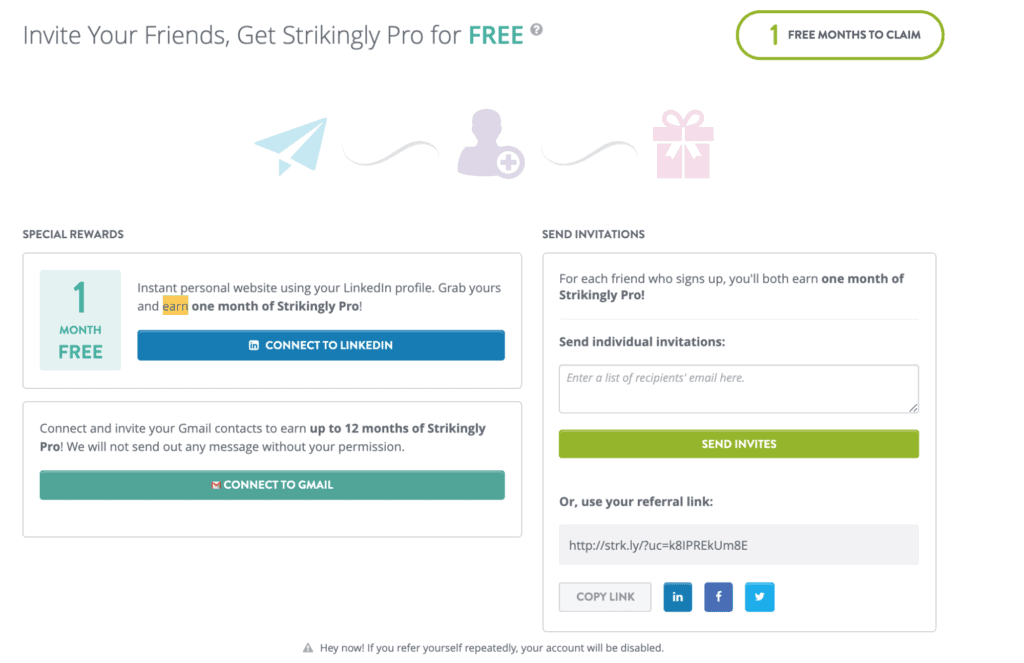 Here's the email received from a content marketer, Shreya Dalela, inviting me to sign up for a new Strikingly account.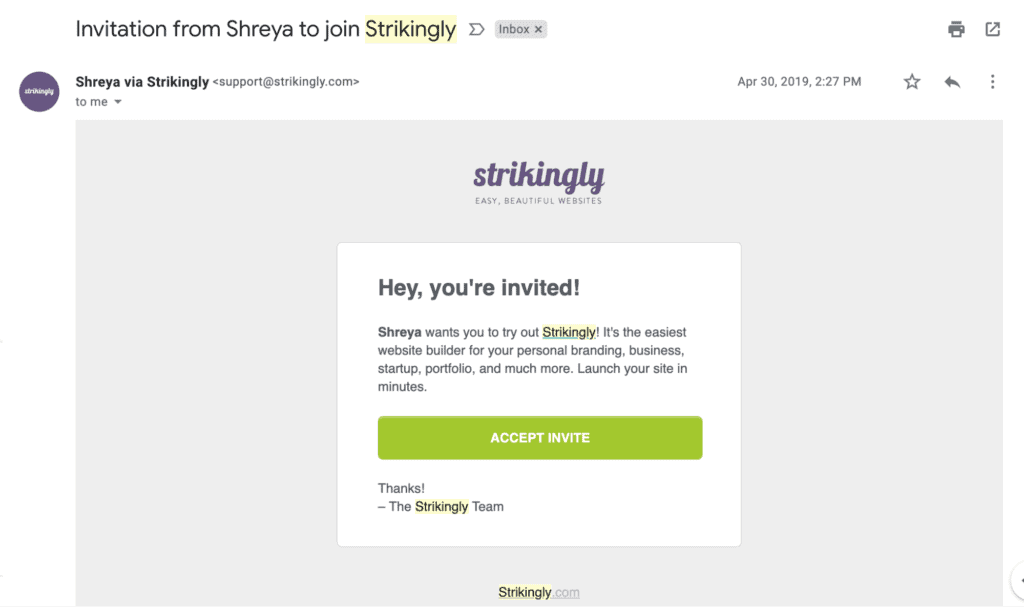 You'll need to set up a similar email with the landing page. However, sweeten the deal for new users. For instance, I would have loved the above invitation with a couple of months of the pro plan for free. Once set up, market your referral program on your website, social media profiles, email, and other brand touchpoints.
You might need to experiment with different incentives to find out the combination that drives qualified users and makes business sense for you. On top of a great product and happy customers, referrals can drive crazy growth.
Pro Tip: To streamline your referral program, you can use software like ReferralCandy.
6. Collaborate With Other Marketers
The marketplace has become extremely competitive, but your time and resources are limited. A high-impact marketing strategy to get more bang for your bucks is joining forces with others. It starts with finding brands you have synergies with and promoting a shared offer together. The idea is to combine your skills and assets to derive mutual benefits.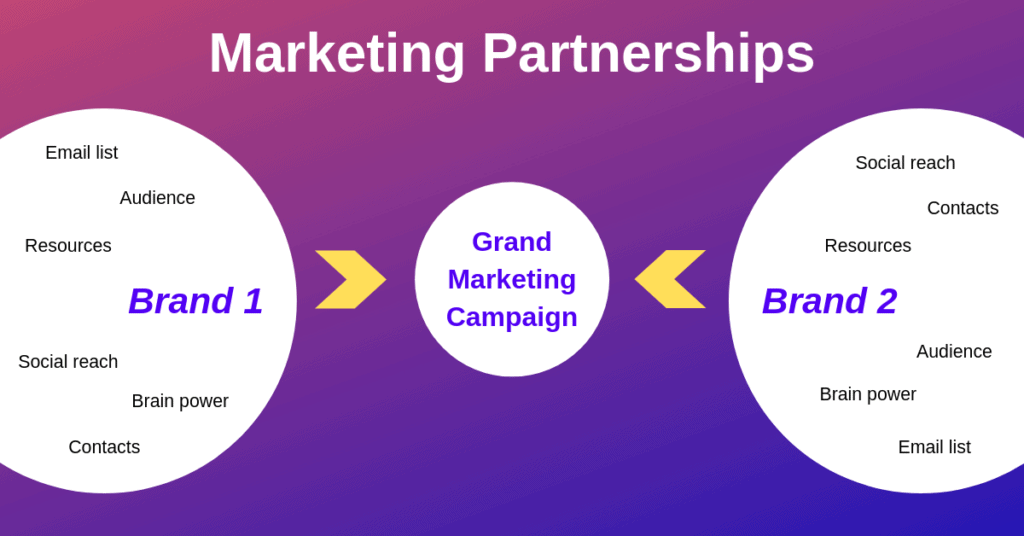 In the simplest form, the partnering companies might promote a piece of content to their audiences so that both tap into a wider audience. Here's an example where an influencer joined hands with other brands for data.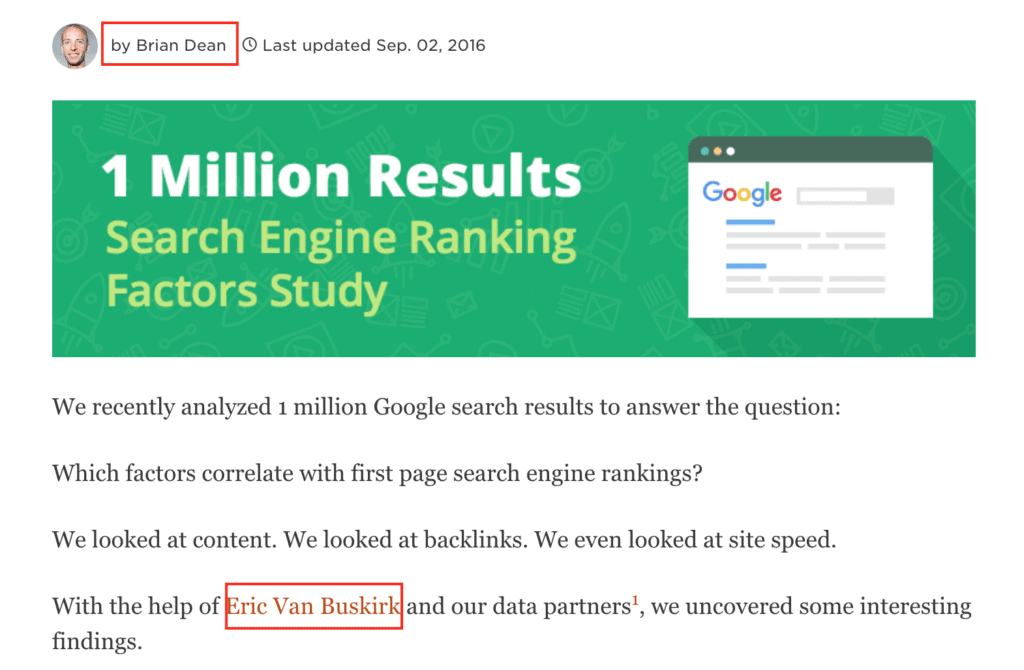 In the above scenario, the partners brought complementary skills and resources to the table. A blogger with a huge audience (an asset) and content marketing skills joined forces with data scientists for deriving valuable industry insights.
In the end, both parties ended up with more buzz, leads, and business.
Another form of co-marketing might involve a joint promotion of a lead magnet. It helps both the brands access new audiences. For instance, HubSpot and Venngage partnered to promote the holiday marketing kit.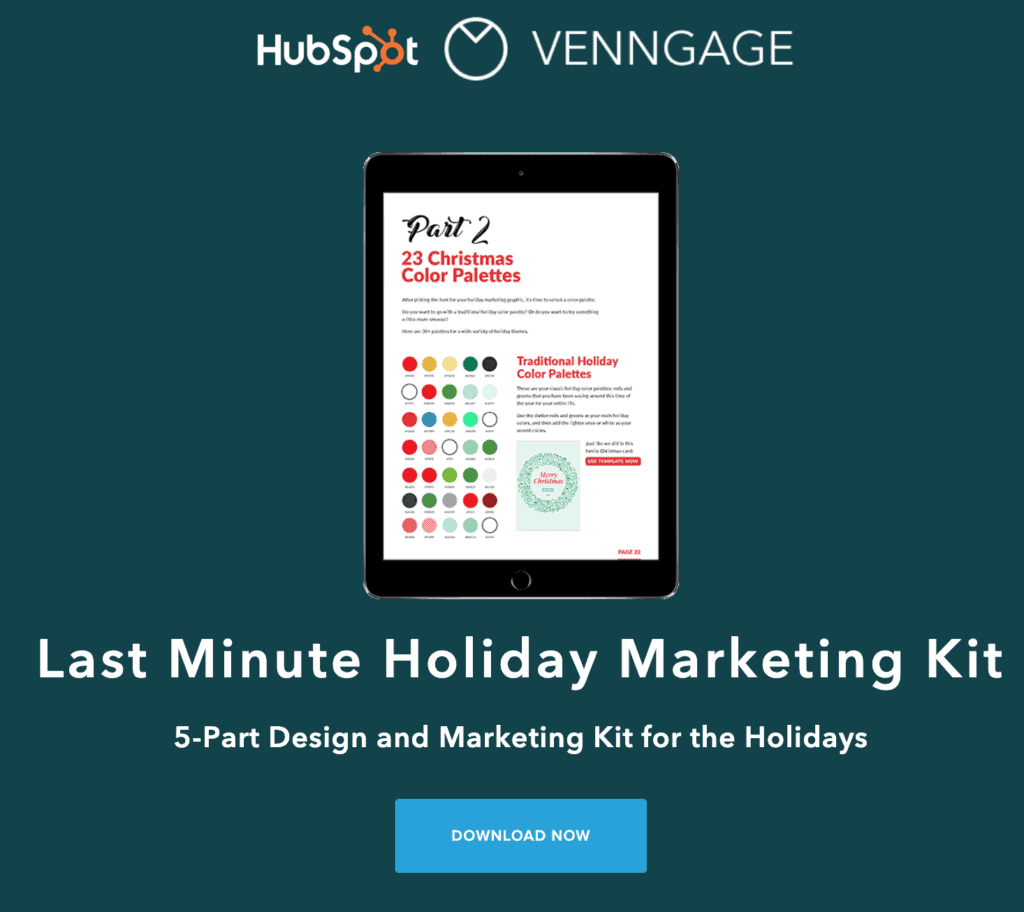 You can also generate sign-ups for joint webinars, generate leads for a product launch, and more.
To get started, list a few inspiring brands and check out their reach, reputation, competitive overlap, and the like. You can tap into your network for recommendations. Once you have a few prospects, funnel down to the partners that have similar audiences and goals.
Then, find a relevant person you can get in touch with at the company. And send them an introductory email sharing a few ideas to partner with you. If you have an existing contact at a prospect company, request them to connect you with this person.
Here's a friendly and considerate email that Lucia Quuu received from Caitlin at Meet Edgar. It led to a small partnership between these brands where they ended up sharing links to each other's articles in their newsletters.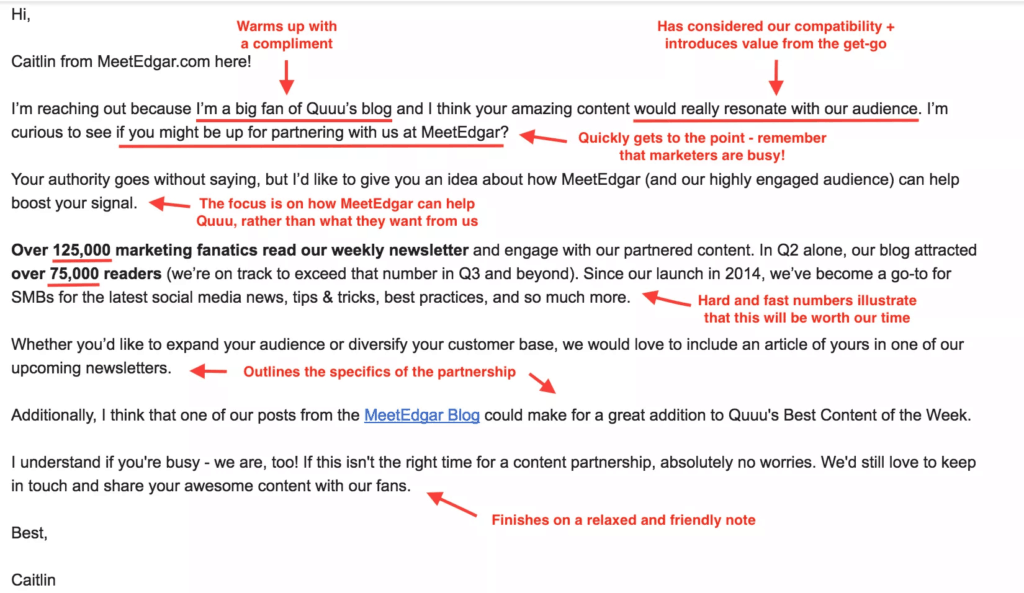 What starts with links, guest posts, and promotion in newsletters can translate into more significant partnerships down the road. Don't forget to draft and sign a formal agreement when you take that route. To read more on how to measure the results of strategic partnerships, you can refer to this article by Brian Peters that details his approach to partnerships at Buffer.
Pro Tip: If you're just starting, then you can offer links in guest posts at authoritative websites (where relevant) to bait big partners. Adam Enfroy uses thiscool way of providing upfront value to prospective partners while simultaneously scaling your link building.
Bonus: Experiment With Pricing
In a study of 6,452 SaaS companies, Charegbee found that on average we're spending only 12 hours in the entire history of business on pricing. It's unacceptable in a SaaS model because pricing plays a key role in converting trial users into customers.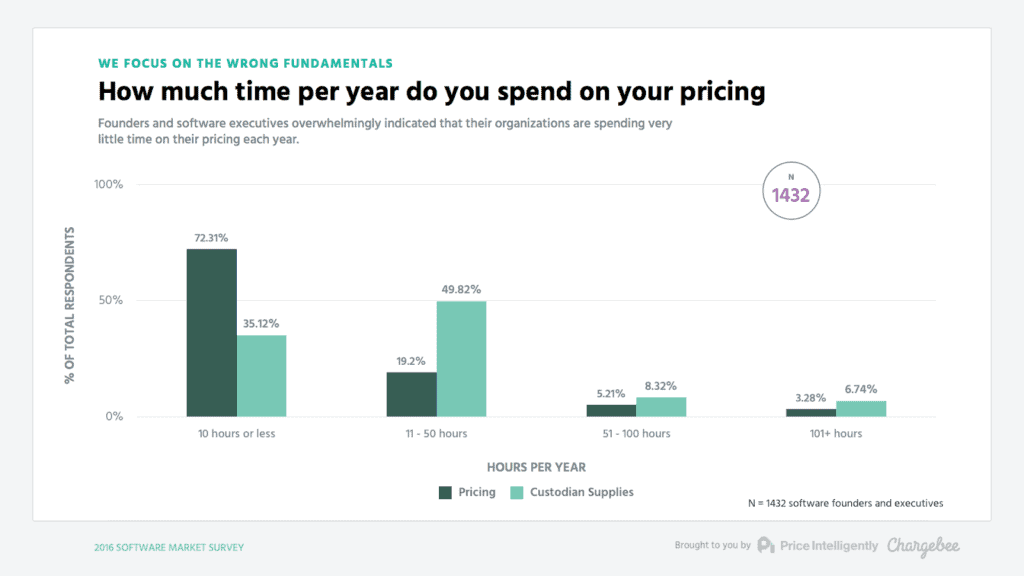 It's not a surprise that SaaS companies that devote time on optimizing their pricing have six-times as high LTV/CAC ratio than companies that don't.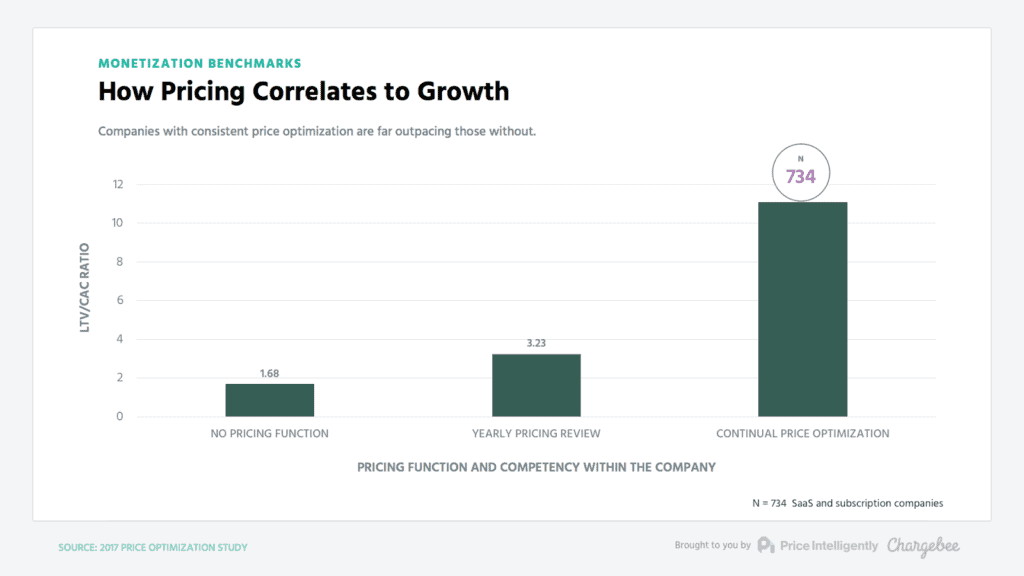 From a cash flow standpoint, an annual plan is your best friend. They will lower your churn. However, you need to spend time and resources to experiment with different offers, like giving away percentage vs. giving away months.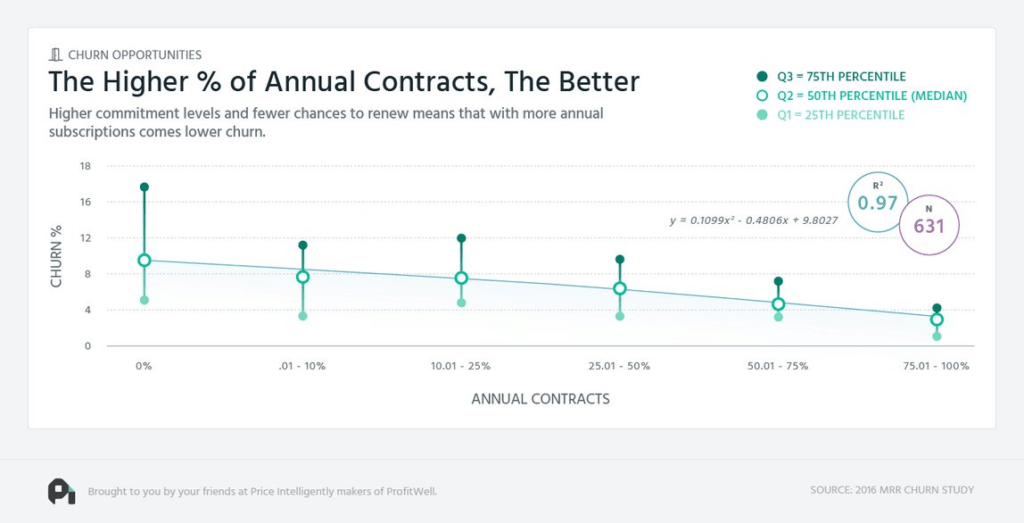 Pricing is a growth lever that can substantially increase your conversions, and running experiments with it can have a huge payoff.
Which SaaS Marketing Strategy Are You Going To Try?
You can try getting on SaaS review sites. Sign up new affiliates for your product. Focus on expansion revenue. And a zillion other "tactics" that are thrown out in the form of SaaS growth marketing advice.
If you're wondering which of these marketing strategies, it's actually all of them.
Remember that you're participating in the second wave of SaaS. The competition is fierce, and the cost of switching tools is low. While it's a great idea to offer a free trial of your product, it also means that users get ample opportunities to "sample and switch" to a competitor.
Content marketing worked tremendously well for HubSpot. And referrals catapulted Dropbox's growth. However, you need to experiment, analyze, and optimize to find your "viral loop." Or maybe, you don't need to. Create a great product, get the word out in a couple of ways, and focus on retention. That's all there is.
Are you going to experiment with any of the above SaaS marketing strategies? Let me know in the comments below.
LET'S MEET IN YOUR INBOX 😃
ADDITIONAL READING