This review is authored by Amy Derungs.
GoToWebinar is one of the most popular software that exists in the webinar market. But it doesn't remain the best solution now. Let's look at the three best GoToWebinar alternatives you can consider for 2023.
What is GoToWebinar?
GoToWebinar is a popular webinar software. Before we jump into its alternatives, let's just take a moment to recap the more notable features of this webinar platform.
Attendee registration and automated emails (very limited customization)
Marketing tools: polls, handouts, videos, and Q&A
Post-presentation surveys
Free and paid online events
Recorded events (on more expensive plans)
Up to 3000 attendees per session
Extensive analytics
On the downside, many features are only available on the more expensive plans. And the user interface is complicated. Fortunately, the site provides training sessions to get you up to speed.
In short, GoToWebinar is a stable and reliable webinar tool choice. But even with the huge current discounts, it remains the most expensive webinar software.
I looked at many video conferencing software solutions and ultimately chose three of the best to review in detail.
Let's get right to it.
WebinarJam
WebinarJam is a web conferencing tool that is particularly well suited to small businesses for creating and conducting marketing webinars. It offers many features, including a variety of attendee engagement tools, and the price is very attractive too.
The registration process is a bit irritating with many upsells, but once you get past that, you are presented with a clean dashboard where you can create your first live webinar feature.
I was impressed by some of WebinarJam's huge range of features, including:
Customizable registration page templates with an A/B testing facility.
Extensive email notification options, all fully customizable.
A digital whiteboard, integrated presentation and video, moderation capabilities, live chat, question and answer, private comments, highlighted comments, sticky announcements, and more to run your webinar campaigns.
One-click auto-register facility.
Free and paid live virtual events.
The option to run offers, surveys, and polls during live webinars.
Real-time traffic and engagement analytics.
Integration with a host of third-party apps.
Automatic webinar recording for replays.
Up to 5000 attendees per webinar (on the Enterprise plan).
Up to six hosts per webinar (on the Enterprise plan).
This software is best for conducting live online events. To run automated and on-demand events, you must pair it with EverWebinar (or other similar software) – these tools are designed to work together.
It does take a bit of time to get used to the software. Fortunately, there are many comprehensive tutorials on the site to refer to if you get stuck.
WebinarJam Pros and Cons
These are my findings while testing this feature-rich software.
Pros
Unlimited webinars with generous durations
User-friendly interface
Affordable pricing
A marketplace where you can list your webinars
Cons
Webinar analytics are rather basic
Pricing plans only offer yearly subscription
The panic button (reboot) is only available with the Professional and Enterprise plans
The moderator Control Panel is only offered with the Enterprise plan
WebinarJam Pricing
The pricing model is clear and easy to understand. All plans are annual subscriptions and include unlimited webinars. The plans offer progressively more attendees and features as you scale up, so check your requirements before choosing a plan.
$1 allows you to try out WebinarJam for 14 days.
Demio
Demio is a cloud-based platform that allows for live interaction with your audience. At first glance, it appears a little simplistic, but it does have all the basic features you will need to run a successful webinar.
When creating an event, you have three options:
Standard
Series
Automated
The registration page and all notification emails are set up by default, but you can apply some customization to these.
The customization options in terms of attendee registration are rather limited, and there are no templates to choose from.
The four email notifications are basic but adequate. You cannot add any, but you can remove some. The fifth is a post-webinar follow-up email. For all emails, your only customization option is to add a custom snippet to the email body.
To "prepare your room," you can create a poll, add handouts, and set up a featured action. You can also add presentation materials like a slideshow and video. And you have a post-session option to redirect attendees to your website or product page.
The "Event Admins" tab allows you to appoint a moderator.
During your webinar, chats can be marked as questions, and when you are ready to answer, the answer will be timestamped.
You can launch the presentation materials during the course of your webinar without screen sharing. Polls, handouts, etc., can be used anytime. And as the host, you can invite an attendee to participate.
Session analytics are shown in the "Activity" tab. You can see when people registered, but there is no way to see the registration conversion rate. The Attendance Summary shows a graph of when attendees entered and left the webinar. Another useful feature is the ability to track attendee focus – you can see when they were actively watching the webinar as opposed to just having it running in the background.
As part of the analytics, you can also see poll results and how many attendees downloaded handouts and took up your offer.
The site includes some tutorials, but I found that the images did not quite match what I was seeing on screen, leaving me a bit lost as to what to do next.
Demio Pros and Cons
Here are some of my likes and dislikes.
Pros
Simple to use
Easy to set up on-demand webinars
Attendee focus tracking
Good support
Cons
Minimal customization of the registration page and emails
Recurring online events cannot be run more than once a week
No whiteboard facility
The webinar replay is just a video with no opportunity to ask questions
No paid webinars
More expensive with fewer attendees per plan – maximum 3000
Demio Pricing
Demio offers a 14-day free trial, and you save 30% on the annual plans.
WebinarNinja
WebinarNinja lets you create webinars quickly and easily and incorporate marketing tools. This webinar software caters to live, series, hybrid, and automated webinars.
WebinarNinja integrates with Stripe, so you can charge for webinar attendance.
The user interface is clean but not particularly intuitive.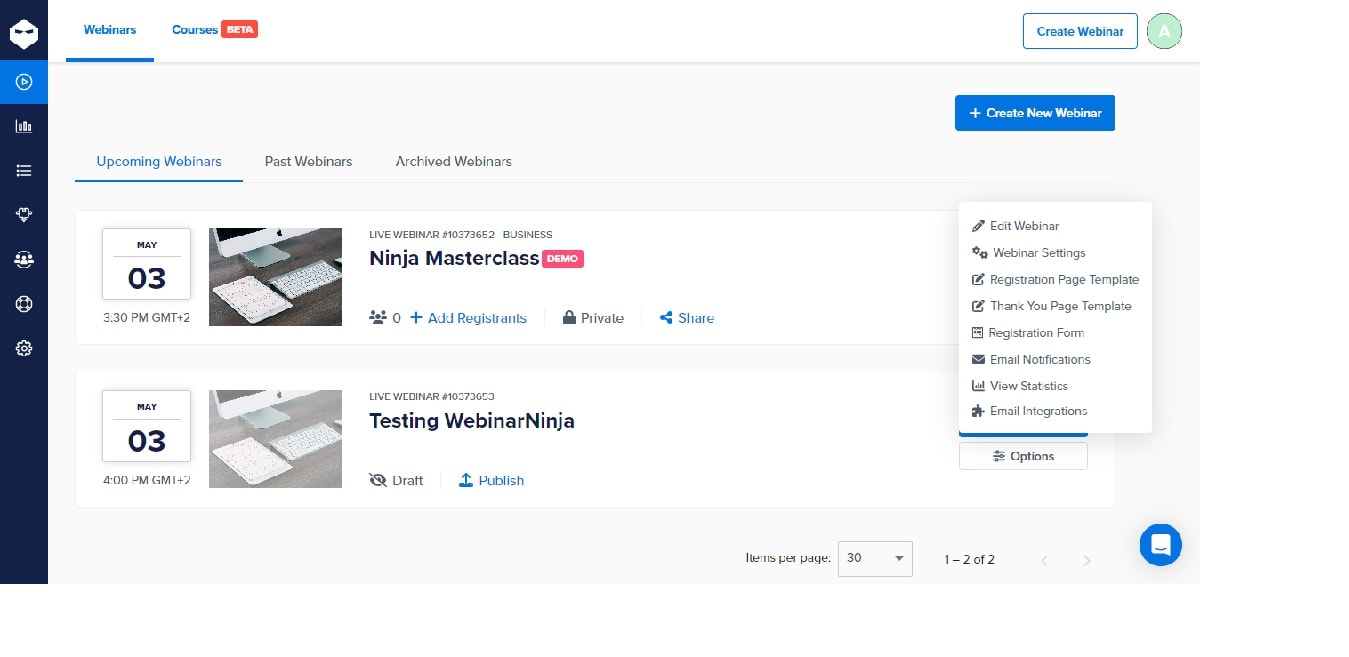 A few registration page templates are available, but customization options are fairly limited. Email notifications are fully customizable and can be saved for future use.
When you publish a webinar, you have the option of making it public or private. Public virtual events are added to Webinar Finder – WebinarNinja's search engine.
Once you hit the "Enter Studio" button, you can add a presentation and/or a YouTube video.
During a webinar, the layout of the presentation screen can be changed at any time to place emphasis on particular parts of your presentation, like screen sharing with a fellow presenter.
The chat feature has a separate area for questions so these do not get lost during your webinar. Q&A sessions are timestamped.
Marketing tools you can use in your webinar include questions, polls, and offers. The host cannot set a specific time for polls to appear. Attendees have to open tabs to see these features.
Statistics show you the registrant and attendee numbers, conversion rates, and participant engagement in terms of things like chats and polls. There is no graph to show attendee focus.
WebinarNinja Pros and Cons
As a marketing tool, WebinarNinja is rather disappointing.
Pros
Modern, clean user interface
Allows for paid events
Automatic webinar recording and archiving
Many integrations available
Cons
Marketing tools are not very obvious to attendees
Most features are only available on the more expensive plans
WebinarNinja Pricing
I suggest you try out WebinarNinja with the 14-day free trial.
Plans can be adjusted for up to 1000 attendees. Higher-level plans offer more features, so be sure to check this before you commit.
Final Thoughts
WebinarJam stands out among the GoToWebinar alternatives I tested as the best all-around webinar solution – despite its learning curve. It is rich in features and very focused on marketing when you host webinars. And although you have to pay yearly, it comes out cheaper than most other tools.
WebinarNinja web conferencing software is good for online meetings, but the customer engagement features are disappointing.
Demio webinar software comes in last because of its limited features and lack of customization options.
Recommended reading: