As COVID hit and all of us started to become screen zombies, the digital isolation made communities a pumped market.
Online communities made the leap of not just being part of a larger funnel, but cornerstones to sustainable business models. Engaging users became important and communities were the go-to choice.
To build a community, you need to have a community-building platform. As with everything in the market lately, there are just too many options.
And as expected, each community platform would be great for different types of creators. To hit the nail in the head, I've combined a list of the top 10 platforms in the online community building market.
But not just that, I've written a quickie pros-and-cons list and even made you a "how-to" checklist to decide which community platform you should choose.
Before deep diving, let's compare all of them at a glance:
Software
Best Suitable For
Price
Telegram Groups and Channels

Smaller and close-knit communities
Subscribers who'd want regular announcements

Free
Facebook Groups

Larger communities
Communities that are just starting out

Free
Mighty Networks

Established communities
Creators who want memberships, courses, and community in one place

Free plan available. Paid plans start from $23/month
Tribe

Communities that engage frequently
Creators that want SEO friendly platforms

Free plan available. Paid plan starts from $49/month
Circle

Creators who are looking for a standalone community builder
Creators who are looking for SEO friendly platforms
Platform to monetize and integrate with other products (like courses)

Starts at $39/month
BuddyBoss

Creators who want a WordPress-based community platform

Cheapest plan begins at $205/year
Forumbee

Communities that need product support
Communities that require searchable content

Starts with $250/month
Hivebrite

Alumni Networks
Not-for-profit companies
Managing a professional network

Custom-quote
Discord

Intimate communities that engage often
Starting a club (book club, movie club, etc.)

Free
Website Toolbox

Creators who want to build communities directly from their website

Starts from $35/month
Deep dive into each platform to learn more about their noteworthy features, pros, cons, and free trials.
Telegram Groups & Channels
Telegram is an all-purpose messenger app that you can use to create your free online community. This platform would be suitable for smaller close-knit communities. If your idea of building a free community is in an intimate setting, Telegram is perfect for you.
| | |
| --- | --- |
| Pros | Cons |
| Free of cost | User Experience is not focused |
| Intimate community building | Not suitable for larger communities |
| Members can join easily using an invite link | Communication may be scattered |
| Easy to use | Too casual for a workplace that requires complex organization of conversations |
| Create a Telegram Channel for announcements, a Telegram Group for member conversations | No advanced features like payments, creating an event, etc. |
| Desktop and mobile apps | No way to charge for accessing the community |
Wildlife is a Telegram Channel that shares fun animal videos, animal trivia, and more.
Noteworthy features
Completely free
Add up to 200,000 members in a Telegram Group and an unlimited number of members in Telegram Channel
Easily navigate group chats through advanced features like quoting a specific message, mentioning someone, and hashtags
Create admin-only posts using Telegram Channels
No limit on the size of your media and chats — all files will always remain uncompressed
Resumes long audio files (like podcasts) from where a member last left it
Easily share, save, or make an embedded link of messages
Create polls, discussion groups, and pin important messages
View detailed statistics to evaluate performance (available on Telegram Channels with more than 500 members)
Schedule messages, appoint extra admins with specific privileges and have admin signatures
Edit or delete your message
Easily share your community invite through an invite link
Create your own stickers in Telegram Groups (only with over 100 members)
Desktop and mobile apps
Pricing
Free of cost
Facebook Groups
Facebook Groups is one of the most popular ways of building an online community. If you are just starting out, Facebook Groups might be a great option for you. There is a lot of user-base on Facebook for you to leverage and it is easier to drive engagement too.
But in a lot of cases, Facebook Groups isn't the right choice. Some features may be a deal-breaker for you.
| | |
| --- | --- |
| Pros | Cons |
| Free | Dependent on a third-party algorithm |
| Access to a large audience | Distracting due to ads and notifications |
| Adding moderators and giving mentor privileges | No way to get paid for access |
| Live streams with Facebook Live | No control over the notifications members get |
| Connecting your Facebook Group with your Facebook Page | No customization available for your personal brand |
| Restrict entry to those who follow rules and meet specific criteria | Privacy issues |
Kat Boogard runs a Facebook community, 1…2…Freelance: A Community For Creative Freelancers, for helping freelancers find good courses, helpful resources, and freelancing tips. She uses this community to share her recent blogs, digital products, and engage with fellow freelancers.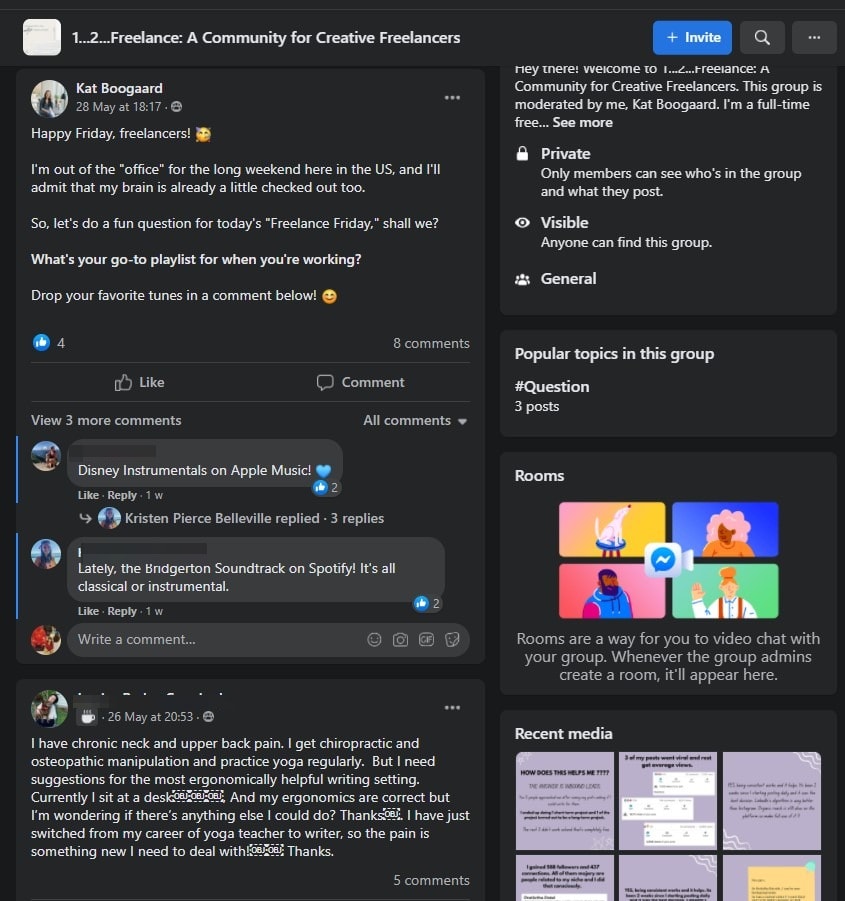 Noteworthy Features
Free
Access to a large audience on Facebook
Create engaging posts using videos, photos, polls, etc.
Organize your content into "Topics" and "Units"
Schedule events easily
Add rules for moderation and allow entry only to those who meet your set criteria
Do live streams with Facebook Live
Create "Rooms" to do a video chat with up to 50 members
Create learning modules to educate your members
Assign mentor privilege to your choice of members or add moderators
Connect your Facebook Group with your Facebook Page
Pricing
Free.
Mighty Networks
Mighty Networks is the perfect community platform for you if you are looking to manage your website, your memberships, and your online courses all in one place.
It remains one of the most popular community-building platforms in the market because of its great user experience. You can give your members a branded, free iOS and Android app.
| | |
| --- | --- |
| Pros | Cons |
| Has a free plan | Learning curve for members to use the platform effectively |
| Has a 14-day free trial for the paid plans | Online course builder isn't that advanced |
| Combines your website, memberships, and online courses | Limited customization and design options |
| Mobile apps for both iOS and Android | Can't go "live" within the platform itself |
| Engagement features like personalized feed, polls, questions, icebreaker activities, and direct messaging | Limited options for third party payment platforms |
| Create your own domain (paid plans only) | Free plan has limited features |
| Zoom and Zapier integration | No native video upload |
| Easily create sub-groups and member categories | |
The navigation of the tool is intuitive and anyone starting from scratch can utilize all the tools effectively.
Noteworthy Features
Combines your website, community, memberships, and courses
Has a free plan and a 14-day free trial (no credit card required) for the paid plans
Mobile apps for your members in both iOS and Android
Can add unlimited members
Create unlimited admins and moderators in the paid plans
Customize your domain name in the paid plans
Personalized feed for members
Zoom and Zapier integration
Create a one-time or recurring event through the event management feature
Add polls and questions, icebreaker questions, customizable referral rewards, and public/private/local groups in the paid plans
Easily customize your web landing page
Manage the notifications your members get
Build your online course within the community in the paid plans
Pricing
Mighty Networks has a three-tier pricing system: the free plan, the business plan, and the community plan.
The free plan allows you to create your own website, posts, articles, and mobile apps. You can build a subscription-based community but you do have to pay the 5% transaction fee.
The community plan starts at $23/month and you get the event management feature, Zoom integration, freemium community options, and creating polls/questions. You can build a custom domain for your community and pay a lower 3% transaction fee.
The business plan begins at $81/month (paid annually). You can build online courses, get Zapier APIs, and use advanced analytics. You pay a 2% transaction fee in this plan.
Both the community plan and business plan have a free trial of 14-days. No credit card required.
They also have a Mighty Pro plan that allows you to build courses, memberships, and communities on your own website and create branded mobile apps. You have to submit a demo request for getting a custom quote for this plan.
Tribe
Tribe is a white-label community platform that is completely focused on community building and creation. It is one of the only community software in the market suitable for both solo creators and brand-led companies.
| | |
| --- | --- |
| Pros | Cons |
| Has a free plan and 14-day free trial for the paid plans | Free plan has limited features |
| Easily categorize your content | No mobile app functionality |
| Excellent native gamification features that drive engagement | No inbuilt monetization tools |
| Supports rich media | Limited native analytics |
| Integration with 20+ popular third-party apps including Zapier | Lack of a built-in messaging facility |
| SSO login | |
| Powerful security and compliant on GDPR policy | |
Here is what a "Space" looks like on the platform: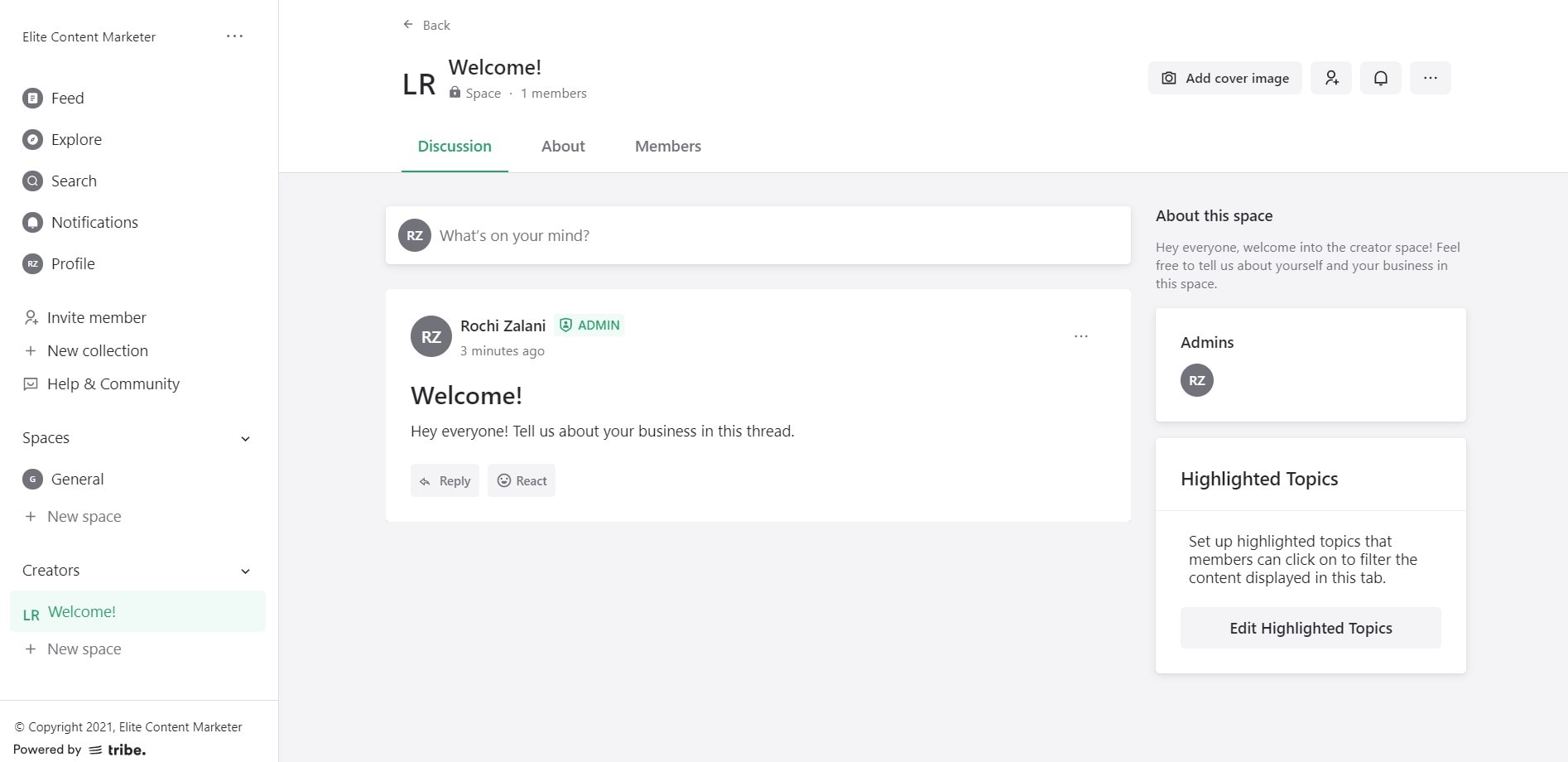 Noteworthy Features
Categorize your content easily into "Spaces"
Customize logo, widgets, domain, and colors
Highly secure and GDPR compliant
Members can join the community easily using the social login system via Facebook, Twitter, etc.
Supports different kinds of media including posts, images, and videos
Excellent native gamification features like polls, questions & answers, badges, virtual currency, leaderboard, etc. to drive engagement
SEO-friendly and optimized for sharing on socials
Powerful moderation tool and profanity blocker
Data-driven analytics about your community
Integration with 20+ popular third-party tools, including Zapier
Pricing
Tribe offers four-tier plans: basic, plus, premium, and enterprise.
The basic plan is free of cost and comes with some essential features like custom domain, theme customization, basic apps, and unlimited spaces.
The plus plan starts at $49/month and adds analytics, email & chat support, API access, and additional app integrations.
The premium plan is one of the most popular plans at Tribe and begins at $199/month. It gives you everything in the Basic and Plus plan and adds an SSO login, premium apps, and a dedicated CSM.
The enterprise plan is custom-quoted and gives you uptime SLA, added security, migration assistance, and data residency.
All the paid plans have a 14-day free trial with no credit card required.
Circle
Circle would be perfect for you if what you're looking for is a standalone community platform. It is specifically designed for creators.
| | |
| --- | --- |
| Pros | Cons |
| Excellent and elegant design | No Android app |
| 14-day free trial on all plans | No free plan |
| iOS App | No inbuilt monetization tools |
| Can integrate with online course builders and other commonly used third-party tools | Cannot build email campaigns and online courses within the platform |
| Create exclusive content and memberships | Cannot create events in the community (yet) |
| Zapier integration | |
I found the software pretty easy to use and highly customizable. I can decide which community is public and the same goes for sub-communities called "Spaces." Everything is personalized to your brand. The layout, notification settings, and member privileges can all be customized in one place.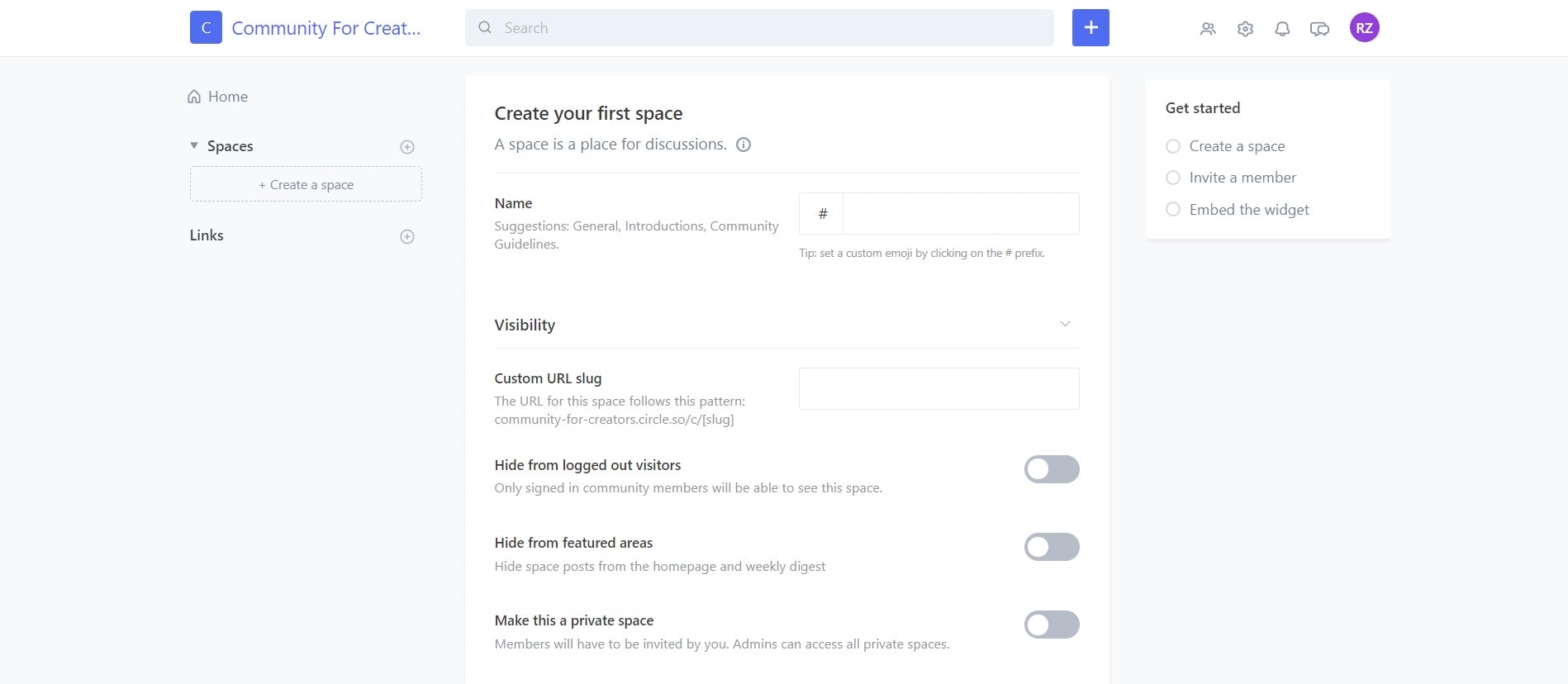 Noteworthy Features
Integrate with your online course builder (Like Teachable or Kajabi) and form course communities of your members
Create exclusive memberships for select members
Create paid newsletters and conference communities
Organize your discussions in "Spaces" and "Space Groups"
Create private spaces for select members, exclusive content & access
Allow members to form interest groups
Direct messaging between members
Choose your own brand colors, custom domain, and member data
14-day free trial on all plans with no credit card required
Zapier integration
iOS App for members
Pricing
The pricing plans at Circle are divided into three tiers: basic, professional, and enterprise.
The basic plan starts at $39/month and is limited to 1000 members and 10 spaces. You can have 2 admins and 1 moderator in this plan. You can only upload files up to 100MB.
The business plan begins at $79/month and is limited to 10,000 members and 100 spaces. You can have 15 admins and moderators in this plan. 500MB worth of file upload is permitted. You also get advanced reporting in this plan along with priority email support.
In both the basic and business plan, you can create only a single community.
In the enterprise plan, you can have up to 100,000 members and 1000 spaces. You can create up to 3 communities and have 100 admins & moderators. The file upload limit is 1GB. This plan starts at $199/month.
In all the plans, you get a 14-day free trial. No credit card required.
BuddyBoss
BuddyBoss is an outlier in this list since it is not a traditional community-building platform — but a WordPress-based software. It allows you to sell memberships, online courses, and build communities.
The thing that is different when you build your community on an open-sourced platform like WordPress (rather than SaaS), is that you get more flexibility and control in building a community or course.
| | |
| --- | --- |
| Pros | Cons |
| WordPress platform gives you plenty of flexibility and control | No free plan or free trial |
| Direct and group messaging among members | Expensive plans |
| Built-in important WordPress plugins like WooCommerce, Event Calendar Pro, WP Job Manager, etc. | Not so intuitive to use and set up |
| Create a custom member dashboard | |
| Excellent gamification tools that build engagement | |
| Creation of discussion forums | |
| White-labeled mobile app | |
Instead of giving you a free trial, BuddyBoss provides a free demo for 30 minutes. At this time, you can play around with the product and test out all the features.
Noteworthy Features
Allows members to create public or private social groups with a separate feed and selected member listing
Direct and group messaging amongst members
Create discussion forums to organize your discussions
Built-in plugin for "Events Calendar Pro" to create site-wide events or group-only events for members
Zoom integration (in the high-tier plans)
Creation of a custom member dashboard using Elementor
Create job listings using the built-in plugin WP Job Manager and other extensions
Integration with WooCommerce
Excellent gamification tools like the point system, ranks, rewards, and achievements to increase engagement
Sell one-time purchases, memberships, subscriptions, and course bundles
Ability to get a mobile app (white-labeled)
Pricing
BuddyBoss has three-tier plans charged based on the number of sites you need. If you need just one site, the cheapest plan begins at $205/year. The cost increases to $259/year for five sites and $295/year for 10 sites. All plans are charged annually.
The only drawback here is that this pricing does not include the mobile app feature. That is a separate product starting with $179/month paid yearly for one app. The price keeps increasing as you increase the number of apps you need.
Forumbee
Forumbee is a community management platform that is perfect for someone who is also looking to give product support and searchable content.
| | |
| --- | --- |
| Pros | Cons |
| Knowledge base for your customers | Expensive pricing plans |
| Private categories and exclusive access to groups | Lack of customization features |
| Engagement features like upvoting to encourage member participation | Search functionality is not that accurate (especially as the content grows) |
| SSO Sign in | Might not be suitable for all kinds of communities |
| Automatic spam detection | |
| Advanced reporting and analytics | |
| Can make your team members admins | |
Noteworthy Features
Members can engage by upvoting, asking questions, and participating in discussions
Rich media file upload including photo, video, and code snippets
Pin important messages using the "Featured" feature
Create member profiles and private categories
Create a calendar of events and allow members to RSVP using a Google Calendar integration
Direct messaging between members
Knowledge base to help your members find answers to FAQs easily
Make your team members admins
Create a product roadmap for your customers
Automatic spam detection
SSO Sign-on
Activity and engagement reports
Pricing
The plans at Forumbee start at $250/month (Premium). You can add up to 5000 members and 5 admins to this plan. The Enterprise plan begins at $750/month — allowing you to add up to 20,000 members and 20 admins. You can contact the Forumbee team and request a trial. You can also build your custom plan by contacting the Forumbee team.
Hivebrite
Hivebrite is an all-in-one community management software that is best for alumni networks, not-for-profit companies, and professional networks.
If you are looking to build a professional network community, look no further than Hivebrite. Its unique features make it perfect for running a professional community or staying connected to your alumni.
| | |
| --- | --- |
| Pros | Cons |
| Make your own job board | Suitable for professional networks only |
| Integrates with CRM tools, directories, and social media | Expensive pricing plans |
| Build sub-communities and manage them easily | Bit of a learning curve to the platform |
| Good engagement metrics | Lack of customizable options |
| Bilingual platform (English and French) | Mobile app is not UX-friendly |
| Make your own mobile app on iOS and Android | Fee for each transaction done within the platform |
| Easy management of complex membership plans, payments, events, and tickets | |
| Excellent customer service | |
Noteworthy features
Multiple sign-up options
Filter your member search easily by group, industry, location, or any other custom field
Moderate all of the content published and get immediate notifications — decide which content is public and what is member-only
Manage events, paid tickets, and payments in a single place
Send automatic updates via email campaigns, newsletters, and push notifications
Make a job board for your members and allow them to share resumes
Create smaller sub-communities called "groups" and manage them easily
Manage complex memberships easily within the software itself
Make your own Mobile App for both iOS and Android — use your logo, name, and brand
Allow members to showcase their startup projects and get help from other members
Integrate with CRM tools (Salesforce, Microsoft Dynamics, Blackbaud CRM, etc.), directories (Microsoft Active Directory, G-Suite, etc.), and social media (LinkedIn, Facebook, Twitter, etc.)
Evaluate how engaged the community is through advanced analytics divided into different demographics
Multilingual — serves English and French audience
Price
Hivebrite has custom-based quote pricing. This means that you can book a demo with their team and understand how Hiverbrite can help you and at what cost.
Discord
Discord is an invite-only community platform that is perfect for school clubs, global communities, and gaming groups alike. It is perfect for a closely-knit community that likes to communicate often. It is intimate like a chat but its organization features are thorough to run your community effectively. It is most commonly used by gamers.
| | |
| --- | --- |
| Pros | Cons |
| Organized discussions via the "Topics" feature | Lack of good aesthetics |
| Voice feature | Learning-curve to the platform for members |
| Moderation tools | May not suit all kinds of communities |
| Ability to set up private channels | No way to monetize the community |
| Free | Lack of third-party integrations |
| Spam and profanity blockers | Lack of customization |
| iOS, Android, and Desktop Apps | |
| Discord bots | |
Life's Library is a book club hosted on Discord. The discussion is divided into various spaces and there are tons of moderators, bots, and admins in the community to take care of everyone's requests.
Noteworthy Features
Discussions organized into topics
A voice channel to send voice notes
Moderation tools and custom member access
Set up private channels
Spam and profanity blockers
Set-up bots for easily helping your members
Personalized member profiles
Direct messaging between members
iOS, Android, and desktop app
Free
Pricing
Discord is completely free to use. There is Discord Nitro that allows you to upgrade your emojis, get bigger file uploads, etc. It starts at $9.99/month. The benefits are a little vain and most users can do without them.
Website Toolbox
Website Toolbox is a platform where you can build out a forum for your community members and keep them engaged. The standout feature of this platform is that it can completely integrate with your website — meaning your members don't have to go to any third-party website or app to join your community.
| | |
| --- | --- |
| Pros | Cons |
| Customizable theme | Organizing discussions is cumbersome |
| Embeds with your website | Design is a little outdated |
| Add admins and moderators | Difficult learning curve for members |
| Excellent gamification features | Software might not be as user-friendly |
| In-built SEO | Cannot edit member info |
| 14-day free trial on all plans | No free plan |
| Sending newsletters through the forum itself | Unorganized discussions |
| Single sign-on | Lack of aesthetic themes and customizable options — CSS can be clunky |
| Integrates with 1500+ apps | |
| Monetize your forum easily by a recurring or one-time subscription fee, showing ads, accepting donations, or accepting sponsors | |
You can choose from a variety of forum themes and customize them according to your brand before you activate them on your website. The tool is not as user-intuitive as you'd expect. There's a certain learning curve to the software.
Noteworthy Features
Customizable theme — add your choice of color, logo, header, or custom CSS
Embeds within your website
Monetize your forum by charging a one-time fee or a recurring subscription fee
Show ads, get donations or accept sponsors
Built-in messenger and chat rooms
Direct messaging between members
Approve posts and signups to ensure protection
Export the forum in one click
In-built SEO for user-generated marketing
Gamification features like reputation score, like, dislike buttons, polls, and customizable member profiles
Single Sign-On
Built-in calendar to manage events
Integrates with 1500+ apps
Dashboard gives you insights on member engagement, page views, conversions, etc.
Send newsletters to your members from within the forum itself
Assign administrators and moderators
Pricing
The pricing at Website Toolbox starts at $35/month paid annually. The next plan starts at $85/month paid annually and the last plan is at $250/month paid annually. The differences in pricing are dependent upon page views/month, file upload limits, transaction fee, and support.
How To Choose A Community Building Software
Deciding which platform to choose for building your community is one of the most crucial decisions you'll make. Once you pick one and start building your audience, going back to other software has its costs.
You may even lose out on a few members who chose not to opt-in into your community for the new software. Apart from retaining all members, there's also the learning curve of each new software. There might be some features you and your community were used to operating that aren't present in your new software.
Here's your checklist to choose once and choose well:
Moderation
Community building is serious business. As your community grows (not just member-wise, but activity-wise), you're going to need some help. This help may come from within your own team or from members themselves.
This is why it is important to evaluate what kind of moderation tools are you going to need to run this community effectively. Are 2-3 members as moderators or sub-admins going to be enough in the long haul? Think that through before you weigh competitors for this feature.
Rich Content Formats
The best part about a community is the sharing of stuff. This often means cute cat-on-the-book photos alongside excellent infographics on content marketing.
Whatever community builder you choose should be able to incorporate these content formats easily.
This is an overlooked section that affects your member experience for a long time. Take into account if you can send and play all kinds of content formats on your community builder before swiping that card.
Gamification Tools
Hold up: Are you not engaging your community through gamification tools yet? You're missing out on so much if you aren't.
The thing is many community builders now offer advanced gamification tools. It's not just same-old-polls and Q&A anymore. Now you can set up a reward system, give special treatment to members who make their friends join your community, and give room for healthy discussions through these tools.
This is one of the primary areas that many competitors in the community platforms market target as their advantage — so check for yourself and see if it's a good fit to engage regularly with your community!
Monetization Tools
You might be building a community just for fun. You may be trying something out for now and see if it works. Or maybe this community is simply a part of the bigger sales funnel.
But if you aren't, you are likely looking to monetize your community. This means you prefer an in-built system where your members can pay you for access or a seamless integration.
Figuring this out is wonderful because it narrows down your options to only those community platform builders that offer a monetizing tool.
Mobile App
Do you know that the average US adult is spending 3 hours 43 minutes on their mobile devices?
This means if your community has a mobile app — it is highly accessible. Members don't need to open their laptops to see what's new. They can check updates, send messages, and interact from the subway, the grocery store lines, and even the toilet.
Many community platform builders understand this need and build mobile apps for you. This can be a generic app on the App Store with the software's name or your personal mobile app that is customized to your brand.
Depending on how important this is to you, you'd desire a branded one or a generic one. And even if you choose a platform that doesn't have an app, make sure it works seamlessly on mobile browsers.
Membership Analytics
Whatever is your ultimate goal with building a community, data always helps. Many tools offer in-depth reports on member management and posts that get the most hits.
You can see which member is the most engaged and which members are cold subscribers. These analytics will help you revise your community strategy and understand your target audience better.
So it's a big one on the checklist. Make sure you have all the data you'd need to make informed decisions about your community.
Final Verdict
So now you know pretty much everything there is to choosing your community-building software. From knowing the top ones in the market to evaluating the most crucial features — this article has you covered.